Reds Heads - Members Portal
Welcome to the Kids Club Portal! This is your resource for getting the most out of your Reds Heads membership! On this portal, members can: RSVP for events, redeem free game tickets, access member discounts and special offers, view photo galleries, follow along with Reds Heads on social media, download games, and more! Be sure to check back often to stay up to date on upcoming events & specials!
ACTIVITIES AT HOME
Hey Reds Heads members! While you're anxiously waiting for another exciting season at the ballpark to begin, stay engaged with Reds baseball! Here are some easy, fun activities you can do right from home!
Exercise - "Round 3rd and Stay at Home
Research how many feet are between each base on a ballfield and create your own baseball diamond in your yard at home using household square object to make bases. Then, record how fast you can get around the bases to home plate. Can you beat your time?
Learn - And This One Belongs to the Reds
Download the Reds Heads scorecard, then watch an old Reds victory on YouTube, MLB Network or the MLB app and keep score for an inning or the whole game!
Create - #1 Fan
Write your own short story about your favorite Reds player and read it to your family!
Design - Mascot Mania
Download the mascot coloring sheets and color your very own Mr. Red, Rosie Red, Mr. Redlegs and Gapper. Then decorate your home with your four new friends!
WEEKLY ACTIVITIES – WEEK OF MARCH 30
In addition to the activities above, each week we will post new activities here for Reds Heads members, with the answer keys to come the following week so you can check your work!
Reds Heads News
Thank you for visiting the Reds Heads portal! Check back here for the latest messages about your membership.
Redeem Tickets
Use the password in your Reds Heads scorebook to redeem your two (2) free Reds tickets to a Sunday-Thursday home game, subject to availability. You can also upgrade your free member tickets to Field Box tickets.
*Games subject to availability. Excludes March 26 and June 7.
Discounted TIckets
In addition to your free tickets, Reds Heads members can purchase discounted tickets to all Reds home games* this year! Just use coupon code KIDSCLUB when purchasing your tickets to take advantage of this great deal.
*Excludes Opening Day. Subject to availability.
Events
Player Autograph Sessions
Meet a Reds baseball player at a Reds Heads autograph session! Autograph sessions take place at the Reds Hall of Fame. No game ticket required. Free Hall of Fame entry for members; adults must pay half-price ($6) HOF entry fee. Then you can enjoy browsing through our newly renovated Hall of Fame after you get your autograph! One autograph session per member per season. Players are typically announced 24 hours prior to the event.
RSVPs are required to attend Player Autograph Sessions. Please bring your confirmation email and membership card with you to the enter the event. Sessions are scheduled to begin at 11:30 a.m. for 4:10 games, 2 p.m. for 6:40 games and 2:30 p.m. for 7:10 games.
Reds Heads Player Press Conference
Does your Reds Head have a question for a Reds player? This event is the time to ask during this special question & answer session. Q&A will start promptly at 2:30 p.m. Please arrive at least 20 minutes prior to start time. No entry fee or game ticket is required for members or family. Members will enter through the Season Ticket Member gate at the main entrance of the ballpark. To enter the event, you need to bring your RSVP confirmation email and Reds Heads membership card.
Grand Slam Party
Members who complete their stamp card will be invited to the Grand Slam Party on Sept. 19, 2020, where they will get to play catch on the field at Great American Ball Park! Grand Slam Party attendees also earn a free ticket to the game that evening where they get to participate in the pregame on-field parade!
Run The Bases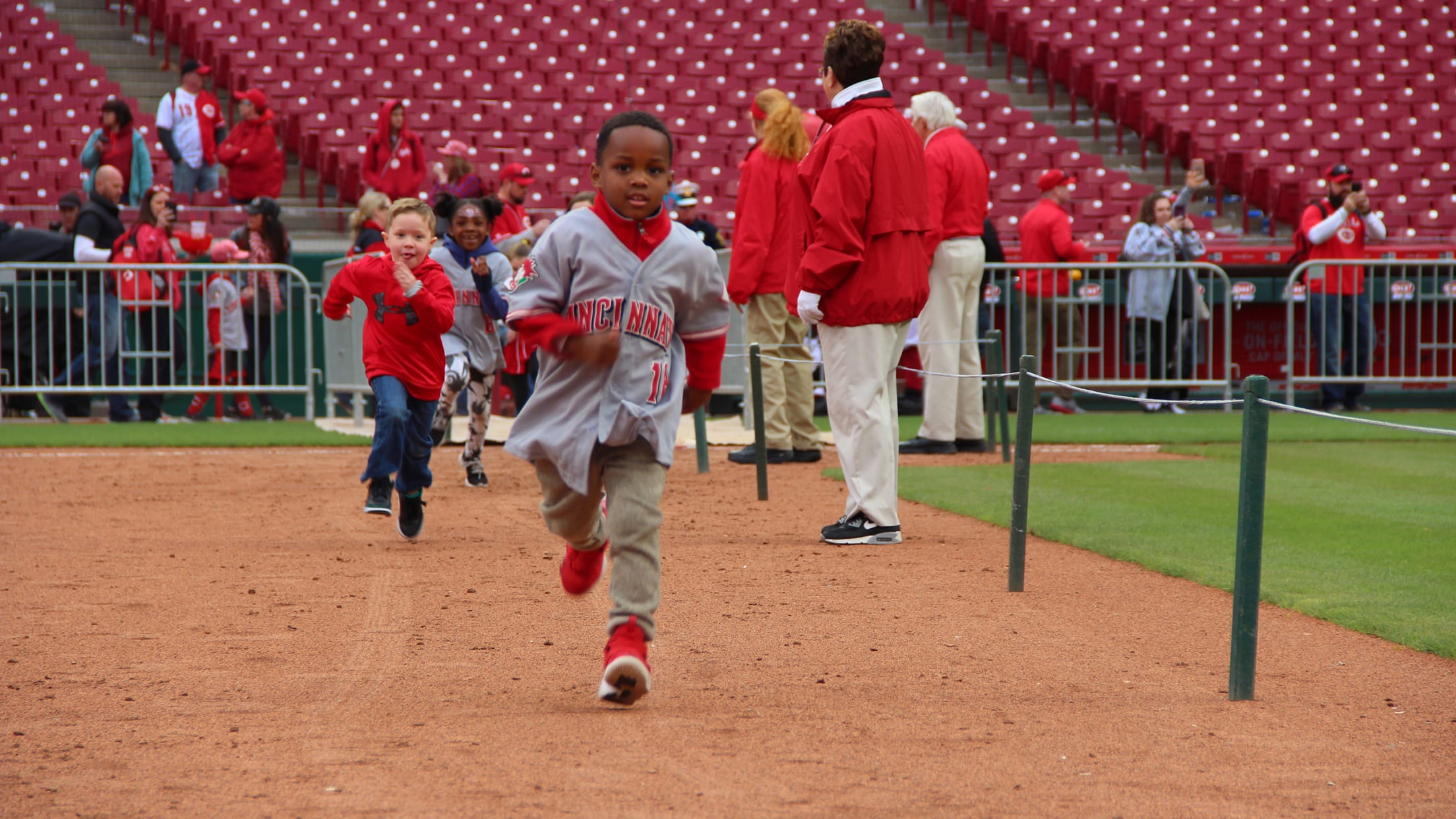 Want to run the bases at Great American Ball Park? We're giving Reds Heads members exclusive access to jump the line! All Reds Heads members wearing their 2020 Reds Heads jersey will have access to the VIP Reds Heads line!
2020 Dates:
March 28 (Kids Opening Day)
May 17
July 12
September 19
The VIP Reds Heads line will begin forming in the top of the 9th inning in between the concession stand and playground by section 133.
Activities
Members can pick up their 2020 stamp card at the Reds Heads Mobile Clubhouse in the fan zone at any game this season. Stamp cards are designed to engage members and give them activities to complete while they are at the ballpark. Members who complete 7 stamps will get invited to the Reds Heads Grand Slam party where they get to play catch on the Cincinnati Reds field!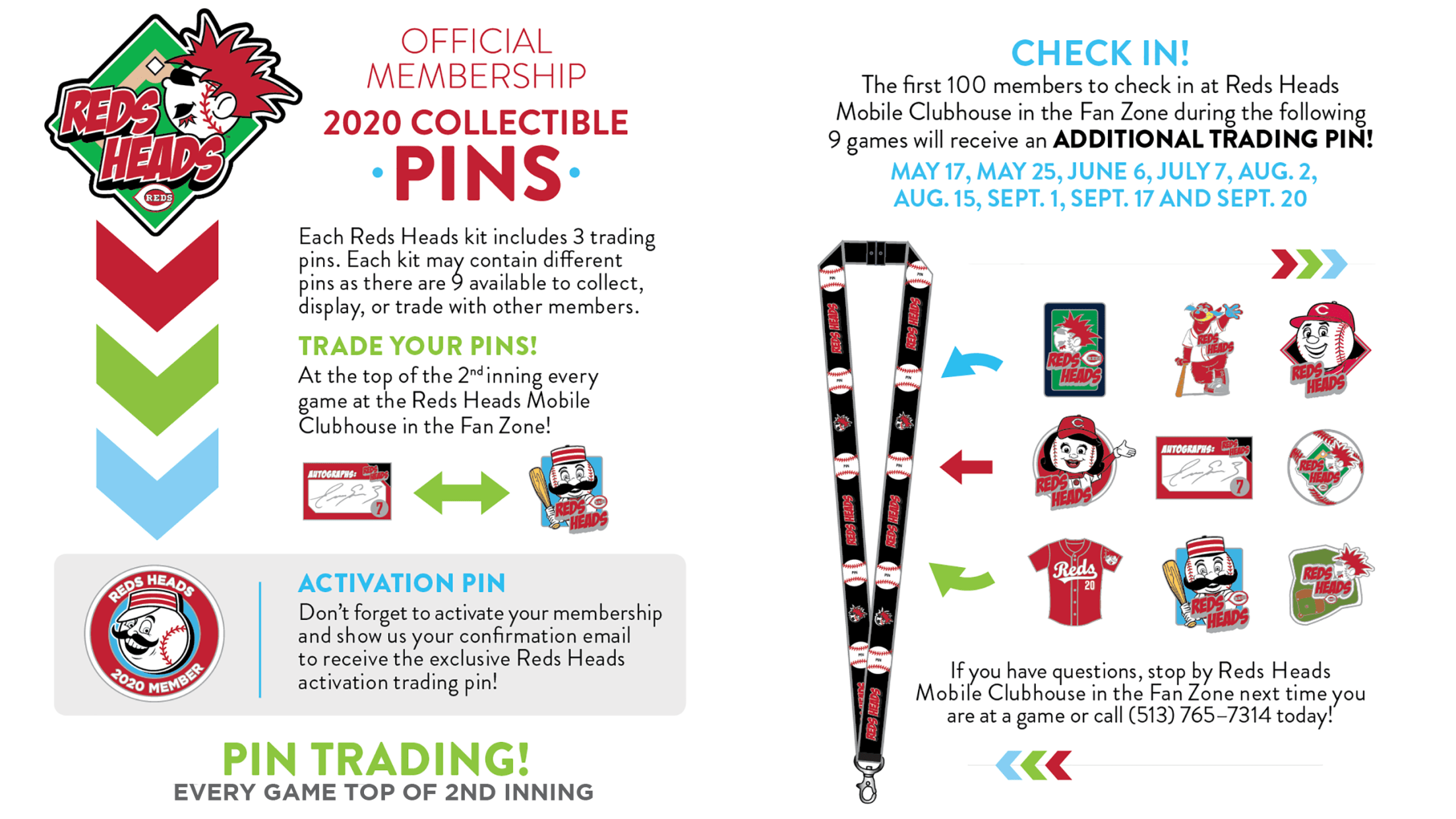 FAQ
Answers to Frequentlty Asked Questions can be found by clicking the button below.
For more information please call the Reds Heads line at 513-765-7314 or contact us at [email protected].
Contact Us
Have questions about your membership? Let us help!
Reds Fan Clubs
Phone: 513-765-7314
Email: [email protected]