30 potential callups to get excited about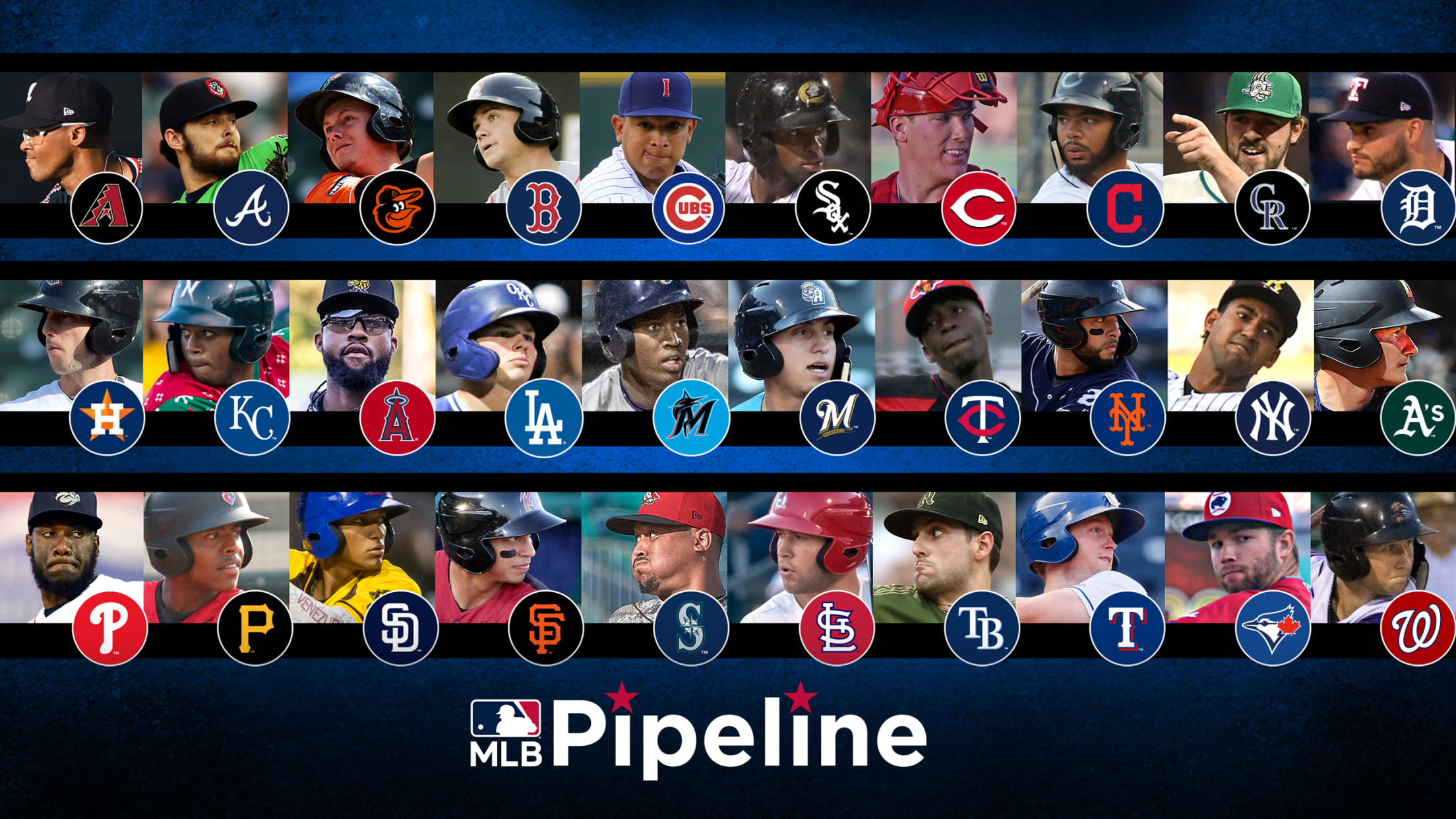 The 2019 Major League season is heading for the home stretch as the final month of the schedule is just around the corner. The big marker of that final turn comes on Sunday. That's the date when teams can expand their rosters at the big league level as the Minor
The 2019 Major League season is heading for the home stretch as the final month of the schedule is just around the corner. The big marker of that final turn comes on Sunday.
That's the date when teams can expand their rosters at the big league level as the Minor League season comes to a close. Teams can add as many players who are on their 40-man rosters as they desire. And those September callups can serve in a number of roles.
For teams out of the race and looking to the future, September can provide an outstanding opportunity to evaluate what that future looks like by giving prospects a month-long look in the big leagues. For teams still vying for a playoff spot, callups can give a boost of energy and talent for that push.
There are many things that come into play in terms of trying to determine who will get a September callup, including whether a player is already on a 40-man roster, whether there's an opportunity to contribute in some capacity at the big league level and even if a player would be better suited developmentally to experience a Minor League playoff run or head to the Arizona Fall League, now with its earlier start time of Sept. 18.
The potential callups listed below are far from guarantees, but we should see many of them in September.
AMERICAN LEAGUE EAST:
Ryan Mountcastle, 1B (Orioles No. 4, MLB No. 68)
Mountcastle, 22, has done nothing but hit in his career, posting increasingly strong numbers during a steady climb through Baltimore's system after it selected him in the first round of the 2015 Draft. He's enjoying his best campaign to date, too, as he's already established career highs in home runs (25), RBIs (81), average (.309) and OPS (.871) in his first Triple-A season, which has included a move from third to first base.
Jake Cronenworth, SS/RHP (Rays No. 18)
While adopting a more aggressive approach and swing has helped Cronenworth, a former seventh-round pick (2015), break out at the plate in Triple-A this season, it's been the 25-year-old's performance on the mound, where he's shown a 94-96 mph fastball and wipeout breaking ball, that has his prospect stock on the rise. Cronenworth could be a legitimate two-way player for the Rays and will need to be added to their 40-man roster this offseason to avoid Rule 5 Draft eligibility.
T.J. Zeuch, RHP (Blue Jays No. 17)
Zeuch made headlines last week when he threw a no-hitter in his second straight scoreless start for Triple-A Buffalo. With September callups on the horizon, the 24-year-old right-hander and former first-round pick is finding his groove on the mound at the perfect time. Zeuch's heavy sinker gives him extreme ground-ball tendencies -- he had 15 groundouts in his no-no -- and he's long been able to pitch deep into starts.
Bobby Dalbec, 3B/1B (Red Sox No. 2)
Dalbec has little left to prove in the Minors after continuing to hit for power and play quality defense at the hot corner while tightening his strike-zone discipline. He's hopelessly blocked by Rafael Devers but could be at least the right-handed half of a first-base platoon in 2020, so it makes sense to give him some at-bats in September.
Deivi Garcia, RHP (Yankees No. 1, MLB No. 64)
Garcia hasn't controlled and commanded his pitches well enough in Triple-A to help the Yankees as a starter this year, but they're moving him to the bullpen to see if he can help in that role. He owns an outstanding curveball that could neutralize right-handers in high-leverage spots, and his usual 91-96 mph fastball could gain velocity in shorter stints.
AMERICAN LEAGUE CENTRAL
Bobby Bradley, 1B (Indians No. 7)
Though he hit just .178/.245/.356 in his initial 45 at-bat taste of the big leagues, Bradley still offers left-handed power to a club that doesn't have much of that commodity. He leads the Triple-A International League with 30 homers as he chases his fourth league home run title in his six-year career.
Luis Robert, OF (White Sox No. 1, MLB No. 5)
Service-time considerations work against the possibility of a Robert callup, though he's ready and looks like a lock to be Chicago's center fielder in 2020. His all-around tools rival those of any player in the Minors, and he's batting a combined .331/.380/.628 with 31 homers and 36 steals between three levels.
Bryan Garcia, RHP (Tigers No. 21)
The Tigers' sixth-round pick in the 2016 Draft, Garcia reached Triple-A in his first full season and entered 2018 on the cusp of the Major Leagues before requiring season-ending Tommy John surgery. The 24-year-old right-hander made a healthy return to the mound this past May and quickly ascended to Triple-A, where he's racked up 32 strikeouts while pitching to a 3.06 ERA in 32 1/3 innings. Garcia's fastball-slider combo are suited for a late-inning bullpen role at the highest level, although his control and command currently lag behind the quality of his stuff after a lost 2018 season.
Khalil Lee, OF (Royals No. 4)
With the Royals rebuilding, there's no need to rush anyone, so bringing up someone like Lee or right-hander Brady Singer might be more fantasy than reality. But how much fun would it be to watch Lee, who has 52 steals on the season, show off his wheels in the big leagues in the season's final month?
Nick Gordon, SS/2B (Twins No. 14)
It's looking like next year will be the time for top prospects Royce Lewis and Alex Kirilloff. If Gordon hadn't had to deal with some injuries this year, chances are Twins fans would have already seen the 2014 first-round pick up in Minnesota. He's dealing with a leg contusion currently, but if he can return to health, he could be a valuable bench player who can play multiple positions.
AMERICAN LEAGUE WEST
Kyle Tucker, OF (Astros No. 1, MLB No. 13)
Tucker scuffled in his first three stints in Houston a year ago, and the Astros have yet to call him up even though he's hitting .266/.355/.559 with 34 homers and 30 steals in Triple-A. Though he has been eclipsed by Yordan Alvarez, he has been getting time at first base to find another way to get his bat into the big league lineup.
Jo Adell, OF (Angels No. 1, MLB No. 4)
The two-time Futures Gamer has made it to the top of the Angels' ladder much faster than anyone anticipated when he was taken in the first round of the 2017 Draft. Want to give Angels fans hope for the future? Let Adell roam the outfield alongside Mike Trout to close out the season.
Sean Murphy, C (Athletics No. 3, MLB No. 44)
Murphy just got back from a rehab assignment and promptly hit two homers in his first game back in Triple-A. He's missed a lot of time this year, but on the plus side, he's fresh and can provide a potent bat off the bench and some catching depth for the A's in the AL West and Wild Card front.
Justus Sheffield, LHP (Mariners No. 9)
This one has already come to fruition as the Mariners brought up Sheffield last week. After struggling in Triple-A, the 23-year-old looked much more like himself in Double-A, especially command-wise. Giving him some innings in Seattle could be a nice springboard into 2020.
Joe Palumbo, LHP (Rangers No. 6)
Texas already has called up several of its better upper-level prospects this month, and Palumbo might have gotten an extended look in its rotation if he hadn't come down with a blister on his left thumb while pitching against the Angels last Tuesday. Currently in Triple-A, he'll return in September to show off his solid three-pitch arsenal.
NATIONAL LEAGUE EAST
Ian Anderson, RHP (Braves No. 3, MLB No. 32)
While it would be exciting to see either of the dynamic outfielders in Triple-A (Cristian Pache or Drew Waters) come up, it seems more likely the Braves would use their pitching depth for more help. Anderson is a starter long-term, but the 21-year-old Futures Gamer could bolster the 'pen down the stretch.
Enyel De Los Santos, RHP (Phillies No. 8)
With Adam Haseley about to graduate from prospect lists, the next wave of Phillies prospects are more contributors than dynamic potential stars. De Los Santos has been up and down a bunch over the last two seasons, and while he doesn't get Phillies fans overly excited, he can fill a number of roles as his team works toward a postseason appearance.
Ali Sanchez, C (Mets No. 17)
That the Mets' top-prospect core resides mostly in the lower Minors, and many of their top bullpen candidates are currently sidelined with injuries, which leaves the organization with few exciting September callup options. Sanchez, who has long been revered for his strong defense behind the plate, could provide the club with quality catching depth, and he's taken a step forward with the bat this year while climbing from Double-A to Triple-A.
Carter Kieboom, SS/2B (Nationals No. 1, MLB No. 21)
Kieboom homered in two of his first three big leagues games back in May but ultimately batted .128 with 16 strikeouts over 11 games with the Nationals before they optioned him to Triple-A. Back in the Minors, the 21-year-old has done his part to get another look in September, slashing .305/.413/.501 with 16 homers, 24 doubles and 78 RBIs in 105 games for Fresno.
Jesus Sanchez, OF (Marlins No. 3, MLB No. 40)
Acquired from the Rays at the Trade Deadline in a deal for Nick Anderson and Trevor Richards, Sanchez was the second-highest-ranked prospect (behind Taylor Trammell) to change addresses in July. Already in Triple-A at age 21, he could get a look in September as a prelude to claiming Miami's right-field job at some point in 2020.
NATIONAL LEAGUE CENTRAL
Adbert Alzolay, RHP (Cubs No. 5)
Alzolay is averaging 12.5 strikeouts per nine innings in Triple-A thanks to his curveball and 92-96 mph fastball. Those weapons could help him shore up the big league bullpen, though Chicago hopes he'll eventually become the first homegrown starter signed and developed by the Theo Epstein/Jed Hoyer regime.
Tyrone Taylor, OF (Brewers No. 27)
After several injury-plagued campaigns, Taylor stayed healthy and broke out in earnest in 2018, earning a spot on Milwaukee's 40-man roster after the season. Separate wrist injuries have limited him some this season in Triple-A, but the 25-year-old outfielder has gotten hot offensively at the right time and offers value with his ability to play all three outfield positions.
Dylan Carlson, OF (Cardinals No. 2, MLB No. 50)
Few prospects have a bigger up arrow next to their name right now than Carlson. The 20-year-old switch-hitter's bat has blossomed this season, as he's now hitting for both average (.291) and power (25 HR, 59 XBH) while continuing to offer value with his baserunning (18 SB) and outfield defense.
Tyler Stephenson, C (Reds No. 7)
Stephenson's name came up as a possible callup when the Reds had a rash of catching injuries in the big leagues. He's finishing the season strong (.350/.444/.500 in August) and is clearly the future behind the plate for the organization, so why not get an early look-see?
Ke'Bryan Hayes, 3B (Pirates No. 2, MLB No. 37)
Hayes hasn't set the world on fire in Triple-A, but no one questions that he's the future at the hot corner for the Pirates. He'd certainly be a defensive upgrade for a team that has struggled on that side of the ball this year.
NATIONAL LEAGUE WEST
Gavin Lux, SS/2B (Dodgers No. 1, MLB No. 10)
It's World Series championship or bust for the Dodgers, who could enhance their chances by adding Lux to their lineup. The 2016 first-rounder is making the case that he might be their best option at second base by hitting .390/.478/.723 with 13 homers in 48 Triple-A games at age 21.
Mauricio Dubon, SS/2B (Giants No. 8)
Expected to take over at second base for San Francisco next year, the Giants are getting an early look at Dubon with the infielder called up earlier this week. Acquired from the Brewers in the Drew Pomeranz/Ray Black trade in July, he's a solid hitter with speed to match.
Jon Duplantier, RHP (D-backs No. 6)
Duplantier tossed three scoreless innings out of D-backs' bullpen on April 1 to earn the save in his big league debut. It was the first of five stints in the Majors this season for the 25-year-old righty, who's compiled a 4.33 ERA with 26 strikeouts in 27 innings across nine outings (three starts). A near lock to return to the big leagues in September, Duplantier could be used as either a starter or long reliever as the D-backs look toward the future.
Edward Olivares, OF (Padres No. 19)
The Padres added Olivares to their 40-man roster last offseason even though he had never played above the Class A Advanced level. But the club's decision has aged well, as the 23-year-old outfielder has made offensive strides on all fronts this season, hitting .284/.351/.453 with 17 homers and 34 steals in his first Double-A campaign.
Ben Bowden, LHP (Rockies No. 8)
After being virtually unhittable in Double-A this year, Bowden initially struggled after getting bumped up to Triple-A. But he's been back to his nasty self of late, allowing just four hits and three walks while striking out nine over his last 6 1/3 IP. He's going to be a part of the Colorado bullpen in 2020, so why not get an early look-see at a potential future closer?