DAN BEARD COUNCIL BOY SCOUT CAMPOUT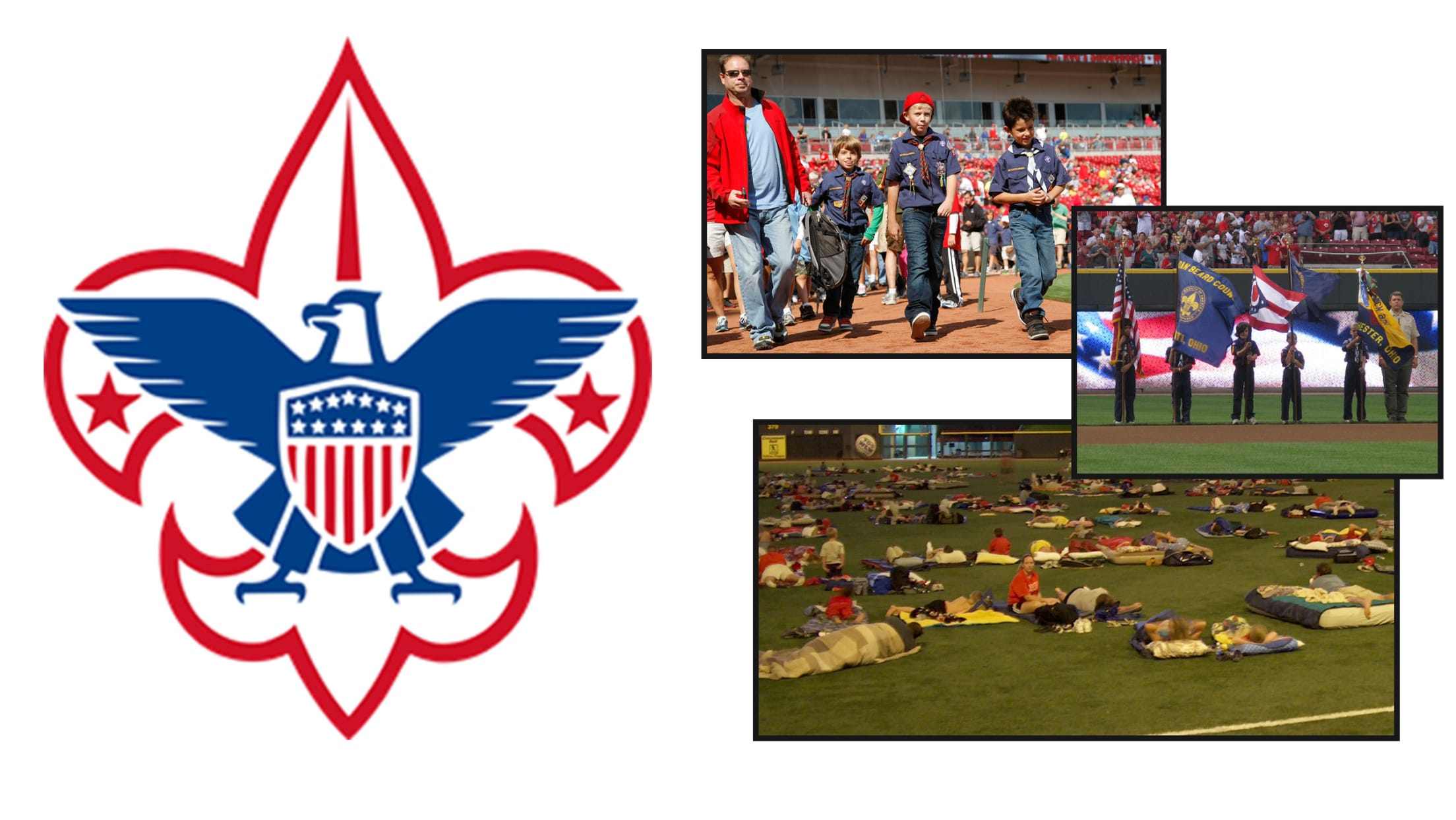 On Saturday, September 19, the Cincinnati Reds are excited to welcome the scouts, their friends, & families to the 2020 Scout Campout!
The on-field campout will occur after the Reds play the St. Louis Cardinals, with the game starting at 4:10 p.m. Campout Packages include your game ticket, All You Can Eat during game, movie, post-game activities on the field and in the Kroger Fan Zone, and of course the exclusive overnight campout on the field with breakfast the following morning.
Campers will need to bring campout gear to Dock 2 prior to the game on September 19. Gear should be limited to a sleeping bag, pillow, and small personal bag (no tents will be permitted). Join us in the First Star Logistics Fan Zone immediately after the game to head onto the field to kick off post-game activities.
NEW FOR 2020: This year, campers will have the option to opt in to an All You Can Eat Ticket. Dinner will *not *be provided this year unless All You Can Eat is purchased. Campers who choose to not purchase All You Can Eat will be responsible for dinner on their own. Campers are welcome to pack their own dinners in a soft sided cooler that does not exceed the MLB size requirement of 16" x 16" x 8. All drinks must be in sealed clear plastic bottles.
Those who already have tickets to the game, may purchase a campout only voucher. Please make sure to check in at the check in table in the First Star Logistics Fan Zone.
Seating / Pricing
Game + Campout + All You Can Eat
Sun/Moon Deck: $57
View Level: $40
Game + Campout (Dinner not included- light snacks will be provided)
Sun/Moon Deck: $37
View Level: $20
Game + All You Can Eat (no campout)
Sun/Moon Deck:$52
View Level: $35
Game Only (Food NOT Included)
Sun/Moon Deck: $32
View Level: $15
Campout Only (Must already have tickets for the 9/19 game. This is not your ticket into the game. This voucher will grant you access for the campout portion of the night. Please contact Richy Velasquez or Reilly Burns to purchase the campout only voucher.)
All You Can Eat pass includes five (5) hot dogs plus unlimited soda, popcorn, peanut and chips. All You Can Eat stands are located behind sections 144 & 428.
Please call or e-mail Reilly Burns at (513) 765-7442 or [email protected] to purchase overnight parking for the campout. $10 per vehicle.
How To Buy Tickets
Step 1: Click the "Buy Now" button.
Step 2: Enter the password you were given by the Dan Beard Council into the password box and click "Log In." Note: Passwords are case sensitive.
Step 3: Select one of the available price levels, and then select how many tickets you wish to purchase from each option.
Step 4: Proceed to checkout and complete your order. If you purchased an All You Can Eat combo, present your ticket at an All You Can Eat redemption kiosk located behind sections 144 or 428 to claim your wristband and cup for the All You Can Eat concession stand.
Timeline of Events
Details regarding the timeline will be updated at a later date.
Please contact Richy Velasquez at 513-765-7121 or [email protected] with any questions.