Inbox: How can Cards ease DeJong's workload?
Beat reporter Anne Rogers answers questions from fans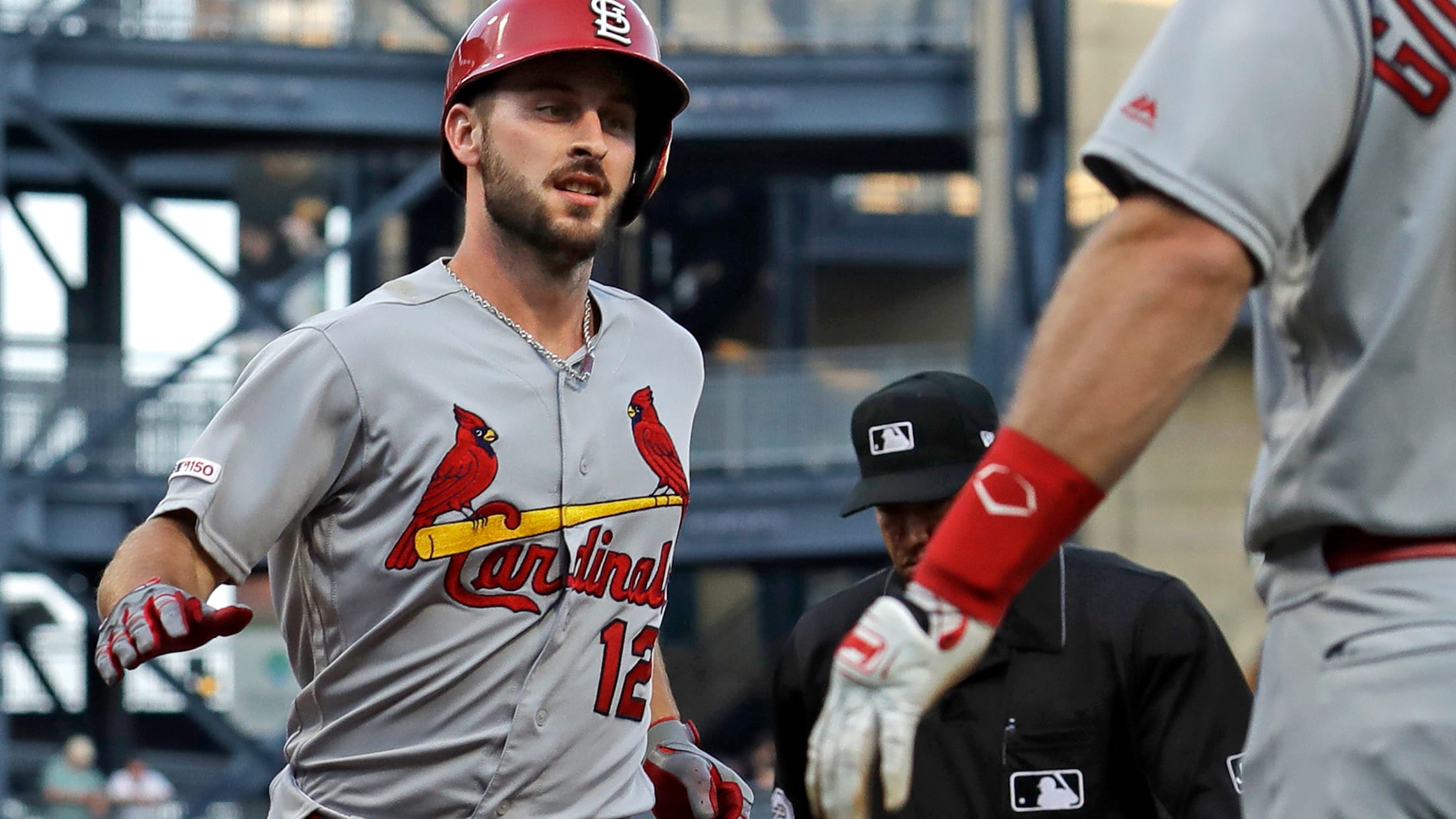 ST. LOUIS -- When the Cardinals held a press conference to announce the extensions of baseball operations leadership, they also addressed the 2019 season and offered some insight into '20. Many of those same topics popped up in your questions for this week's Inbox. Let's get to it. How do
ST. LOUIS -- When the Cardinals held a press conference to announce the extensions of baseball operations leadership, they also addressed the 2019 season and offered some insight into '20. Many of those same topics popped up in your questions for this week's Inbox. Let's get to it.
How do the Cardinals plan on reducing Paul DeJong's workload next year? Could we see more Yairo Muñoz or Tommy Edman at shortstop?
--Jackson, Kirkwood, Mo.
The Cardinals recognize that DeJong's workload might have been too demanding last year. In his first full year as the everyday shortstop, the 26-year-old played 159 games. He got off to a hot start when he hit .360 in April, but he fell into a slump and couldn't quite get out of it. In September, he hit .175.
"That is something we discussed," president of baseball operations John Mozeliak said about DeJong's workload. "He's the type of player that wanted to be in the lineup, so that is something we have to manage, but clearly his workload was very demanding."
To be clear: DeJong will still be the everyday shortstop in 2020. But it would be wise to give him a few more days off. This is where Edman comes in. Depending on what happens this offseason, Mozeliak said that the Cardinals might look at Edman as a Ben Zobrist-type player -- someone who plays all around the field almost every day. When DeJong needs a day off, look for Edman to take over, while Muñoz could slot in when Edman is needed elsewhere.
"Tommy is one of those types of players that gives you a lot of flexibility," Mozeliak said. "I think as the season unfolds, the key will be to keep giving him opportunities. That's what our goal will be. I don't know if I'd say start every day, but I think he'll get a lot of playing opportunity."
Mike Mackay, Albany NY.

What does Cardinal management see in Matt Carpenter? I would appreciate a response that is based on his stats and not his tenure with the team. Thank you.

— Mike (@Cardinals23) November 7, 2019
Cardinals management sees Carpenter's history and his stats within his tenure. That might not be the answer many fans are looking for, but it's true. The Cardinals see how Carpenter performed for them in the past -- three All-Star years, two top-10 finishes in MVP voting, the 36 home runs he hit in 2018 -- and are looking for that to emerge next year.
They're also paying him a lot of money to perform like he has in the past. The Cardinals do not want to and will not give up on a player that quickly after they invested two years and $39 million in him. It's no secret that Carpenter performed way below expectations this year -- he batted .226 and had a .736 OPS -- but as far as the Cardinals' confidence in a bounce-back year for Carpenter? "It's high," Mozeliak said on Tuesday.
• Five questions the Cardinals must answer this offseason
"You look at where he was a year ago to what happened this past year, we're going to look at that as an outlier," Mozeliak said. "Our expectations for him next season is for him to be a contributing member in that order, and he wants to do everything he can to be a part of that.
"He wasn't pleased with the year he had, he had higher expectations. He's going to spend his offseason preparing and trying to do some things to help to change that trajectory."
Look for Carpenter to begin the year at third base. If he continues his decline, Edman could take over. The Cardinals weren't afraid to have him play off the bench late this season. But they're going to give him a chance to have a comeback year.
What roles do you think Austin Gomber and Daniel Ponce de Leon will play next year?
--Drew, Lincoln, Neb.
Gomber and Ponce de Leon will be competing for a starting spot come Spring Training. As it stands right now, St. Louis has two spots open in the rotation. The team is working on a new deal for Adam Wainwright to return next year, so that is likely one spot. The Cardinals will also look around for a starter, either by trade or free agency, but if they're going to spend money or prospects, it's more likely to be spent on an offensive upgrade. That means that last rotation spot, if Wainwright does return, will likely be open to a mix of competition that includes Gomber, Ponce de Leon, Carlos Martínez and Alex Reyes.
Gomber, 25, missed all of 2019 with a left biceps injury. By the time he ready to return, it was already September, so the Cardinals told him to turn his focus to '20. Being a left-hander helps his starting cause; the club has at least two lefties (Andrew Miller, Tyler Webb) in the bullpen already, and it could use a left-hander in the rotation.
Ponce de Leon will be 28 years old next season and has recent experience on his side. He made eight starts in 2019 and appeared out of the bullpen in a long-inning relief role five other times. Ponce de Leon wasn't pleased with his usage -- or lack therof -- in September, but there weren't many opportunities for him to pitch in the role he was in. If he shows consistent command, though, he'll have a shot at making the rotation in '20.
Both could also be used out of the bullpen, although it's more likely that they would open the year in Triple-A Memphis and wait for a potential spot start throughout the year.
Do you think the Cards have confidence in Brett Cecil?
--Ruth, Chicago
The Cardinals certainly hope Cecil can contribute next year, but he needs to show them he's healthy and ready for the workload before they give their full confidence. The 33-year-old lefty is beginning the final year of the four-year, $30.5 million contract that he signed back in 2017. He missed all of '19 with carpal tunnel syndrome in his left hand.
Cecil is spending his offseason with the Cardinals rehab team in Jupiter, Fla., in preparation for Spring Training. The Cards are going to give him a shot at making the roster -- he is making $7 million in 2020, after all -- but there is no guarantee he can stay healthy or is the same pitcher he was before he dealt with a string of injuries in '18.
"It's a big question mark what we're going to get," Mozeliak said. "He's got to prepare himself for the year."