Cardinals' nicknames for Players' Weekend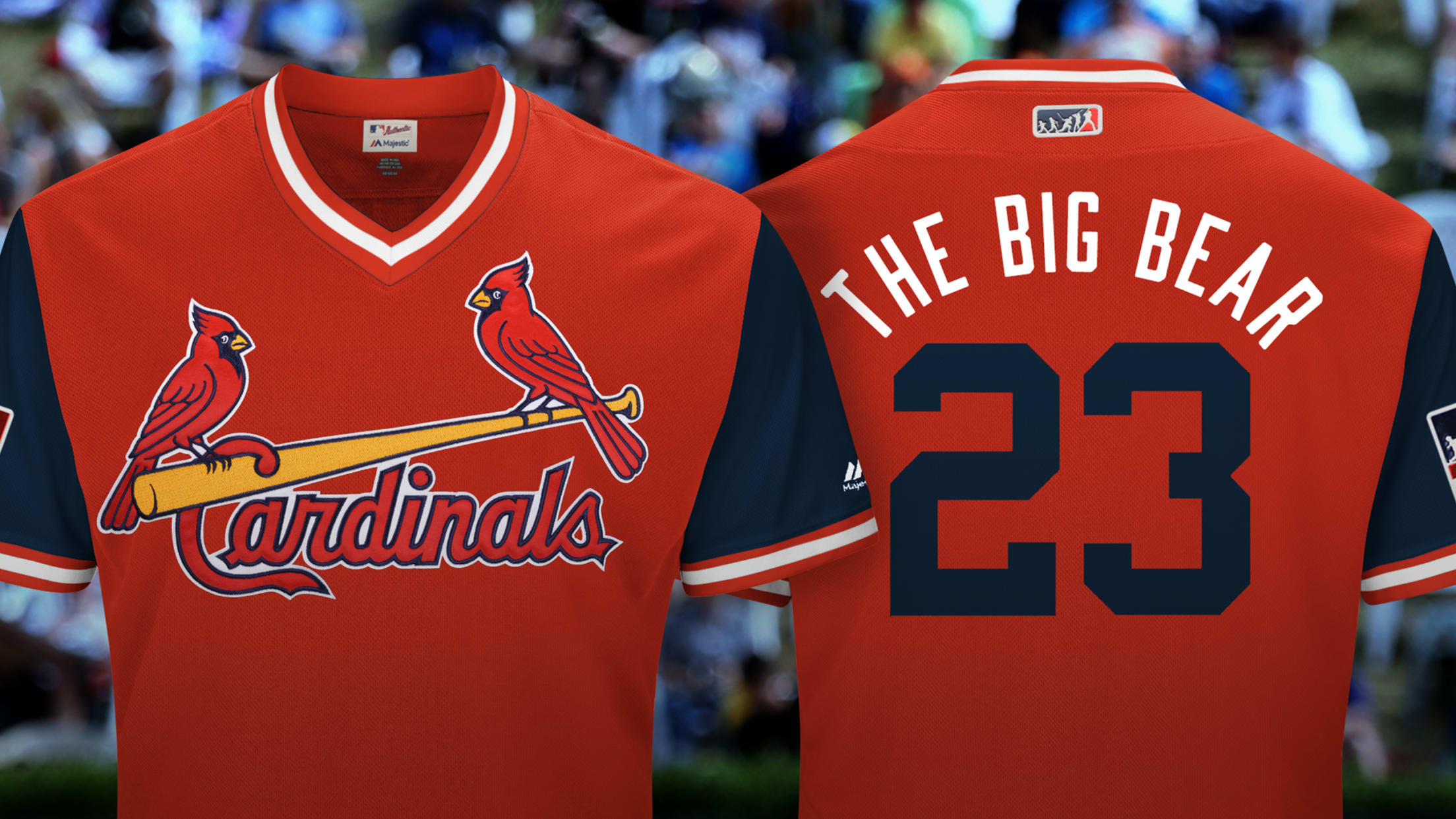 For the second consecutive year, Major Leaguers will put their personalities and passions on the field when Players' Weekend takes center stage during all games from Friday, Aug. 24, through Sunday, Aug. 26.• Shop for Players' Weekend gearHere are the nicknames the Cardinals will wear on their backs while sporting
For the second consecutive year, Major Leaguers will put their personalities and passions on the field when Players' Weekend takes center stage during all games from Friday, Aug. 24, through Sunday, Aug. 26.
• Shop for Players' Weekend gear
Here are the nicknames the Cardinals will wear on their backs while sporting colorful, non-traditional uniforms featuring alternate designs inspired by youth-league uniforms:
:: Players' Weekend presented by Valspar Stain ::
• Shop for Players' Weekend gear
• 2018 Players' Weekend nicknames
• Best nickname for every team
• All you need to know about Players' Weekend

Matt Adams: "BIG CITY"
Adams has embraced this nickname, which dates back to his days with the Cardinals, even if there is not much "city" about him. Earlier this season during one of his hot streaks, Nats players made a shirt for him that said "Big City Doing Big City Things."
Harrison Bader: "TOTS"
Bader rhymes with "tater," and that was enough for his high school friends to conjure up the nickname. He said the nickname feels personal, since his friends still call him 'Tots' when he returns home. He has found that folks in other places don't always catch onto it immediately.
John Brebbia: "BREBBIA"
The Cardinals' red-bearded reliever admitted the club hasn't found a nickname that quite sticks yet. But they did try.
"I remember when I first showed up at Spring Training this year, I was asked for my nickname," Brebbia said. "I was like, 'Yeah right, I'm not falling for that. Just the last name, Brebbia."
It was no attempt to trick Brebbia, and his nickname game paid the price.
Matt Carpenter: "CARP"
Brett Cecil: "SQUINTS"
Before he wore the glasses, Cecil struggled to see the signs from the catcher. That's he caught the nickname "Squints," based on the Sandlot character. The real Squints, actor Chauncey Leoppardi, visited Busch Stadium on Aug. 14, but the two didn't cross paths.
"I was [upset]," Cecil said jokingly. "I thought he was going to come in the clubhouse, but he didn't."
Paul DeJong: "PAULY"
Jack Flaherty: "FLARE"
William Fowler: "DEX"
John Gant: "GANT"
Adolis Garcia : "EL BOMBI"
Greg Garcia: "GG"
Austin Gomber: "BIG G"
Luke Gregerson: "DUKE"
Jedd Gyorko: "JERK-OH"
"That's not a nickname," Gyorko said, smiling. "That's a pronunciation key."
He added that he's heard his name butchered so many times, so he's just giving fans what they want.
"It's just something different."
Jordan Hicks: "HICKS"
Dakota Hudson: "DAK"
Dominic Leone: "DOMINATOR"
Carlos Martinez: "TSUNAMI"
The nickname originated when Martinez impressed an onlooker while playing in the Dominican League.
"This kid is so dominant, he's like a tsunami taking over the league," the fan said.
The name stuck and is now tattooed on Martinez. It's also featured in the name of his charitable foundation: Tsunami Waves.
"I feel comfortable with that name," Martinez said. That's just what everyone kind of knows me as."
Jose Martinez: "CAFÉ"
Coffee-related nicknames are the norm in Martinez's family. There's a Mocha, Decaf, Cappuccino and Cafecito, the latter being the name given to Martinez when he was little. But for the second straight year, Martinez will wear "Cafe" as a way to honor his late father. That was his nickname.
"Even when I was a little kid, people said, 'You look like your father,'" Martinez said. "I do things like him. It just comes natural like that. It's an honor for me to wear his nickname on my jersey."
Mike Mayers: "MAYERS"
Miles Mikolas: "MIK"
The story isn't as simple as the name. Mikolas didn't have a nickname when he showed up for Spring Training in February, so he went with what he was called in Japan.
"On the back of my jersey they just put 'Mik' which is my name just kind of squished in," Mikolas said.
He's fine with the nickname for this season, but he vowed to be more creative in the future. He actually tried to get his nickname changed recently, but was too late.
"I think it should be this," Mikolas said. "They call me 5,280s, because that's how many feet are in a mile. Or I was going to put Miles Sr. on it, because now I have a Miles Jr."
Yadier Molina: "YADI"
Yairo Munoz: "PALITO"
Bud Norris: "BUDMAN"
Norris got his nickname when he ordered a beer at the age of 3. As the story goes, a waitress came around to take the order of his family at a restaurant. It went something like this:
"My dad goes, 'I want a Bud.' My grandpa goes, 'I want a Bud.' My uncle goes, 'I want a Bud,'" Norris explained. "I'm 3 years old in a high chair and I go, 'I want a Bud'. The waitress writes it down and goes to the other side of the table to my mom. She goes, 'First of all, I have a Corona. Second of all, he's not old enough to have that.' My dad goes, 'Don't worry about it. He's the Budman.'"
Tyler O'Neill: "O'NEILL"
Marcell Ozuna: "THE BIG BEAR"
Ozuna was called "Oso" by teammates starting in 2012. That translates to "bear." He likes his nickname so much that he made it his username on Instagram, too.
"Yeah, I like it," Ozuna said. "I love it."
Francisco Pena: "PINITA"
Pena has a couple nicknames. His father, Tony Pena, who played in the Major Leagues for 17 years, calls him "Frank" or "Franky" when he's back home. His clubhouse name is different.
"Every time I was in a club or clubhouse they always called me 'Pinita -- little Pena,'" Pena said. "I like when guys call me Pinita. I think it's pretty cool."
Daniel Poncedeleon: "PONCEDELEON"
Alex Reyes: "A.REY"
Tyson Ross: "FREEWAY"
Ross' brother-in-law gave him the nickname several years ago while the pitcher was still dating his sister. The name refers to "Freeway" Rick Ross, an author and former drug trafficker, whose only comparable trait is that they have the same last name.
"It kind of just stuck," Ross said laughing. "But that's the only real reason."
Chasen Shreve: "SHA-REEF"
Shreve's nickname will be new for everyone in St. Louis. The lefty was called Sha-Reef in New York with the Yankees, where the nickname originated.
"It's fine," Shreve said. "There's really nothing behind it so it's kind of a boring story, but that's what they called me."
No member of the Cardinals has called Shreve that yet, so this could re-ignite the trend.
Michael Wacha: "WACHAMOLE"
Wacha's nickname is one of the more unique entries in the clubhouse. The first important detail is the pronunciation. Wachamole rhymes with guacamole, as opposed to the arcade game where you take a plastic hammer to the elusive mole.
"I got called Wachamole by Carlos [Martinez] when I first met him five years ago. It just kind of stuck," Wacha said. "It's a good one and it's known around the clubhouse now."
There's still some confusion, though. The name shorted up to just 'Mole', and that makes for some fuzzy encounters.
"Carlos will just be like, 'Hey Mole'," Wacha said. "And people will look and be really confused as to why he's calling me Mole, so you just have to explain that it comes from Wachamole."
Adam Wainwright: "WAINO"
Luke Weaver: "DREAM"
The name originates from the Gary Wright song "Dream Weaver." Weaver reckons he got the nickname from his parents, who he claims were still old enough to remember the song. He used to walk out to it in college, but thought twice about it in the big leagues.
"It's kind of a slower song," Weaver said. "Sometimes you need something upbeat."
Tyler Webb: "WEBBY"
Kolten Wong: "THE PEBBLE"
He's traded "Wonger" for a new nickname, one he used to recruit Giancarlo Stanton during the offseason. When he saw San Francisco's Hunter Pence come up with a clever social media plea, Wong followed suit.
"I knew him and The Rock met, so I said, 'Hey, man, I know I'm not The Rock, but if you come to St. Louis, you can play with The Pebble.'"
The nickname stuck.
"I know I'm a short guy; I know I'm little. It is what it is. I'm a little guy playing in the big leagues, so I'm going to love it and live it up and be proud of who I am."