Notes: Martínez back in rotation; Kim update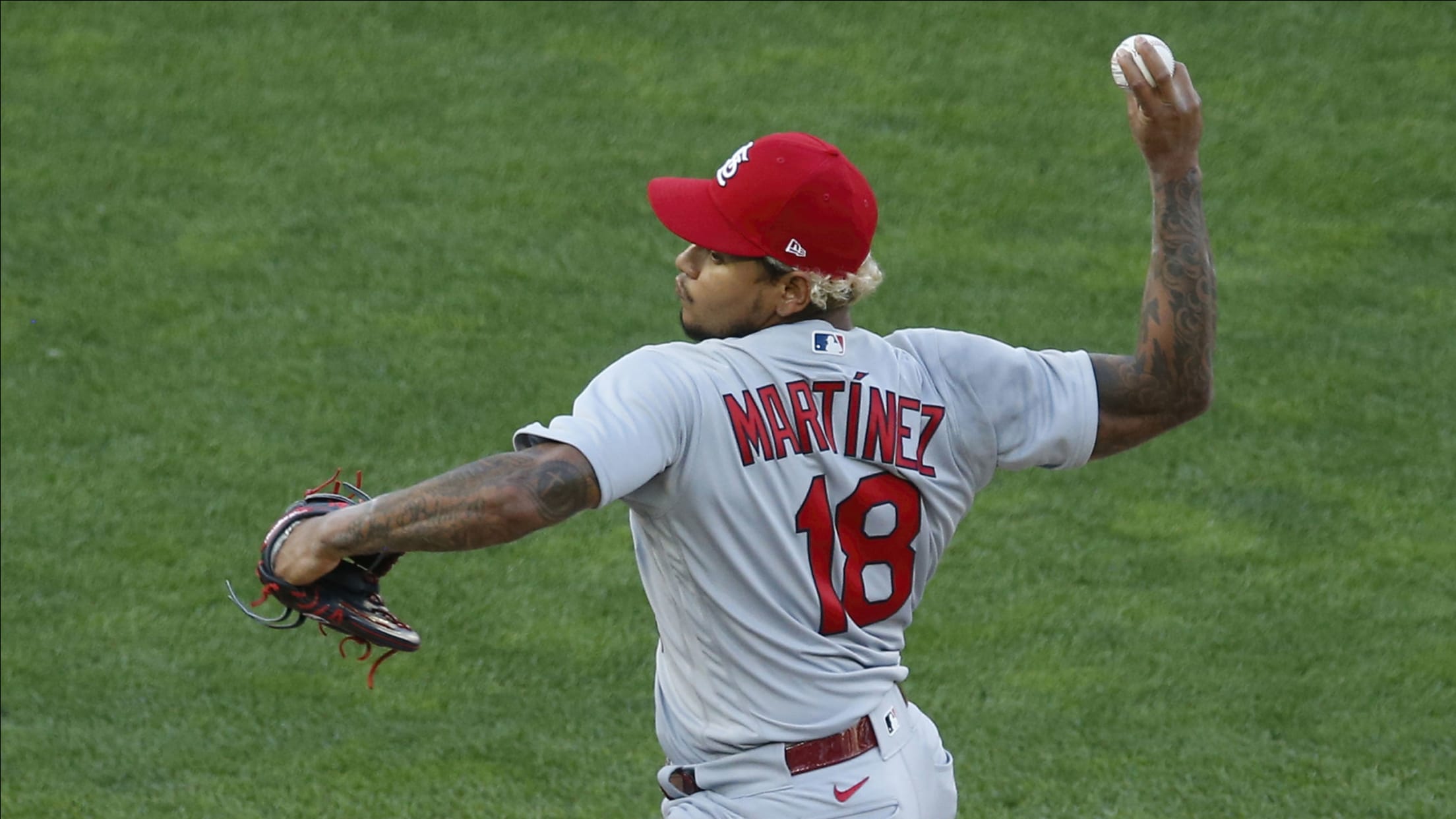 As expected, Carlos Martínez has been slated to start the first game of Tuesday's doubleheader against the Twins at Busch Stadium, Cardinals manager Mike Shildt said Sunday before the club's matchup with the Cubs at Wrigley Field. It will be the right-hander's first start since July 29, when he also
As expected, Carlos Martínez has been slated to start the first game of Tuesday's doubleheader against the Twins at Busch Stadium, Cardinals manager Mike Shildt said Sunday before the club's matchup with the Cubs at Wrigley Field. It will be the right-hander's first start since July 29, when he also started against the Twins, before the Cardinals had a coronavirus outbreak affect 18 people in the organization and paused their schedule for 17 days.
Martínez was one of those who tested positive for COVID-19 and had some symptoms severe enough that he went to the hospital to get an IV treatment. He recovered and has been building up arm strength at the Cardinals' alternate training site in Springfield, Mo.
Shildt said on Monday that right-hander Daniel Ponce de Leon will likely be called up as the 29th man for the doubleheader against the Twins and make the start for Game 2. Ponce de Leon was optioned to the alternate training site after his start against the Indians on Aug. 28, when he allowed four runs in two-thirds of an inning, walking four and throwing 41 pitches. He was sent to Springfield to work on throwing quality strikes, and Shildt said the feedback has been positive.
Martínez's last live batting-practice session was Wednesday in Springfield, and Shildt said the righty's pitch count was "in the 50s."
"[He is] built up and is recovering well and all systems go," Shildt said.
Minor League pitching coordinator Tim Leveque has sent the Cardinals feedback on Martínez since he started throwing in Springfield, and longtime third-base coach José Oquendo has provided some as well.
"Timmy's been with us a long time, we trust his feedback, and Oquendo has been down there, so we feel comfortable and confident with the eyes on him," Shildt said. "And [Martínez] is a guy we know, too. Pretty proven guy. He's healthy, checking the boxes, and he'll get the opportunity to start."
When Martínez returns to the active roster, the Cardinals will need to make a transaction on the 40-man to make room. The Cardinals have 44 players on their 40-man roster because players on the COVID-19 injured list do not count against that number. Martínez, Austin Dean, Kodi Whitley and Dexter Fowler -- who is taking medication that could suppress his immune system and put him at risk for COVID-19 -- are the final four players on that list.
Kim feeling better, back in St. Louis
Kwang Hyun Kim has returned to St. Louis after a kidney ailment sent him to the hospital this weekend and put him on the 10-day injured list. Shildt said Kim is tired but feeling better.
The lefty starter will be evaluated on Monday, which will determine whether he can get back to baseball activities at Busch Stadium. The Cardinals are optimistic he will be able to return to the active roster as soon as he is not susceptible to bleeding or bruising due to the blood-thinner medication he is on. In the meantime, the club will control Kim's workout environment to eliminate those risks.
"Medically, if he's in a controlled setting, he can continue to work out, play catch, throw bullpens, keep his arm strength up," Shildt said. "And when he gets to a point where he feels like he can compete and [not be] vulnerable for contact, he'll get back to being with us."
Worth noting
• Right-hander Nabil Crismatt has returned to the alternate training site following Saturday's doubleheader, when he was the 29th man on the roster.
• At the conclusion of this five-game series against the Cubs on Monday, the Cardinals will have played 15 games in St. Louis and 13 in the city of Chicago this year. When the Cards returned from their coronavirus outbreak, they played eight consecutive games vs. the White Sox and Cubs in Chicago -- becoming the third MLB team in history to do that.
• In the first game of Saturday's doubleheader, Adam Wainwright and Yadier Molina made their 270th start together as a battery, tying them for sixth all-time in MLB history. Their next start together will surpass Steve Rogers and Hall of Fame catcher Gary Carter.
2⃣7⃣0⃣

Today marks the 270th time Waino and Yadi are the starting battery, tying for the 6th-most in @MLB history. pic.twitter.com/8dO0XqBY28

— St. Louis Cardinals (@Cardinals) September 5, 2020