Cards recall Helsley to provide bullpen support
Club tries to beat the heat by hydrating and being smart with workouts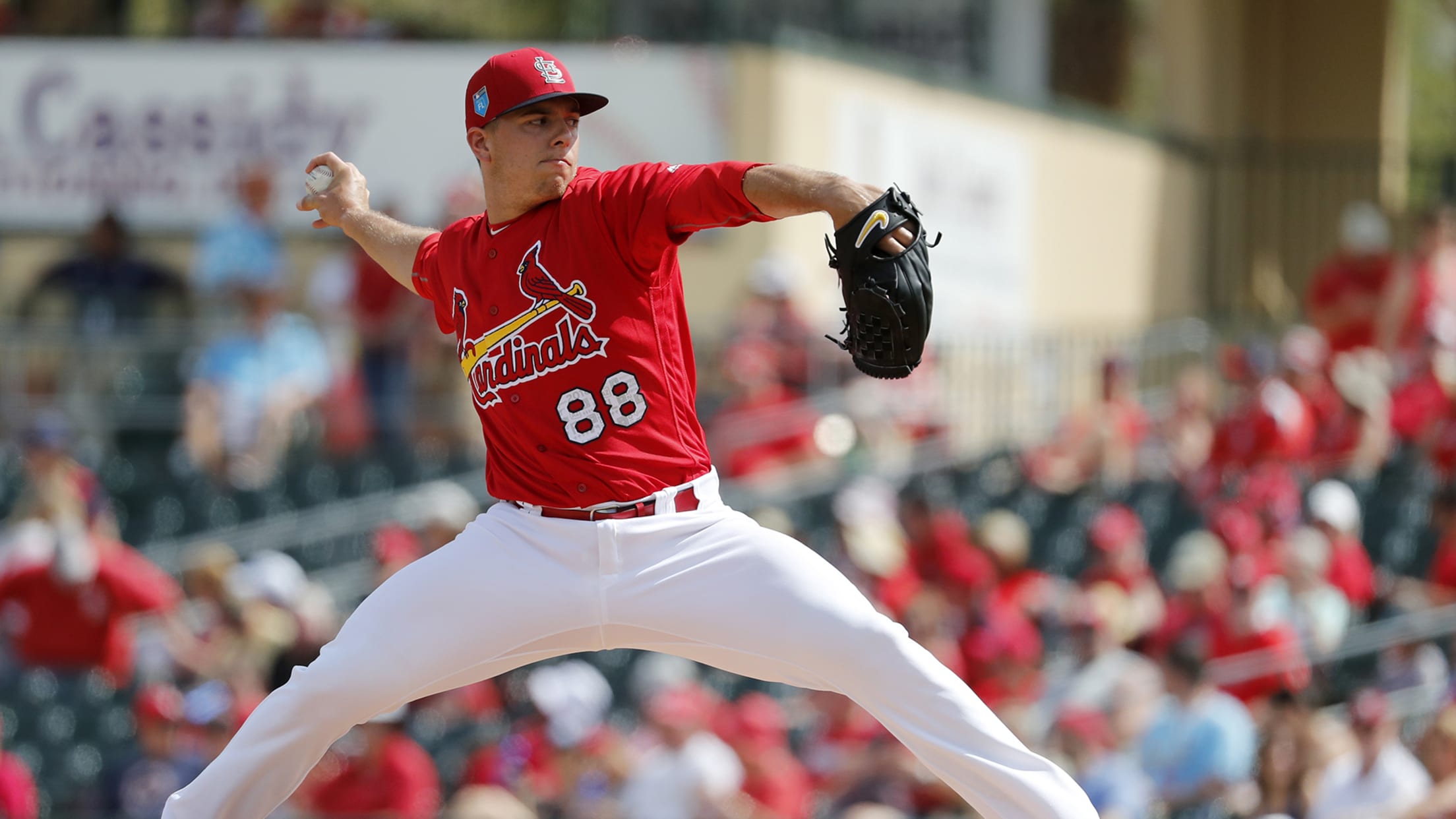 CINCINNATI -- Hoping to provide relief to a heavily worked bullpen, the Cardinals recalled right-handed reliever Ryan Helsley from Triple-A Memphis on Saturday afternoon. Infielder Edmundo Sosa was optioned to the Redbirds. The move gives the Cardinals 14 pitchers and 11 position players on their active roster, a composition they
CINCINNATI -- Hoping to provide relief to a heavily worked bullpen, the Cardinals recalled right-handed reliever Ryan Helsley from Triple-A Memphis on Saturday afternoon. Infielder Edmundo Sosa was optioned to the Redbirds.
The move gives the Cardinals 14 pitchers and 11 position players on their active roster, a composition they likely won't maintain for long. But after the bullpen saw considerable action over the last three days, the move was necessary.
"We're in a little bit of extenuating circumstances, want to make sure we're protecting our bullpen as much as we can," manager Mike Shildt said. "We'll figure out the best way we can compete with our position players."
Helsley pitched two scoreless innings in St. Louis' 3-2 loss to Cincinnati on Saturday night at Great American Ball Park in relief of starter Miles Mikolas. He gave up one hit, and issued one walk, with one strikeout.
Helsley's callup was a product of the bullpen's recent workload -- it's covered 15 innings in the past three games -- and the Cardinals schedule, now in the middle of a 17-game stretch without an off-day.
The Cardinals relied on the bullpen for 5 2/3 innings in Friday night's 12-11 win, but Shildt wanted to avoid using John Brebbia and Giovanny Gallegos, who were both used in Thursday's win. So Michael Wacha was used for 1 2/3 innings, and closer Carlos Martínez was left struggling through the ninth, throwing 27 pitches before notching the save. That leaves both pitchers questionable for Saturday night. John Gant and Andrew Miller have been used extensively this week, too.
Helsley and Dominic Leone -- who threw just two pitches Friday night and allowed a two-run home run -- might be looked at to eat innings Saturday, if needed to back up Miles Mikolas.
"[Helsley] can provide some quality relief and length," Shildt said. "We had a few guys that weren't available last night, a few guys that won't be available tonight. We decided to go shorter on our bench and give ourselves a little more opportunity to make sure we were fresh to carry some innings in the bullpen."
Helsley, who was put on the 10-day injured list with right shoulder impingement on June 13, has been pitching out of the Memphis bullpen since he finished his rehab assignment at the beginning of June.
Shildt had said he wanted health and consistency out of Helsley before his return to St. Louis. In his last five appearances, he has a 4.15 ERA (8 2/3 innings allowing four runs). But his last appearance was one of his best, when he threw three innings and allowed just one hit while striking out four on July 15.
This is the fifth time Helsley has been recalled this season, and he's made seven relief appearances in St. Louis with a 3.48 ERA, striking out 12 in 10 1/3 innings.
Keeping cool
Leaving the ball over the middle of the plate was a big reason the Reds battered Adam Wainwright for seven runs on nine hits over his 3 1/3 innings Friday night. But the 92-degree first-pitch temperature and a dugout without a breeze didn't do Wainwright any favors, either.
He called the environment "stifling" and said he did a poor job cooling down between innings, one of the factors in the Reds having just one hit in the first two innings and eight in his next 1 1/3.
The Cardinals and Reds won't find any reprieve Saturday night, with the temperature at 91 degrees at first pitch and Cincinnati being under an excessive heat warning.
Not unfamiliar with hot temperatures, the Cardinals make sure to hydrate before games and be efficient with any reps they take, whether that's batting practice, ground balls or weights.
"Just trying to be as smart as we can and manage it and still get the workload in," Shildt said. "We talked recently not only about it being warm but just this time of the season, starting to be smart with reps in every part of our clubhouse."