Wong set to return, start Game 1 vs. Braves
Flaherty gets Game 2 nod for Cards; Hudson to pitch out of 'pen for now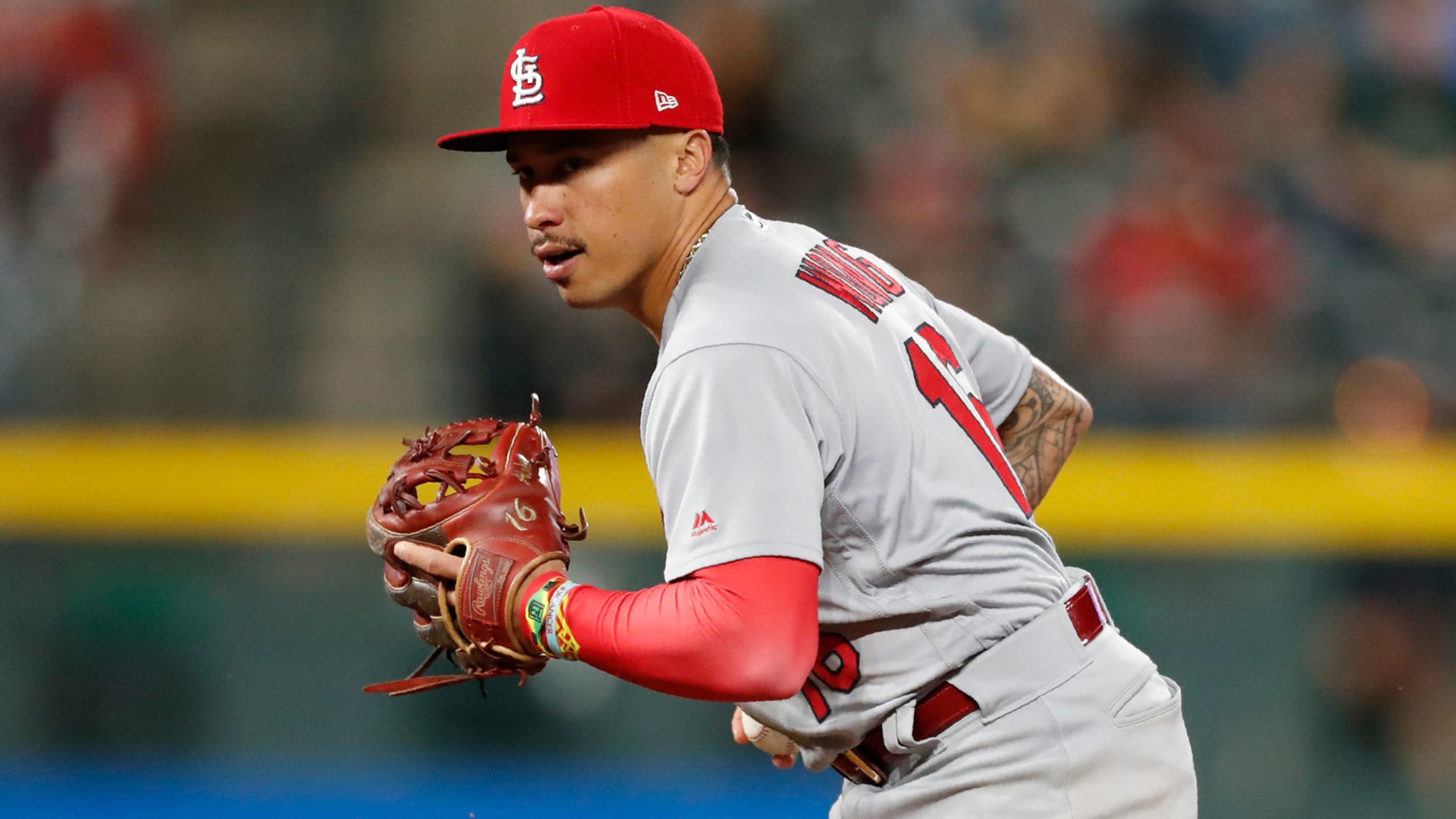 ATLANTA -- Cardinals second baseman Kolten Wong will not only be on the team's roster for Game 1 of the National League Divsion Series against the Braves, but he also will be in Thursday's starting lineup, manager Mike Shildt said during the Cardinals' workout on Wednesday at SunTrust Park. Wong
ATLANTA -- Cardinals second baseman Kolten Wong will not only be on the team's roster for Game 1 of the National League Divsion Series against the Braves, but he also will be in Thursday's starting lineup, manager Mike Shildt said during the Cardinals' workout on Wednesday at SunTrust Park.
Wong hasn't played since Sept. 19, when he sustained a Grade 2 left hamstring strain, but he said on Wednesday that he was ready and cleared to play after running the bases hard during workouts on Monday and Tuesday.
In Wong's absence, Tommy Edman had been starting at second base while Matt Carpenter slotted in at third. Shildt didn't reveal the roster or the lineup for Thursday, but it's likely that Edman will go back to third and Carpenter will give the Cardinals a left-handed bat off the bench.
Wong faced reliever John Gant, whom Shildt said just needed work on the mound after not pitching since Sept. 25, in live batting practice on Wednesday. Wong faced Mike Mayers on Tuesday before the Cardinals left for Atlanta.
"No restraints at all," Wong said. "I'm going to play hard. If something happens, you know, hopefully not. But I'm not going to hold back, that's for sure."
After slashing just .244/.327/.376 before the All-Star break, Wong came out on fire in the second half of the season. In 62 games (55 starts) after the break, Wong slashed .342/.409/.487 and deepened the top of the lineup. The Cardinals went 39-23 when Wong appeared during the second half.
When Wong injured his hamstring, he went back to St. Louis to rehab while the team was in Arizona. He had hoped to make it back by the final weekend of the regular season, but he hesitated, knowing that if he suffered a setback, he might miss all of October.
The patience paid off.
"There were certain times when I felt I could run, but judging by how I felt yesterday, when I was running, I was like, 'Man, if I would have pushed it a couple days earlier, it wouldn't have been good,'" Wong said. "It was definitely good to take [a step] back, make sure all the boxes were checked before I stood out there."
Flaherty to start Game 2; Hudson available in bullpen
Shildt also announced Wednesday that Jack Flaherty (11-8, 2.75 ERA) will start Game 2 of the NLDS at 3:30 p.m. CT on Friday against the Braves. Flaherty pitched in Sunday's regular-season finale vs. the Cubs, allowing two hits over seven scoreless innings on 69 pitches. Starting Game 2 sets Flaherty, who had an MLB-best 0.91 ERA in the second half, up to pitch Game 5, if necessary.
Shildt did not name a Game 3 starter, although he said that Dakota Hudson (16-7, 3.35 ERA) will be available out of the bullpen for Games 1 and 2. If the rookie right-hander is used in relief, he will likely start Game 4 while Adam Wainwright (14-10, 4.19 ERA) gets Game 3.
"Because he's flexible, we can see a couple different places for him," Shildt said. "Obviously, a certain point in the game will dictate that. Dakota will get a start, but he'll start tomorrow available in the bullpen."
Some projected Hudson as a reliever while he was in the Cardinals' farm system, citing that his sinker-slider combination would prove effective out of the bullpen. He spent the second half of 2018 doing just that, posting a 2.63 ERA in 27 1/3 innings before making the '19 Opening Day roster as a member of the rotation, where his sinker and slider have worked, too. Hudson has a team-leading 16 wins -- the most among rookies in the Majors -- and a 57 percent ground-ball rate that paces the Majors.