Bochy pleased with Rodriguez's latest audition
Giants' manager also shares opinions on rules changes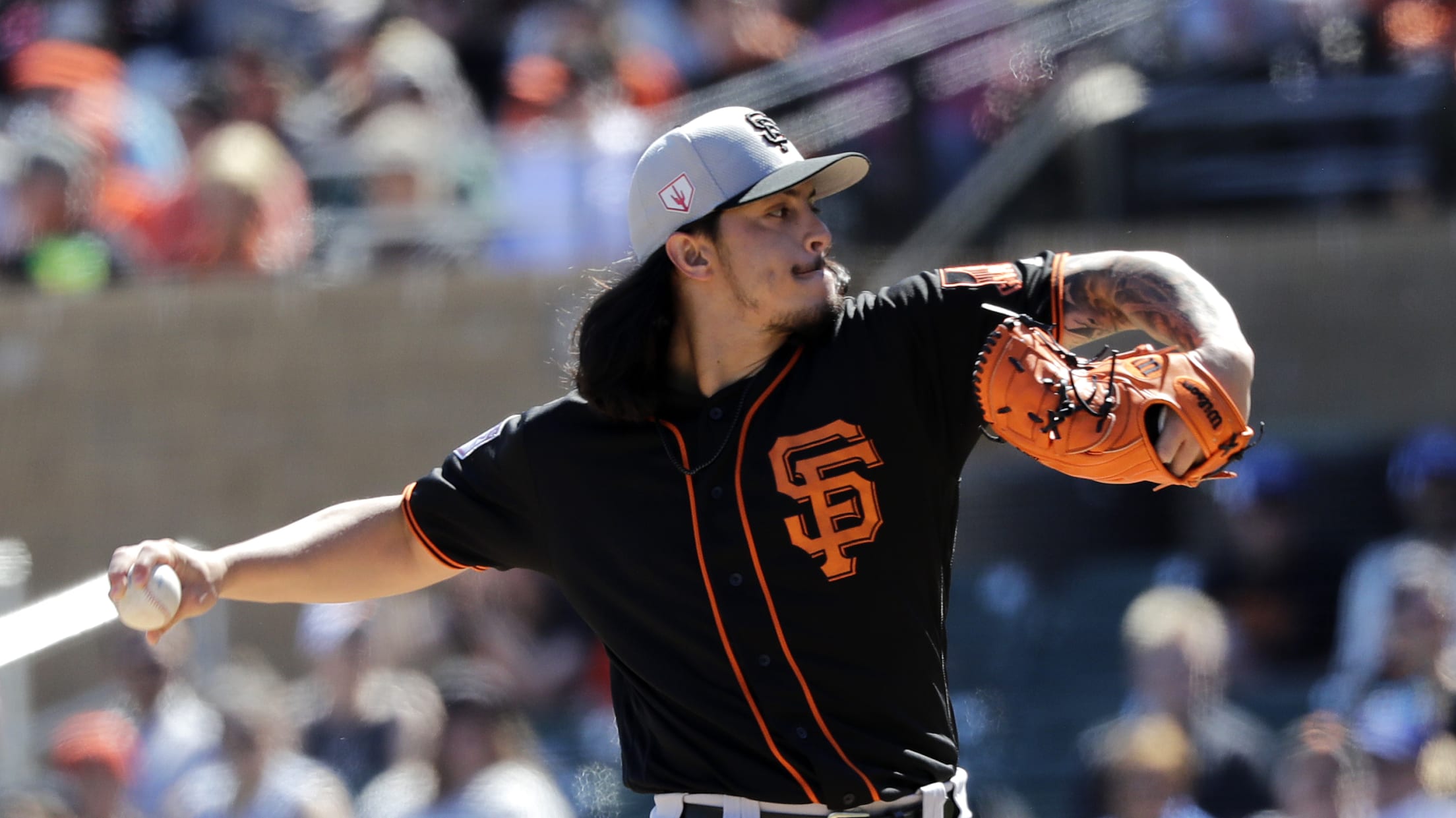 SCOTTSDALE, Ariz. -- If only Salt River Fields were a Major League ballpark. Over his last three starts at the shared Spring Training park home of the D-backs and Rockies, Dereck Rodríguez has started to make a case for an ownership stake in the pitcher's mound at Talking Stick. Between
SCOTTSDALE, Ariz. -- If only Salt River Fields were a Major League ballpark. Over his last three starts at the shared Spring Training park home of the D-backs and Rockies, Dereck Rodríguez has started to make a case for an ownership stake in the pitcher's mound at Talking Stick.
Between his breakout Cactus League outing on March 21 last season against Arizona, his March 3 start against the Rockies earlier this month and Thursday's 3-0 loss to the D-backs, Rodriguez has posted a 1.69 ERA in those three spring appearances. He's allowed just two runs on seven hits and five walks while striking out six in 10 2/3 innings at Salt River Fields.
"They liked the way I pitched here last year, so I guess they're just bringing me back every time," Rodriguez said of his 77-pitch outing. "I felt good. I threw a lot of strikes. I was happy, I was pounding the zone today. Physically, I feel good."
It was exactly what manager Bruce Bochy wanted to see from someone he's banking on to be a mainstay in the rotation.
"He did a great job," Bochy said. "It reminded me of last year. That was kind of a tipping point for him, I thought. It was a night game that he pitched here. It was a big moment for him, his dad was here. He threw a beautiful game. It seemed like that elevated his confidence. He pitched great today."
Rodriguez allowed a run in the second on a sacrifice fly after a leadoff triple from Christian Walker, but his big test came in the fourth frame. He sandwiched a pair of walks around a ground-rule double to load the bases with one out, but he escaped the jam by striking out Alex Avila looking before Gerardo Parra made a sprint into foul territory in right field to record the final out against the bullpen fence.
"He saved me," Rodriguez said. "I was talking to Buster on the way [to the ballpark]. We were trying to flip the switch, turn it on. Two weeks away [from Opening Day]. That's when the mentality starts to switch. Today for me, that's when I used the bases loaded with one out -- probably the best game situation I could get. Just went out there and used that as midseason. It helped me out."
Other arms
• Reliever Travis Bergen pitched a scoreless 1 1/3 innings, bringing him to seven scoreless frames in six Cactus League appearances. He was a Rule 5 Draft pick from the Blue Jays system, and has yet to pitch above Double-A. He's pitching well enough to earn a spot in the bullpen, especially considering the fact that the Giants have to offer him back to the Blue Jays if he doesn't make the Opening Day roster.
"He's kind of a two-pitch guy with command," Bochy said. "He's got life on the fastball. A good breaking ball. He works up and down well. More south, as they say. He's shown good poise there. He's throwing strikes. Mixed pitches up well."
• Drew Pomeranz pitched in a Minor League game on Thursday.
"He threw fine," Bochy said. "I think 76 pitches, five innings. Good day for him."
Change is going to come
Bochy had a couple quick reactions to rule changes released Thursday for 2019 and '20.
In 2020, pitchers will need to face a minimum of three batters or finish the inning before a pitching change can be made.
"I'm looking at a guy that played a big, critical role in our success -- Javy Lopez," Bochy said. "That might have affected his career. He was a left-handed specialist."
Bochy also had some thoughts on cutting September rosters from a maximum of 40 players to 28.
"From a personal standpoint, I was one of those guys who wanted to get called up at the end," Bochy said. "And of course, my son [Brett, who pitched seven games over two September call-ups]. I hate to see a couple guys who had big years down there and that might be their only opportunity to reach their dream and get a chance to play in the Major Leagues."
Up next
The Giants host the Angels at Scottsdale Stadium on Friday for a 1:05 p.m. PT game. Right-hander Jeff Samardzija will get the start for San Francisco, while lefty Dillon Peters takes the mound for the Halos.