Notes: Giants slated for 2 exhibitions vs. A's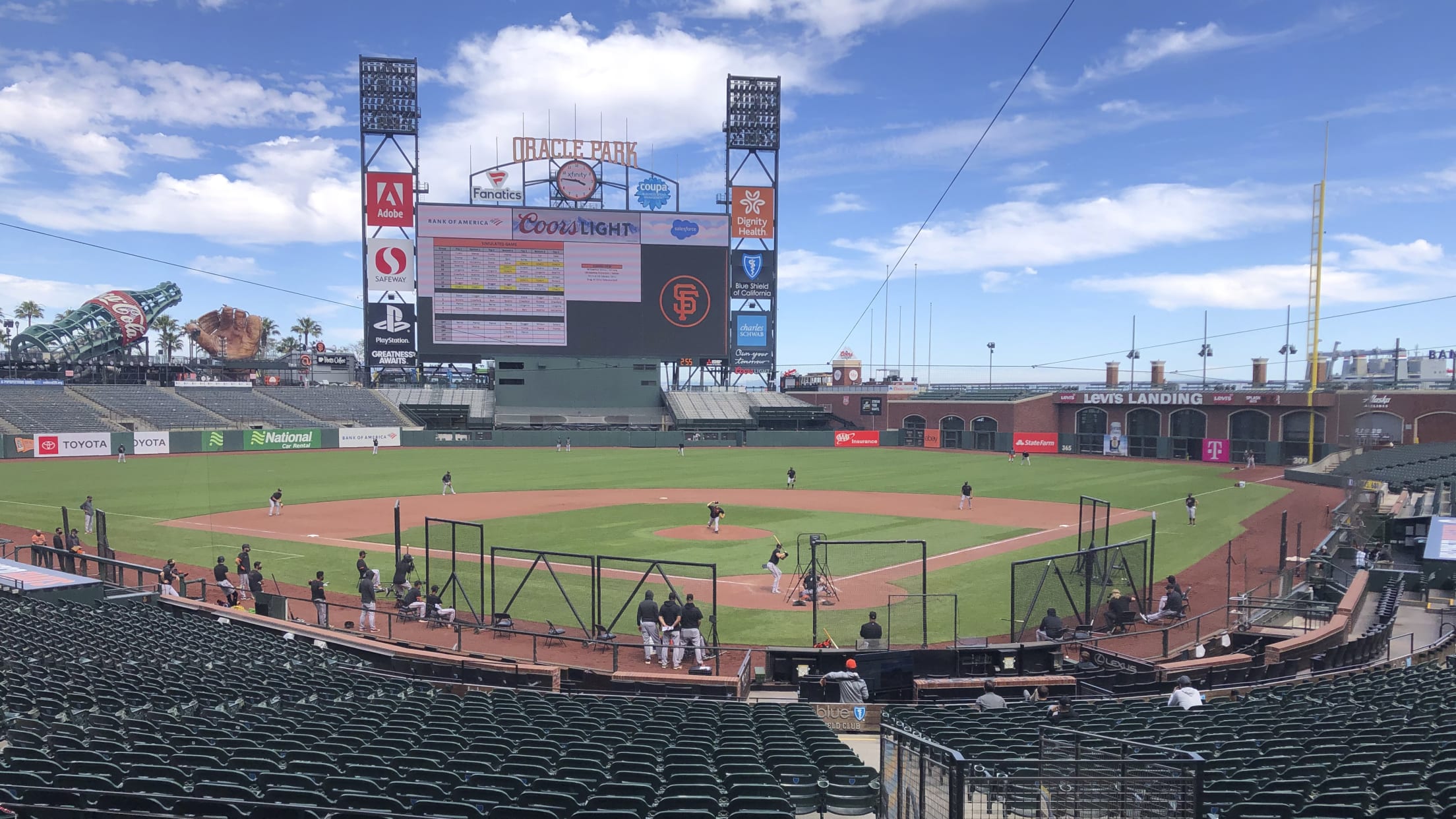 SAN FRANCISCO -- As expected, the Giants will close out their Summer Camp slate with some Bay Bridge action against the A's. The cross-bay rivals announced Monday that they will play two exhibition games ahead of Opening Day next week: July 20 in Oakland (6:40 p.m. PT) and July 21
SAN FRANCISCO -- As expected, the Giants will close out their Summer Camp slate with some Bay Bridge action against the A's.
The cross-bay rivals announced Monday that they will play two exhibition games ahead of Opening Day next week: July 20 in Oakland (6:40 p.m. PT) and July 21 (6:45 p.m. PT) in San Francisco.
Both games will be televised on NBC Sports Bay Area and broadcast on KNBR 680.
Next week = LIVE BASEBALL GAMES#SFGiants pic.twitter.com/pU9rmn5Lir

— SFGiants (@SFGiants) July 13, 2020
The exhibition series against the A's will be the only games the Giants play against an opposing team before they head to Los Angeles to face the Dodgers in their season opener on July 23. So far, they've been simulating game-like reps for their players by staging Orange-Black intrasquad games at Oracle Park.
"The one thing that I think we are focused on right now is doing as good a job creating that level of intensity with guys who are wearing Giants uniforms," manager Gabe Kapler said. "I think the exhibition games with the A's are a good, healthy reminder that the season is coming, and it's coming fast."
Third baseman Evan Longoria said he also believes the games against Oakland will serve as a key tune-up for the Giants.
"It's tough to feel as competitive as you'd like to be going into the season without seeing a different uniform on the other side," Longoria said. "I think those games will be important. I think everybody has done a really good job thus far in the intrasquad games in trying to keep the intensity up."
Intrasquad recap
The Giants played their third intrasquad game of Summer Camp on Monday, with the Black squad emerging with a 2-0 win behind RBI hits from top prospect Joey Bart and center fielder Steven Duggar.
Black squad (road):
Sánchez 2B
Crawford SS
Longoria 3B
Pence DH
Bart C
McCarthy LF
Slater 1B
Duggar CF
Canario RF
Wilson DH

Menez SP
Cyr
Baragar

— Maria I. Guardado (@mi_guardado) July 13, 2020
Left-hander Conner Menez delivered a strong outing for the Black squad, retiring all six batters he faced while striking out Joey Rickard, Zach Green and Abiatal Avelino. Kapler said Menez worked with pitching coaches Ethan Katz and Andrew Bailey to make a minor adjustment to his arm action that has allowed him to better execute his pitches.
"Since then, things have really cleaned up," Kapler said. "The velocity has been strong and the location of his pitches has been better. You can tell that his mentality is aggressive on the mound. He deserves a lot of credit for the adjustments he's made recently."
Right-hander Dereck Rodríguez was not as sharp, allowing six of the nine batters he faced to reach base in his start for the Orange squad. He surrendered a double to Yolmer Sánchez, a walk to Brandon Crawford and an RBI double to Bart in the first inning and opened the second by issuing back-to-back walks to Joe McCarthy and Austin Slater. McCarthy then scored from second on a single by Duggar.
"He's been a little bit up and down in this camp," Kapler said. "He was also a little bit up and down in our first camp, although towards the end of our Spring Training camp, he was really coming on strong and showing well. Right now, I think he's wrestling to find his command. I think he's wrestling to find his best stuff. We're going to continue to work with him to bring the best out of him."
Lefty Andrew Suárez relieved Rodríguez and faced the minimum over two scoreless innings. Relievers Sam Wolff and Caleb Baragar, two recent additions to the Giants' player pool, also worked clean innings.
Alexander Canario, who is ranked the Giants' No. 6 prospect by MLB Pipeline, made a nice play in right field after playing a ball off the wall and firing back to the infield to nab Rob Brantly, who was attempting to stretch a single into a double.
Injury updates
• Right-hander Tyler Cyr was scheduled to pitch two innings on Monday, but his outing was cut short after he was struck by a comebacker off the bat of outfield prospect Heliot Ramos in the third. Kapler said Cyr has a right knee contusion and is considered day to day.
Great piece of hitting from my man Heliot, as you can see he maintains good posture which allows his bat to stay in the zone & reach the outside split change up. OUCHHHH 😅😅 https://t.co/em9kr8LJ12

— Tyler Cyr (@tycyr93) July 14, 2020
• Right-hander Trevor Cahill, a non-roster invitee, has not appeared in intrasquad action yet, as he's dealing with a fingernail issue. Kapler said Cahill threw on Monday and will be re-evaluated on Tuesday.
Romo weighs in on Posey's decision
Former Giants reliever Sergio Romo, who signed a one-year, $5 million deal with the Twins in December, spoke to reporters in Minnesota on Monday and shared his thoughts on ex-teammate Buster Posey's decision to sit out the 2020 season after adopting identical twins who were born premature.
"Just as a fan of baseball, it makes me sad," Romo said. "But I'm also proud of him, to be honest, that he was able to put his family in a position to where he can make a decision like that and step away for a year. But knowing Buster, 2021, we might be calling him the NL MVP, because I know Buster's going to stay at it, working hard. I know the talent that he is and the mindset that he's going to put towards his time away if he doesn't play."
Maria Guardado covers the Giants for MLB.com. She previously covered the Angels from 2017-18. Follow her on Twitter.