Moore earns more playing time at shortstop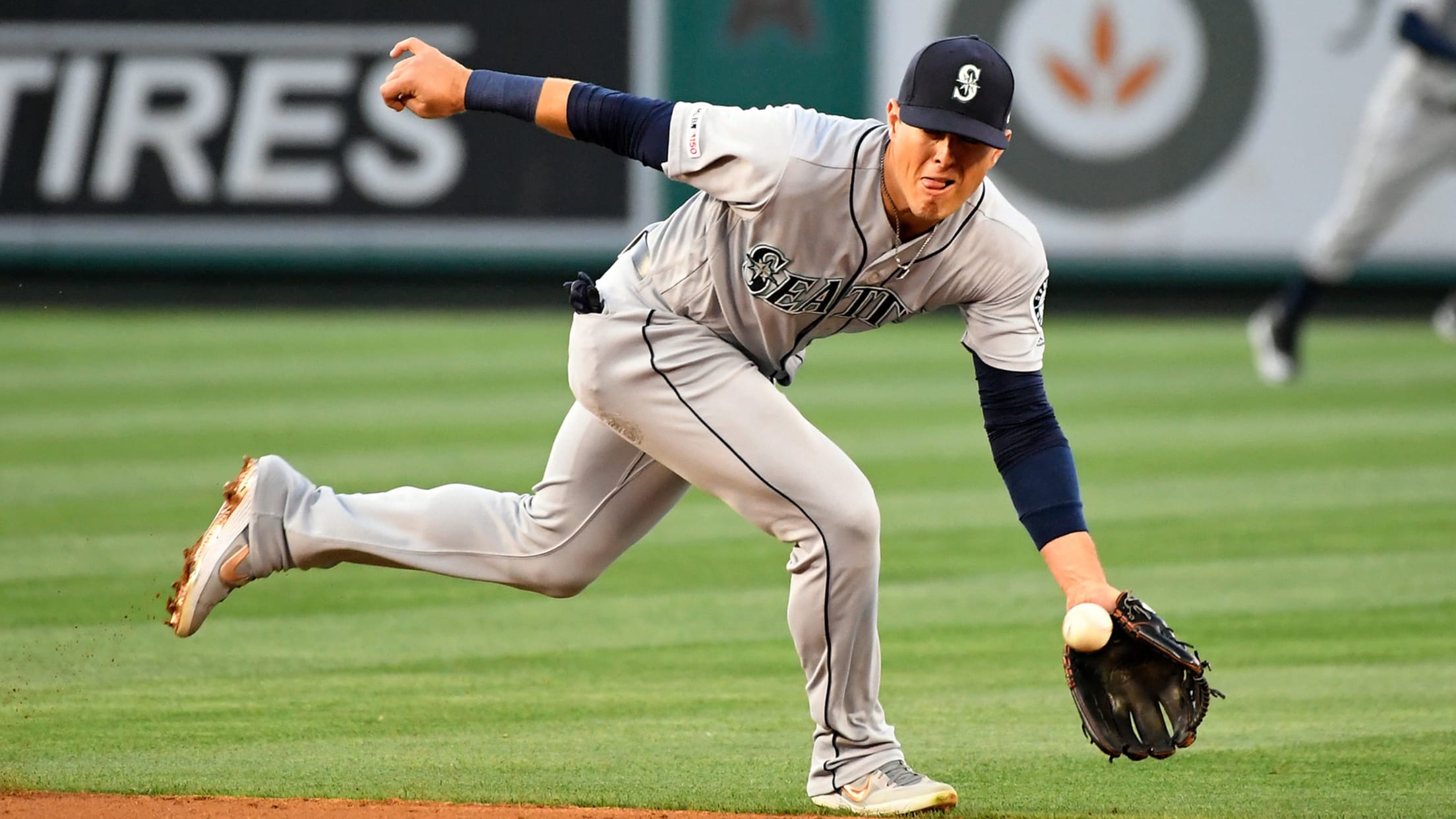 ANAHEIM -- As Mariners manager Scott Servais attempts to solidify his team's defense and continues looking to the future, rookie utility man Dylan Moore has quietly taken over the starting shortstop duties while J.P. Crawford has been on the injured list. Moore started his 10th straight game at shortstop in
ANAHEIM -- As Mariners manager Scott Servais attempts to solidify his team's defense and continues looking to the future, rookie utility man Dylan Moore has quietly taken over the starting shortstop duties while J.P. Crawford has been on the injured list.
Moore started his 10th straight game at shortstop in Sunday's series finale against the Angels; veteran Tim Beckham -- who is tied for the Major League lead with 13 errors -- is now sharing time at second base with rookie Shed Long.
Moore has had some adventures -- including a face-first stumble while attempting to turn a double play in Saturday's 12-3 loss, and a throw home last week when catcher Omar Narvaez vacated the plate too early as the throw sailed to no one.
But Moore has handled himself well at the position and is increasing his value as a utility man, since playing a solid shortstop is the first -- and toughest -- requirement of that role.
"It's definitely cool to get a tempo and routine going every day," Moore said. "It helps to know you're in the lineup every day and have stuff to work on from day to day, as opposed to a couple at-bats a week. It's been nice."
The 26-year-old played all the infield positions, as well as some outfield, during his five Minor League seasons in the Rangers, Braves and Brewers organizations, but the majority of his starts came at shortstop and he's been at that position since his childhood days just down the road from Angel Stadium in Anaheim.
"I'm comfortable there, for sure," Moore said. "I'm just trying to play as best I can every day. I know I have to play short to be a good MLB player. If you can play short, you can play other positions, so you need to be able to do it."
Crawford is Seattle's shortstop of the future and will regain that position once his left ankle fully heals, which could come as soon as next weekend in Oakland. Manager Scott Servais also said it's possible that second baseman Dee Gordon could play some shortstop in the future.
But for now, Moore is soaking up the duty and showing he's capable of filling in when needed.
"I think he's handled it really well," Servais said. "He's really athletic. He runs the bases well, he covers, his lateral range is really good, his throws have been accurate, for the most part, he gets rid of it quick on double plays. He's got a good internal clock as well. He knows when he needs to hurry or when he's got time. For a young guy in this league, I think he's making pretty good adjustments."
Moore acknowledged that "the internal clock here is a little different than anywhere else," due to the speed the game, which is why he's soaking up this experience.
"Playing every day has definitely helped slow things down for me," he said. "Knowing runners, knowing situations, knowing the information ahead of time of what play could happen, definitely helps. It is a different game here. Everyone is faster and everyone hits the ball harder and stuff like that.
"But you just have to be able to slow the game down and know you've done all the work and practice to get here. You know you can do it, it's just the highest level, it's what we've always dreamed of and you have a high heart rate. It happens."
Worth noting
• Gordon went 1-for-5 with a bunt single in his second rehab game with Triple-A Tacoma on Saturday and will play one more game Sunday, then join the Mariners on Tuesday in Minneapolis. He's on the 10-day injured list with a bone bruise in his right wrist.
• Servais said Mike Leake will start Tuesday's series opener in Minnesota, with an opener likely on tap for Wednesday's game in front of Tommy Milone.
Thursday's starter is still undecided, though it appears the club would like to go with Yusei Kikuchi there to get him back on a five-day routine. That would allow Marco Gonzales to be pushed back to Friday in Oakland for an extra day of rest.