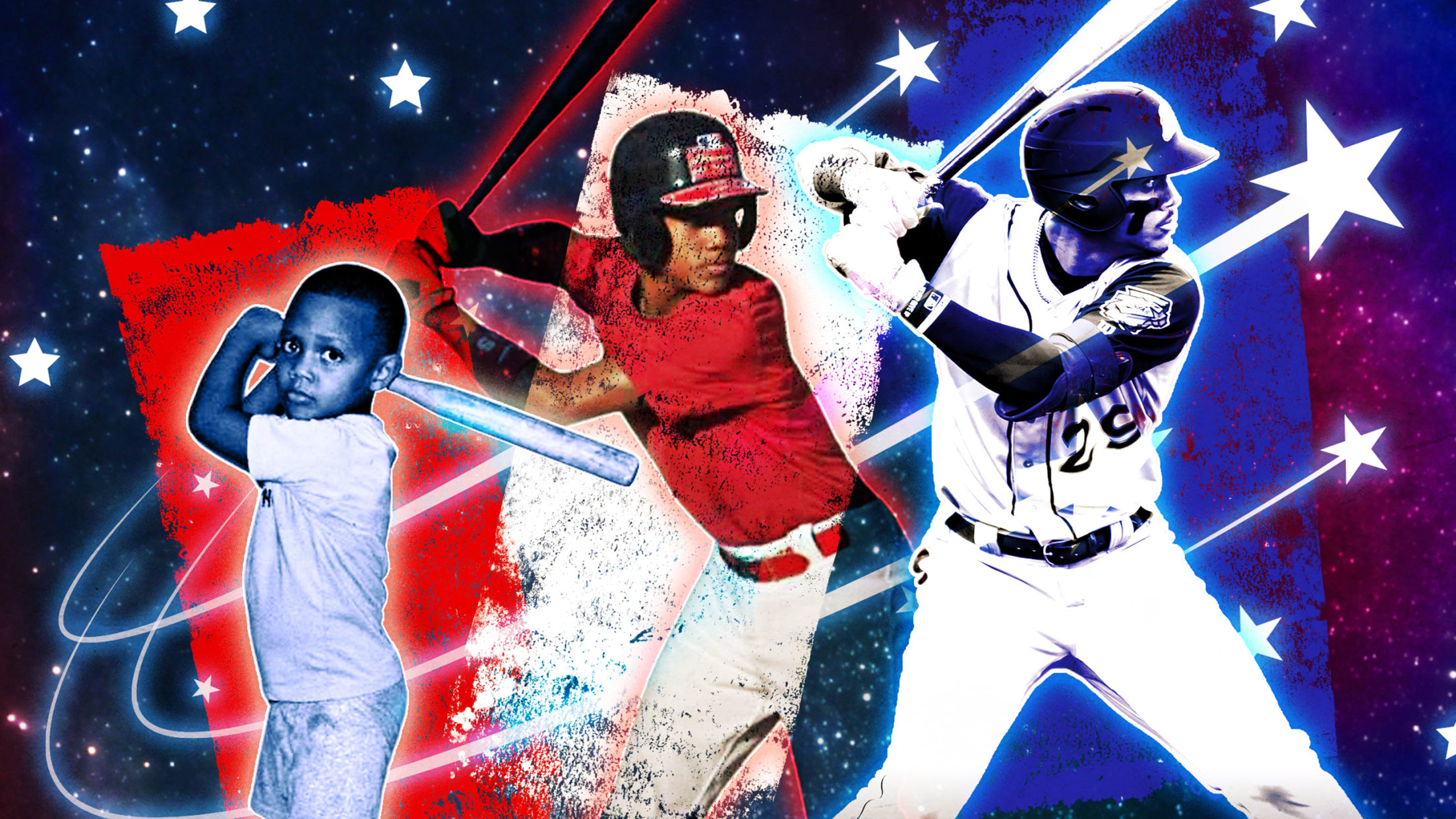 Scroll
Meet J-Rod, MLB's next superstar
The text message arrives around the same time each day, usually in the morning, but sometimes in the evenings after games.
It usually only contains a few words, but the sentiment means everything to top Mariners prospect Julio Rodríguez.
"¿Cómo estás, mi hijo?"
From thousands of miles away in the Dominican Republic, his dad, Julio Rodríguez Sr., is checking in on him. The 6-foot-3, 180-pound slugger, who was recently named MLB Pipeline's No. 2 prospect, may be the game's next superstar, but he is still somebody's little boy.
"How are you, my son?"
Sometimes, the father and son chat about the mundane. That's the beauty of their relationship. Julio Sr. cares about everything his son does. He wants to know how his son performed at the plate, but also if his blankets are comfortable enough, and if he's been eating right.
How was the bus ride?
What did the dentist say?
"It's amazing to have parents that have your back all of the time and are there for you no matter what," the outfielder said. "My family keeps me balanced and my mind right. I am who I am because of them."
Sometimes, a text exchange isn't enough. Rodríguez's Dominican Republic team won a medal at the Olympics earlier this month, and if that wasn't worthy of a phone call, nothing is.
"My father was crying when I called him," Julio said. "We did it. I still can't believe we made history and my name will be attached to an Olympic medal forever. That stage was so big that I never thought I would be on it."
The golden boy with a bronze medal has been praised for his five tools -- the ability to hit for average, run, field, throw and hit for power -- since he was 14. But it's his sixth tool, the "it" factor, that will help make him a household name.
I bought him his first bat when I was seven months pregnant. I believed he would be a player and, thank you to God, he is one of the best now.

Yasmiris Reyes
The 20-year-old exudes big league ability and big league charm. He's funny, but he can be deadly serious when it comes to the sport he loves. His easygoing personality helps him navigate the ups and downs that come with the game of life.
This year has provided a preview of what's to come.
"I've been around the game for three decades, and it's rare to find a player and personality that go perfectly together," Mariners general manager Jerry Dipoto said. "He's so talented, and he's often the most affable person in the room."
A BORN SLUGGER
Rodríguez was born to hit.
Most of his childhood photos show him in a baseball uniform, either swinging a bat or preparing to swing one. The tiny slugger would often pose like he was standing in the batter's box and then scare everyone within a three foot radius when he would unleash a full swing at full speed just for laughs.
"Was that right?" Julio would ask his father.
"Yes, son, now watch out for your sister's head," Julio Sr. remembers answering.
"I used to say that he was born with a bat in his hands," the father said in Spanish from his home in the Dominican Republic. "But, you know, that's not really true. He couldn't really handle a bat until much later in life. He was probably 2 years old the first time he really swung hard like he knew what he was doing."
Only in the Rodríguez household is a 2-year-old considered a late bloomer. But it makes sense. Julio Sr. is a life-long baseball fan who played the sport until he left for college at 18. Julio's mother Yasmiris Reyes says she literally passed on her love for baseball to her son in her genes. Mother's intuition told her Julio was going to be a great player.
"I knew it when I was pregnant," Reyes said in Spanish. "I bought him his first bat when I was seven months pregnant. I believed he would be a player and, thank you to God, he is one of the best now. God continues to take care of him and help him fulfill his dream to play in the Major Leagues."
Rodríguez grew up in Loma de Cabrera, Dominican Republic, a town near the border with Haiti. When he wasn't swinging a bat, he was riding his bike through the neighborhood. He loved basketball and video games -- two passions that followed him into adulthood. Household chores and homework were part of his daily routine.
"Even when he was little, he was able to take advice and learn," Reyes said. "He has always been a good listener and puts what you tell him in action. Julio is mature in that way. You tell him once, and he understands. He gets what is good and he gets what is bad and why people who he trusts are guiding him."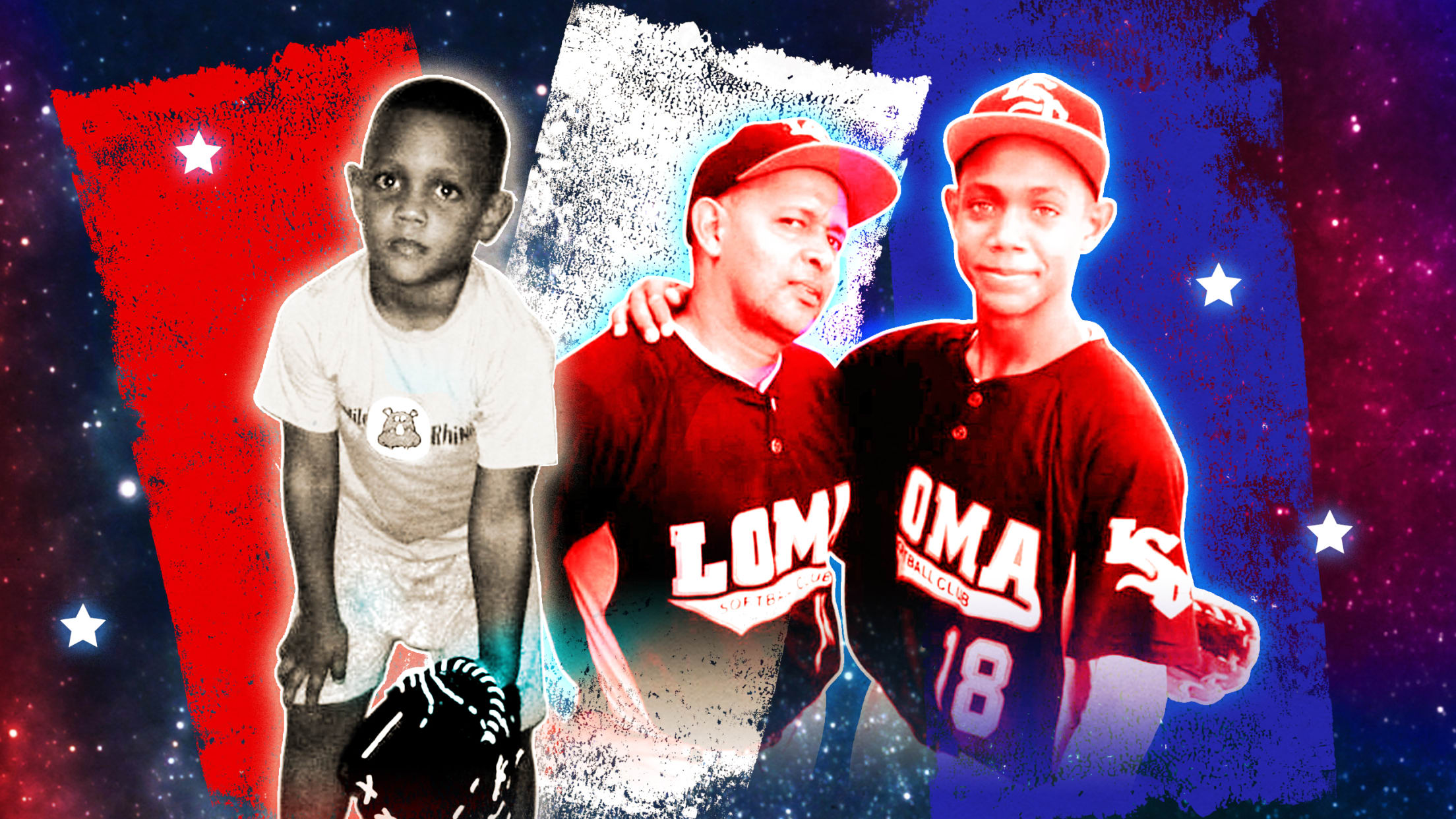 Julio began playing organized baseball in youth leagues around Loma de Cabrera when he was 6. He hit his first home run over a fence 300 feet away from home plate when he was 12. By 13, he was starring on his father's company softball team.
"I'll never forget the first time Julio hit a home run and how hard he hit it," Julio Sr. said. "That's when I realized how much talent he had and when we really started working hard at it. I put him up against kids that were 15 and 16, and he could play with them. I knew then that he was special."
Julio Sr. trained his son six days a week when the boy was 13. Their first workout of the day began at 6 a.m. and continued until 7:30 a.m., when Julio left for school. They would work out for hours in the afternoon, when Julio returned from school and his father came home from work.
"As parents, you do what some think is impossible for your children to give them a better life," Julio Sr. said. "You guide them, and you love them. We did that with Julio, and we never forgot about his education."
As Rodríguez developed, his reputation as a future prospect also grew.
He's got the kind of talent that he could be in the big leagues before you blink. ... We also trust the person.

Jerry Dipoto
Trainers, sometimes referred to as "buscones," began calling, and chatter about the huge green-eyed kid from Loma de Cabrera with thunderous power spread across the island. In the Dominican Republic, trainers are an important part of the baseball ecosystem. They find young players, recruit them into their programs and develop them while housing and feeding them until they are eligible to sign with a Major League team at age 16. In return, the trainers receive a percentage of the prospect's signing bonus.
A scout for a trainer named Quico Pena spotted Rodríguez, who had just turned 14, at a tournament and passed the word on to his boss as soon as he could. Pena, whose program was based three hours away in the northern city of Santiago, saw the teen in person and immediately began the recruiting process.
"I had a lot of competition because other academies wanted to sign him to put him in their programs," Pena said in Spanish from his home in the Dominican Republic. "It was a serious decision for the family, and it took several months for them to do background checks on me to make sure I was the right person. We talked a lot about morals and values and being a good human being, and they decided on me."
It was Pena's job to mold the talented but raw Rodríguez into a prospect for MLB teams, so they trained twice a day, six days a week.
"I don't think people understand how hard it is to leave your family and your childhood behind at 14 to chase your dream," Rodríguez said. "We do it to put our families in a better spot in life and because we love baseball, but we sacrifice a lot."
A TRANSITIONAL MOMENT
One of the primary goals for international scouts is to find the next Fernando Tatis Jr., Juan Soto or Ronald Acuña Jr. They scour the back roads across Latin America and the Caribbean in search of these gems.
It's one of the most difficult jobs in the game. Essentially, it's their job to evaluate 15-year-old players and try to forecast how they would perform in a big league setting. Every now and then a prospect like Rodríguez comes along.
Eddy Toledo, the former Mariners' supervisor of scouting for the Dominican, first spotted Rodríguez at one of Pena's tryouts in 2015.
The young teen was big and strong with tons of athleticism and power potential. His makeup was off the charts and his potential was obvious.
He became the Mariners' top target.
But, as is the case with all top international prospects, Rodríguez had other suitors. His included the Angels, Rangers and Tigers. Rodríguez had million-dollar options at his disposal. For him, the decision was about more than just a big signing bonus.
This was a transformational moment that would change everything for him -- and his family.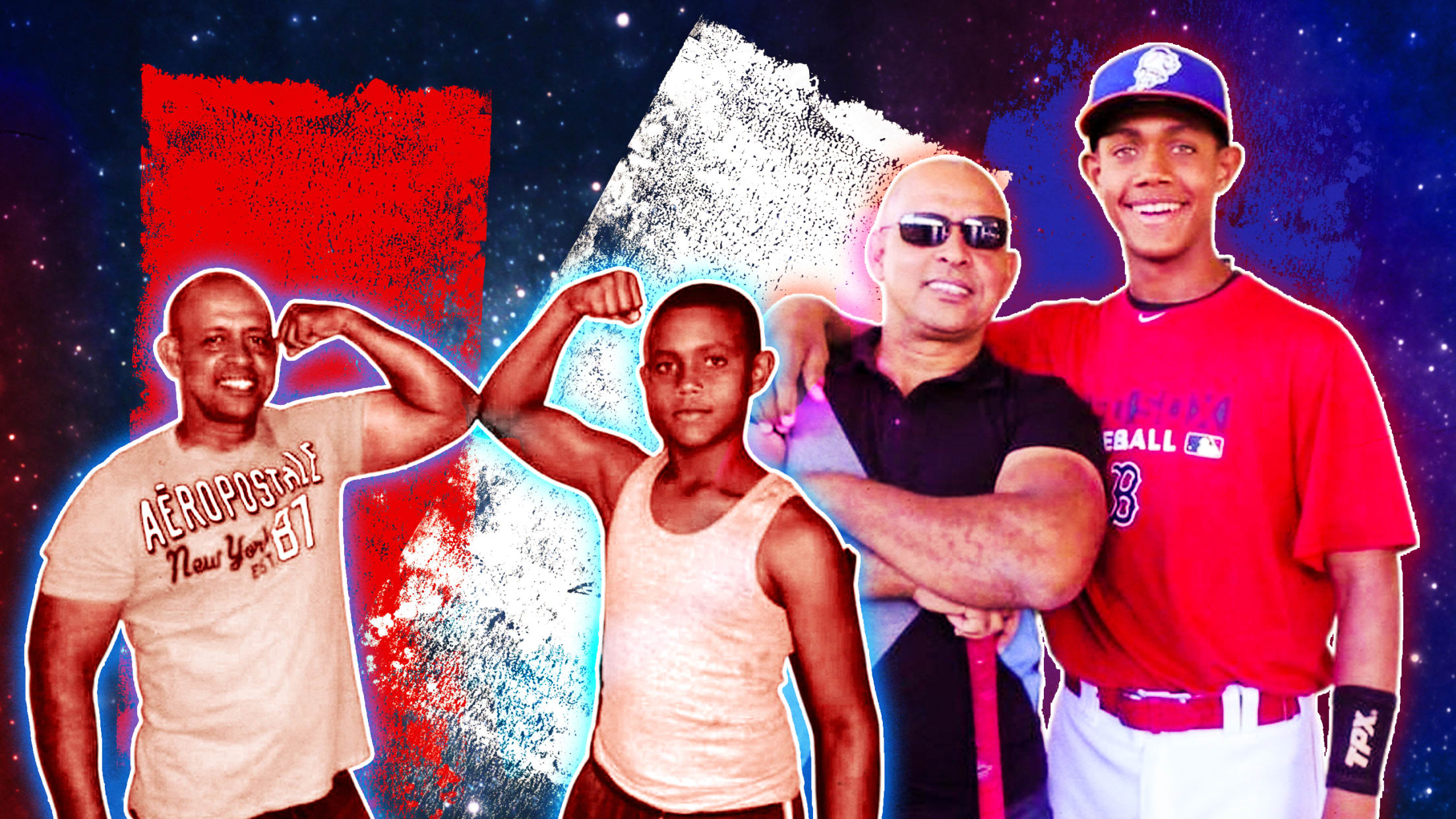 Julio's parents knew the team that signed him would play a crucial role in their son's development as a human being -- not just as a baseball player. They interviewed each club interested in signing Julio and allowed the organization to make its best pitch.
Julio Sr., an agricultural engineer by trade, led the talks. He spent two decades working for Save the Children of the Dominican Republic, a humanitarian organization that focuses on rights, healthcare, education and the development of children, so he knew which questions to ask and what answers he was seeking.
The wrong answer could eliminate a club from contention.
"We raised our son to have values and morals," Julio Sr. said. "Julio is the way he is because that comes from home and us. He's been able to keep a calm head because that's how he was raised. That's what he knows, and who he is. We wanted to keep him that way."
The Mariners, led by former international scouting director Tim Kissner, assured the Rodríguezes that Julio's education would continue. There were programs in place to help him, Kissner said, and more programs waiting for him in the United States.
The recruiting efforts included a tour of the club's new state-of-the-art academy for international prospects in the Dominican Republic. The complex, which includes a dormitory, a weight room, computer lab and other amenities, rivals the facilities used by the best college athletes at the top athletic programs in the United States.
Sold on the Mariners, Julio's parents did make one final -- and important -- demand: They insisted Julio graduate high school before he signed his pro deal.
I've been through some tough situations before, but I've always looked on the bright side of things. ... That's the way I look at life. There's no place for the negative.

Julio Rodríguez
The request surprised no one. Rodríguez's tryouts were scheduled around school exams during the two years he trained with Pena. The teenager often made the long ride from Santiago back to his home in Loma de Cabrera to keep up with his schoolwork and to take tests.
The Mariners didn't only agree to the terms; they offered English classes and other educational opportunities to seal the deal.
Months later, Rodríguez signed with the Mariners for $1.75 million on July 2, 2017, at age 16. He now speaks English and Spanish fluently.
"One of the things we do, especially with our international signs who start in our Dominican complex, is recognize that it is on us to help finish the job parents have started, because they are just 16 years old," Dipoto said. "It's on us to help finish their education and help them to be as productive as they can be as they mature into grown men. Julio is a great example of that."
In his first taste of pro ball, Rodríguez dominated the Dominican Summer League. He had a .315/.404/.525 slash line and more hits (69) than games played (59) on his way to being named his team's MVP in 2018.
Under the guidance of Mariners director of player development Andy McKay, he attended the six-week, high-performance camp that focused on developing the mind and body. It's an important part of the process for international prospects like Rodríguez as they make the transition from life at the academy in the D.R. to Minor League ball in the United States.
"Baseball is a global game, and we are as invested in signing international players and developing them as anyone, because it's a critical part to what we do," Dipoto said. "Our system has produced a lot of interesting players, and it's ongoing. These players have a chance to be a big part of the foundation we are putting together, and it's important to us."
A FUTURE WITHOUT LIMITS
The Arizona Fall League, which runs for two months throughout the greater Phoenix area, is known as the finishing school for the game's top prospects. The biggest names in the game have played there, and it's common for its participants to make the leap to Triple-A or the big leagues the next season.
The Mariners sent Rodríguez to the AFL in 2019 in part because they wanted to see how the teenager would fare against top competition, but also because his regular season was cut short by a fractured wrist. Rodríguez, then 18, had yet to play above Class A, but he thrived in Arizona, hitting .288 in 15 games.
The stop and start to Rodríguez's career continued the next year, when he spent 2020 at the Mariners' alternate training site after the COVID-19 pandemic wiped out the Minor League season. He made up for lost time by playing for the Leones del Escogido in the Dominican Winter League.
This season, Rodríguez started the year at High-A Everett and was promoted to Double-A Arkansas in July. Within a span of a few weeks, he was selected to play in the 2021 SiriusXM All-Star Futures Game and his Dominican Republic team qualified for the Olympics.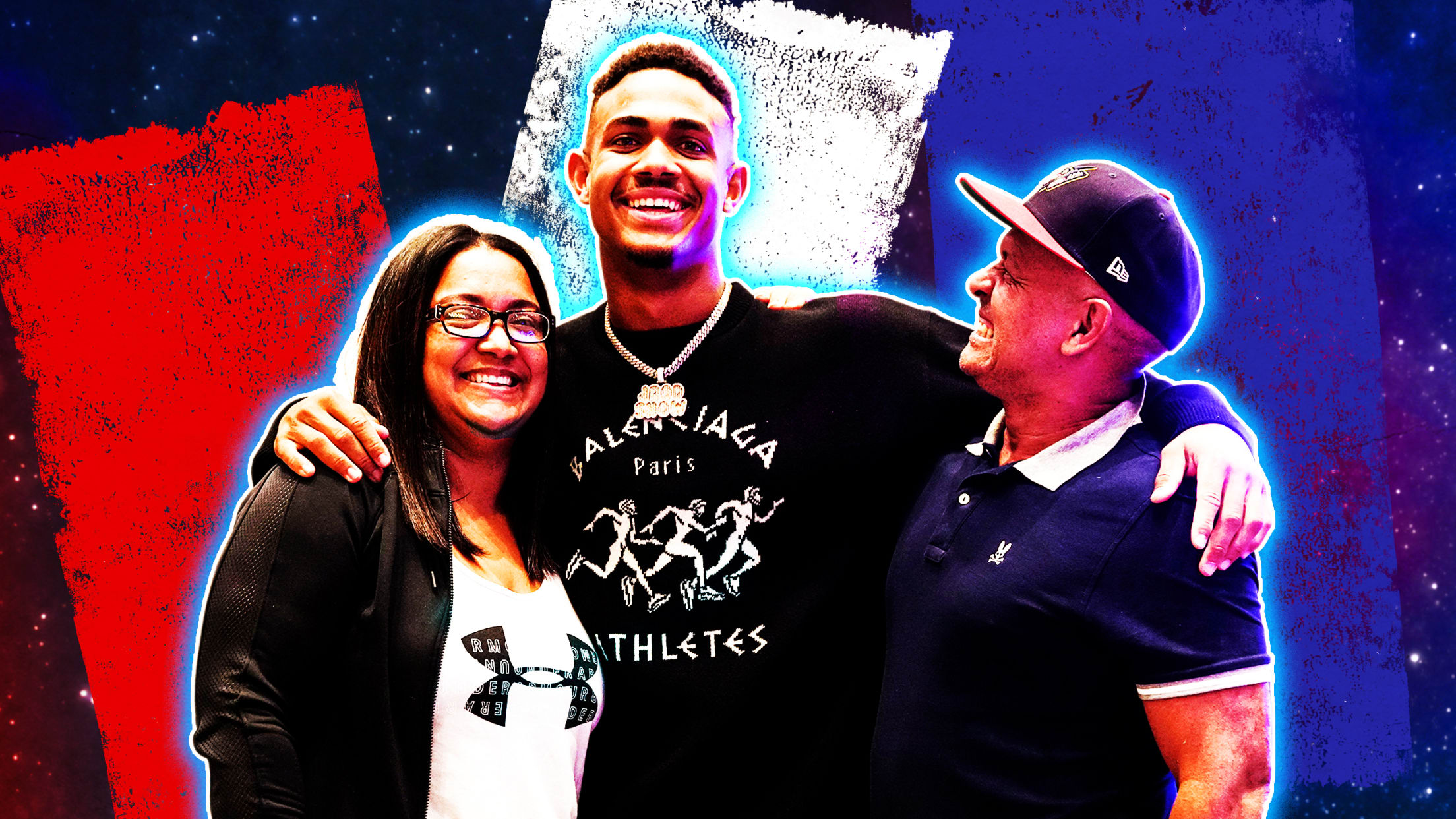 Rodríguez went 12-for-34 with nine runs scored and seven RBIs across two Olympic qualifying tournaments. In Tokyo, he hit .417 with a 1.069 OPS and was one of only four players in the tournament to record at least 10 hits, including a home run during the bronze medal game.
"Those are experiences that you can't replicate anywhere in baseball, because it's different than Minor League playoffs and it's different than a regular-season Major League game," Dipoto said. "I'm thrilled for him, and it means a lot for the future of Julio Rodríguez and, frankly, for the Mariners."
Off the field, Rodríguez stays busy with video games and social media. He created "Vibin' with JROD," a YouTube show where he interviews and plays games with other top Mariners prospects. He's bonded with Ichiro Suzuki, admires Alex Rodriguez and shrugged off the offensive and inappropriate remarks about his English by former Mariners team president Kevin Mather with a funny tweet.
"I've been through some tough situations before, but I've always looked on the bright side of things," Rodríguez said. "I just try to keep it moving and going forward. That's the way I look at life. There's no place for the negative."
Rodríguez remains a work in progress. He has still played fewer than 200 Minor League games and needs to make up at-bats lost during his Olympic journey. Yet there's still a chance he will make his big league debut in 2022 at the age of 21.
"I would not put a limit on what comes next for Julio," Dipoto said. "He's got the kind of talent that he could be in the big leagues before you blink. How quickly he comes is a byproduct of his performance. We also trust the person."
The text exchanged between the father and son after the big league call is going to be one to remember.
"That's the dream, and I don't know when it's going to happen, but what I can say is that I am going to take advantage of the opportunity," Rodríguez said. "I'm going to stay ready and keep working hard every single day."
credits:
Jesse Sanchez, who has been a reporter for MLB.com since 2001, is a national reporter based in Phoenix. Follow him on Twitter: @JesseSanchezMLB. Design by Dan Phillips.