Every WA state native to play for Mariners
SEATTLE -- Every fan loves a hometown hero, and the Pacific Northwest is no exception. Washington state has birthed Hall of Famers Ron Santo, Ryne Sandberg and Earl Averill, Cy Young Award winner Tim Lincecum, All-Stars Jon Lester, Michael Brantley and Grady Sizemore, and many more who've left a lasting
SEATTLE -- Every fan loves a hometown hero, and the Pacific Northwest is no exception.
Washington state has birthed Hall of Famers Ron Santo, Ryne Sandberg and Earl Averill, Cy Young Award winner Tim Lincecum, All-Stars Jon Lester, Michael Brantley and Grady Sizemore, and many more who've left a lasting legacy.
There is also a strong collection of Evergreen State natives who've suited up for the Mariners. Twenty-three players since the club was founded in 1977 have taken at least one plate appearance or thrown at least one pitch for Seattle. Here is a look at each, with players listed in descending order by most games played for the Mariners:
John Olerud, 1B
Hometown: Seattle
High school: Interlake | College: Washington State
Mariners' stats: 702 G, 17.1 WAR, .285/.388/.439, 72 HR, 405 RBIs, 3 Gold Glove Awards
When Olerud joined the Mariners as a free agent in 2000, the smooth-fielding first baseman was already in high regard among PNW baseball circles, having blossomed into one of the best two-way college players of all time at Washington State. As a Cougar, he became the only pitcher in NCAA history to win 15 games and hit 20 home runs, during the 1988 season, when he went 15-0 and crushed 23 homers -- a feat that may stand the test of time.
Olerud might've been among the Majors' most underrated players during his 17-year career -- and perhaps even during his five seasons in Seattle, where he was tasked with helping fill an offensive void left by Ken Griffey Jr. and Alex Rodriguez upon signing as a free agent in 2000. Despite what seemed to be a lofty undertaking, the Mariners -- and Olerud -- thrived, thanks in part to his .300 bat and all-world defense.
He was a key figure on the historic 2001 team that set the MLB record with 116 wins, and he also started that year's All-Star Game, which was held at T-Mobile Park.
Willie Bloomquist, OF/SS
Hometown: Bremerton
High school: South Kitsap | College: Arizona State
Mariners' stats: 622 G, .259/.314/.318, 7 HR, 116 RBIs, 3.0 WAR
The Mariners twice drafted Bloomquist -- in the eighth round in 1996 out of high school and in the third round in '99 out of college -- and he wound up becoming a fan and teammate favorite over parts of nine seasons in Seattle over two stints.
Bloomquist grew up on the western side of Puget Sound and attended the same high school that produced four other big leaguers, most notably pitcher Jason Hammel. He retired following the 2015 season after being designated for assignment by the Mariners that July.
Just want to thank all of you Mariner fans for a lifetime of memories in a mariner uniform. Can't thank you enough for 7 1/2 memorable yrs!

— Willie Bloomquist (@williebloom) July 2, 2015
Ken Phelps, DH/1B
Hometown: Seattle
High school: Ingraham | College: Arizona State
Mariners' stats: 529 G, 105 HR, 255 RBIs .913 OPS, 145 OPS+
Mainstream, Phelps might be remembered most as being the punchline of a Seinfeld joke, when actor Jerry Stiller shamed George Steinbrenner's character for trading Jay Buhner for Phelps in 1988. Buhner and Phelps still laugh about it to this day.
In Mariners circles, however, he was Seattle's first true slugger. Phelps' 105 homers from 1983-88 trailed only Alvin Davis' 110 for most in franchise history at the time, but Phelps reached that mark in half as many at-bats (1,399), with an average of one homer per 13.3 at-bats. For context, Barry Bonds' career rate was 12.9 -- and Phelps did this as a primary platoon DH.
• Phelps among Mariners' Top 5 all-time DHs
Phelps only landed with the Mariners after being purchased from the Expos, who didn't have enough room for him on their loaded roster. He grew up in Seattle and attended Washington State for one year before transferring to Mesa Community College, with hopes of eventually playing for Arizona State.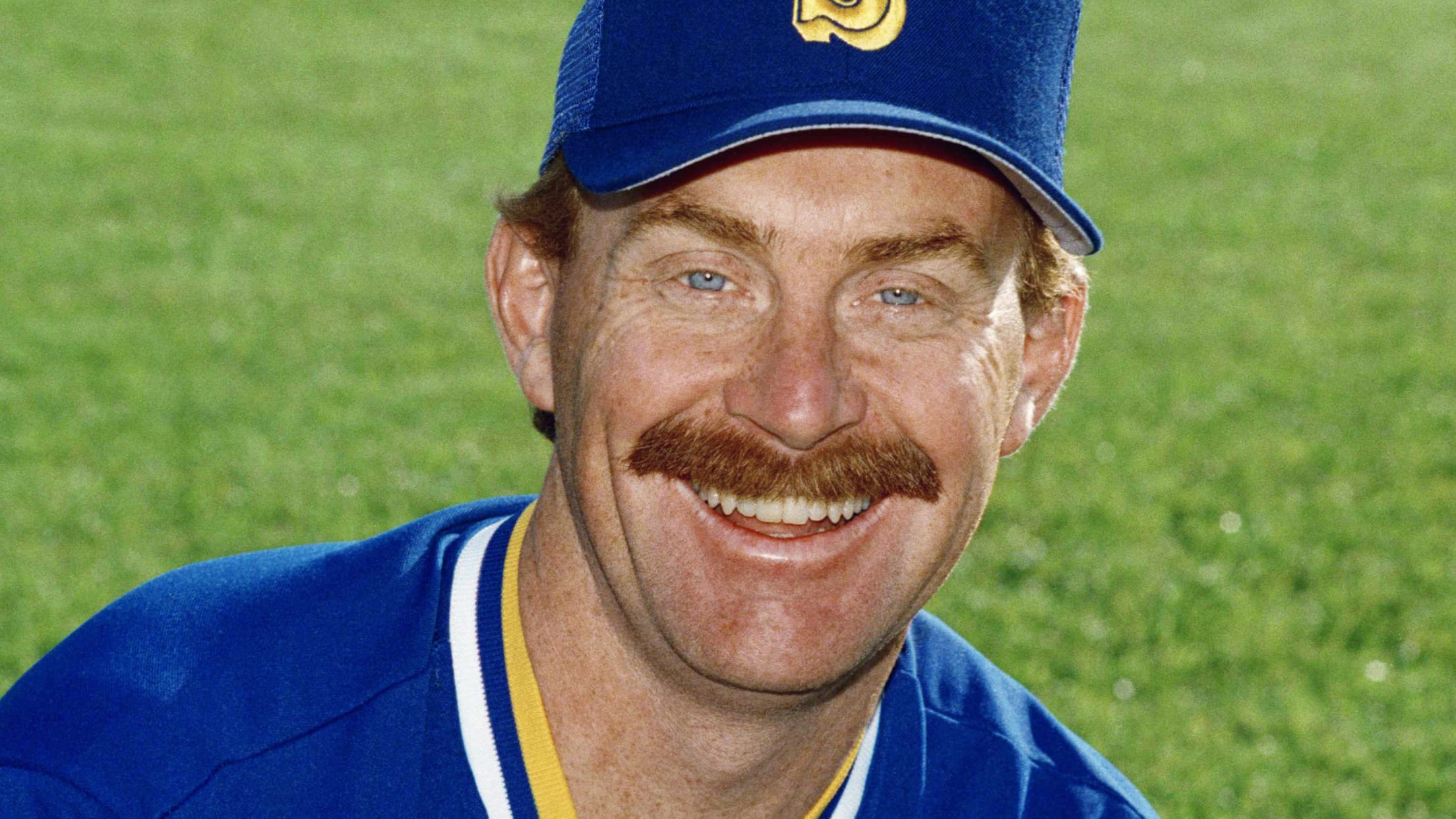 Rick Sweet, C
Hometown: Longview
High school: Mark Morris | College: Gonzaga
Mariners' stats: 181 G, .239/.286/.302, 5 HR, 46 RBIs, 0.5 defensive WAR
Sweet grew up in the shadows of Mount Saint Helens, in Longview, where he thought he might return after the Mariners cut him during Spring Training in 1984. But Sweet, a lifetime baseball man, left a far stronger imprint on the Mariners' organization in his first post-career gig as a coach and scout, helping bring along the Baby M's -- headlined by Ken Griffey Jr. -- in his first Minor League managerial role in 1987.
Sweet went on to become one of the more successful Minors managers of his generation, having reached 2,000 wins in 2019 in his current role as manager of the Brewers' Triple-A affiliate.
A manager doesn't get to 2,000 wins by accident. Triple-A San Antonio skipper Rick Sweet reached the milestone through an ever-evolving philosophy and style, shaped by 30 seasons in the dugout.

➡️: https://t.co/XjMsIM9eLy pic.twitter.com/Yzq2RYvW3d

— Minor League Baseball (@MiLB) July 8, 2019
Bob Wells, RHP
Hometown: Yakima
High school: Eisenhower | College: Spokane Falls Community College
Mariners' stats: 143 G, 5.59 ERA, 330 1/3 IP, 215 K, 1.50 WHIP
Wells played four seasons in Seattle and was included on the Mariners' postseason roster in the miracle 1995 run and again in '97. And in '96, he was a hybrid starter and threw a complete game against the Angels. The undrafted Wells spent five years in the Phillies' system then was selected off waivers by Seattle in 1994. He returned to the Yakima area after his playing days, farmed apples and became a coach for the Yakima Valley Pippins, a collegiate wood bat team.
Shawn O'Malley, OF/SS
Hometown: Richland
High school: Southridge
Mariners' stats: 113 G, .234/.322/.325, 3 HR, 24 RBIs, played every position but 1B/C/P
O'Malley remains at the center of franchise history: He was responsible for the go-ahead run in the Mariners' largest come-from-behind win on June 2, 2016, when they overcame a 10-run deficit in San Diego.
The platoon infielder helped his 2004 Southridge team win its first state baseball title in school history as a sophomore. But he had a long road home after being selected by the Rays in the 2006 Draft, having spent eight years in the Minors before finally breaking into the bigs in '14 with the Angels. That offseason, he signed with Seattle and played in 24 games as a September callup, hit .262/.418/.357 with a 123 OPS+, and earned a more prominent role in '16, when he played in 89 games and hit .229/.299/.319.
Sean White, RHP
Hometown: Pullman
High school: Mercer Island | College: Washington
Mariners' stats: 105 G, 4.16 ERA, 134 IP, 0.6 HR/9, 102 ERA+
After earning All-Pac-10 honorable mentions in 2002 and '03 for the Huskies, White found his way back to Seattle as a Rule 5 Draft selection from the Braves in '06. His best year with the Mariners came in '09, when he compiled a 2.80 ERA over 52 outings and gave up just three homers to 261 batters faced. It was the kind of year the club had hoped White could build on, but a shoulder issue, lack of swing-and-miss stuff and high walk totals got in the way of his continued development.
Jamie Allen, 3B
Hometown: Yakima
High school: Davis | College: Arizona State
Mariners' stats: 86 G, .223/.309/.304, 4 HR, 21 RBIs
Allen fell to the Mariners in the second round of the 1979 Draft after spurning the Twins, who made him their first-round pick in '76, to attend Arizona State. It was a decision that seemed to pay off, as Allen became the bulldog out of the Sun Devils' bullpen while helping them win the '77 College World Series.
He struggled to find his footing in Seattle, however, having spent seven seasons in the Minors and only playing half of one season in the Majors in 1983.
Eric O'Flaherty, LHP
Hometown: Walla Walla
High school: Walla Walla
Mariners' stats: 78 G, 7-2, 5.91 ERA, 70 IP, 1.56 WHIP
O'Flaherty blossomed into the club's top pitching prospect and became a mainstay for an impressive Seattle bullpen during his rookie season in 2007. However, things spiraled in '08, and he was optioned to the Minors after giving up 15 earned runs in seven outings. That downfall was maybe the best thing that could've happened -- at least for O'Flaherty -- as the lefty was selected off waivers by the Braves and went on to become one of the Majors' best setup men from 2009-13. After leaving Seattle, his career lasted another nine years.
Matt Tuiasosopo, 3B/LF
Hometown: Bellevue
High school: Woodinville
Mariners' stats: 71 G, .176/.234/.306, 5 HR, 15 RBIs
Tuiasosopo was a two-sport star in high school and committed to the University of Washington football team before signing with the Mariners after they selected him in the third round of the 2004 Draft. Though he never quite panned out like the Top 10 prospect he was touted, Tuiasosopo had a few memorable moments over parts of three seasons with the big league club, most notably notching his first MLB hit against Andy Pettitte in '08. He was also a big contributor over four seasons at Triple-A Tacoma.
Call him Blowstradamus.

A look back at the time Mike Blowers perfectly predicted Matt Tuiasosopo's first big league homer.

Stories of the Sea presented by @GEICO. pic.twitter.com/dINXiqc8V8

— Seattle Mariners (@Mariners) August 17, 2020
Tom House, LHP
Hometown: Seattle
High school: Nogales (Calif.) | College: Southern California
Mariners' stats: 60 G, 9-9, 4.34 ERA, 205 1/3 IP
House was born here but grew up in the Los Angeles area, eventually starring at USC and becoming a third-round Draft pick by the Braves in 1967. He enjoyed five successful seasons in Atlanta, then parts of two in Boston before coming "home" to Seattle for the final two years of his career. And he only landed here when his contract was purchased by the Mariners during their inaugural season in '77, when they needed players.
Dave Heaverlo, RHP
Hometown: Ellensburg
High school: Moses Lake | College: Central Washington
Mariners' stats: 60 G, 6-3, 3.89 ERA, 4 SV, 78 2/3 IP
A widely known jokester in the dugout, Haeverlo was born and bred in Cascade Country and fondly remembered there, too, as a Hall of Famer at both his high school and college. His notoriety as a forkballer spread all the way to San Francisco, which drafted him in the first round in 1973 and eventually traded him across the Bay to Oakland in the Vida Blue blockbuster of '78. He was selected off A's waivers by the Mariners ahead of the '80 season, and lasted just one year here, putting up decent numbers but for a 59-103 team. According to Haeverlo's hometown paper, his Mariners' stint came to an end over a disagreement with management about being moved from closer to long reliever.
Karl Best, RHP
Hometown: Aberdeen
High school: Kent-Meridian
Mariners' stats: 5-6, 3.74 ERA, 91 1/3 IP
Best and his brother, Jeb, comprised one of the most athletic tandems in Washington high school sports in the late '70s, leading their high school to its first state tournament ever, according to the Seattle Times. Though Best committed to Washington State, he instead signed with the Mariners after the club selected him with its 12th-round pick in the 1977 Draft. The prospect of pitching for a big league expansion club that would be his hometown team after the Pilots' one-off year in '69 may have factored into his decision.
Robert Ramsay, LHP
Hometown: Vancouver
High school: Mountain View | College: Washington State
Mariners' stats: 43 G, 4.19 ERA, 68 2/3 IP, 113 ERA+
Joining the likes of Olerud as a two-way star at Washington State, Ramsay helped the Cougars win the 1995 Pac-10 title. He joined the Mariners in a deal with the Red Sox for Butch Huskey ahead of the Trade Deadline in '99. The following season, Ramsay was recalled in April due to injuries to Jamie Moyer and Freddy Garcia, and he didn't look back. Ramsay remained with the club the rest of the season and pitched in two American League Championship Series games against the Yankees.
Ramsay was diagnosed with brain cancer in 2002, which ultimately ended his baseball career. He passed away in 2016 at age 42.
Casey Parsons, PH/RF
Hometown: Wenatchee
High school: University | College: Gonzaga
Mariners' stats: 36 G, .227/.308/.409
Parsons was born and bred in Eastern Washington, and he wound up playing for the Mariners after being purchased from the Giants in 1980. He had just 28 plate appearances for Seattle in a mostly pinch-hitting role, and he later returned to Washington in '94 as a coach of the Tacoma Tigers, who were an A's affiliate.
Erik Plantenberg, LHP
Hometown: Renton
High school: Newport | College: San Diego State
Mariners' stats: 26 G, 3.78 ERA, 16 2/3 IP, 2.04 WHIP
The Mariners brought Plantenburg home by selecting him from the Red Sox in the 1992 Minor League Draft. He made his big league debut the following year, but his Seattle stint was limited to just 16 2/3 innings over 26 outings. In '94, he was scoreless in each of his six appearances, and he was selected off waivers by the Padres that offseason.
Mike Campbell, RHP
Hometown: Seattle
High school: Newport | College: Hawaii at Manoa
Mariners' stats: 34 G, 8-16, 5.74 ERA, 185 IP, 5.1 K/9
Campbell was taken by the Mariners just one pick after Barry Bonds in the 1985 Draft, with the No. 7 overall pick -- and his first two seasons in the Minors made him look worthy of the choice, as he earned Pacific Coast League MVP honors in '87. However, Campbell wound up being one of the more disappointing Draft picks in Mariners history after lasting just three seasons in Seattle, capped with a 7.29 ERA in '89.
Today, he might be most remembered as the player to be named later in the Randy Johnson trade with the Expos.
Taylor Williams, RHP
Hometown: Vancouver
High school: Camas | College: Kent State
Mariners' stats: 14 G, 5.93 ERA, 13 2/3 IP, 19 K
Williams' Seattle stint was short-lived, even in the pandemic-shortened 2020 season. He joined the Mariners via a waiver claim from the Brewers that February, but he was dealt to the Padres at the Trade Deadline. He notched six saves while the Mariners' bullpen weathered on-the-fly roles, and his most prominent one came against the eventual champion Dodgers, whom he shut down with three strikeouts.
Tyler Olson, LHP
Hometown: Spokane
High school: University | College: Gonzaga
Mariners' stats: 11 G, 5.40 ERA, 13 1/3 IP, 8 K
Olson was the ultimate Evergreen State kid from the eastern side, having grown up in Spokane Valley as a big Mariners and Jamie Moyer fan and later starring at Gonzaga. When he was selected by the Mariners in the seventh round of the 2013 Draft, he said: "I could not have been happier, especially from a family perspective."
Following two productive Minor League seasons and a strong Cactus League showing in 2015, Olson broke camp with the club that year, though it wound up to be for less than a month. He spent the rest of the season at Triple-A Tacoma then was traded to the Dodgers that December.
Steve Gajkowski, RHP
Hometown: Seattle**
High school: Bellevue | **College: Bellevue Community College
Mariners' stats: 9 G, 7.27 ERA, 8 2/3 IP
Gajkowski was an 11-year Minor League journeyman, and his path to what wound up being a very brief stint in the Majors was one of storybook telling. Nearly eight years after he was drafted by the Indians, Gajkowski -- despite some apprehension, according to the Kitsap Sun -- finally got the call up on May 25, 1998, when he pitched one scoreless inning at the Kingdome. He pitched in just three more games before being sent back down, and his contributions as a September callup later that year were minimal. But it was a story of fulfillment at the time.
Jeremy Bonderman, LHP
Hometown: Kennewick
High school: Pasco
Mariners' stats: 7 G, 1-3, 4.93 ERA, 38 1/3 IP, 1.49 WHIP
Bonderman signed with Seattle ahead of the 2013 season, looking to make a comeback from Tommy John surgery after missing two full seasons following a mostly successful eight years with the Tigers, whom he helped win the AL pennant in '06 with an AL-high 34 starts. But Bonderman wound up making just seven starts for Seattle before being designated for assignment in July to make room for Erasmo Ramírez.
Sean Spencer, LHP
Hometown: Seattle
High school: South Kitsap | College: Washington
Mariners' stats: 2 G
Spencer beat the huge odds by going from 40th-round Draft selection to Major League playing time -- albeit it was for just 1 2/3 innings for Seattle in 1999, which selected him three years prior. He also made eight appearances for Montreal in 2000.
Adrian Sampson, RHP
Hometown: Redmond
High school: Skyline | College: Bellevue Community College
Mariners' stats: 1 G
Heralded as the key return in the J.A. Happ trade with the Pirates in 2015, Sampson broke into the bigs with Seattle in June 2016 but made just one start before tearing his flexor tendon that month and undergoing season-ending surgery. He wound up being claimed off waivers that offseason by Texas.