Inbox: Who would play 3B if Seager is traded?
And who might be some good Mariners fantasy targets?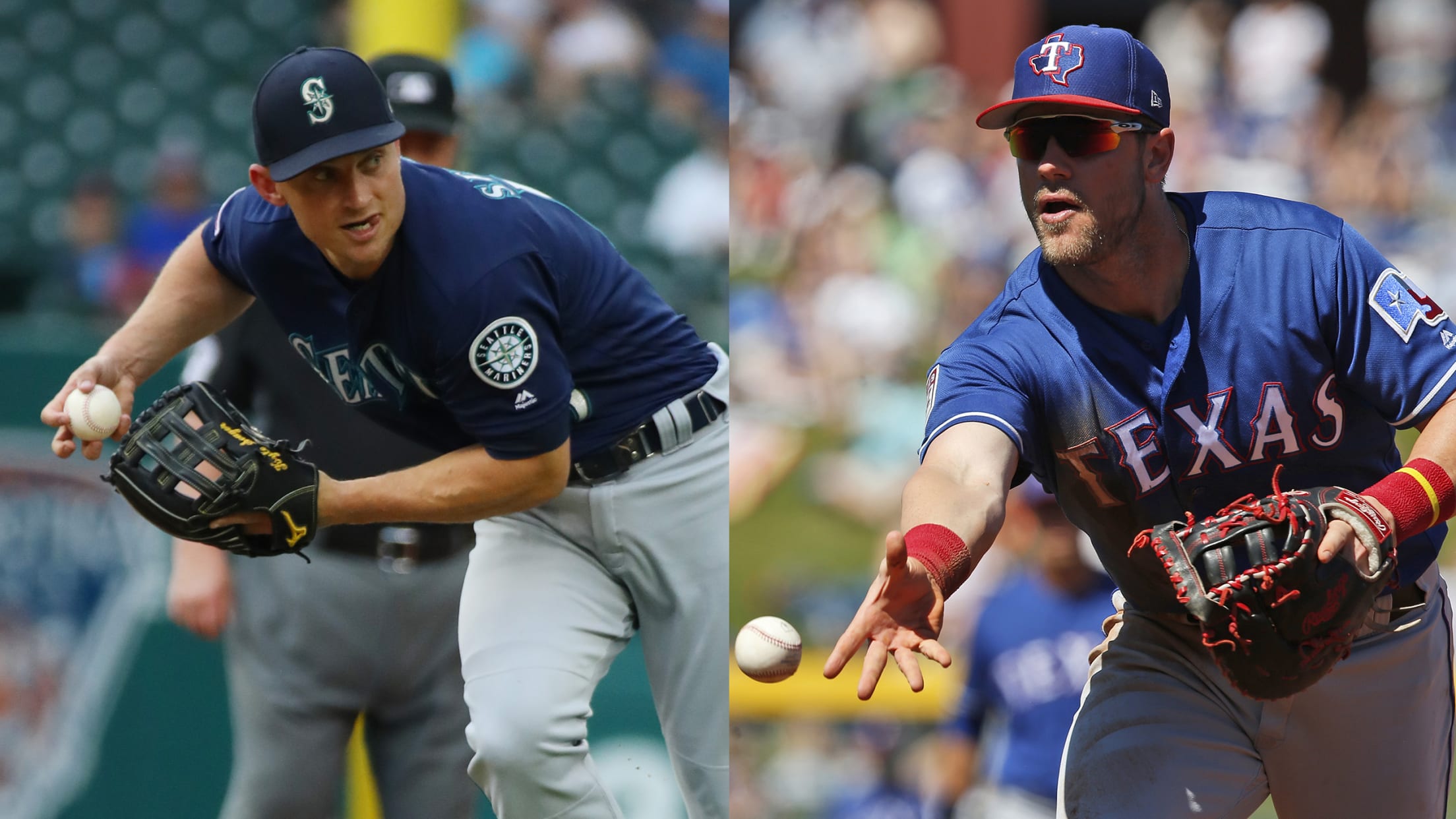 SEATTLE -- As we head into the new year, let's get to your questions in the latest Mariners' inbox. With the recent speculation of a Kyle Seager trade, what options do the Mariners have at third base in the short term, and what plans might be put in place for
SEATTLE -- As we head into the new year, let's get to your questions in the latest Mariners' inbox.
With the recent speculation of a Kyle Seager trade, what options do the Mariners have at third base in the short term, and what plans might be put in place for the long-term stability at the position?
-- Blake L., Corvallis, Ore.
As they stand today, the first option would be Patrick Wisdom, a 28-year-old who played 41 games in the Majors for the Cardinals and Rangers the past two seasons. Wisdom signed a Major League deal with Seattle on Nov. 27 to provide some depth behind Seager as well as at first base. Wisdom has shown good power in Triple-A and was a supplemental first-round pick by St. Louis in 2012, but he only has 86 plate appearances in the Majors.
Dylan Moore can also play third base, but the Mariners would prefer to keep him in a utility role. The best prospect in the system at the moment is 2016 second-round Draft pick Joe Rizzo, but he was only at Class A Advanced Modesto last season and isn't ready to make the Major League leap.
The Mariners are also high on the bat of Austin Shenton, a Bellingham, Wash., native who they took in the fifth round last year. The 21-year-old produced well at Class A Short-Season Everett and Class A West Virginia, but he's also a long way from being MLB ready. Rizzo is Seattle's No. 19 prospect, per MLB Pipeline, while Shenton is No. 29.
Also keep an eye on 18-year-old Noelvi Marte, the Mariners' No. 13 prospect out of the Dominican Republic. Marte is currently playing shortstop, but many believe that he'll outgrow that position and projects more as a third baseman with big speed and power potential.
How did Seager get such a player-friendly deal when he signed his seven-year, $100 million extension in 2014? It didn't seem like he should have that much leverage since he still had two years of team control.
-- Sam W., Lake Stevens, Wash.
Seager had just turned 27 and was coming off an All-Star and Gold Glove Award-winning season when then-general manager Jack Zduriencik gave him the extension. There's always risk with long-term deals, but the Mariners wanted Seager as part of their future and chose to lock him up alongside Robinson Canó and Félix Hernández for a team that had gone 87-75 and appeared to be on the rise.
With Dipoto and Scott Servais' philosophy of controlling the strike zone, why didn't they select a different player in the Rule 5 Draft such as Roberto Ramos or Jhonatan German?
-- Andy, Everett, Wash.
That's a fair question given the command issues of Yohan Ramirez, the big right-hander they did select from the Astros. But the Rule 5 Draft is always a gamble and the swing-and-miss stuff that Ramirez already possesses made him intriguing in their eyes, with the hope that their pitching coaches can harness his upper-90s heat and tap that intriguing potential.
Ramos is a first baseman with good power in the Rockies' organization, but the Mariners weren't looking to add a young position player on to their 26-man roster for a full season and they weren't alone. Eight of the 11 players selected in this year's Rule 5 Draft were pitchers. No one picked German, a right-hander in the Nats' organization, so it's safe to assume that the Mariners just liked Ramirez's upside better.
I need a fantasy baseball tip for next year. Who would be my best late-round pick-up from the Mariners? I'm leaning towards Kyle Lewis or Evan White, but recent experience tells me I need outside help with such decisions, or at least someone else to blame.
-- Butch W., Tumwater, Wash.
White will be an instant stud defensively at first base, but it's hard to project how well he'll hit initially while making the jump from Double-A Arkansas. Lewis would seem the safer pick and showed his power potential in his September stint last year. But I'd go a different route and recommend taking a long look at Shed Long. I suspect that Long will get lots of playing time at second base -- which is a harder position to fill in fantasy -- and very well could be leading off and providing decent offensive numbers as well as the ability to steal a few bags.
Was there much talk of keeping Omar Narváez primarily as a designated hitter and emergency backup at catcher or even first base? His bat was so good and Daniel Vogelbach struggled so badly for the last half of the season.
-- John M., Portland, Ore.
Narváez's biggest value is his ability to provide a solid bat as a catcher, which is a relatively rare commodity and the reason they were able to get some decent value in return. He posted a .353 on-base average and .813 OPS with 22 homers and 55 RBIs in 132 games last season, which is very good for a catcher. But even with his second-half fade, Vogelbach had a .341 OBP, .780 OPS and 30 homers with 76 RBIs in 144 games.
Narváez had a much higher batting average, yet the overall offensive value wasn't that much different due to Vogelbach's high walk rate and power. But because he can catch, Narvaez's trade market was much more robust than Vogelbach's. And given the Mariners like Tom Murphy and Austin Nola behind the plate, it made sense to them to trade Narváez and get something -- a pitching prospect and a fairly high Draft pick -- that could help in the future.
Whether Vogelbach winds up being the Mariners' long-term answer at DH remains to be seen. He'll certainly need to show that he's more of the first-half Vogey who earned an American League All-Star bid than the second-half Vogey who batted .162 with a .626 OPS and nine homers in the final 59 games.