Sanchez proud to be part of Nats' rotation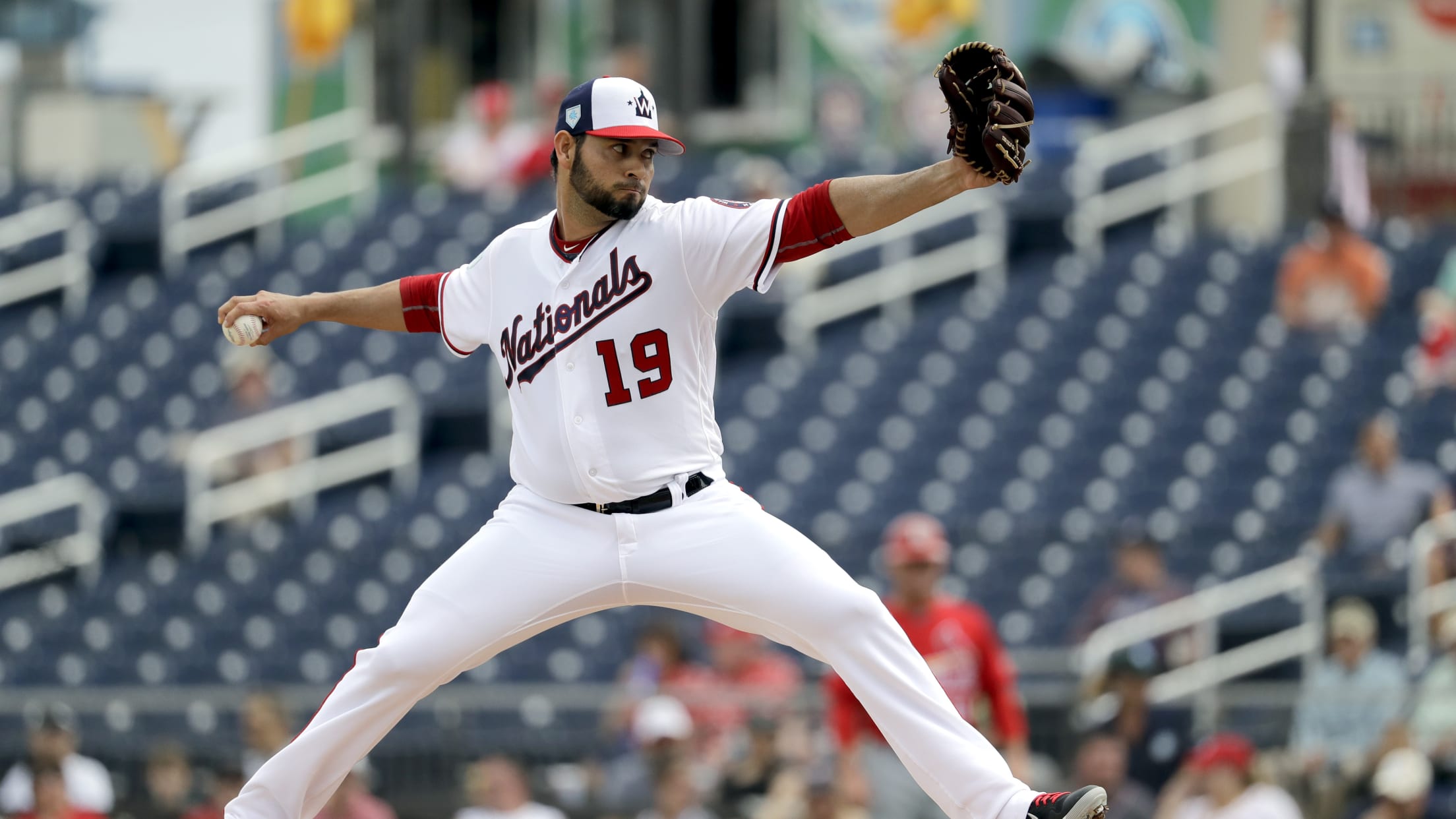 WEST PALM BEACH, Fla. -- The early results have been encouraging for this revamped Nationals starting pitching staff. About halfway through its second turn through the rotation this spring, the team's top five starters have combined to toss 18 innings and have surrendered just three earned runs -- good for
WEST PALM BEACH, Fla. -- The early results have been encouraging for this revamped Nationals starting pitching staff.
About halfway through its second turn through the rotation this spring, the team's top five starters have combined to toss 18 innings and have surrendered just three earned runs -- good for a 1.50 ERA -- including the two earned runs charged to Anibal Sanchez on Sunday afternoon against the Astros at FITTEAM Ballpark of the Palm Beaches.
They were the first earned runs any Nationals starter has surrendered since Max Scherzer gave up a solo home run to the first batter of the spring in the Grapefruit League opener.
It's only the start of Spring Training, but the results from those starters line up with the encouraging feeling manager Dave Martinez has about his starting staff.
"They're throwing strikes, working ahead of counts; the pitch efficiency has been unbelievable," Martinez said. "They get good work in."
Sanchez arrived this winter as one of the two new additions to this rotation, along with Patrick Corbin, and together the Nats hope they will provide an upgrade over Gio Gonzalez and Tanner Roark, who have both signed elsewhere for the 2019 season. Washington's starters finished with a 4.04 ERA last year, ranking ninth in the National League.
For a team that will likely lean heavily on its starting pitching to get through the season, the Nationals will need better production.
"I feel so proud to be in that rotation," Sanchez said. "I know something good is coming for the Nationals in D.C."
Worth noting
Martinez was one of the people in the organization who backed Sanchez the hardest during the team's pursuit of the veteran free-agent starter, but something about Sanchez has even surprised Martinez the first few weeks of camp.
"He's a leader," Martinez said. "He's a leader in the clubhouse, keeps everybody loose. He kind of brings the Latin players together with everybody else and includes them in everything. It's been unbelievable, just to have conversations with him. He teaches every day. I know he's worked with [Austin] Voth a little bit on his changeup and he's always talking to the pitchers and the catchers, just the young players. It's awesome to see."
Sanchez gave up two runs on four hits in his second Grapefruit League outing and a high pitch count prevented him from throwing a third inning, but he was still pleased with his performance on the day, getting a chance to work without his best stuff.
Up next
Jeremy Hellickson will take the mound for his second Spring Training tuneup when the Nationals face the Marlins in Jupiter on Monday at 1:05 p.m. ET. Anthony Rendon and Ryan Zimmerman are both expected to be in the lineup.