Inbox: Would Nats tab Max for WC Game start?
Beat reporter Jamal Collier answers questions from Washington fans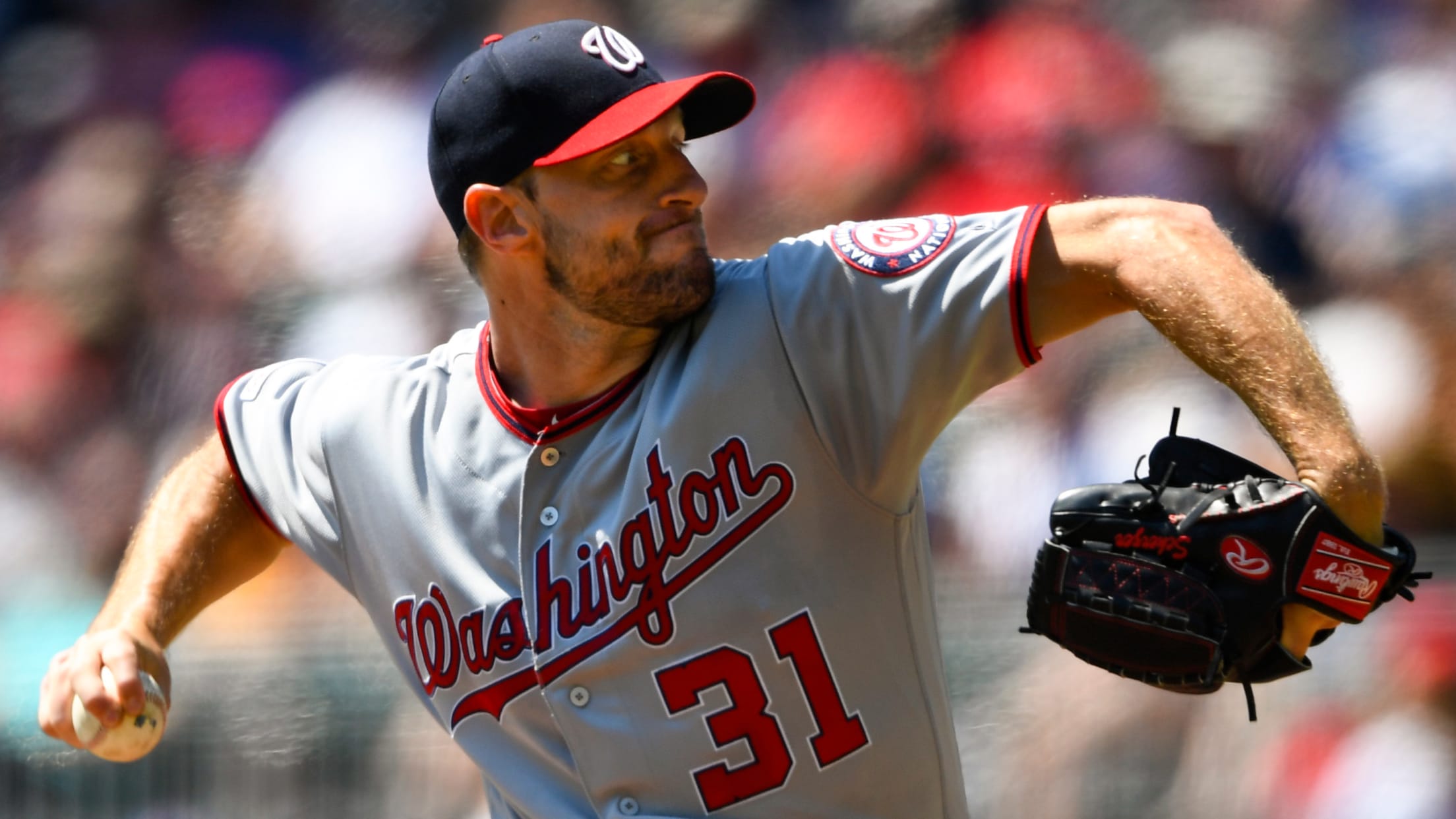 WASHINGTON -- The Nationals did not come out of a four-game series in Atlanta the way they had hoped, because they ran into a buzzsaw of a red-hot Braves team and dropped three out of four, all but ending their hopes of winning the National League East division. The weekend
WASHINGTON -- The Nationals did not come out of a four-game series in Atlanta the way they had hoped, because they ran into a buzzsaw of a red-hot Braves team and dropped three out of four, all but ending their hopes of winning the National League East division.
The weekend was not a total dud, however, thanks to the tear-jerking return of Aaron Barrett and encouraging performances from Max Scherzer and Sean Doolittle. And the Nats still have a pretty firm grip on a postseason spot, as they sit three games ahead of the Cubs for the top NL Wild Card spot.
So as the Nationals try to hold on to that spot and prepare for the postseason, it's time for an Inbox. Let's see what questions the club has to tackle during these final 20 games of the regular season.
Did yesterday's performance lock in Scherzer for a likely NL Wild Card Game start? Or is Stephen Strasburg (or even Patrick Corbin) still in consideration?
-- Carter R.
Feel free to volunteer to be the one to try and take the ball out of Scherzer's hand if he's not the NL Wild Card Game starter.
In all seriousness, that is why Sunday was such a major step forward for the Nationals and Scherzer. He looked like his old self, striking out nine in six innings, collecting a hit, stealing a base and staring down opposing hitters. After holding nothing back during his 98-pitch outing in the Nats' 9-4 victory over the Braves, Scherzer was less worried about how his back would rebound and more annoyed that it took him this long to return to normal.
But the good news for Scherzer is that he can now use his final few outings this month to start fine-tuning before a potential NL Wild Card Game. The Nationals never publicly entertained the idea that they were even considering anyone else to start the game, maintaining confidence that Scherzer was going to be able to get back to this point. But the team and fans alike can exhale. Scherzer appears good to go, and while he has some minor tweaks to make over the next few weeks, the club will want to give him the ball.
As good as Strasburg and Corbin have been, let's not forget what kind of season Scherzer was putting together -- a 2.56 ERA in 24 starts with 216 strikeouts in 154 2/3 innings, including one of the best stretches in two decades in June.
Who in the Nationals' bullpen is designated to get left-handed batters out?
-- Dennis K.
The Nationals just haven't been able to figure out this role all season, from trying out Tony Sipp and Matt Grace to now having Roenis Elias sidelined again with a Grade 1 hamstring strain. It's the same injury he had in August, although the Nats seemed optimistic that he wouldn't need to miss about 3 1/2 weeks like he did before, so perhaps he can come back in time to be ready to join the postseason roster.
For now, I think Martinez understands that Doolittle is the best option out of the bullpen against lefties, even if that means holding him back from the closer's role for now. Expect Doolittle and Wander Suero to be tasked primarily with matching up against lefties late in games for now. And Martinez even hinted this past week about the idea of using Doolittle and Daniel Hudson to split the closing duties, according to matchups. Quietly, Doolittle looks much better with each outing. He hasn't given up a run in three appearances, and he recorded two strikeouts during his scoreless inning on Saturday night.
The Nationals have struggled against good teams this year; they are seven games under .500 against teams above .500. When it really matters, do you think this team has what it takes to make a deep postseason run?
-- @TheNatsFanatic
I know the Nationals' record against teams over .500 is worrisome to some people, but I don't put a lot of stock into it. For one, the Nats were up against many of those teams -- the Cubs, Brewers, Dodgers and Cardinals -- in April and May, when the team wasn't doing well. They're in a very different place now.
And despite the Nationals' recent skid, they have still been one of the best teams in baseball for months. It's hard to play that well for such a sustained period of time without being a pretty good team, regardless of who you play. That would give me confidence, more than what this next week against the Twins, Braves and Cardinals might mean for the Nats. They need to play better, especially because this will be a good test run before the postseason actually begins.
Whether this team can make a deep postseason run, however, I think is a different discussion. They are flawed but talented, and they will be one of the biggest threats in the NL race if they can survive the NL Wild Card Game. Perhaps no division winner will have better World Series odds than the Nationals.
Should the Nationals call up Greg Holland?
-- Ron
The numbers for Holland, who signed a Minor League deal with the Nats about a month ago, look great at Double-A Harrisburg. In eight games, he has tossed nine scoreless innings with nine strikeouts and three walks.
Holland's pitches, however, were less impressive to the Nats than his spotless line might indicate. Holland's velocity was down, and he did not look Major League ready, a source told MLB.com, which is why he was not part of the first round of September callups. The club still gave Holland a chance to get back to form, however, and he made two appearances with Harrisburg in the postseason, giving up one run with four strikeouts in two innings. It's unclear if he showed Washington enough to change its mind.
We know Juan Soto traveled in a Doug Flutie BC No. 22 jersey. What were some of the other choices?
-- Dave R.
The Nationals had a themed flight from Atlanta to Minnesota after Sunday's game, with the whole team wearing NFL jerseys to coincide with the start of the football season. Soto wore Flutie's Boston College jersey, because of No. 22. Anthony Rendon, always repping Houston, wore a DeAndre Hopkins No. 11 Texans jersey.
Gerardo Parra wore a No. 12 Aaron Rodgers Green Bay Packers jersey. My personal favorites, however, were the throwback Walter Payton No. 34 Chicago Bears jerseys for Doolittle and general manager Mike Rizzo.