Rizzo on CBT: 'Ownership wants to stay under'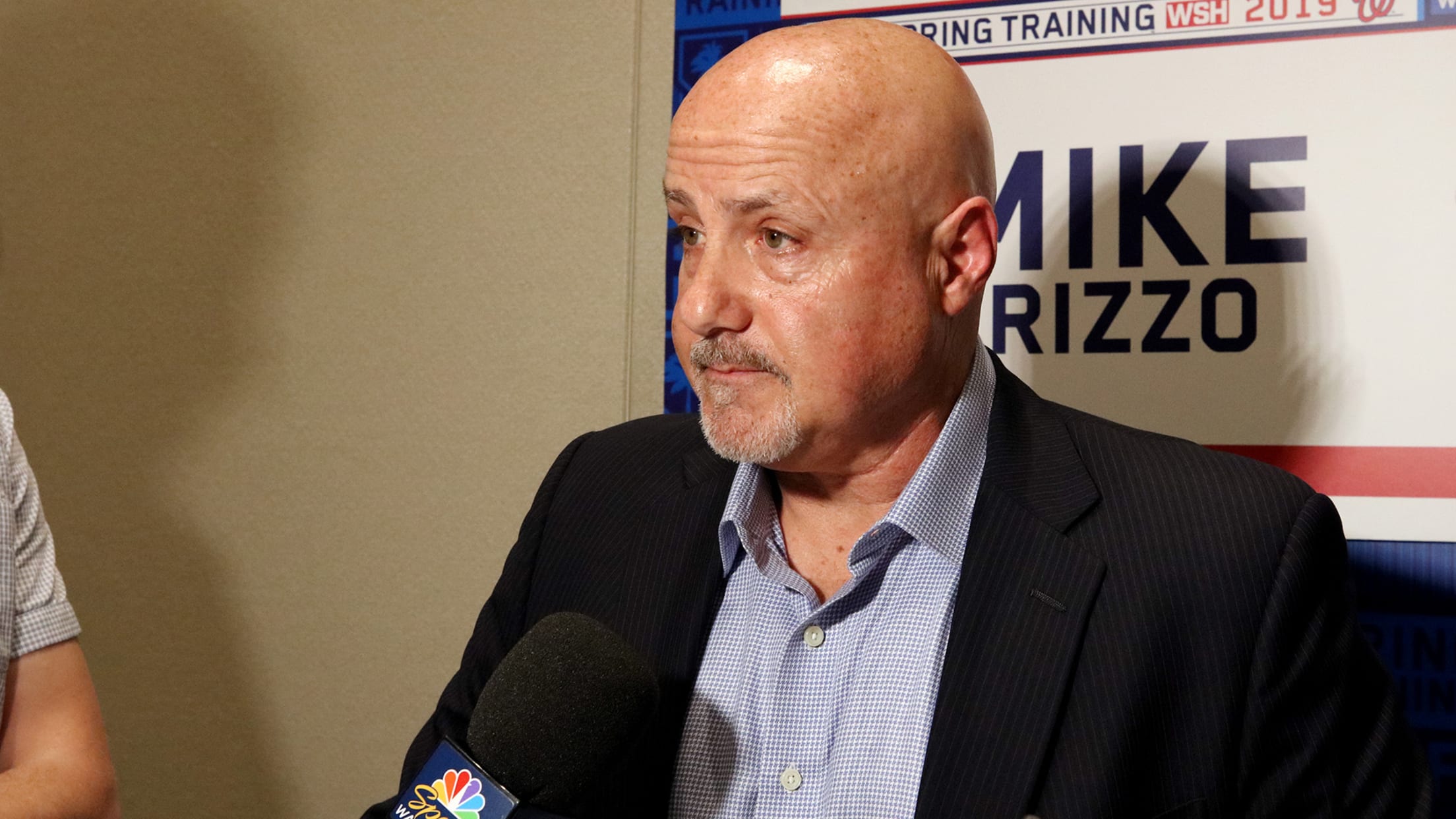 WEST PALM BEACH, Fla -- The Nationals have paid the Competitive Balance Tax in each of the past two seasons and the club remains focused on avoiding doing so for the third consecutive season. General manager Mike Rizzo reiterated once again Wednesday afternoon that ownership wants to remain under the
WEST PALM BEACH, Fla -- The Nationals have paid the Competitive Balance Tax in each of the past two seasons and the club remains focused on avoiding doing so for the third consecutive season. General manager Mike Rizzo reiterated once again Wednesday afternoon that ownership wants to remain under the $206 million threshold in 2019.
"I think we've got a really talented team that we've put together within the parameters of what we wanted to do," Rizzo said. "We're under the CBT, and that's where we want to stay."
Washington was one of only two teams, along with Boston, to pay the luxury tax in 2018. For exceeding the $197 million threshold for the second consecutive season with a roughly $205 million payroll, the Nationals paid a $2.4 million luxury tax bill. Penalties would increase to the maximum 50-percent tax rate on any payroll exceeding $206 million if the Nats went over it again this season. The CBT threshold is based on the average annual value of a team's player contracts, not the exact current-year values.
The Nationals did invest in their current roster this winter, including signing Patrick Corbin to a six-year, $140 million contract.
Estimates on Roster Resource projected the Nationals payroll to sit just under $202 million for 2019 while Cot's Contracts has them at about $200 million. These estimates are why it is difficult to see how they could sign a player like free agent closer Craig Kimbrel and remain under the threshold, even if they do have interest.
Although Rizzo says the Nats' current payroll is about $175 million, he did not reveal a specific number for what the team estimates it will be when including player incentives and deferred money for players no longer on the roster. And the Nationals want to leave some financial flexibility in case they want to add a player during the season, which Rizzo has remained confident they will have the flexibility to do.
"I haven't been told that we're not going to be able to do anything," he said. "Time will tell. And this CBT number is so complicated and includes things that you cannot count on right now. That's always something you need to keep in mind. When you say we are significantly under, you have to take that with a grain of salt. Because nobody knows if we're significantly under or not."
Garcia among latest round of cuts
Luis Garcia, the Nationals' third-ranked prospect and MLB Pipeline's 75th overall prospect, was among the latest round of cuts from big league camp Wednesday morning. At 18 years old, Garcia was the youngest player in any Major League camp this spring because the Nats thought he was ready for exposure to the big leagues. In 15 games this spring, Garcia went 6-for-19 (.316) at the plate with six strikeouts and two walks, but no extra-base hits.
"He stood there and had good swings, had good at-bats, took his walks, knows how to play the game," manager Dave Martinez said. "He really understands the game. I told him, 'Now that you got a taste what it's like in a big league spring training camp, go down there and even though you're 18, let some of the younger guys ... I don't know if they are any younger, but go down there and be the leader. And you're capable of doing that.' He's a great kid."
Although he will get some playing time at second and third, the Nationals want Garcia to primarily play shortstop in the Minors for now. His bat has accelerated his pace to being Major League ready, but because he plays such a demanding defensive position, the team wants him to hone in on his defense and baserunning before he arrives in Washington. And while it may seem early to be talking about an 18-year-old being big league ready, Juan Soto's meteoric rise to the Majors last season proved the Nats are not afraid to promote young players quickly.
"He's happy that he is going down there to play every day," Martinez said. "And he tells me, 'I want to be back soon.' I said, 'You probably will be, so, just keep doing what you're doing.'"
• Other roster moves Wednesday included optioning Austin Adams to Triple-A Fresno and re-assigning Taylor Gushue, infielders Jacob Wilson and Matt Reynolds and utility player Brandon Snyder to Minor League camp.
Turner hosts HS baseball team
Trea Turner had an even larger cheering section than usual for his solo home run in the first inning Wednesday afternoon against the Braves. He hosted the baseball team from his former high school, Park Vista Community High School in nearby Lake Worth, at the FITTEAM Ballpark of the Palm Beaches, giving the players the opportunity to watch batting practice, tour the Nats' facility and watch the game from the stands.
Turner said he had been contemplating ways to give back to his former high school team and coaches for a while before this idea came to fruition.
"How many people can say they got a chance to do that," Turner said. "I know it's going to resonate with them, they're going to appreciate it and I appreciate them coming out and everything I went through to get to where I'm at, it was through their shoes as well. They're in the same path I was, and I want to appreciate that and show them anything is possible if you keep working hard."
Up Next
Erick Fedde will make his second start and fifth appearance of the spring when the Nationals travel to Fort Myers to face the Twins on Thursday afternoon at 1:05 p.m. ET. It's been a rough start to the spring so far for Fedde, who has given up eight earned runs on 16 hits in 7 1/3 innings with five walks and six strikeouts. Anibal Sanchez will throw his 75 pitches from the Nats complex in West Palm Beach.