Offseason checklist: Nats' needs and moves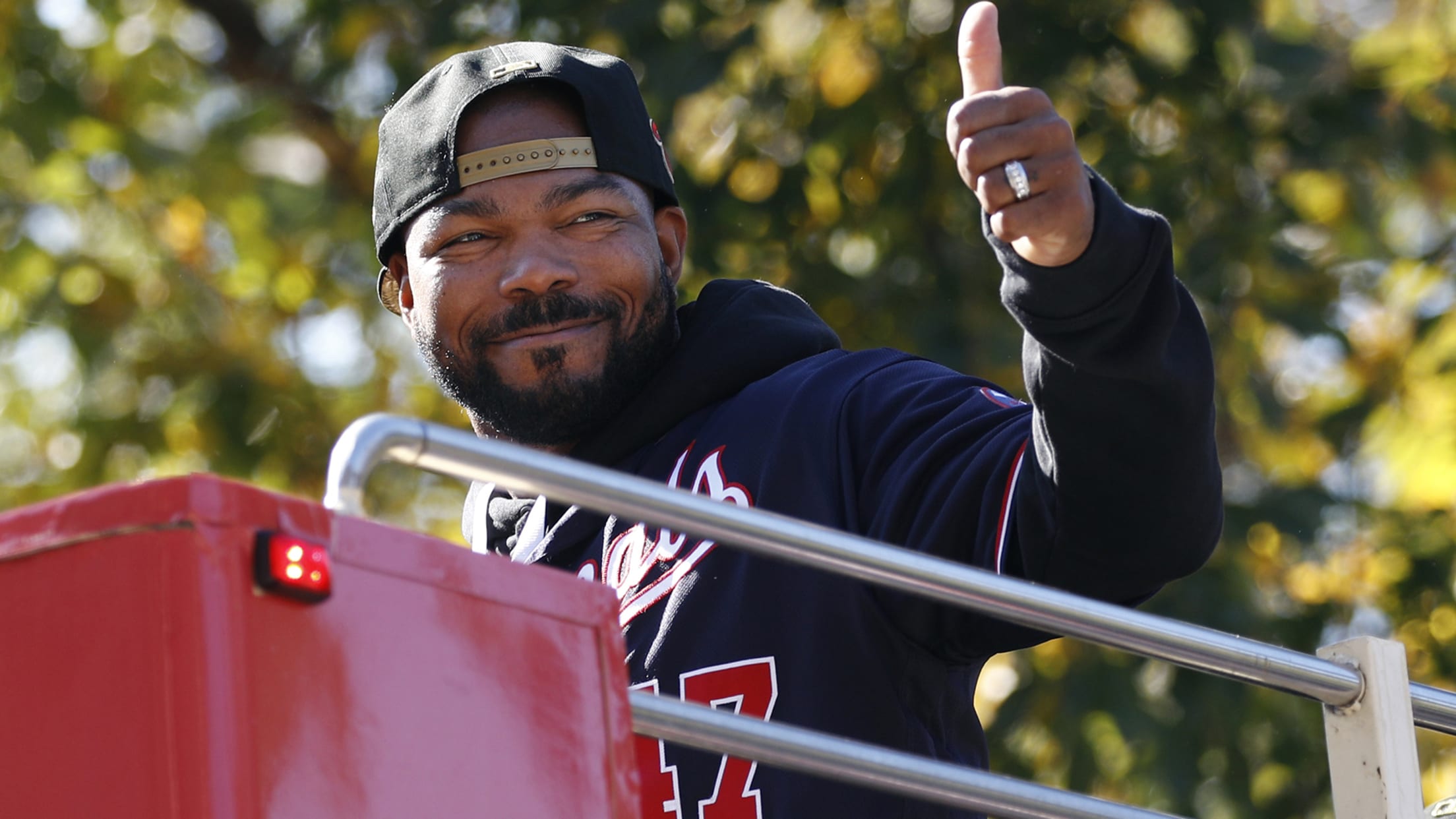 WASHINGTON -- The Nationals won the World Series for the first time in franchise history, and then they had to quickly switch gears for what could be one of the most important offseasons in franchise history. To try to defend its title, Washington will have to address a few key
WASHINGTON -- The Nationals won the World Series for the first time in franchise history, and then they had to quickly switch gears for what could be one of the most important offseasons in franchise history.
To try to defend its title, Washington will have to address a few key needs. MLB.com is keeping track here. As the offseason continues, check back for updates.
BIGGEST NEEDS
Starting rotation
Once Stephen Strasburg opted out of his contract, the Nationals were left with a rather large hole in their rotation. But they pursued Strasburg hard, as expected, and they signed their World Series Most Valuable Player Award winner to a then-record seven-year, $245 million contract in early December. The deal ensured that the bedrock of the team -- Strasburg, Max Scherzer and Patrick Corbin -- won't just return for 2020, but will also remain banded together for a long time.
Does that mean they are done addressing the rotation? That remains to be seen. It's not unreasonable to think Washington might want to bolster its options behind Strasburg, Scherzer, Corbin and fourth starter Aníbal Sánchez, considering Sánchez's age (35) and the dearth of top prospects behind him. Their depth consists of Joe Ross, Austin Voth and Erick Fedde.
Third base
The Nationals allowed Bryce Harper to walk in free agency a year ago and remained successful anyway, in part because they had outfielders like Juan Soto and Victor Robles ready to fill in and then used the money allocated for Harper in free agency. There is no such pipeline waiting at third base, the spot formerly occupied by Anthony Rendon.
One of the reasons for the Nationals' disappointing 19-31 start was because Rendon missed 14 games. Now they must replace their National League MVP Award candidate after Rendon signed a seven-year, $245 million contract with the Angels.
With Josh Donaldson agreeing to a deal with the Twins, the Nationals' contingency plan consists of offseason adds in Starlin Castro who signed, a two-year deal, and Asdrúbal Cabrera, who returned on a one-year pact. Or perhaps they could slide No. 1 prospect Carter Kieboom over. The club feels confident in that trio, but if production lacks, don't be surprised if the Nats narrow in on the trade market, with the Cubs' Kris Bryant, the Rockies' Nolan Arenado and the Mariners' Kyle Seager the most thrown-around names.
Bullpen
The Nationals were successful in the postseason at avoiding their shaky middle relievers, but they will need to make improvements to their bullpen to increase their chances of repeating this formula. They already started addressing this situation by adding Will Harris on a three-year deal and bringing back Daniel Hudson on a two-year contract. Sean Doolittle should return as the closer, and Tanner Rainey and Wander Suero showed enough flashes of upside that they should be a part of the team next season. The two Trade Deadline acquisitions with disappointing results -- Hunter Strickland and Roenis Elias -- are still under contract and will be looking for bounce-back seasons. There are few sure things in the Nats' bullpen heading into next season, but some of the moves made so far have helped to alleviate those worries.
MOVES MADE
Jan. 14: Nationals return Hudson to the band
Postseason hero Daniel Hudson returned to the Nationals on a two-year deal to help bolster the club's shaky bullpen from a year ago. A Deadline acquisition in 2019, Hudson pitched to a 1.44 ERA in 25 innings after joining the Nationals and was the man responsible for recording the last out of the World Series. He recorded eight saves in '19 -- a career high -- and should get some more opportunities in in '20 along with Will Harris and Sean Doolittle, all of which have the chance to make up a vaunted back end of the bullpen.
Jan. 8: Nationals add Cabrera, Thames to the infield fold
Who, exactly, lines up at third base on Opening Day remains a mystery, but the Nationals added flexibility to their infield by re-signing Cabrera on a one-year deal worth $2.5 million, according to a source, and Eric Thames on a one-year contract worth $4 million, per a source, with a mutual option for 2021. Cabrera can play second, third and a little first base while also adding the versatility of a switch-hitter. Thames provides a power lefty bat to complement Soto, and he can slot into the outfield in a pinch.
Jan. 7: Nationals sign Castro to two-year, $12 million pact
The club addressed its infield needs by signing Castro to a two-year deal that will be worth $12 million, according to a source. Castro, formerly of the Marlins, can play both second and third base. A consistent presence in the lineup and batter's box, Castro appeared in all 162 games last season and has the fourth-most hits (1,617) since he debuted in 2010, also 27th among active players.
Jan. 3: Nationals sign Harris to a three-year, $24 million deal
Washington needed to make a splash signing with its bullpen. Signing Harris, the second-best-available reliever per 2019 WAR standards and the third-best reliever since '15 per ERA standards, certainly fits that bill. Harris projects as the eighth-inning setup man, and the right-hander had better splits against lefties than righties in '19. One of the last pitches he threw for the Astros hit the right-field foul pole at Minute Maid Park, helping send Washington to its first World Series championship in franchise history. Now his next pitch will come for the team he last opposed.
Dec. 10: Nationals sign Kendrick to one-year, $6.25 million contract with mutual option for 2021
The 2019 postseason hero reportedly had other more lucrative offers after his magical October, but Howie Kendrick and the Nats worked together to return him to D.C. for 2020. The reason why was obvious: Kendrick enjoyed the best season of his career, hitting .344 with 17 homers and a .966 OPS in 121 games.
Kendrick won the NL Championship Series MVP Award, and he was responsible for perhaps the Nats' two biggest hits of the postseason -- game-winning home runs in Game 5 of the NL Division Series and Game 7 of the World Series -- catapulting the franchise toward its first championship. He figures to be the main bat off the bench again this coming season.
Dec. 10: Nationals sign Gomes to two-year, $10 million contract
The Nats reacted to a fast-moving catcher market by retaining Yan Gomes, who played 97 games for them in 2019. The former All-Star will be paired with Kurt Suzuki for a second consecutive season.
Dec. 9: Nationals sign Strasburg to seven-year, $245 million contract
The Nationals didn't wait long to retain their homegrown World Series MVP, temporarily setting a new MLB record by inking Strasburg to a seven-year, $245 million contract on Day 1 of the Winter Meetings. Strasburg had opted out of his contract with four years and $100 million remaining after the World Series.
Strasburg's contract, which has a no-trade clause, ensures he will remain in D.C. until at least 2026 -- and possibly finish his career where it began.
Dec. 8: Finnegan signed to one-year deal
The Nationals' first move toward rebuilding their bullpen was to sign right-hander Kyle Finnegan, a career Minor Leaguer who spent the past seven seasons in the A's system. Finnegan's big strikeout numbers last season enticed the Nats to take a chance on the 28-year-old with a Major League contract.
Nov. 20: Nationals select contract of Braymer from Triple-A Fresno
Knowing they'd need significant 40-man space to add and retain through free agency, the Nationals protected just one prospect for the Rule 5 Draft, while leaving righty Sterling Sharp (who was selected by the Marlins) and others unprotected. The prospect protected was left-hander Ben Braymer, the organization's former Minor League Pitcher of the Year. Braymer reached Triple-A in 2019, and he now profiles as rotation depth for the upcoming season.