Pivetta looks to work on consistency in Triple-A
Nicasio placed on 10-day IL; Garcia, Davis recalled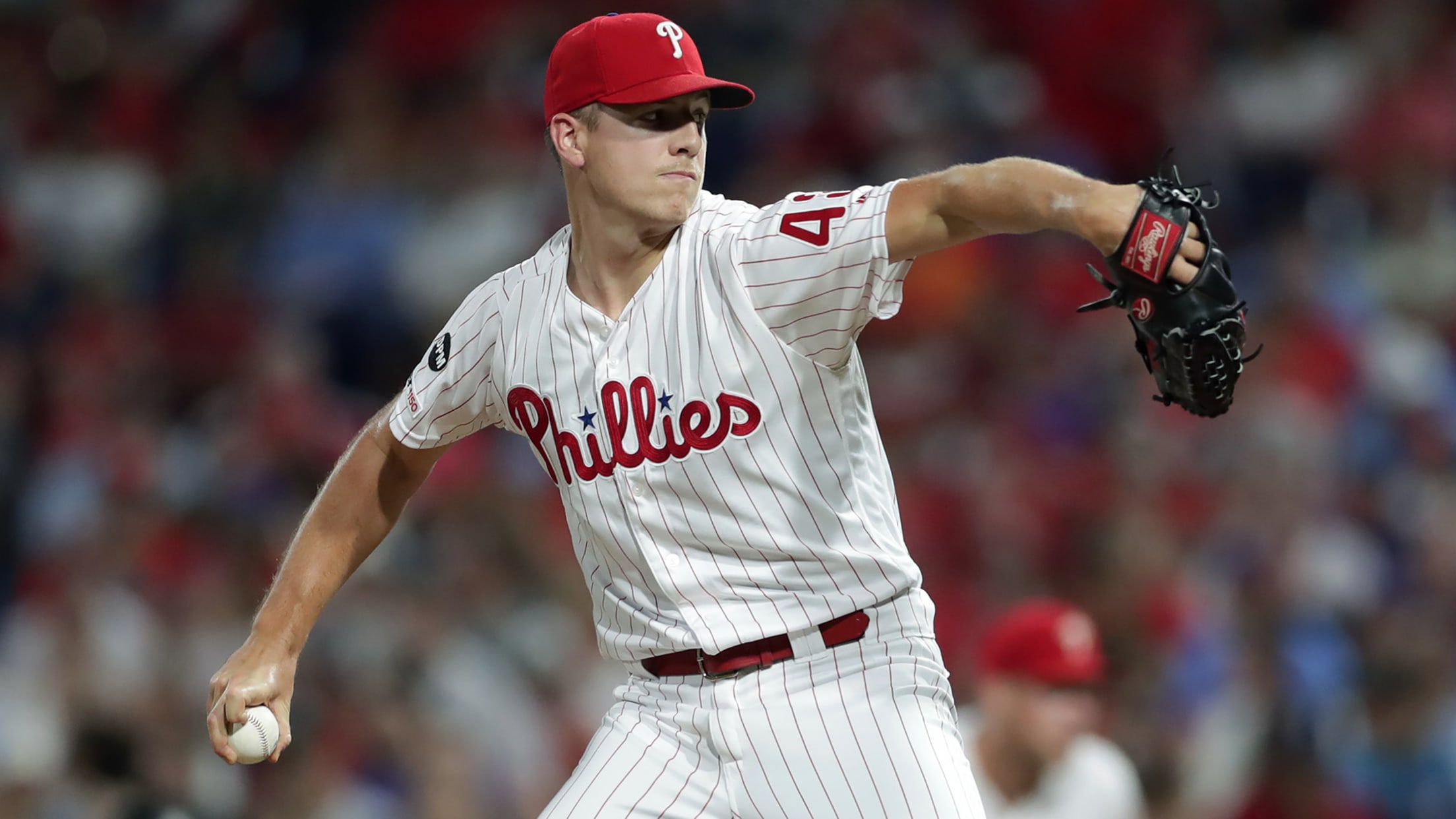 MIAMI -- Nick Pivetta's 2019 season has been nothing like the Phillies projected. The club optioned him to Triple-A Lehigh Valley on Saturday for the second time this season. In between options, Pivetta has been bumped from the rotation to the bullpen. To think, he opened the season as a
MIAMI -- Nick Pivetta's 2019 season has been nothing like the Phillies projected.
The club optioned him to Triple-A Lehigh Valley on Saturday for the second time this season. In between options, Pivetta has been bumped from the rotation to the bullpen. To think, he opened the season as a trendy pick to have a breakout season, just one reason why the Phillies declined to pursue other starting pitching options once they fell short in their pursuits of free-agent left-handers Patrick Corbin and J.A. Happ.
"A lot of things I need to process," Pivetta said.
Saturday's closed-door meeting with Phillies manager Gabe Kapler appeared to blindside Pivetta, who spoke emotionally afterward.
Pivetta allowed five runs in 2 1/3 innings Friday in a 19-11 loss to the Marlins at Marlins Park, but his defense troubled him as four of those runs were unearned and drove up his pitch count. It is partly why Pivetta got optioned as the Phillies said he could not pitch for a day or two, and they need fresh arms following Friday.
But it was more than just that.
"It wasn't the easiest conversation," Kapler said. "I think he took it hard. I think Nick is a developing young man and specifically I think he's a fairly … I think he's still really learning 100 percent accountability. I think the most important thing a player can do in these situations is look themselves in the mirror and say, 'What can I do better?'"
Pivetta declined to discuss Kapler's mention of accountability.
"I just have to get back to who I am and do what I need to do to stay in the big leagues," he said.
What is that exactly?
"Be more consistent, you know?" Pivetta said. "Be a better pitcher."
Asked if his heart is into his current role as a reliever, Pivetta only said, "Whatever the team needs me to do is what I'll do."
Pivetta is 0-2 with a 4.12 ERA in 11 relief appearances. Opponents have an .850 OPS against him as a reliever. He is 4-4 with a 5.74 ERA in 13 starts. Opponents have an .876 OPS against him as a starter.
"We know that there's a more effective version of Nick in there," Kapler said. "We want him to continue to work on his craft. In particular, we think that the more he can command, first control, then command his breaking ball, the better he's going to be.
"And just as importantly he's going to be down for a couple of days and that's the nature of this business; sometimes you need length on your roster and Austin Davis provides that length for us. He was the right choice for our group at this time."
The Phillies also placed right-hander Juan Nicasio on the 10-day injured list with tendinitis in his right rotator cuff. They recalled right-hander Edgar Garcia and left-hander Austin Davis to replace Pivetta and Nicasio on the 25-man roster.