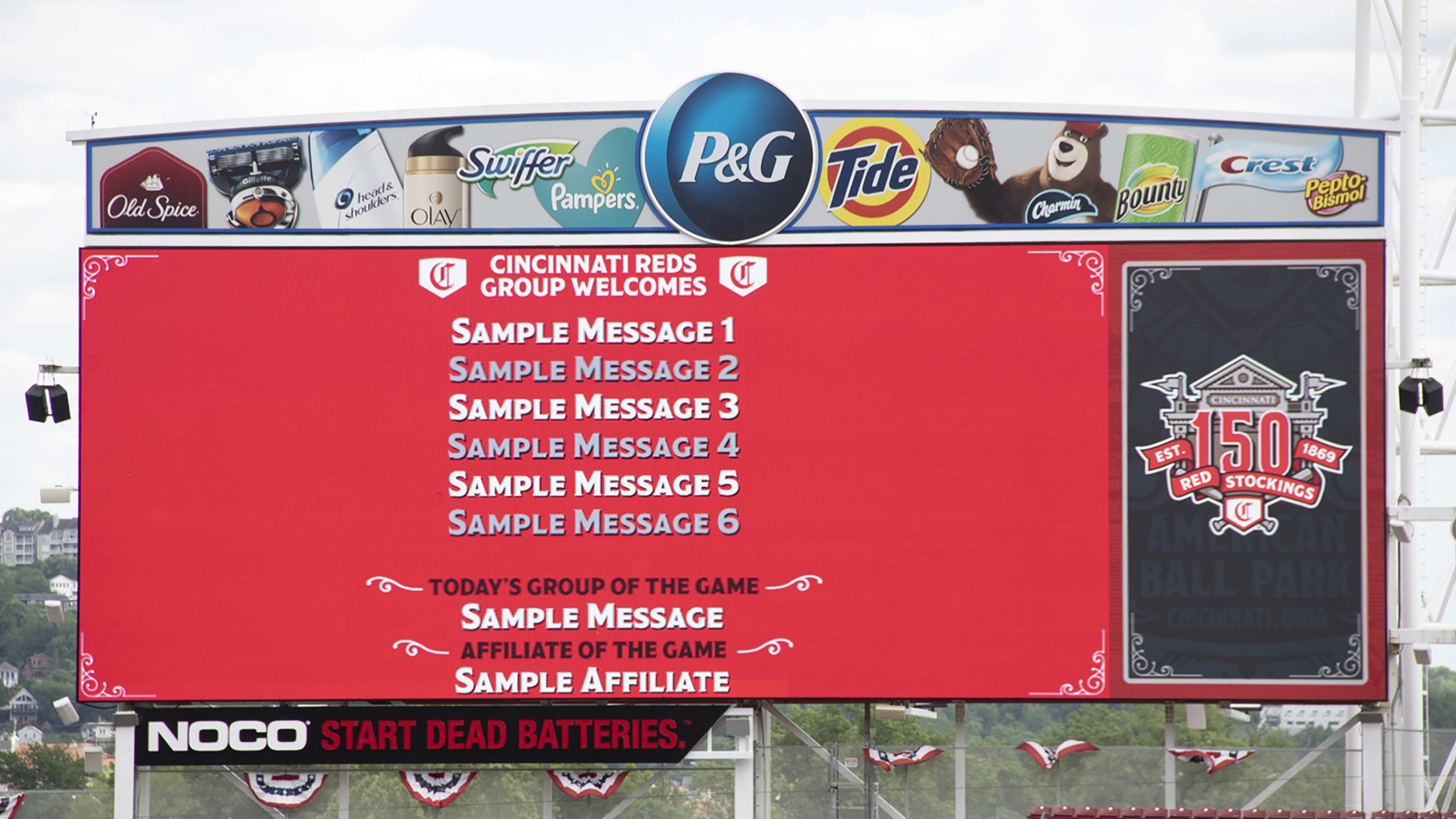 Looking for the best way to wish someone a happy birthday, celebrate a special occasion or just give a shout out to your pals? Create a lasting memory at your next Reds game with a personalized, custom message on the right field video board..
All messages appear on the right field video board and will be displayed at the end of the 4th inning. Each message can be up to 50 characters (one line only) for just $35.
Payment must be made prior to announcement. Your credit card will be charged upon approval of message content by the Cincinnati Reds.
Reds Rally Pack Birthday Package Add-On
Make a birthday an even more memorable occasion with the Reds Rally Pack Birthday Package add-on. For just $15 you'll get a t-shirt, birthday card and a special visit to your seats from the Reds Rally Pack presented by Raising Cane's! If you would like to purchase a birthday package without a scoreboard message, please contact us at (513) 765-7100 or [email protected].
Please note: Online orders are subject to an additional $5 convenience fee for messages and $1 for birthday packages.
Ordering Information
There are only twenty (20) scoreboard messages available each game. Space is limited, so order your scoreboard message today.
Order Deadlines
Scoreboard Message requests must be submitted no later than 48 hours prior to the date of the game.
Available Dates
If you do not see the game listed, you have missed the deadline to order online. Orders will be processed in the order in which they are received, and will be taken on a first-come, first-served basis. You will receive e-mail confirmation shortly after the close of the submission period to confirm your order.
Message Content
The Reds reserve the right to approve and edit any message if necessary. Messages that are obscene, offensive, include foul language or refer negatively to any other Major League Baseball organization will be not accepted. They may also not include the name of any MLB player. The message cannot be used for commercial purposes; however, you may welcome a group or company who is attending the game.
Message Display
Your message will appear on the right field video board and will be displayed at the end of the 4th inning. Messages will be displayed in alphabetical order by first letter of the message. You may visit Fan Accommodations at the ballpark on the day of the game to confirm your message will be displayed. Each message is displayed for approximately 7 seconds.
Message Length
Each message can be up to 50 characters, including spaces and punctuation (one line only).