Inside the Reds' historic pitching turnaround
No NL team has allowed fewer home runs than Cincinnati
In late 2016, the statistical analysis site FiveThirtyEight ran an article with the somewhat inflammatory headline of "The Reds' Pitching Might Be The Worst Of All Time," thanks to the underwhelming advanced metrics around a staff that wound up with a 4.91 ERA. The next year, the Reds followed that
In late 2016, the statistical analysis site FiveThirtyEight ran an article with the somewhat inflammatory headline of "The Reds' Pitching Might Be The Worst Of All Time," thanks to the underwhelming advanced metrics around a staff that wound up with a 4.91 ERA. The next year, the Reds followed that up with something worse: A 5.17 ERA that was the fourth-highest in the long history of the Reds franchise.
That 2017 season, remember, was only two years ago, which is almost nothing in baseball time. Two years ago this week, the Reds sent out the immortal trio of Lisalverto Bonilla, Asher Wojciechowski, and Tim Adleman against the Blue Jays to end the month of May. None of them has pitched in the Majors in 2019. None of them pitched in the Majors in 2018.
So here we are, two years later, and ... the Reds' pitching hasn't just been good, it's been great. They have the second-lowest ERA in the National League, and fourth-best overall. No team in the NL, and only two in the Majors, has a higher strikeout rate. No team in the NL, and only the Rays in the Majors, has allowed fewer home runs, somewhat shocking given the hitter-friendly reputation of Cincinnati's Great American Ball Park. They lead the Majors with seven team shutouts, after posting only six all of last season. Even if the 26-30 Reds aren't having the season they wanted, it's an incredible turnaround.
This is the story of how one of baseball's worst pitching staffs became one of baseball's best, in just two short years.
Depending on how you look at such things, this isn't just one of 2019's better pitching staffs, it's one of the better collections of Reds pitchers in performance terms in team history. It's not that their 3.72 ERA stands out on its own, because it doesn't -- that's just 39th best in the last 100 years. But remember, the run environment in baseball has changed so much over the last century, from a high of 4.81 in 1930 to a low of 2.98 in 1968's "Year of the Pitcher."
In 2019, the Major League average ERA is 4.40. That means the Reds' mark of 3.72 is 16 percent better than average, and that number is tied with the 2012 team of Johnny Cueto and Mat Latos for the fifth-best Reds team of the last 100 years. The most recent Reds team before that to do better? 1964.
There are a lot of reasons for that, but let's focus on the one big, enormous difference: The Reds are missing bats. Last year, their 20 percent strikeout rate was tied for sixth-worst in baseball. This year, their 26.2 percent strikeout rate is third-best. Put another way: If the 2018 Reds had a 26.2 percent strikeout rate facing the same number of hitters, they'd have added more than 300 additional strikeouts.
It's the first time since 2014 they've had a strikeout rate that wasn't below average. It's the first time since 1992 they've had a strikeout rate at least 13 percent better than average.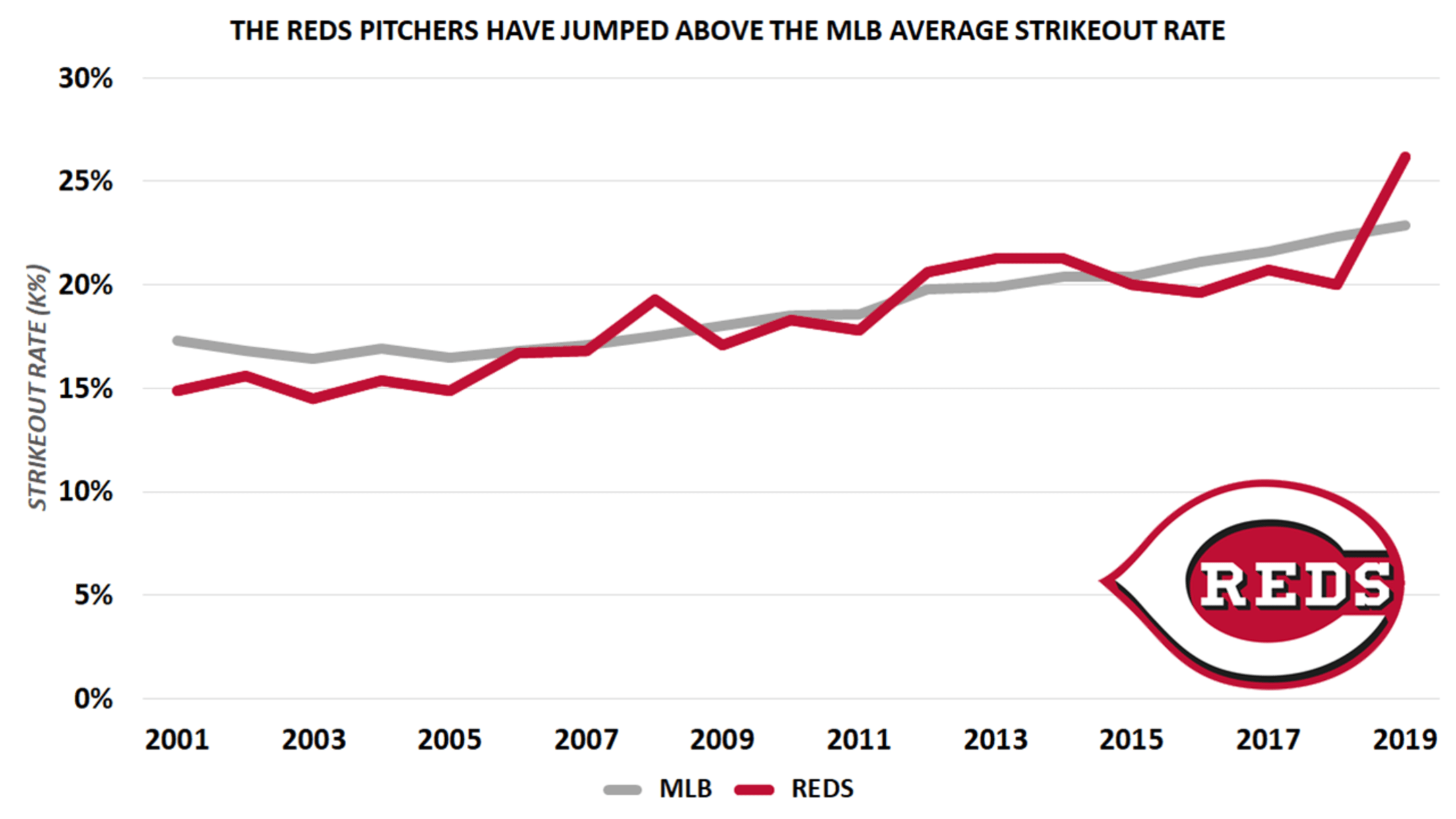 Obviously, they've improved in more than just strikeouts, but that's the thing that grabs you, that huge uptick in whiffs. Okay, so: How?
1) It's a little that some of the pitchers are different
Unsurprisingly, when you go from a staff that wasn't producing to one that is, you're going to have some roster turnover. The Reds did, but we're not going to focus on this too much. It's important, sure. It's just not really the main thing here, because while they did bring in some talented pitchers, there wasn't exactly a Max Scherzer or Jacob deGrom arriving in southwestern Ohio.
But, for the sake of being complete: The Reds bid farewell, either via departure from the organization or banishment to the Minors, to Homer Bailey, Matt Harvey, Sal Romano, Austin Brice, Jackson Stephens, Kyle Crockett, and Kevin Quackenbush, among others. As Reds in 2018, they combined for 519 1/3 innings of 5.39 ERA ball.
Arriving in Cincinnati: starters Sonny Gray (Yankees) and Tanner Roark (Nationals), along with Alex Wood from the Dodgers, though he's been injured and hasn't yet pitched for the Reds. In the bullpen, they added Zach Duke and Matt Bowman. This group has given 131 2/3 innings of 3.62 ERA pitching.
That's not nothing. That's better, obviously, and it matters. Gray in particular has been something of a revelation after escaping a bizarre existence in the Bronx, adding both strikeouts and grounders, and using more of a slider that has top 5 horizontal break. Roark's 3.20 ERA has been a welcome addition after he posted a 4.34 mark for Washington last year, thanks in part to a big slider uptick.
Having better pitchers is a good thing -- but it's also just the tip of the iceberg, really.
2) It's partially that the coaches and approach are different
Bryan Price was the Reds' pitching coach from 2010 through 2013, then ascended to succeed Dusty Baker as manager beginning in 2014. Price filled his old pitching coach job with Jeff Pico for two seasons, then Pico wasn't retained after 2015, so Price turned to Mack Jenkins through early 2018, before Danny Darwin took over as pitching coach when both Price and Jenkins were fired last April.
In October, David Bell was hired as the team's new manager. His first coaching hire was to convince Derek Johnson to jump from the Brewers, where he'd spent the previous three seasons garnering positive reviews for his work as Milwaukee's pitching coach. They later added Caleb Cotham, who had pitched in 23 games for the '16 Reds, as assistant pitching coach with a focus on analytics. Cotham had been teammates with a few current Reds, and he's been tasked with bringing the Reds up to date on the technical revolution overtaking the game.
"Feel, a lot of times, just isn't real," Cotham told MLB.com in January. "A lot of guys think they're throwing a 12-6 curveball, but then you look at it and it's closer to a slider. Without high-speed cameras or really chewing into the Trackman, you could be practicing and working on your curveball for months, and it could have been addressed maybe in one session. It's dealing more in the reality and what are some absolutes."
It's only been a few months, but the way Cincinnati pitchers talk about it, the impact has been immense.
"The stuff they are coming at us with is the best I've ever seen in my Major League career," reliever Jared Hughes told the Cincinnati Enquirer earlier this month. "It's cutting edge and it's helping us a ton."
"I feel like it is light years ahead of where we were last year," David Hernandez echoed.
They weren't wrong, because the Reds were, frankly, behind the times. A FiveThirtyEight study last August showed that since Statcast data came online in 2015, no team in baseball had lost as much spin and velocity on fastballs over the previous four seasons as the Reds had. The teams that gained the most? The Yankees, Dodgers and Astros.
You can see the difference in approach in the 2019 data. Last year, the Reds threw only 4.5 percent curveballs, the lowest number in an increasingly breaking ball friendly league. This year, that number has doubled to nearly 10 percent.
Last year, the Reds threw the second-most fastballs in baseball (60.2 percent), putting them behind the trends. (The Yankees, Dodgers, Red Sox, Indians and Rays were four of the seven lowest-fastball teams.) This year? That's down to 50.2 percent, eighth-fewest.
When they did throw fastballs, particularly four-seam ones, they weren't the high ones that are so in vogue right now as pitchers attempt to make it more difficult for hitters to elevate. In 2018, they threw 53.3 percent of their four-seamers 2.5 feet off the ground or higher, the 22nd-most in MLB. In 2019, that's 60.3 percent, eighth-most on a list where the Red Sox, Rays, Astros and Dodgers are the top four.
It's perhaps most notable with starter Anthony DeSclafani, who had his high fastball rate jump from 47.1 percent to 58.9 percent, and he has seen the slugging percentage on his four-seamer drop by 250 points.
3) It's mostly that they're finally making the most of their internal talent
If the Reds of recent vintage had a reputation for anything, it was their near-total inability to turn talented pitching prospects into successful pitchers.
Remember back in 2015, when they set a Major League record by starting rookies in 64 straight games to close out the season? Here's a sampling of the names from that year: DeSclafani, Keyvius Sampson, Raisel Iglesias, John Lamb, Josh Smith, Michael Lorenzen, David Holmberg, and Brandon Finnegan. The next year, Tim Melville and Robert Stephenson joined the rookie starter group, and in 2017, it was Luis Castillo, Amir Garrett, Rookie Davis, Cody Reed, Romano, Tyler Mahle, and Stephens.
That, along with veteran Homer Bailey, who signed a six-year, $105 million extension during Spring Training in 2014, was supposed to be the core of the next good Reds rotation. They wouldn't all succeed -- that never happens -- but that group, variously acquired through the draft, international free agency, and in trades for Cueto and Aroldis Chapman, was going to produce enough to move the Reds forward.
In 2017, that group of 18 made 93 starts for the Reds, posting a 5.19 ERA in 681 1/3 innings. In 2018, they made 138 starts, with a 5.12 ERA in 710 2/3 innings. In 2019, only three men are standing from that group in the Cincinnati rotation: Castillo, who has pitched like a legitimate ace, and back-end starters DeSclafani and Mahle. Together, they have a 3.74 ERA in 33 starts.
Viewed like that, it might seem like the big group of young arms the Reds had hung their future on had failed, and for some, that's true. But while most of these names didn't become the reliable starters Cincinnati had hoped for, the Reds have managed to extract value in other ways -- like out of the bullpen.
Some of this began before all the turnover. Iglesias was converted to relief in 2016, and he's put up a 2.53 ERA over the last four years as one of baseball's better closers. Garrett was converted in 2018, but he wasn't that successful, with a 4.29 ERA. Stephenson and Lorenzen, the team's top two pitching prospects back in 2014, had been up and down, but each made starts as recently as last season.
All three have been exclusively relievers this year, and they have been fantastic. Combined, they've thrown 77 2/3 innings of 3.24 ERA ball, and that's 104 innings of 3.20 if you include Iglesias.
It's not just about "more sliders and fewer fastballs," because it's never that simple, but it's hard not to see what's happening here.
Garrett, currently sporting a 1.96 ERA, has increased his strikeout rate from 19.6 percent as a starter in 2017 to 26.9 percent as a reliever in 2018 to a massive 38.7 percent this year. It's the eighth-best mark among the 302 pitchers with 20 innings. His slider is now his primary pitch.
Amir Garrett is throwing his slider a lot more. #reds pic.twitter.com/BKfhnYjKUS

— Mike Petriello (@mike_petriello) May 30, 2019
Stephenson pitched only 11 2/3 unimpressive innings last year, and he entered the season with a career 5.47 ERA and a 20.8 percent strikeout rate. So far this year, he has a 34.3 percent strikeout rate, 25th best of those 302 pitchers, just three spots ahead of Iglesias. He's also using his slider as his primary pitch.
Robert Stephenson is throwing his slider way more. #reds pic.twitter.com/W6lqWJYuxh

— Mike Petriello (@mike_petriello) May 30, 2019
And Lorenzen, who's been moonlighting as a two-way player, has also increased his strikeout rate by mostly ditching his sinker and throwing his slider more than he has in years.
There's so much more to this story, of course. We've hardly scratched the surface of Gray's improvement. We haven't explained how Castillo has used his velocity and deadly changeup to rebound from a disappointing 2018 to post a 2.45 ERA this year. Every single pitcher on the staff has a story, some interesting thing that he is doing differently than he did last year.
That's sort of the point, though. When you're going from historically bad to one of the best in baseball in two years, there's not one reason. There's so many reasons. It's really the only way you can get this good, this quickly.
Mike Petriello is an analyst for MLB.com and the host of the Statcast podcast.