Inbox: How likely is a Bauer-Reds reunion?
Beat reporter Mark Sheldon answers fans' questions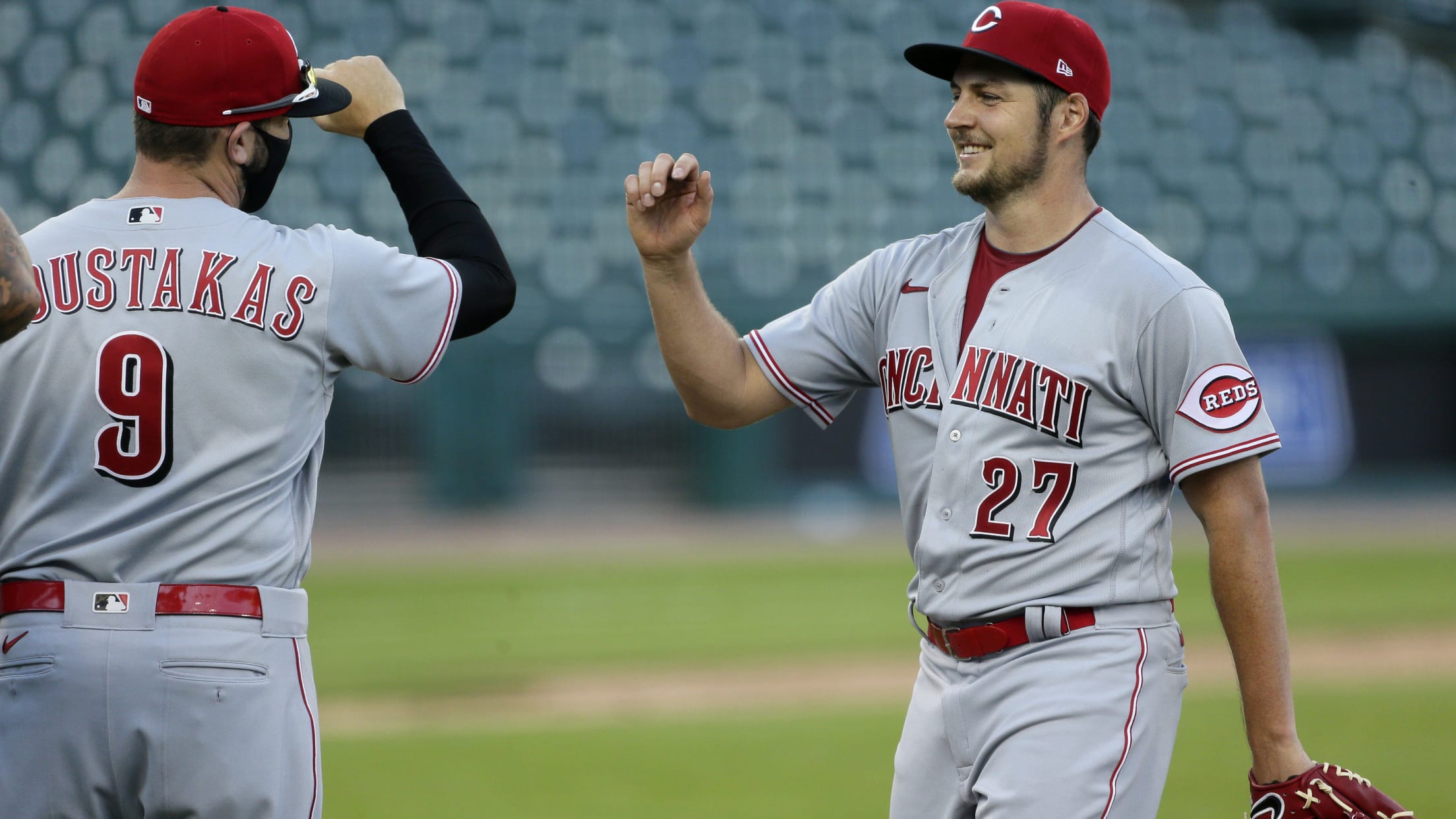 Welcome to the first Reds Inbox of the offseason. There will be more in the future, so please feel free to e-mail your Reds questions my way or post them via Twitter or Facebook. And as always, thank you for being here and following along. I am very grateful to
Welcome to the first Reds Inbox of the offseason. There will be more in the future, so please feel free to e-mail your Reds questions my way or post them via Twitter or Facebook.
And as always, thank you for being here and following along. I am very grateful to have you as readers.
Now on to your questions ...
Was there any indication that Trevor Bauer is interested in returning if (of course) the right contract presents itself? Following his vlogs this year, he seemed to really like it here, but being a good businessman, I'd imagine it would be hard for the Reds to meet his terms.
-- Chris L., on Facebook
During the final week of the regular season, Trevor Bauer indicated an openness to returning to the Reds, and former baseball operations president Dick Williams indicated the club's willingness to keep the door open. Active on Twitter throughout this month, Bauer has also articulated some flirtations towards several clubs including Cincinnati.
The Reds have a shot to retain Bauer for multiple reasons. If Bauer sticks with his original plan to sign only one-year contracts, Cincinnati could probably afford him for at least one more season. The free-agent market is pretty unpredictable because of the economics caused by the pandemic. Bauer believes that the Reds can win and contend again next year, he appeared to like his teammates and he likes manager David Bell and pitching coach Derek Johnson. Bauer's friend and mentor, Kyle Boddy from Driveline Baseball, works for the Reds on the player development side.
At the end of the day, though, this will be largely a business decision. Bauer will be the top free-agent pitcher on the market, possibly with a National League Cy Young Award in hand. His leverage and market value may never be higher than this winter.
If or when Bauer leaves, do you see any trades or free agents the Reds might target to replace him? If not, who is the best internal name to keep an eye on?
-- @deathcraven, on Twitter
Beyond Bauer, the free-agent market isn't loaded with frontline starting pitchers. Currently, Masahiro Tanaka from the Yankees is one of the few who stand out.
Internally, the Reds have strong options in Tyler Mahle, Tejay Antone and Michael Lorenzen. Mahle was 2-2 with a 3.59 ERA in 10 games (nine starts) in 2020. Antone posted a 2.80 ERA in 13 appearances (four starts). Lorenzen, a reliever, had a 2.79 ERA in two starts this season and had his best relief performances in multiple-innings appearances.
Don't rule out the Reds giving looks to some prospects. Nick Lodolo and Hunter Greene are ranked Nos. 1 and 2 in the organization, respectively, by MLB Pipeline.
What are the Reds' needs for the offseason? I'm thinking maybe a veteran shortstop who could partner up with Jose Garcia?
-- @gocincyreds_JPN, on Twitter
Shortstop is an area that the Reds should consider. As a rookie who hadn't previously played above Class A Advanced, Jose Garcia showed he can definitely play the position defensively. But he was often overmatched offensively, and a little more seasoning in a regular Minor League season in 2021 wouldn't hurt, if the club decided to go that route.
A couple of familiar names will be back on the market in Didi Gregorius and José Iglesias, who are former Reds. Cincinnati pursued Gregorius last offseason before he signed with Philadelphia. Both are veterans, but it's not a great selling point to tell a free agent that he might lose playing time to Garcia.
The big name to watch on the trade market is Cleveland superstar Francisco Lindor, who can be a free agent after the 2021 season. It would require a big return, but Lindor would be a perfect one-year player who would boost the offense and keep the Reds in contention next season. Then, Garcia could take over in '22.
I also don't discount the notion that utility player Kyle Farmer could handle the spot well as an internal option.
As for other spots, the front office will likely look for ways to upgrade offensively, after the club finished last in batting average (.212) and produced zero runs in 22 postseason innings vs. Atlanta. How that happens remains murky for now, however.
Have you seen any indication if the Reds may try to pursue the star Korean shortstop?
-- @cinciredsfanman, on Twitter
You're referring to Ha-Seong Kim from the Kiwoom Heroes of the KBO, I assume? MLB Trade Rumors reported earlier this month that Kim will be posted this winter, and he will be a free agent able to sign with any MLB club. Kim will certainly have interested clubs, but he will be different than many Korean stars who come to the big leagues because he is younger. He will be 25 years old next season; by comparison, Garcia will be 23 next year.
If you're Kim, would you want to sign a long-term deal with a team that already has a hot prospect right behind you? If you're the Reds, would you commit years and millions to a player when you have Garcia? At the moment, I've seen no signs that Cincinnati would be a suitor for Kim.
If the National League continues with the designated hitter, would Joey Votto accept it if the Reds move him as a full-time DH?
-- @kenspradlin, on Twitter
If there's a DH in the NL going forward, I could see Joey Votto eventually transition to it, as many older hitters often do. But I'm not sure I see that happening full time in 2021. I guess it would depend on what moves are made in the offseason to address the offense.
What is the status of Minor League players? Are they free agents?
-- Tom N., on Facebook
Only the players with six full years of service time in the Minors and not on 40-man rosters can be free agents. Everybody else, including top prospects, remain under control by their organizations.
Mark Sheldon has covered the Reds for MLB.com since 2006, and previously covered the Twins from 2001-05. Follow him on Twitter @m_sheldon and Facebook.