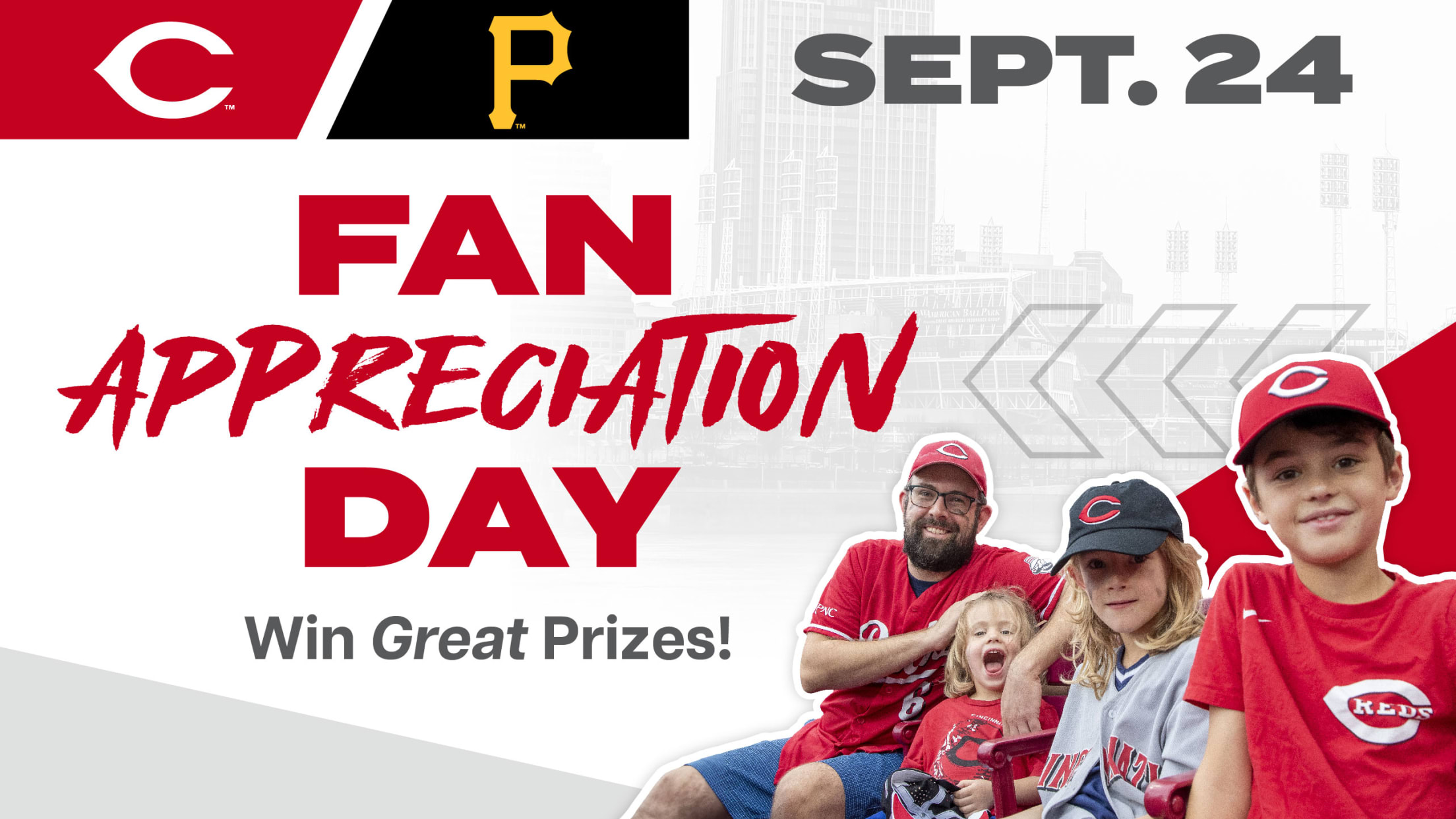 Prizes and promotions subject to change. Postcard entries accepted. Must be received by Friday, Sept. 22, 2023. Mail to Fan Appreciation Day Drawing, c/o Cincinnati Reds, 100 Joe Nuxhall Way, Cincinnati, OH 45202.
UNCLAIMED 2023 FAN APPRECIATION DAY PRIZES
Below are the list of unclaimed prizes and winning seat locations from Fan Appreciation Day. If you hold a winning seat location, please email [email protected] or visit the Reds administrative offices at Great American Ball Park during normal business hours (Monday-Friday, 9 a.m. to 5 p.m.) to claim your prize(s). All prizes must be claimed by October 13, 2023.
2023 FAN APPRECIATION DAY PRIZES
| Prize Number | Prize | Section | Row | Seat |
| --- | --- | --- | --- | --- |
| 1 | $20 First Watch Gift Card | 302 | N | 1 |
| 8 | $25 Hofbrauhaus Gift Certificate | 116 | G | 13 |
| 9 | $25 Hofbrauhaus Gift Certificate | 437 | A | 1 |
| 12 | $25 Hofbrauhaus Gift Certificate | 515 | M | 21 |
| 18 | $100 Montgomery Inn Gift Card | 133 | L | 11 |
| 20 | $100 Montgomery Inn Gift Card | 509 | N | 12 |
| 22 | $100 Montgomery Inn Gift Card | 306 | E | 15 |
| 25 | $20 Penn Station Gift Card | 512 | F | 1 |
| 26 | $20 Penn Station Gift Card | 128 | PP | 1 |
| 27 | $20 Penn Station Gift Card | 136 | L | 16 |
| 29 | $20 Penn Station Gift Card | 134 | GG | 10 |
| 38 | $20 Penn Station Gift Card | PRSCLB | B | 17 |
| 40 | $20 Penn Station Gift Card | 130 | CC | 10 |
| 42 | $20 Penn Station Gift Card | 118 | P | 6 |
| 43 | $20 Penn Station Gift Card | 522 | P | 6 |
| 44 | $20 Penn Station Gift Card | 119 | AA | 1 |
| 47 | $10 Sorrento's Gift Card | 121 | Z | 1 |
| 49 | $10 Sorrento's Gift Card | 509 | F | 1 |
| 52 | $10 Sorrento's Gift Card | 116 | AA | 1 |
| 54 | $10 Sorrento's Gift Card | 419 | E | 10 |
| 55 | $10 Sorrento's Gift Card | 136 | K | 14 |
| 57 | $10 Sorrento's Gift Card | 522 | P | 10 |
| 58 | $10 Sorrento's Gift Card | 522 | Q | 21 |
| 59 | $10 Sorrento's Gift Card | 510 | A | 4 |
| 60 | $10 Sorrento's Gift Card | 533 | L | 3 |
| 64 | $10 Sorrento's Gift Card | 513 | N | 1 |
| 65 | $25 Walt's Hitching Post Coupon | 135 | E | 19 |
| 67 | $25 Walt's Hitching Post Coupon | 4 | H | 1 |
| 69 | $25 Walt's Hitching Post Coupon | 303 | O | 10 |
| 76 | $25 Walt's Hitching Post Coupon | 133 | H | 12 |
| 77 | $25 Walt's Hitching Post Coupon | 120 | EE | 1 |
| 79 | Mike's Car Wash Ultimate Car Wash Booklet | 301 | D | 1 |
| 80 | Mike's Car Wash Ultimate Car Wash Booklet | 302 | K | 10 |
| 81 | Mike's Car Wash Ultimate Car Wash Booklet | 122 | E | 1 |
| 82 | Mike's Car Wash Ultimate Car Wash Booklet | 23 | D | 5 |
| 85 | Tito's Gift Bag | 436 | A | 1 |
| 86 | Stretch Lab Complimentary 50 minute stretch | 528 | O | 4 |
| 87 | Stretch Lab Complimentary 50 minute stretch | 3 | I | 5 |
| 88 | 4x Tickets to The Greatest Show on Earth | 426 | A | 13 |
| 89 | Coca-Cola Soft Cooler | 107 | X | 1 |
| 92 | MLB Network Prize Pack | 128 | Y | 12 |
| 94 | Tayron Guerrero Autographed Koozie | 302 | I | 5 |
| 95 | Nick Lodolo Autographed Koozie | 144 | Q | 20 |
| 97 | Graham Ashcraft Autographed Koozie | 141 | D | 14 |
| 100 | Jose Barrero Photo | 417 | Q | 12 |
| 101 | David Bell Photo | 515 | R | 1 |
| 102 | Freddie Benavides Photo | 142 | A | 6 |
| 103 | Curt Casali Photo | 129 | X | 13 |
| 104 | Elly De La Cruz Photo | 528 | L | 10 |
| 105 | Alexis Diaz Photo | 136 | J | 3 |
| 107 | TJ Friedl Photo | 227 | C | 3 |
| 108 | Hunter Greene Photo | 527 | O | 23 |
| 109 | Hunter Greene Photo | 301 | F | 13 |
| 110 | Jonathan India Photo | 112 | R | 10 |
| 111 | Jonathan India Photo | 522 | O | 21 |
| 112 | Nick Lodolo Photo | 516 | L | 3 |
| 113 | Nick Lodolo Photo | 533 | L | 14 |
| 114 | Nick Lodolo Photo | 128 | DD | 1 |
| 116 | Alejo Lopez Photo | 521 | P | 10 |
| 117 | Nick Senzel Photo | 421 | E | 12 |
| 118 | Lucas Sims Photo | 526 | R | 19 |
| 120 | Joey Votto Photo | 525 | P | 13 |
| 125 | Levi Stoudt Jersey | 524 | U | 11 |
| 129 | Will Benson Ball | 414 | P | 1 |
| 130 | Will Benson Ball | 137 | KK | 5 |
| 133 | Spencer Steer Ball | 534 | A | 5 |
| 134 | Spencer Steer Ball | 521 | O | 23 |
| 135 | Tyler Stephenson Ball | 526 | N | 10 |
| 139 | Hunter Greene Ball | 305 | E | 5 |
| 145 | Nick Senzel Ball | 524 | M | 23 |
| 146 | Nick Senzel Ball | 522 | R | 5 |
| 147 | Alexis Diaz Ball | 524 | C | 13 |
| 153 | Alex Young Ball | 129 | AA | 13 |
| 154 | Fernando Cruz Ball | 523 | N | 18 |
| 156 | Luke Maile Ball | 142 | N | 4 |
| 157 | Kevin Newman Ball | 144 | D | 10 |