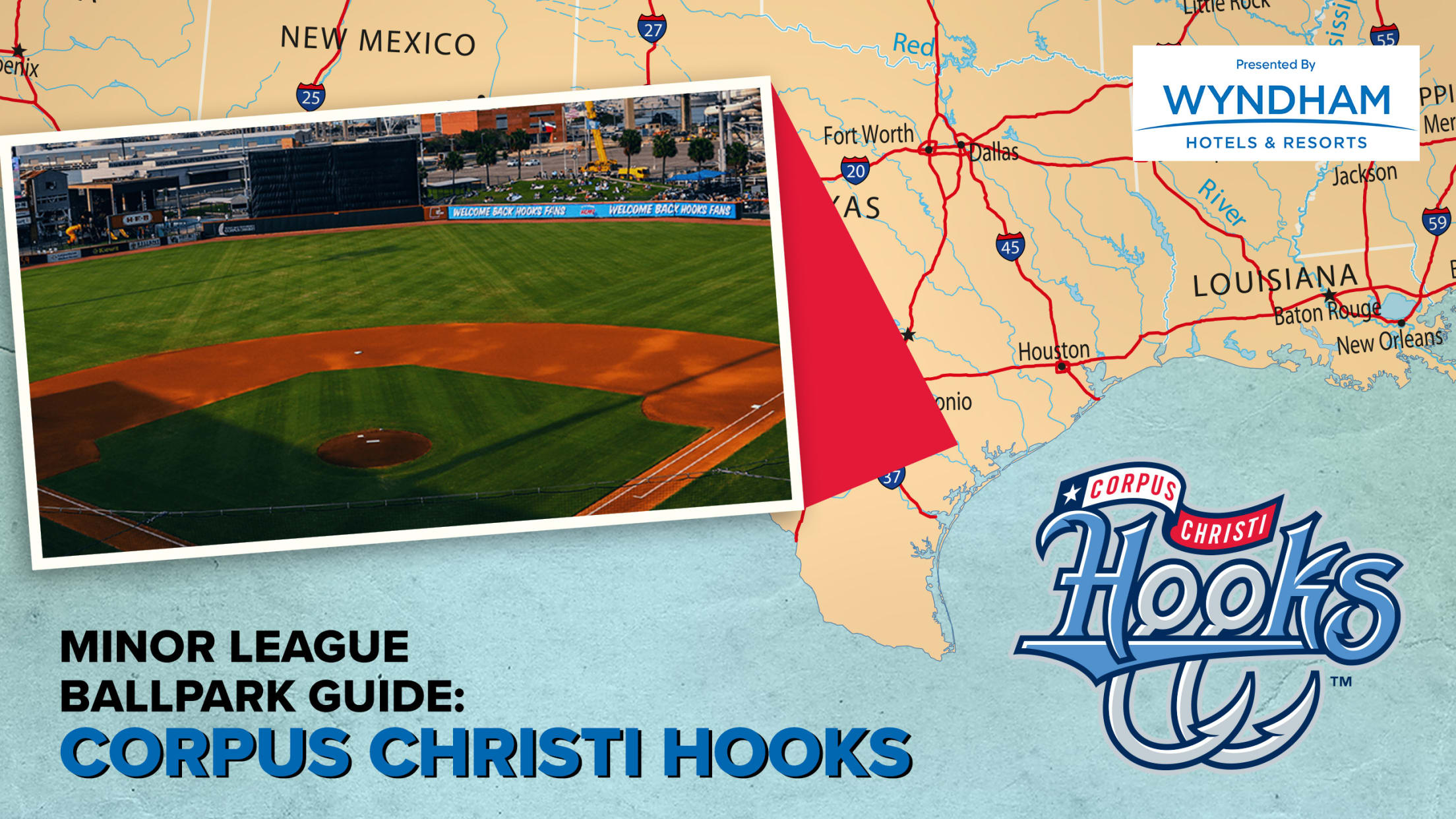 Scroll
Explore Corpus Christi's Whataburger Field
Welcome to Whataburger Field, which sits in the shadow of the Harbor Bridge along Corpus Christi Bay. The breeze, the beach, the humidity -- it all makes a unique and fun backdrop to watch Astros stars of tomorrow try to make their way up the coast to Houston. Get ready to be hooked.
Corpus Christ Hooks (Affiliate of the Houston Astros since 2005)
Established: 2005
League: Texas League
Ballpark: Whataburger Field (opened 2005)
Championships: 2006
Notable Alumni: Hunter Pence, Jose Altuve, J.D. Martinez, Dallas Keuchel, Carlos Correa, Lance McCullers Jr., Alex Bregman, George Springer and Yordan Alvarez
Credit Hall of Fame pitcher Nolan Ryan, his son, Reid, and Houston businessman Don Sanders with bringing professional baseball to Corpus Christi. It was their company, Ryan-Sanders Baseball, that bought the Double-A Jackson Generals in the late 1990s and moved them to the Austin area, forming the Round Rock Express in 2000.
The Express served as the Double-A affiliate of the Astros before Ryan and Sanders moved the franchise to Corpus Christi when it purchased Edmonton's Triple-A team and moved it to Round Rock. The Express became the Rangers' Triple-A affiliate in 2011 (it was briefly the Astros' Triple-A affiliate in 2019-20). The Hooks have been an Astros affiliate since their inception. The Astros purchased the club from Ryan-Sanders in 2013.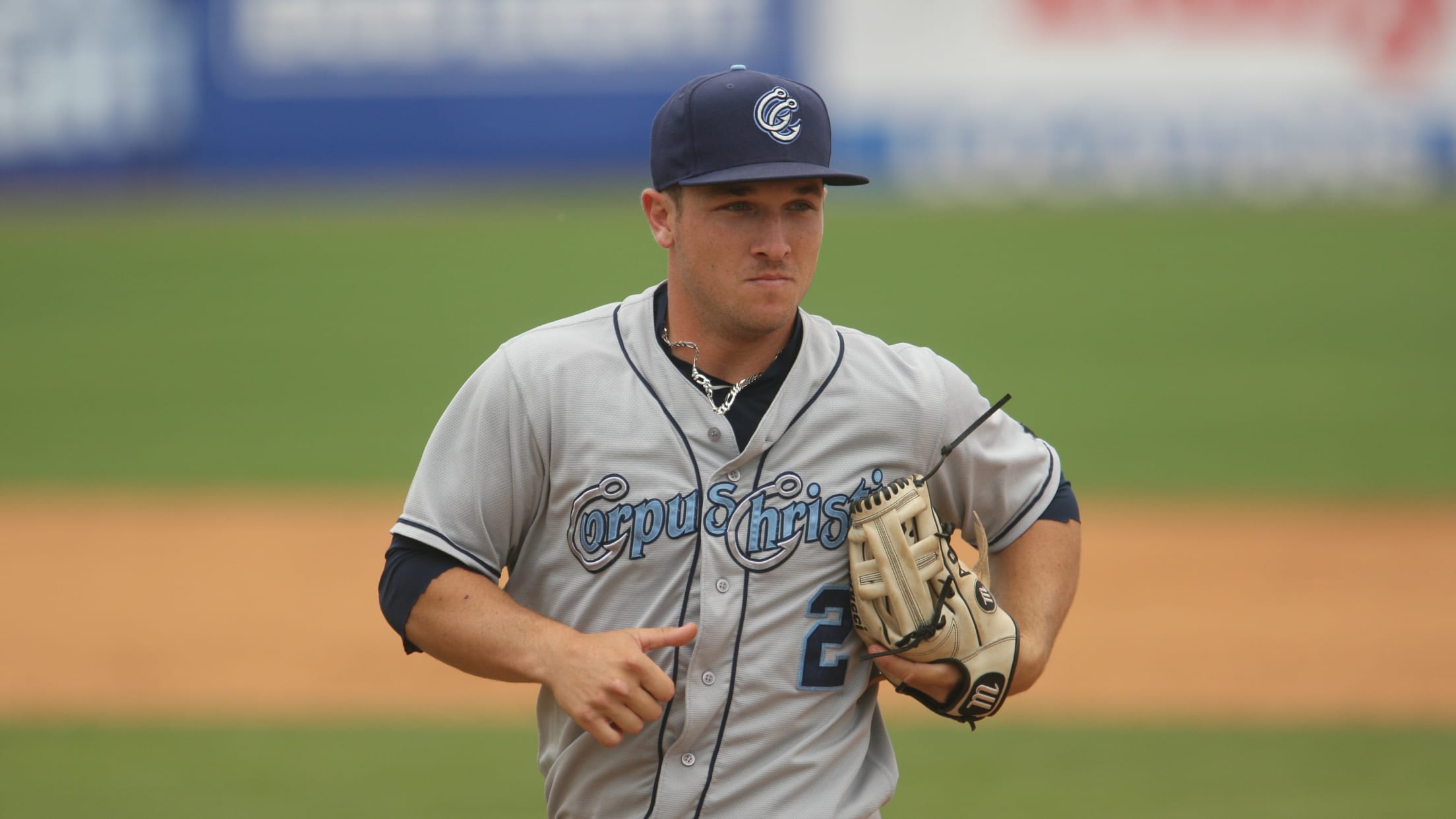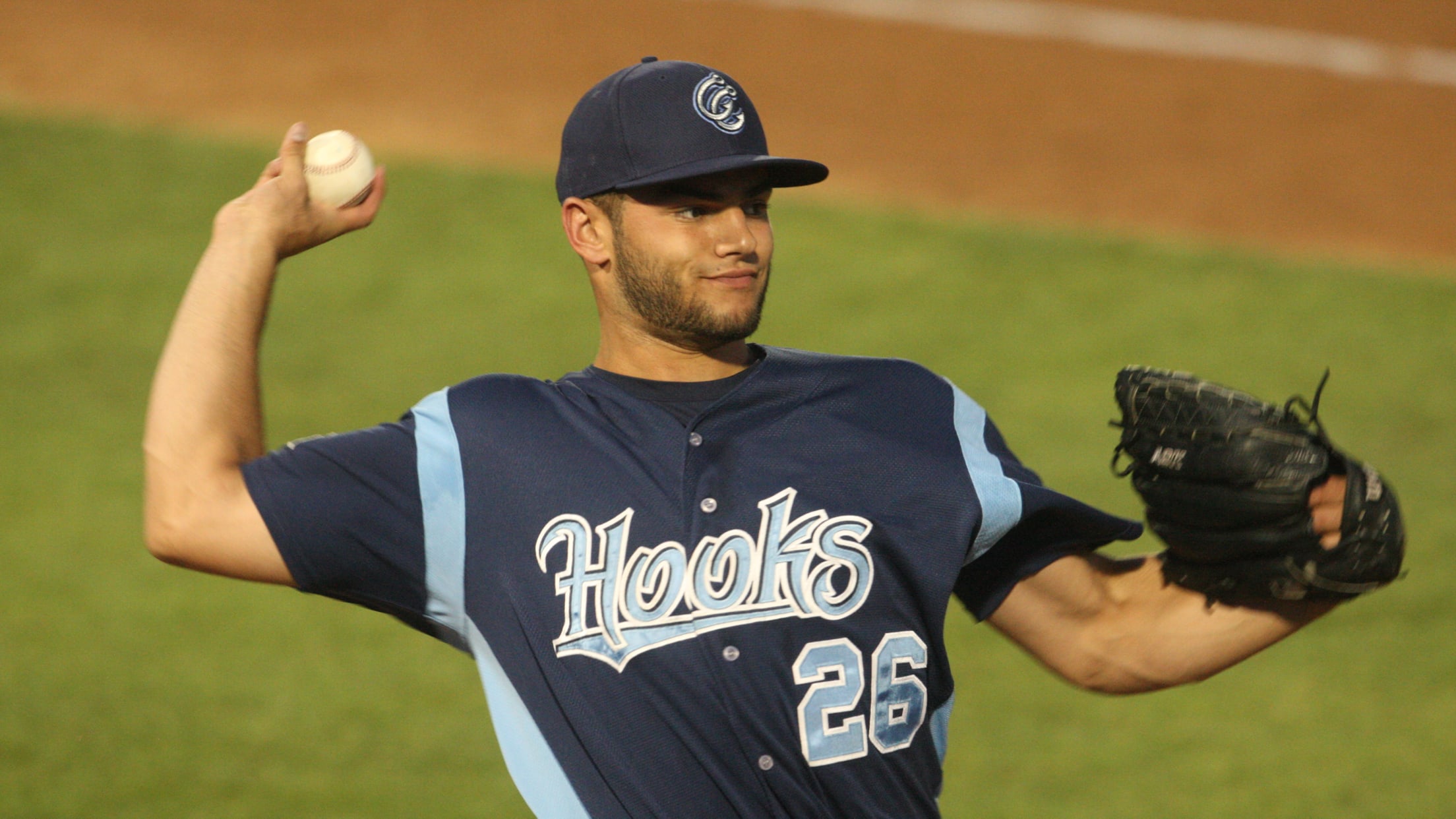 Features
The ballpark occupies land once dominated by cotton warehouses at the Port of Corpus Christi. Its architectural attributes, from mammoth wood beams to corrugated siding, pay tribute to the site's heritage. The videoboard in left-center field is framed by antique cotton presses, one of which dates to the 1920s.
During games, fans can watch large oceangoing vessels and their tugboat escorts navigate the port's ship channel. Ships clear the iconic Harbor Bridge, a span for Highway 181, at the mouth of the Corpus Christi Bay connecting to the Gulf of Mexico. The Harbor Bridge, built in 1959, dominates the center-field view and lights up at night, making a terrific backdrop for a game.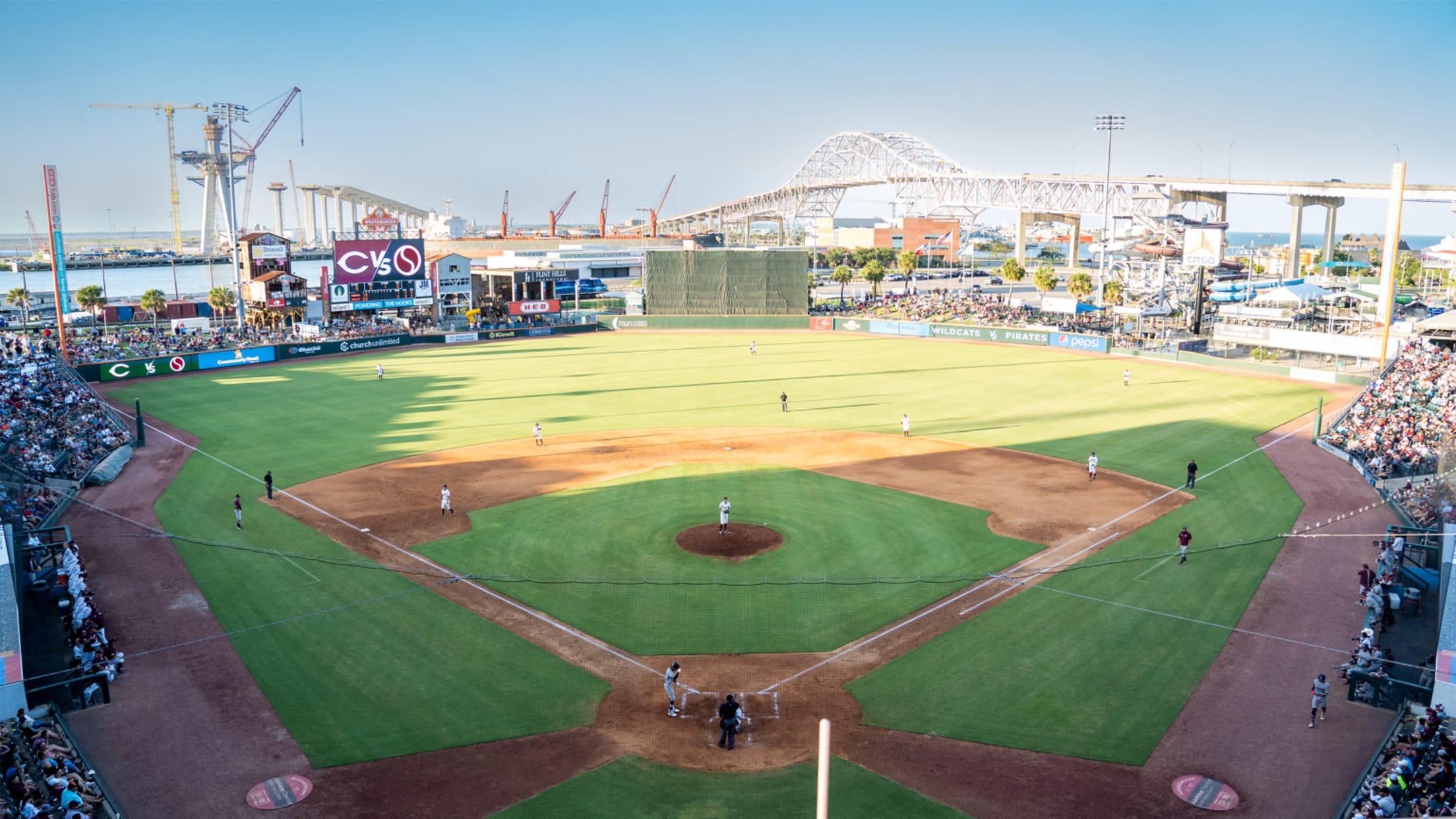 It's no secret it gets hot in Texas in the summer, so fans can cool off in the pool and spa located beyond right field. The pool is suitable for kids and has a lifeguard on duty. And you can watch the game from the TVs on the pool deck. If the kids' attention spans begin to wane, head to the playground in left-center field. It's next to a sport court, where kids can play anything from "fry toss" to pick-up basketball. Just beyond center field is Little League field, which is open to the public.
When the game is over, head to Hurricane Alley Waterpark, located next door to Whataburger Field.
Mascot
The only thing better than one Minor League mascot is two! The Hooks have two mascots roaming Whataburger Field -- Rusty Hook and Sammy the Seagull. The original Rusty was drawn on a cocktail napkin by Reid Ryan, but eventually underwent a makeover to make him less menacing.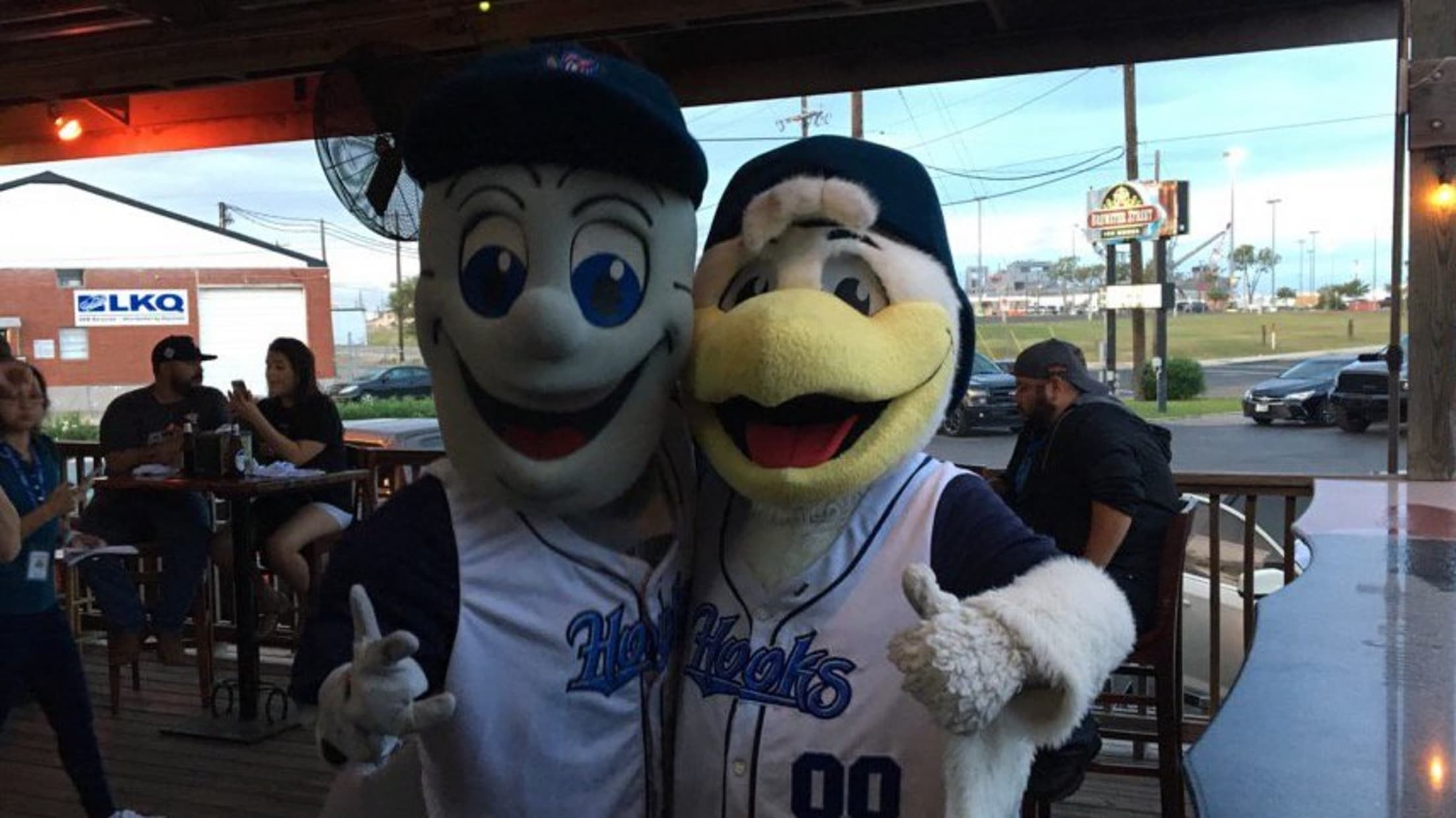 Concessions
From tacos to barbecue to seafood, get ready to eat well when you come to Whataburger Field. You can get Texas beef and chicken tacos and fajita nachos at Port Avenue Tacos in Section 112. One section over (113), you can get Irish nachos and spicy shrimp Po boys, chicken quesadillas and funnel cake fries. You can find pizza at a couple of different spots and chicken sandwiches and tenders. There's even a Kona Ice location for sno-cones on those humid summer nights.
Nolan Ryan's Seven-34 Smokehouse (section 114) offers all-beef angus footlong hot dogs, jalapeno cheddar sausage, brisket sandwiches and brisket nachos. But who are we kidding? It's Whataburger Field, which means Whataburger is served behind home plate in section 120. They even have honey butter chicken strip sandwiches and patty melts. Don't ask me how I know.
Local attractions
Corpus Christi is home to some of the Texas' top beaches, as well as the Texas State Aquarium and the USS Lexington, which was commissioned in 1943 and saw extensive service through the Pacific War. Decommissioned in 1991, she was donated for use as a museum ship and in 2003 was designated a National Historic Landmark. Just east of Corpus Christi are Padre Island and Mustang Island, which are home to various municipal, state and national parks.
And don't forget Mirador de la Flor, a monument that honors the late Tejano singer Selena Quintanilla-Perez. She was murdered in Corpus Christi at the age of 23 in 1995, but her music and legacy remain strong. The monument features a life-sized bronze statuee of the singer overlooking the bay.
Food and drink
Near the ballpark is Brewster Street Icehouse, which is great for food and live music on the weekends. Executive Surf Club is another location known for its food and live local music. Considering Corpus Christi is located on the water, there's no shortage of seafood options, including Water Street Oyster Bar, Catfish Charlie's and Doc's Seafood & Steak Restaurant (get the crab-stuffed flounder).
Of course, this is Texas, which means tacos! Chacho's Tacos have the best tacos in town, say the locals. Andy's Kitchen will fulfill your diner needs, but if you want an upscale option with terrific views, try Republic of Texas Bar & Grill. It's on the 20th floor of the Omni Hotel with a classic steakhouse menu and views of the bay.
Lodging
From luxurious coastal properties to boutique hotels to affordable motels, there is no shortage of places to rest your head in and around Corpus Christi, including a cluster of hotels along the bay near Whataburger Field. There's a line of less expensive options along State Highway 358 heading towards the beach, with the pricier options on Mustang Island, near the water. Don't forget the beach condos and RV parks for longer stays.
Moving on
Everything is bigger in Texas, including an expansive list of Minor League affiliates. There are eight Minor League affiliates in Texas -- five in the Texas League and three in the Pacific Coast League. The closest team to Corpus Christi is the Double-A San Antonio Missions (Padres), who are about 143 miles north of Whataburger Field. It's 187 miles from Whataburger Field to Sugar Land, home of the Triple-A Space Cowboys (Astros). If you're looking to make a long Minor League road trip -- with undoubtedly a couple of stops at Buc-ee's included -- you can head from Corpus Christi to Amarillo. The distance? 643 miles. That's 6-4-3 on your scorecard.
The Road to Houston
If you're a Minor League prospect in Houston's system, the goal is to get from North Carolina to Texas and never look back. The Astros' two full-season Class A clubs are in North Carolina -- Single-A Fayetteville and High-A Asheville. The top two clubs are in Texas: Double-A Corpus Christi and Triple-A Sugar Land, which is a suburb of Houston.
Single-A: Fayetteville Woodpeckers
High-A: Asheville Tourists
Double-A: Corpus Christi Hooks
Triple-A: Sugar Land Space Cowboys