5 key questions facing Crew this offseason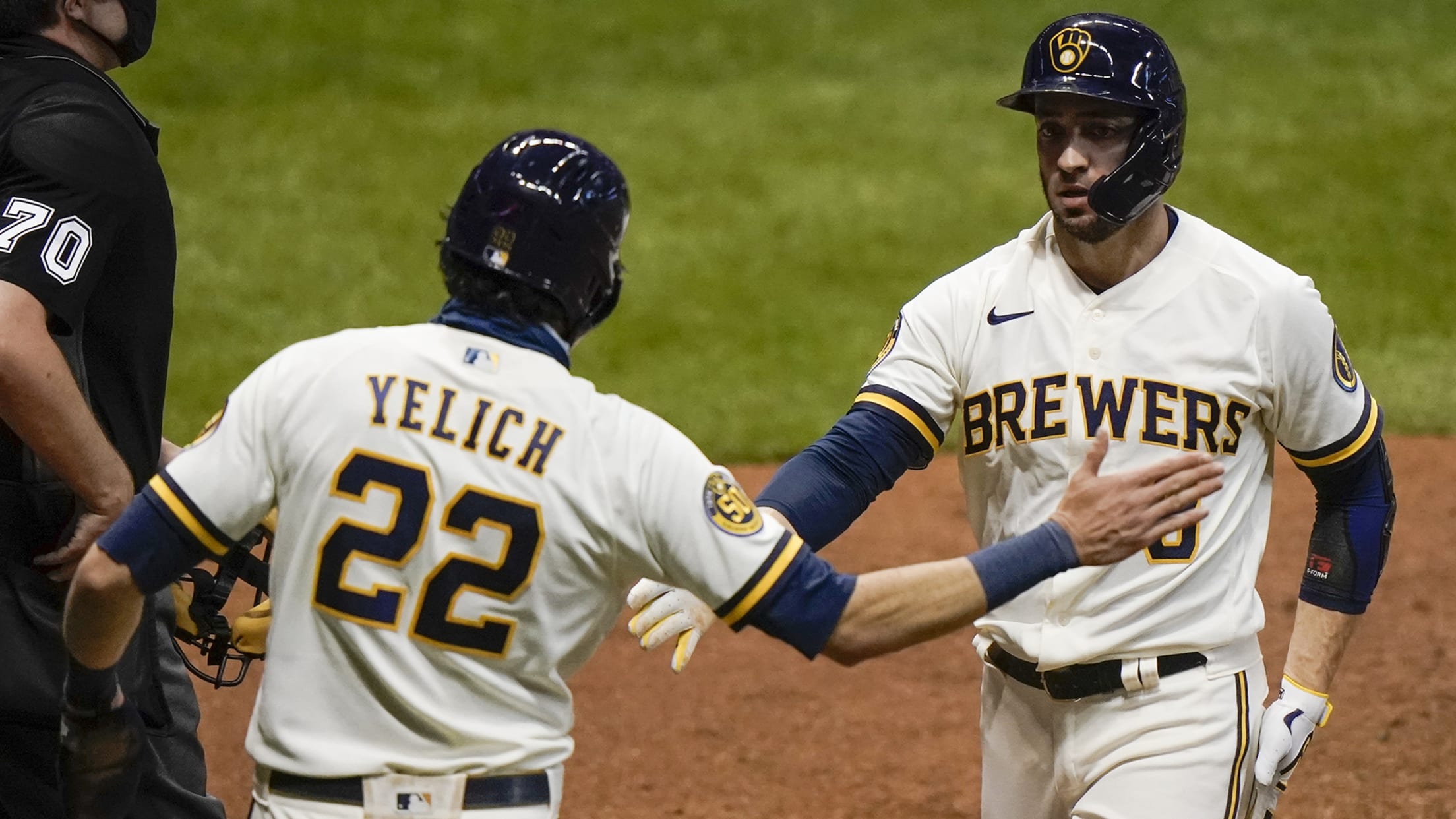 MILWAUKEE -- Here are five questions facing the Brewers as the offseason begins: 1. How will they fix the offense? "You start from the reality," Brewers president of baseball operations David Stearns said, "which is, it wasn't good." What to do about that, however, is more complicated. Offense was down
MILWAUKEE -- Here are five questions facing the Brewers as the offseason begins:
1. How will they fix the offense?
"You start from the reality," Brewers president of baseball operations David Stearns said, "which is, it wasn't good."
What to do about that, however, is more complicated. Offense was down around baseball, particularly in the National League Central, so Stearns and his staff must determine at which positions changes are required to bolster a lineup that batted .223 in 2020, the worst in franchise history, and where they should throw out the results of a strange 60-game season and gamble on a bounce-back year.
• What to watch for: Brewers offseason FAQ
Catcher Omar Narváez, for example, came to Milwaukee with a reputation as an offense-first player, only to lead the Majors in framing stats while slashing .176/.294/.269. Third baseman Luis Urías (and pitcher Eric Lauer) came at a high price in a trade with San Diego last November and didn't produce. Second baseman Keston Hiura had baseball's fifth-highest rate of swing-and-miss (minimum 500 pitches). First and third base are, once again, unsettled.
Stearns probably won't be able to make significant upgrades at all those positions, considering the Brewers' financial constraints. So he will have to prioritize where to direct spending (starting after the World Series with a decision on Jedd Gyorko's $4.5 million club option) and/or use trades to acquire hitters. After Josh Hader's name churned through the rumor mill last winter, you can probably expect more of the same.
"We need more offensive production [at the infield corners] than we had this year -- that's clear," Stearns said. "Some of that may be external, and some of that, after we go through our evaluations, we may be relying on players who we believe had down years this year and have the ability to bounce back."
2. Was 2020 anything more than an aberration for Christian Yelich?
Yelich's frustration was plain to see from the first game of 2020 to the last. He opened the year in a 1-for-27 slump and finished with a .205 batting average. But if ever there were a year to look past that, this may be it.
Yelich continued to hit the ball hard -- he had the third-highest average exit velocity among qualified hitters -- and may have been the victim of bad luck. That's evidenced by a .259 batting average on balls in play, and by Statcast's "expected" stats, including the fifth-widest gap between Yelich's expected batting average and his actual batting average.
"I think we're going to look back at this and recognize it was the perfect storm for Yeli," Stearns said. "I think we're going to look back at a player who hadn't played competitive baseball for 10 months [following right knee surgery last fall], who didn't then have a normal ramp-up Spring Training time, who was then competing in an environment that was very different than he's ever competed in before -- whether it's lack of fans, different travel arrangements, different clubhouse accommodations, different video access. And we're going to remember that it was a shortened season where he never really had a chance to climb out of what was an early-season slump.
"So I think as we assess this Christian Yelich year in future seasons, we're going to think to really a confluence of events that led to what, by his standards, was a challenging year."
3. Will Ryan Braun be back?
Fans who follow Braun's wife, Larisa, on social media saw a series of farewell messages. Braun himself talked in the past tense. But the Brewers' longest-tenured player also made clear he was not going to make any formal decisions until he put some distance between himself and the strangest of his 14 Major League seasons, so nothing was official.
The 2020 season marked the final guaranteed year of Braun's contract. It calls for a $4 million buyout of his mutual option.
"A constant with Ryan is I think he wants to understand what the world is going to look like as we get into next year, and we're not going to know that for a while," Stearns said. "So I don't anticipate him really thinking much about this over the next couple months. Maybe I'm wrong and maybe he reaches a decision faster. But I would imagine Ryan's going to take his time, enjoy the beginning of his offseason and maybe as we all get a little more clarity as to what baseball will look like in the new year, that's when I anticipate he probably starts thinking a little more concretely about it."
4. Who's the shortstop?
At the start of Spring Training, the battle between Orlando Arcia and Urías at shortstop was supposed to be one of the Brewers' more consequential storylines in 2020. As the year comes to an end, little is solved.
Urías missed Spring Training following surgery for a fractured hamate bone in his left hand, then missed the start of the regular season after testing positive for COVID-19. He was productive upon his return, but he faded to a .602 OPS by season's end. Most of Urías' playing time at the end came at third base, because Arcia reasserted himself at shortstop by slashing .260/.317/.416, which will play if he shines defensively. Arcia, however, is getting costly. He is arbitration-eligible again after earning a prorated portion of $2.2 million in 2020.
"Orlando did a nice job," Stearns said. "He improved his zone control. He started swinging at strikes some more. Swung at balls less. He took more consistent at-bats throughout the course of the season. I think that was an important step for Orlando. I think it's also important that we continue to remember -- that Orlando continues to remember -- that's a defensive position first."
5. Is there any good news?
Yes. The Brewers' pitching is pretty good and almost entirely under contractual control. The team is losing only one pitcher to free agency: veteran left-hander Brett Anderson. Milwaukee's four best pitchers -- starters Brandon Woodruff and Corbin Burnes and relievers Devin Williams and Hader -- all have three or more years of club control remaining. Woodruff is arbitration-eligible for the first time and Hader for the second time, so their salaries will go up.
The Crew also identified some useful bullpen pieces like Eric Yardley and Justin Topa, who have a chance to contribute next season and beyond. Brent Suter should return as a valuable swingman, and Corey Knebel flashed a power fastball at the end of his first year back from Tommy John surgery. Freddy Peralta will be entering Year 2 of a five-year contract with a role to be determined. There was a lot to like about Milwaukee pitching in an otherwise tough year.
"As for the rotation as a whole, we have what we think are two of the better starting pitchers in the National League right now in Woody and Corbin Burnes," Stearns said. "Adrian Houser at times showed flashes this year. He built off a really nice finish to the 2019 season. But there's an element of consistency there that we need to see going forward. He knows that. This is a big offseason for him, to come back next year and put himself in position to anchor a rotation spot.
"That's probably true for the back end of the rotation as well. We saw some really good performances. We just didn't quite get the level of consistency you'd hope for from one through five."