Inbox: What's Hiura's fate when Shaw returns?
Beat reporter Adam McCalvy fields questions from Crew fans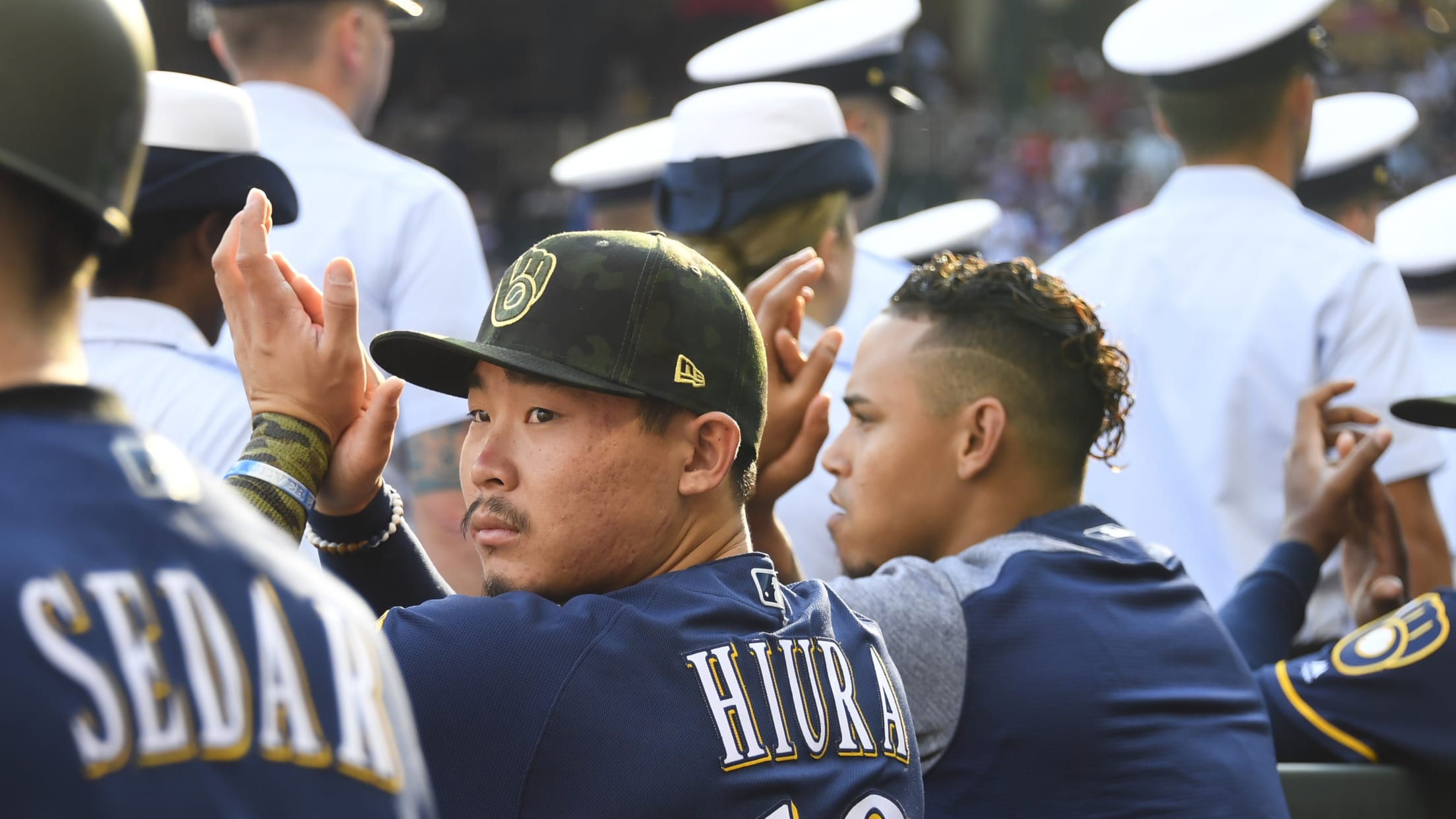 Does Keston Hiura stay in the bigs when Travis Shaw comes back? -- @MadnessDFS I just downed two cups of Stone Creek while staring at the roster and trying to figure out how Hiura sticks when Shaw comes off the injured list. Barring a change in the pitcher-position player ratio,
Does Keston Hiura stay in the bigs when Travis Shaw comes back?
-- @MadnessDFS
I just downed two cups of Stone Creek while staring at the roster and trying to figure out how Hiura sticks when Shaw comes off the injured list. Barring a change in the pitcher-position player ratio, the only way is letting go of Eric Thames and using Shaw in that spot, splitting first base with Jesús Aguilar and picking up starts at second and third where it makes sense. But given Thames' effectiveness, even in the challenging pinch-hit role, I'm not sure it makes sense to just cut ties.
So I'm just as curious about this as all of you. The Brewers have some time to figure this out. Shaw is going to take batting practice on Tuesday before tentatively beginning a rehab assignment on Wednesday. Given his season-long hitting funk, perhaps they will let him swing the bat in the Minors a bit longer than usual to try to get a good feeling going. When he's right, his left-handed thump is a big part of the Brewers' offense.
Does Jimmy Nelson have a realistic shot at being readmitted into the rotation? Or is the bullpen more likely?
-- @weinerschn1tzel
I've asked this a couple of times since the start of Spring Training, and every time the answer has been that they plan to use him as a starter, not a reliever. That makes some sense to anyone who has seen Nelson when he's not on the mound; I don't think there's a pitcher alive more in tune to the concept of routine. Nelson thrives on it.
So how do you fit him into the rotation? It's tough right now, since things have settled down. Zach Davies, Gio Gonzalez and Brandon Woodruff aren't budging with the way they are pitching. I doubt Jhoulys Chacín is going anywhere. Chase Anderson has pitched well in his starts. Brewers starters posted a 1.61 ERA on the just-completed 10-game road trip.
Decision time is coming, manager Craig Counsell said the other day, after Nelson's next Triple-A start on Thursday at Round Rock. Here's the latest on Nelson, including an update on his twin girls, from Saturday.
The Brewers seem to be a .500 type of team so far. Considering their upcoming schedule that you shared, how do you think the division will look July 1?
-- @dsimono66
I've been binging "The West Wing" (again), and if it taught me anything, it's that you don't have to accept the premise of a question. I don't accept the premise of this question. The Brewers are not a .500 team, they are a .571 team, which is a 92-win pace. And that's with 30 of their first 49 games against the Cardinals, Dodgers, Cubs, Phillies and Braves. I think the top of the division will be bunched on July 1. And Aug. 1. And Sept. 1.
Davies has been unreal! What has he done besides locating his changeup well to continue to have the best ERA in the MLB? Do you think he will be there in the end when it comes to possibly winning the Cy Young Award?
-- @FanBrewer
Two keys: health and fastball location. Actually, make that three: Davies is also pitching with supreme confidence, which one needs to thrive on the corners in an era of power fastballs up in the zone. Given all of their pitching problems in April and early May, where would the Brewers be without Davies?
Voters use more than wins and ERA to determine their Cy Young Award ballots nowadays, so I'm not sure Davies' 23rd-ranked fWAR among NL qualifiers will put him at the top of many ballots. But that does not diminish the fantastic job that he has done preventing runs.
The Crew is off to a good start in my opinion, but one more solid bullpen arm would not hurt. Do you expect any moves to improve the 'pen?
-- @LarrySMith4
General manager David Stearns picked up Joakim Soria and Jordan Lyles last July and early August, respectively, and Anthony Swarzak and Jeremy Jeffress in July 2017. You can put me down for a "sweet sassy molassy" if he doesn't make some sort of move to bolster the bullpen this summer.
Do you know what the plan is for Drew Rasmussen in Double-A Biloxi? The Brewers have moved him quickly through three levels this year. Do they think highly enough of him to help in the bullpen this year, or do they just want him to build innings?
-- @JKnecht02
My guess is that Rasmussen, a sixth-round pick last year out of Oregon State who has had two Tommy John surgeries, will run out of innings before it gets to helping the big league club. But what a debut season in the system so far (1.16 ERA, 0.814 WHIP). We should have seen this coming when Counsell was over in Minor League camp one day during Spring Training to watch someone pitch and came back raving about Rasmussen.
What does the club continue to see in Jacob Barnes? He's generally bad every time he gets opportunities to pitch. Are there no other options down on the farm?
-- @GregCollyard
Barnes is unscored upon in 11 of 16 appearances this season. He can be optioned up and down. He can pitch two innings if you need it. He's not Milwaukee's best reliever, but that's OK. He can help gobble up innings to help keep other arms fresh.
Any update on the progress of Brett Lawrie? Is he going to play in the Minors this year?
-- @flippinfoster
Lawrie resumed baseball activities in late April and is still in Phoenix hitting, running and gaining strength. Yes, the plan calls for him to play in the Minors later this year.
Last year, Twitter was abuzz with pleas for Josh Hader to start. After he gave up the 10th-inning homer to Freddie Freeman on Saturday, some were suggesting he not pitch two innings. Does Lowe's sell a tool capable of squaring that circle?
-- @hurrayforfacts
I'm a Menards man myself. Shop local.
What do you think happens next with Corbin Burnes?
-- @mjdemps1
I think Burnes keeps pitching out of the bullpen. He was great in that role last season, and he was thriving again before a roadblock on Friday night in Atlanta. He'll continue to pitch, Counsell said.
The Draft is coming up. Where do you see the Brewers going in the first round?
-- @jordo2323
I can confidently say I see them going 28th overall in the first round.
Are Dallas Keuchel/Craig Kimbrel talks still a thing?
-- @BlakeWeiner
Sure, in the sense that those pitchers are still free agents. Each will sign somewhere after the Draft, since they no longer will force the signing team to forfeit a pick. The Brewers still make sense on paper.
What is the best flavor and brand of cold pack cheese spread?
-- @themeiz
Merkts Port Wine. Am I not supposed to say Merkts because it's mass-produced? I don't care.
Swung-at pitch bounces straight down in batter's box, hits batter's foot, rolls out to third. Foul ball, correct?
-- @DougBreitnauer
Correct. Rule 5.09(a)(7). The umpires decided it didn't hit Orlando Arcia's foot on Sunday in Atlanta. Counsell disagreed and was asked to enjoy the rest of the game from his air-conditioned office.