Brewers' youthful rotation has big shoes to fill
Jeffress, Knebel injuries to put more responsibility on starters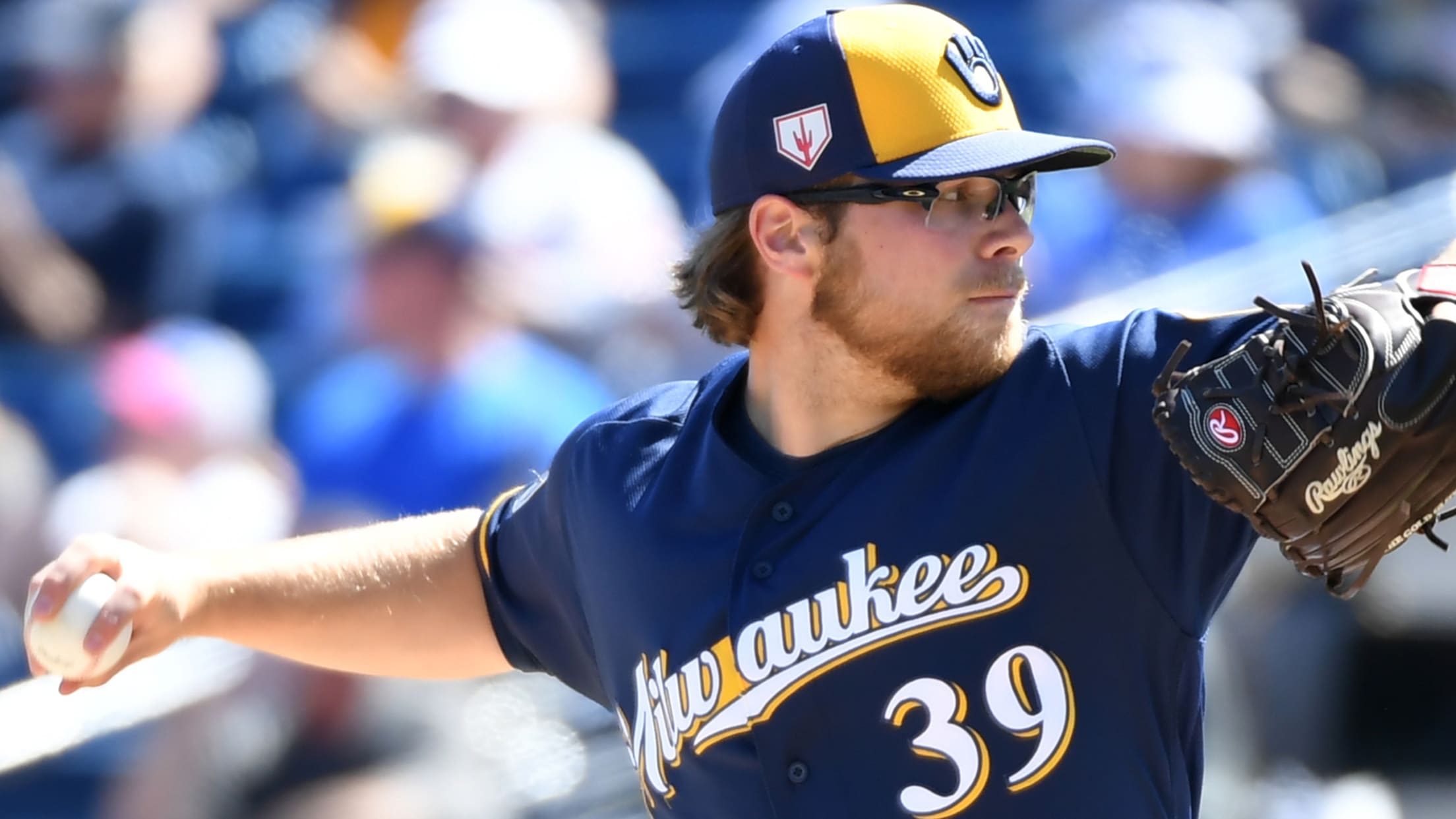 PHOENIX -- No Brewers pitcher has completed what he started since June 18, 2017, when Jimmy Nelson threw 118 pitches and held the Padres to a lone unearned run on six hits in a 2-1 win at Miller Park. It was Milwaukee's only complete game that season. In fact, it
PHOENIX -- No Brewers pitcher has completed what he started since June 18, 2017, when Jimmy Nelson threw 118 pitches and held the Padres to a lone unearned run on six hits in a 2-1 win at Miller Park. It was Milwaukee's only complete game that season. In fact, it was Milwaukee's only complete game in the past three and a half seasons, since Taylor Jungmann went the distance against the Dodgers in July 2015. That was two months after Craig Counsell took over as manager in the first move of a full-blown rebuild.
So, in nearly four years as manager, covering 634 games including last year's playoffs, Counsell has remained in the dugout from the first out through the last on all of two occasions.
So, it might have come as a surprise during an early-Spring Training discussion of pitching to hear Counsell say this:
"Great starting pitchers are still a manager's best friend."
Counsell will need every one of those starting pitchers as the Brewers begin their defense of the National League Central crown. His best two right-handed relievers, Jeremy Jeffress and Corey Knebel, will begin the season on the injured list. Jeffress, derailed in camp by shoulder weakness, could be back by mid-April. Knebel has a UCL injury in his right elbow, and his season is in doubt.
On the path to 27 outs, it will be incumbent on the team's youthful starting rotation to limit the late-inning load, and on Josh Hader and the remaining healthy relievers to shoulder it. In fact, Counsell has been reminding reporters and fans alike all spring that the creative strategy employed by the Brewers late last season -- of surprise starts, short starts and heavy leaning on his late-inning relief corps -- is not realistic for the bulk of a regular season.
"I know we're going to talk about this again. But it is not September and it is not October," Counsell said just this week. "It's going to look different than the last seven weeks of baseball that we all saw. And I think for fans, for everybody, it's really important that we understand that."
With one week to go in Spring Training, Counsell revealed his plan for the rotation beyond Jhoulys Chacin on Opening Day. Young, ascending right-handers Corbin Burnes, Freddy Peralta and Brandon Woodruff will pitch the final three games of the season-opening series against the Cardinals, in an order to be determined. Zach Davies will start the fifth game, in Cincinnati. Last year's Opening Day starter, Chase Anderson, will begin the year in the bullpen but is sure to start along the way.
Then there is Nelson, who was emerging as an ace in 2017 before right-shoulder surgery ended his season and cost him all of 2018. He will begin the 2019 season on the injured list but should be active at Triple-A San Antonio from the start. If he stays on the right trajectory, Nelson will be a rotation option relatively early in the season for the Brewers as well.
The Brewers like those options, especially if Woodruff, Burnes or Peralta takes another big step forward.
"We do [feel good]," said veteran outfielder Ryan Braun. "From what I've seen, both Woodruff and Peralta have taken a step forward. Their stuff this spring has been noticeably better than it was last spring, and they were both very good for us last year, probably better than anyone expected them to be.
"Then, obviously, knock on wood, it's been really encouraging to see how good Jimmy [Nelson] looked his last couple of times out. Jimmy's close. Jimmy's really close. I don't know exactly what the plan is or how far away he is, but that is potentially the equivalent of adding an impact-level starter at the very beginning of the season. … To me, we have seven quality options, at least, to start right now. So, we're in a really good place."
Less stable at the moment is a bullpen that last season ranked second in the National League in ERA, innings and batting average against. It was led by Hader, who set the all-time-record for strikeouts by a left-handed reliever with 143 in 81 1/3 innings. Jeffress, who works best when he's in a Brewers uniform, had a career year with a 1.29 ERA in a team-high 73 games, but his Cactus League play was limited to three pitches, and he was just getting back on the mound as the Brewers began packing for the regular season. Also sidelined is Knebel, who emerged last September and October as arguably the best reliever on the team, with 16 scoreless appearances from Sept. 2-Oct. 1, before he pitched in nine of the Brewers' 10 postseason games.
Knebel will be missed, to say the least.
"That's how it is -- next guy up in the bullpen," Counsell said. "It's not dissimilar to situations we've had in the past where we've had success. In 2016 we lost Will Smith and Corey [Knebel] the week before the season, and we performed pretty well. Those next guys picked up the slack and did a pretty nice job still. … That's how you get through situations like this."