Brewers DFA Opening Day starter Chacin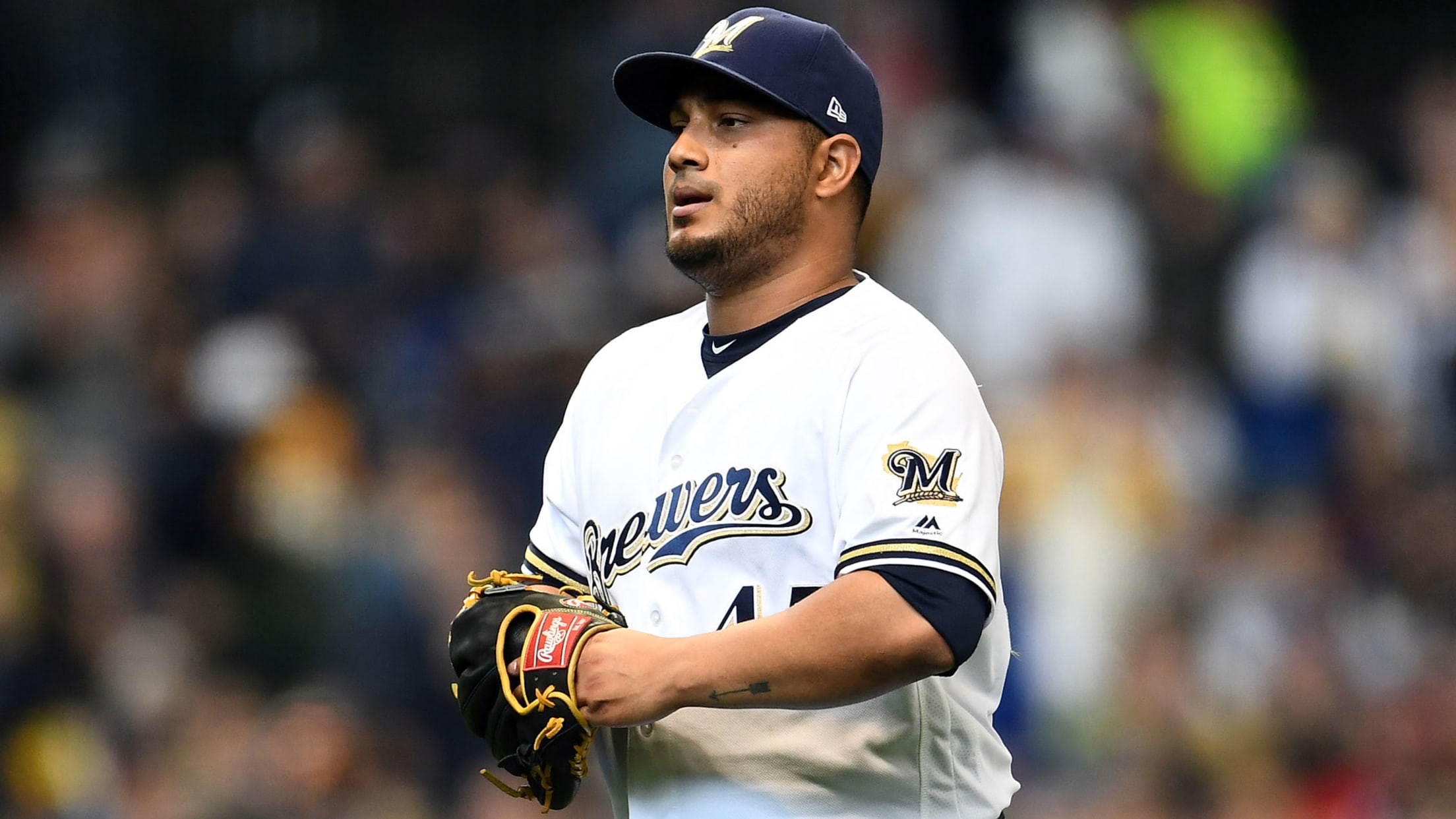 MILWAUKEE -- The Brewers designated their Opening Day starter for assignment on Saturday, the latest development in what has been a nightmare season for veteran right-hander Jhoulys Chacín. Chacin's 40-man roster spot went to utility man Cory Spangenberg, who was promoted from Triple-A San Antonio before the Brewers' game against
MILWAUKEE -- The Brewers designated their Opening Day starter for assignment on Saturday, the latest development in what has been a nightmare season for veteran right-hander Jhoulys Chacín.
Chacin's 40-man roster spot went to utility man Cory Spangenberg, who was promoted from Triple-A San Antonio before the Brewers' game against the D-backs. Since Chacin was on the 10-day injured list recovering from a right lat strain, the Brewers also needed to open space on the active 25-man roster. They did so by optioning outfielder Ben Gamel to Triple-A.
"These moves are always tough when you're saying goodbye to someone who's contributed to such an extent," Brewers president of baseball operations David Stearns said. "This a guy who's started some of the most important games in the history of this franchise. He's been a major contributor here, and we're appreciative of it."
The Brewers had been discussing the move with Chacin and his agent for at least a week, but that made it no less jarring.
"Jhoulys and I actually had a really good talk in Washington on the road trip," Brewers manager Craig Counsell said. "For a guy that meant so much to what we accomplished last year and had a really, really special year and was on the mound for some special moments and huge games -- mostly we just talked about that, more than anything. Jhoulys had a rough year, and he's trying to get back out there and we wish him the best."
When a player's contract is designated for assignment -- often abbreviated "DFA" -- that player is immediately removed from his club's 40-man roster and 25-man roster if he was on that, as well. Within seven days of the transaction (it was previously 10 days), the player must either be released or placed on irrevocable outright waivers.
Here are three questions in the wake of Saturday's transactions:
1. What in the world happened to Chacin?
There's no clear answer to this one. Chacin was the Brewers' most valuable starting pitcher in 2018, going 15-8 with a 3.50 ERA during the regular season, including a start in one of the biggest non-postseason games in Brewers history. He delivered 5 2/3 innings of one-run ball in the National League Central tiebreaker game at Wrigley Field, a Brewers victory that clinched the National League Central crown. But after being Milwaukee's steadiest starter in Year 1, Chacin stumbled throughout '19 as a 31-year-old. He was 3-10 with a 5.79 ERA in 19 starts and endured a pair of stints on the IL -- first for a low back injury and then the lat, which has sidelined him since late July.
"We just didn't get the results we wanted," Counsell said. "Jhoulys probably pitched as well as he's ever pitched last year, especially going into the second half of last year. In Spring Training, I didn't think much had changed. During the season, we struggled with the slider for a bit of time, and then we struggled with the fastball command for a bit of time. The reason we're here is we didn't come up with any answers, unfortunately."
Said Stearns: "Players go through rough years. This is a guy who we asked an awful lot of last year. He pitched longer and more than he ever had previously in his career. Whether that took a toll, I don't know."
2. Why now?
A couple of reasons, according to Stearns and Counsell:
• Chacin had "fallen behind a pretty big group of guys" on the depth chart, Counsell said. In other words, the Brewers were not confident in his ability to contribute meaningful innings once he was ready to return from the IL.
• At the same time, the club anticipated adding the versatile Spangenberg and perhaps others to the full 40-man roster in time to be called up when rosters expand on Sept. 1, and they would need Chacin's spot. By doing it now, before Aug. 31, Spangenberg is eligible for postseason play should the Brewers qualify. He started at shortstop and hit eighth on his first day with the club Friday.
• If it was clear that Chacin would be DFA'd or shifted to the 60-day IL eventually, doing so now gave him a better chance of hooking on with another team this season. That's why Stearns involved Chacin and his representatives in the discussions about what to do. Chacin is a free agent at season's end.
• With rookie Trent Grisham swinging a better bat than Gamel at the moment and Lorenzo Cain back to full strength after dealing with an oblique issue, the Brewers had the flexibility to option Gamel down to play every day for the Missions with the intent of bringing him back in September after he's spent the requisite 10 days in the Minors. And because they will bring Gamel back before 20 days, it will restore his one remaining option, meaning the team will have the flexibility to move Gamel between the Majors and Minors throughout 2020.
The Chacin DFA had been in the works for a week, Craig Counsell said. pic.twitter.com/Z8xdoPO1DB

— Adam McCalvy (@AdamMcCalvy) August 24, 2019
3. Are more moves coming?
Yes. This is the last year teams can call up anyone from their 40-man roster for September, and Stearns said the Brewers plan to make the most of it. Next year, clubs will be capped at 28 active players.
"We like our depth. We're going to make use of that expanded roster," Stearns said. "I would image we'll have a similarly large September contingent to what we had last year. We'll probably see a number of the names we've seen throughout the course of the year and probably a name or two that we haven't seen."
Players on the 40-man roster with the potential to be called up include pitchers Ray Black, Jake Faria, Jimmy Nelson, Freddy Peralta, Trey Supak, Brent Suter, Aaron Wilkerson and Taylor Williams; catcher Jacob Nottingham and infielder Travis Shaw. Utility man Tyler Saladino and catcher David Feitas are also possibilities, but they are currently nursing injuries -- Saladino a sore left shoulder and Freitas an intercostal strain.
The Brewers also expect to get back All-Star starter Brandon Woodruff sometime in mid-September from a left oblique injury.
"Generally, there are two waves of players: one at Sept. 1 and one at the end of the Minor League season," Stearns said. "I'd imagine the larger wave will come on Sept. 1 and then a couple of others near the end of the Minor League season."
Bonus question:
4. The Curse of the Brewers Opening Day starter is not real … right?
Logic says of course not. There is no such thing as curses or hexes or jinxes. And even if one believes in that sort of thing, a team cannot make decisions based on sorcery. Nevertheless, Chacin is the latest Brewers Opening Day starter to endure a bad season, a dubious streak that goes back to Kyle Lohse in 2015. Wily Peralta in '16, Chase Anderson in '17, Junior Guerra in '18 and now Chacin, all took steps back after getting the honor.
Counsell has quipped from time to time that he might try to break the hex by having someone other than a starting pitcher throw the season's first pitch.
But he was joking, right?
Right?
"I was waiting for this question," Stearns said with a smile. "It's a great storyline and, look, obviously everyone is talking about it, right? I don't know what's happened before I've been here but since I've been here, the guy we've given the ball to on Day 1 of the season hasn't pitched particularly well the rest of the season.
"It's really strange, and it's an interesting conversation -- and there's likely absolutely nothing behind it."
I know that curses and jinxes and hexes aren't real. But what the heck — we asked David Stearns about the Curse of the Brewers Opening Day Starter anyway. pic.twitter.com/Wp3GUuUxrv

— Adam McCalvy (@AdamMcCalvy) August 24, 2019