Crew options Hiura as Shaw returns from IL
Stearns addresses decision to send down Brewers' thriving No. 1 prospect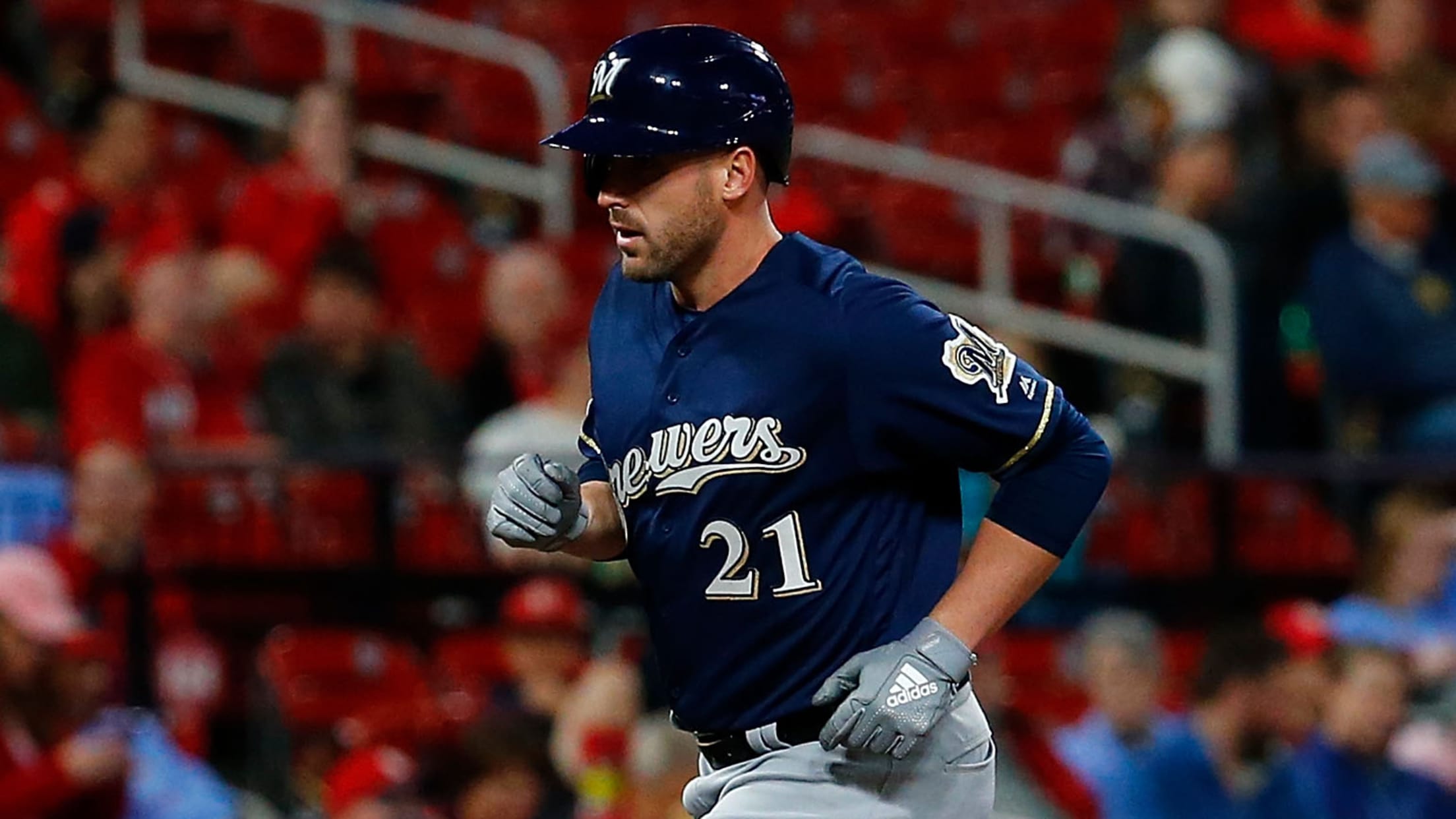 MILWAUKEE -- The roster move that many Brewers fans had been dreading came to pass Monday, when the team optioned top prospect Keston Hiura back to Triple-A San Antonio in spite of his recent production to clear a spot for Travis Shaw, who has produced in past seasons but not
MILWAUKEE -- The roster move that many Brewers fans had been dreading came to pass Monday, when the team optioned top prospect Keston Hiura back to Triple-A San Antonio in spite of his recent production to clear a spot for Travis Shaw, who has produced in past seasons but not in this one.
Shaw will come off the 10-day injured list to resume third-base duties on Tuesday night against the Marlins at Miller Park, pushing Mike Moustakas back to second. That meant Hiura didn't have a position.
"I imagine this is going to provoke some questions," Brewers president of baseball operations David Stearns said.
Yes, indeed. Hiura, MLB Pipeline's No. 15 overall prospect, slashed .281/.333/.531 in his first 17 Major League games while Shaw rehabbed a right wrist injury. Hiura hit five home runs in 69 plate appearances, one more homer than Shaw hit in 154 plate appearances before the injury. Hiura's weighted runs created plus was 124 to Shaw's 44. Shaw is coming off a 10-game rehab assignment with San Antonio that included one extra-base hit. Both Hiura and Shaw have Minor League options.
Shaw greeted the news by sharing a Henry Ford quote on Instagram: "Failure is simply the opportunity to begin again, this time more intelligently."
Yes, there were some questions. Here's how Stearns answered the key ones:
Are you worried about fan reaction to this move?
No, I think our fans understand that we're always making decisions. A lot of them are challenging decisions. We balance a number of different factors in all decisions, and so far in my tenure here, I think our fans have been really understanding of that.
Why the urgency to bring back Shaw now?
I think we believe that Travis has earned the right to play at the Major League level right now. And he's healthy. He's gone and done his rehab assignment, and we believe that it's time for him to come back. He's been a productive player for us over the last couple of years, a player who has given a whole lot to the organization, and he's earned the right to be at the Major League level.
I think Travis felt, over the first couple of games that he was down there, he was experimenting with some different mechanical techniques. Probably over the last three or four games, we felt like he got himself into a good spot. But Travis is going to need to perform, and he understands that. He certainly is prepared to, and we feel like he will.
Won't it weaken the team to send down a hitter who is producing and keep players (Shaw and out-of-options first baseman Jesus Aguilar) who have not been producing?
I think we always have to keep in mind that this is a long season, and preserving organizational depth, preserving options throughout the entirety of the season is something that we think is really important. It's something that we have focused on over the last couple of years, and it has served us well. We have players who are either performing well now or have performed at a very high level in the past, and it behooves us to make sure we have as much depth and as much flexibility as possible.
What was the analysis of Hiura's first stint in MLB?
I think we saw a player who can really hit. He has hit throughout his entire life, his amateur career and professional career, and he carried that over to the Major League level. We saw more or less what we expected to see from him.
If players like Shaw and Aguilar don't produce, will this decision be revisited?
Sure. Look, we've proven, I think, over the last couple of years that we're willing to make challenging decisions, and we're willing to move on from players when the time comes. We also have to be really careful when we do that. At this point, we have a lot of trust and faith in players who have performed in the past and have contributed for us in the past. That's where we're going to go right now. It's really nice to have Keston perform like he has, to come to the Major Leagues and perform like he did here over a couple of weeks. We think he's going to be a really good Major League player.
Did Major League service time figure anywhere in the decision-making process on Hiura?
No.