Mathias' quest from 'Camp Appleton' to MLB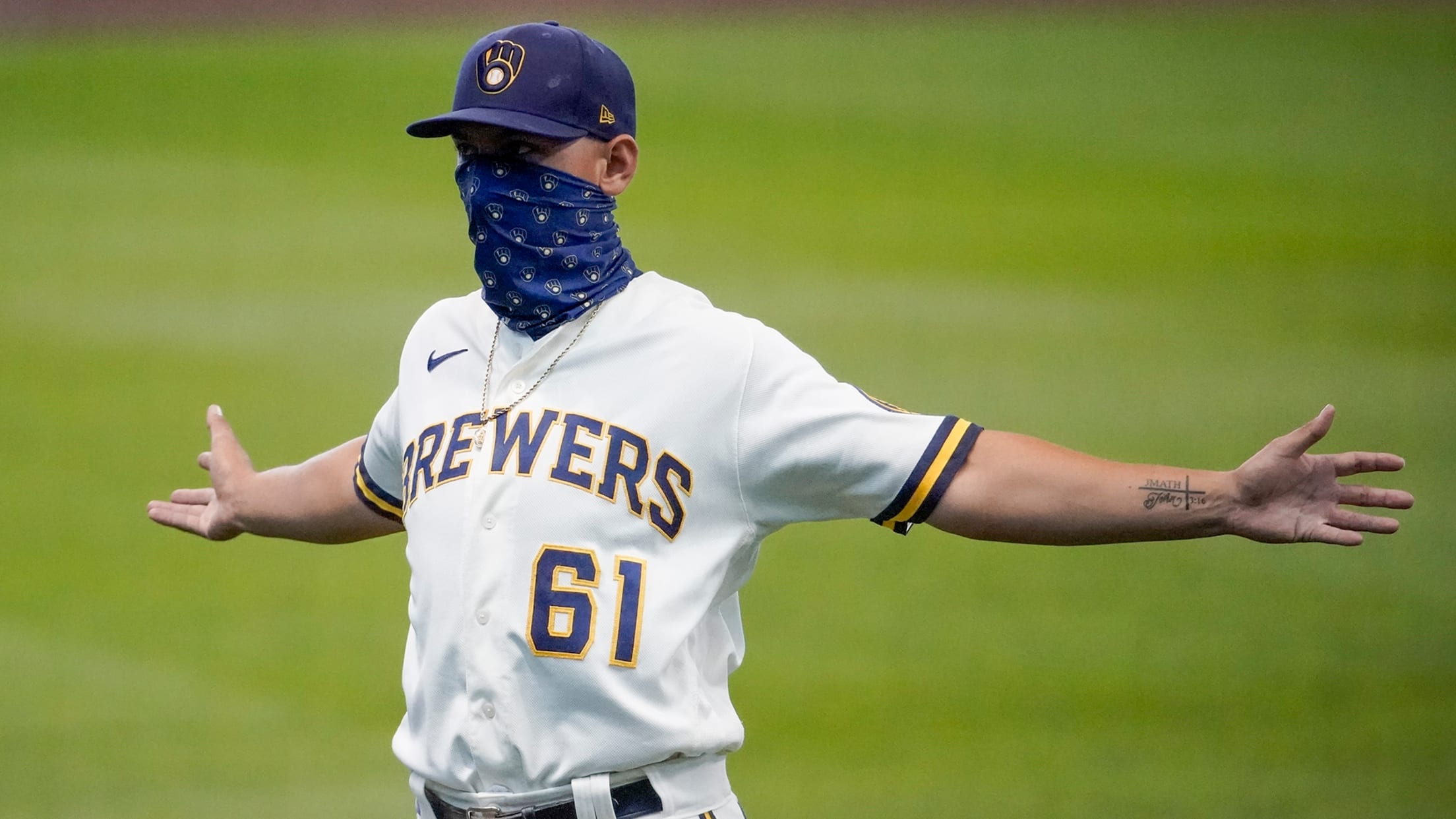 MILWAUKEE -- When the call came, Mark Mathias was ready. Mathias, called up to the Majors at the start of the current White Sox-Brewers series at Miller Park, helped shine a light Tuesday on what life is like 100 miles to the north at "Camp Appleton," the Brewers' alternate training
MILWAUKEE -- When the call came, Mark Mathias was ready.
Mathias, called up to the Majors at the start of the current White Sox-Brewers series at Miller Park, helped shine a light Tuesday on what life is like 100 miles to the north at "Camp Appleton," the Brewers' alternate training site. Mathias and fellow call-up Ryon Healy had been staying ready with other members of Milwaukee's 60-man player pool at the home of the Class A Wisconsin Timber Rattlers.
Mathias awoke in the Hampton Inn to a phone call from Brewers director of player initiatives Jake McKinley. He had big news: With Lorenzo Cain having elected not to play the rest of 2020 and Ryan Braun on the 10-day injured list with an infected finger, Mathias was headed to the Major Leagues for the first time in his career on Monday. On Tuesday, he made his Major League debut as a pinch-runner for Healy in the ninth inning of Milwaukee's 3-2 loss.
"Luckily, my bags were already packed, just because I was preparing for it," Mathias said. "It was definitely a situation where I had to control my emotions and not get too overwhelmed."
It's the phone call every member of Camp Appleton is hoping for, and it's the reason players are diligently focused on baseball and COVID-19 prevention. With no opponents, McKinley and other coaches have organized a series of activities, including intrasquad games, to keep players up to game speed. Mathias reported getting more than 20 at-bats since the end of Summer Camp at Miller Park, and playing all over the diamond, since that versatility was going to be his ticket back to Milwaukee.
"You've got to have some fun out there, that's the main thing," Mathias said. "Some days, it's like a three-inning intrasquad. You're facing maybe one or two pitchers, and then they've been doing coach-pitch and machine stuff to get some live reads on defense, because obviously there's not enough pitchers to play a nine-inning game every single day.
"They've been pretty creative. ... You definitely take what you get. You could go in there and have a negative mindset and not really get too much out of it. Or, you can go in there and play every day like you're going to be in the big leagues tomorrow. I kind of had that feeling."
Some scenes from Camp Appleton, courtesy of the @TimberRattlers' excellent Instagram. "We're having fun over here!" pic.twitter.com/lSGxDBTxcH

— Adam McCalvy (@AdamMcCalvy) August 4, 2020
Said Healy, who has big league experience with the A's and Mariners: "I think there's a solid blend of guys that don't know any better than what Appleton is -- meaning the A-ball level -- but then there's also guys that have had plenty of big league time and are really, really quality players. … I don't think anyone has a formula for success for this process right now, but everyone's trying to make the best of it."
Off the field, players live like their Major League brethren do on road trips. That means staying in their hotel rooms as much as possible to limit potential exposure to the virus.
Mathias' favorite delivery? Perkins Bakery, he said. He rarely ventured out, except to go to the field.
"You know what you do in Appleton, you bring it here," Mathias said.
Medical matters
• Brewers right-hander Josh Lindblom has been cleared by the medical staff to take his turn in the rotation on Thursday at the White Sox after exiting his last outing with cramping or spasms in his back. The nature of that issue, which also bothered Lindblom during his final tune-up for the regular season "is a little bit of a mystery thing," manager Craig Counsell said.
• Reliever Ray Black resumed playing catch in recent days after being shut down with a right rotator cuff strain. He will have to pass a series of tests before getting back on the mound, "so he's going to be a ways away," Counsell said.
• Tuesday brought more good news about the health of bench coach Pat Murphy, who continues to recover from a weekend heart attack. According to Counsell, Murphy spent Monday returning the many texts and calls from well-wishers, and he also connected with the Brewers' other coaches to rehash Monday night's game.
"None of us were happy about last night's game, and so we all had a lot of conversations with Murph about that, like we always do," Counsell said. "You can be upset after a game, obviously, but we do love to talk about the game and what happened and what we can do better."
Last call
No, your eyes were not deceiving you. When Brewers relievers emerged from the bullpen door during the home opener, they came from the right-field bullpen that had been occupied by the visitors since 2001.
The team made the switch in the interest of social distancing, Counsell said. With no fans to populate the adjacent party area in right field, that space was outfitted with a "beautiful little deck," Counsell reported, which was shipped down from Sheboygan, Wis., after the 2020 Ryder Cup was called off due to the pandemic. It provides more room for Brewers relievers to watch the game.
Fun fact: Miller Park was designed with the home bullpen in right field, but according to some longtime stadium employees, the Brewers made the switch between exhibition games and the inaugural home opener in 2001 when they discovered that the left-field bullpen offered more privacy, not to mention a bit more sunshine.