Waino is somehow defying Father Time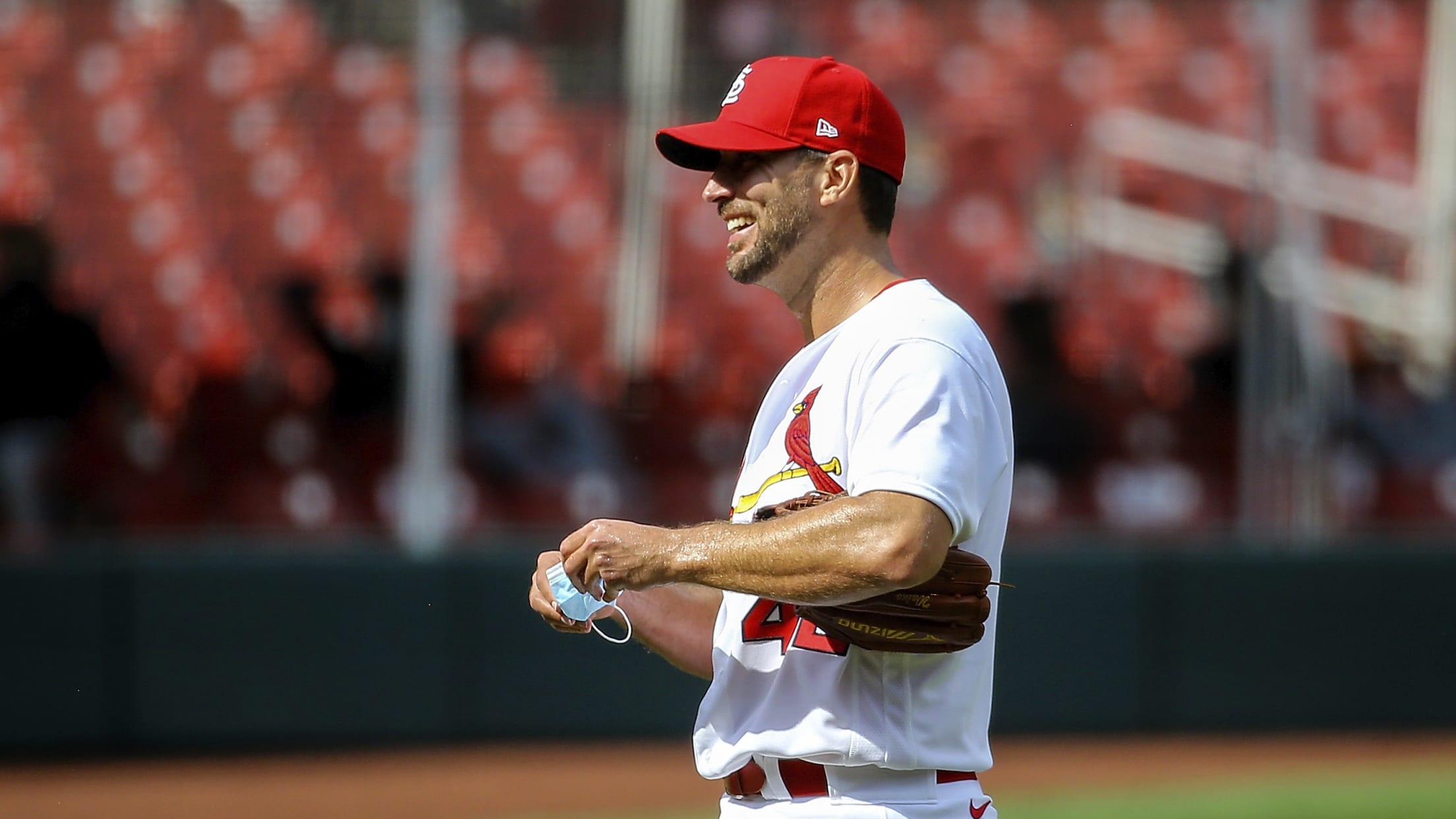 Adam Wainwright turned 39 years old on Aug. 30. On his birthday, Adam Wainwright did this:
Adam Wainwright turned 39 years old on Aug. 30.
On his birthday, Adam Wainwright did this:
There is so much to love about that last out, which finished off Wainwright's 23rd career complete game and his first since 2016, but it's that he stowed a mask in his back pocket and put it on so he could hug Yadier Molina.
"Put the mask on, give a hug," Wainwright said afterward, noting that before he took questions he had to "take a cry break."
"I know six feet apart is the real deal, but there is not anything in the world that could have kept me from hugging Yadier Molina right there."
Wainwright and Molina have worked as a battery 270 times, tied for sixth all-time in baseball history. (They are 12 games behind Red Ruffing and Bill Dickey, and 54 behind Mickey Lolich and Bill Freehan.)
But two years ago, it looked over for Wainwright. He hit the injured list in 2018 after three starts, and he returned on May 13 for a spot start against the Padres that went disastrously, throwing 79 pitches in 2 1/3 innings and walking six batters. He was immediately put back on the injured list, and Wainwright himself said he thought his career "was over."
He came back in September for four starts and decided he had a little left in the tank, coming back in 2019 on a heavily incentive-laden contract. He ended up making 31 starts for a Cardinals team that made the playoffs for the first time since 2015, and he was brilliant in the postseason, giving up just three runs in three appearances (two starts). That encouraged him to give it one more go in 2020 … though 2020 ended up taking a little longer to get going than anyone expected.
The result? He has been the best pitcher on the Cardinals staff and, remarkably, one of the best pitchers in baseball. He's 4-0 with a 2.68 ERA, and has been instrumental in keeping the Cardinals above water during a most tumultuous season. One could argue his most important start of the season wasn't that complete game on this birthday: It was the five innings of two-hit baseball he pitched on Aug. 15, which was the first game the Cardinals played after missing almost two weeks after a COVID-19 outbreak. The team had barely even practiced for a fortnight, and Wainwright came out and steadied the ship, winning the first game of what would turn out to be a doubleheader sweep.
He hasn't been exactly like the old Wainwright -- he's craftier, his fastball doesn't have the same bite, he changes speeds almost compulsively -- but he has almost been more thrilling to watch. He is less a pitcher than a magician, and he's constantly using batters' momentum and aggression against themselves. And he's clearly having an absolute blast on the mound: He has never looked happier.
The curveball, though: That curveball is exactly the same.
Adam Wainwright, Beautiful 73mph Curveball. 🌈 pic.twitter.com/NguN0dFOCs

— Rob Friedman (@PitchingNinja) August 21, 2020
His performance is even more remarkable when you remember that he's the third-oldest pitcher and the sixth-oldest player. If there were an All-Star Game this year, Wainwright would absolutely be the Cardinals' representative. It's one thing for Nelson Cruz to be hitting like he is, but to have Wainwright as one of the top starting pitchers in the game is madness.
Baseball certainly has a history of older starting pitchers. Satchel Paige was making All-Star Games at 46, and Jamie Moyer was throwing shutouts at 47. But to have a pitcher be this good at this advanced age is exceedingly rare this century. In fact, only 10 starting pitchers 38 or older this century have made as many starts as Wainwright has this year (six) and had an ERA under 3.00. And none of them are Jamie Moyer.
How rare has Wainwright's goodness been? Here are those 10 pitchers:
1) 1.87 ERA, Roger Clemens, 2005 Astros, age 42
2) 2.30 ERA, Roger Clemens, 2006 Astros, age 43
3) 2.32 ERA, Randy Johnson, 2002 D-backs, age 38
4) 2.39 ERA, Kevin Brown, 2003 Dodgers, age 38
5) 2.45 ERA, Rich Hill, 2019 Dodgers, age 39
6) 2.60 ERA, Randy Johnson, 2004 D-backs, age 40
7) 2.65 ERA, Bartolo Colon, 2013 A's, age 40
8) 2.68 ERA, Adam Wainwright, 2020 Cardinals, age 38/39
9) 2.87 ERA, Andy Pettitte, 2012 Yankees, age 40
10) 2.98 ERA, Roger Clemens, 2004 Astros, age 41
Wainwright, to be sure, has made fewer starts than any of those pitchers, but hey, that's 2020 for you. He is scheduled to pitch Friday against the Reds, a team chasing the Cardinals to reach the playoffs this year. If the Cardinals do make the postseason, you can be certain he'll be starting one of the games in the best-of-three Wild Card Series. It would be his 28th postseason start, though he has of course also saved four games back in 2006, his rookie season, the year the Cardinals won the World Series.
• 'Passion' project: Waino a Clemente nominee
Wainwright thought he was done with baseball two years ago. Now he's back to being one of the best pitchers in the game. 2020 hasn't always been full of feel-good stories. But Wainwright, who is also the Cardinals' nominee for the Roberto Clemente Award, is absolutely one of them. And at this point: There's no reason to think he won't back doing it again next year.