Martinez credits mother for his MLB success
Cardinals recognize Honorary Bat Girl; Shildt still gets lineup suggestions from mom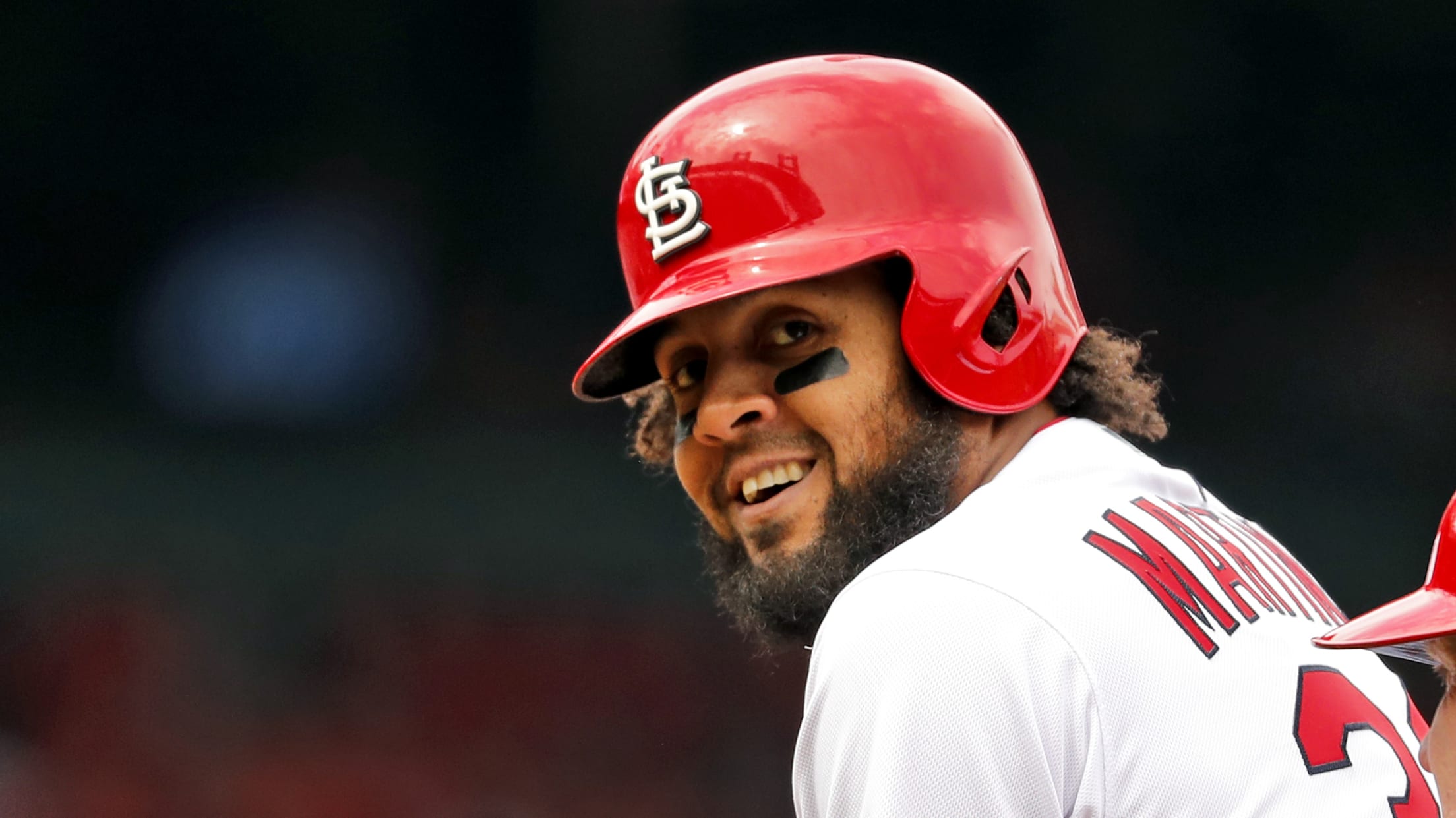 ST. LOUIS -- Mother's Day is special for Cardinals outfielder Jose Martinez. "There was a situation in my career that I almost quit," Martinez said. "I called her and told her, 'Mom, I want to go home and I don't want to play anymore.' She said, 'I don't want you
ST. LOUIS -- Mother's Day is special for Cardinals outfielder Jose Martinez.
"There was a situation in my career that I almost quit," Martinez said. "I called her and told her, 'Mom, I want to go home and I don't want to play anymore.' She said, 'I don't want you here. You've got to play baseball.'"
His mother hung up the phone, and Martinez never looked back. Now he's a fixture in the middle of the Cardinals lineup.
"Since that day, look at this -- I'm playing in the big leagues, and without her, I wouldn't be," he said.
Martinez isn't the only Cardinals player remembering his mom on Sunday. All of the hitters will play with pink bats and wear pink shoes, hats and ribbons. There are pink compression sleeves available, and both catchers will have pink gear.
"Today, that pink color means for sure something for everybody," Martinez said. "For all the moms out there, it's just not enough today to just be thankful for just being moms."
The Cardinals named Elaine Moel of Ellisville, Mo., one of Major League Baseball's 30 Honorary Bat Girls, each of whom has "demonstrated an extraordinary commitment in their battle against breast cancer." She was recognized before the game.
Breast cancer survivor and our 2019 Honorary Bat Girl Elaine Moel made a new friend before today's game. pic.twitter.com/Te11PjQ241

— St. Louis Cardinals (@Cardinals) May 12, 2019
Moel was 41 years old when she was diagnosed with breast cancer in February 2007. She is now a 12-year breast cancer survivor and remains a regular participant in Komen's Race for the Cure events. She has been a part of the Cardinals' race team and continues to support fundraising for breast cancer awareness through trivia nights.
Mom's job got Shildt into baseball
The path that led Mike Shildt to St. Louis, where he took over as the Cardinals' manger last season, was paved by his mother, Lib Shildt, whose career choice afforded her son not only the opportunity to grow up around the game, but also to grow up in it.
Lib Shildt spent her son's formative years working as an administrative assistant for the Orioles' Double-A affiliate in Charlotte, N.C. Her office was Crockett Park, and that became Mike Shildt's playground. He'd join his mom there after school and took odd clubhouse jobs to stay busy. That meant cleaning cleats, running errands, shagging fly balls and operating the scoreboard. It was here, too, that he befriended a rising prospect named Cal Ripken Jr., who indulged the wide-eyed youngster by fielding his questions and curiosity about the sport.
"Working in a Double-A ballpark when you're 8 years old and hanging out for eight years in an upper-level professional setting, I didn't really realize what was rubbing off on me until I got into the game and in coaching really," Shildt says now. "Man, I really picked up some things. So that was a blessing."
We ❤ our moms!

Happy #MothersDay! pic.twitter.com/cJEdEvGQ9N

— St. Louis Cardinals (@Cardinals) May 12, 2019
And don't think Lib Shildt has faded into the background of her son's career just yet. Not only does she regularly watch the Cardinals play from her North Carolina residence, but she also phones Mike Shildt with lineup suggestions, often making a push for him to include speedy outfielder Harrison Bader in the starting nine.
So does he listen?
"I listen to her," Shildt said with a grin. "It's my mom."
Martinez continues Triple-A rehab
Carlos Martínez (right shoulder cuff strain) will throw for the third time at Triple-A Memphis on Sunday. The right-hander is expected to throw an inning-plus in relief.
If all goes well, Martínez will throw again on Wednesday in Double-A Springfield. He will likely throw multiple innings (around 30 pitches) in that outing.