Offseason checklist: Cards' needs and moves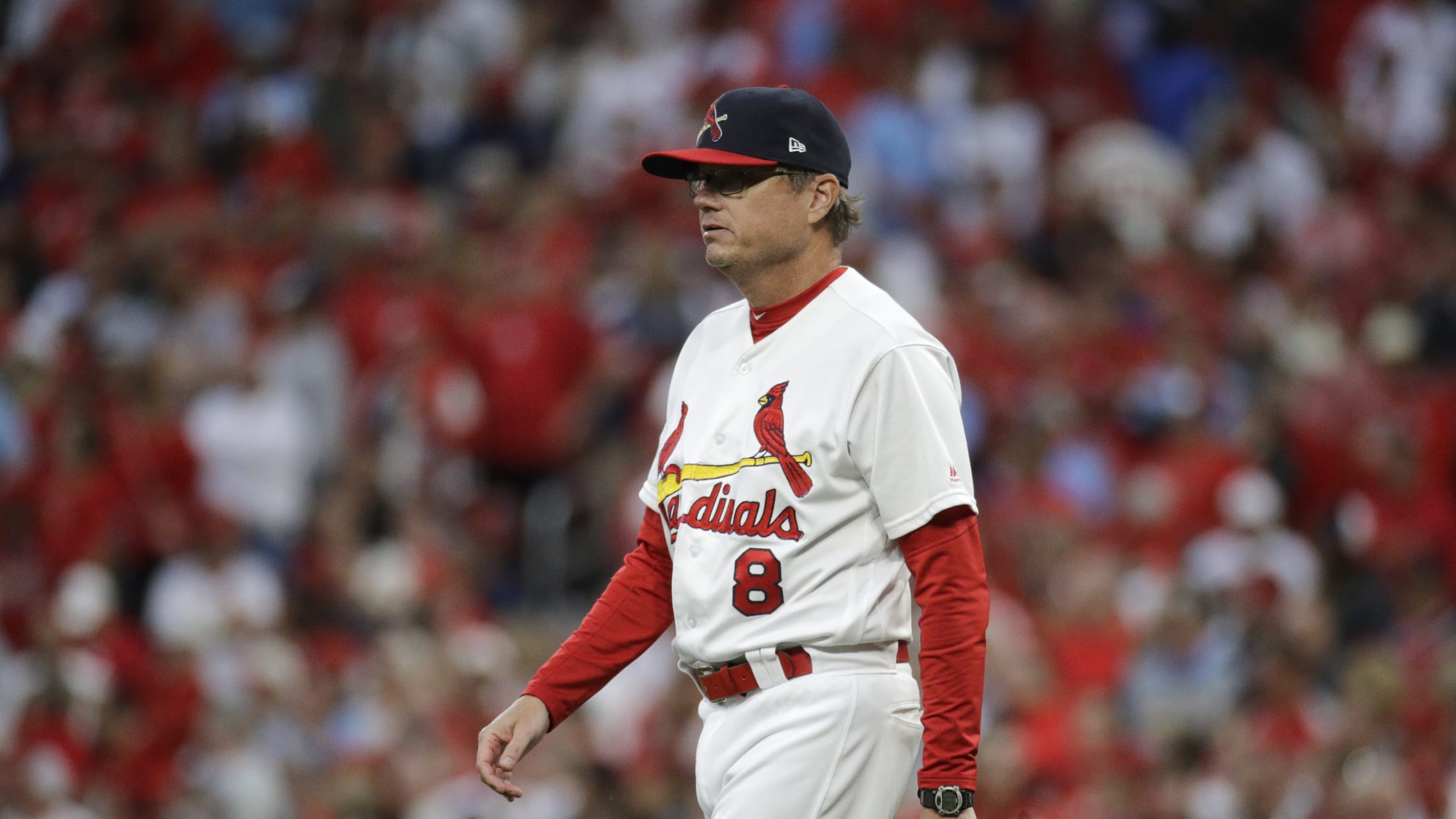 ST. LOUIS -- The Cardinals' goal this offseason has been to improve the players who were on the roster that won a National League Central title in 2019, while also potentially adding pieces that would help build on this past season. So what are the ways the Cardinals are trying
ST. LOUIS -- The Cardinals' goal this offseason has been to improve the players who were on the roster that won a National League Central title in 2019, while also potentially adding pieces that would help build on this past season.
So what are the ways the Cardinals are trying to do that? MLB.com is keeping track of the biggest needs and moves made to address those needs here. As the offseason continues, be sure to check back for updates.
BIGGEST NEEDS
Impact bat
The NL Championship Series loss to the Nationals exposed the weakness that hindered the Cardinals for much of 2019: an inconsistent offense. Under new hitting coach Jeff Albert, the Cards hit 210 home runs in 2019 (24th in the Majors) and slugged just .393 with runners in scoring position. Adding a big bat into the lineup, one that would complement Paul Goldschmidt, is the first step toward consistency. The Cardinals are still engaged in talks with free agent Marcell Ozuna, and they've discussed the appeal of adding a left-handed bat to the outfield to replace Ozuna if he finds a new team. The Cardinals also hope for better seasons from their hitters, including Matt Carpenter, Dexter Fowler and Harrison Bader, as well as one of their young outfielders -- Lane Thomas, Tyler O'Neill, Justin Williams -- to potentially emerge as a spark to the offense.
Starting pitching
In signing Korean left-hander Kwang Hyun Kim, the Cardinals believe they've found the pitcher capable of filling the rotation vacancy that Michael Wacha left when he became a free agent this year and signed with the Mets. While the Cardinals will undoubtedly check in on pitchers throughout the rest of the offseason, they have the innings covered to be able to focus on improving the roster elsewhere.
MOVES MADE
Jan. 14: Cardinals land Dean in trade with Marlins
St. Louis acquired outfielder Austin Dean from the Marlins in exchange for Minor League outfielder Diowill Burgos. Dean, 26, has been in and out of the Majors the last two years and struggled to produce there. In 2019, he played 64 games with the Marlins and slashed .225/.261/.404 with a .665 OPS. But in 73 games with Triple-A New Orleans in '19, the left fielder slashed .337/.401/.635 and had a 1.036 OPS with 18 home runs and 57 RBIs. Over his last two seasons in Triple-A, Dean hit .331/.398/.546 with 27 home runs and 111 RBIs in 640 plate appearances. He was named the Marlins' Minor League Player of the Year in '18.
Jan. 9: Cards get top pitching prospect in deal with Rays
The Cardinals traded from their surplus of outfielders for a prized pitching prospect and some flexibility on their current roster to continue potentially adding this offseason. In a deal with the Rays, the Cardinals sent outfielders José Martínez, Randy Arozarena and a Competitive Balance Round A Draft pick (No. 38 overall) in exchange for left-hander Matthew Liberatore, catcher Edgardo Rodriguez and a Competitive Balance Round B Draft pick (No. 66 overall). The Cardinals had been looking to reduce the number of outfielders competing for spots this spring, and this move narrowed their focus more on Lane Thomas, Tyler O'Neill, Justin Williams and Dylan Carlson. It also gave them another top left-hander in their system, as Liberatore is MLB Pipeline's No. 41 overall prospect. He was the No. 16 overall pick in the 2018 Draft – three spots ahead of third baseman Nolan Gorman, Liberatore's close friend and the Cardinals' No. 2 prospect. Liberatore made 16 appearances (15 starts) with Class A Bowling Green in 2019, going 6-2 with a 3.10 ERA, 76 strikeouts and 31 walks across 78 1/3 innings.
Dec. 17: Cards sign lefty Kim to two-year deal
Signing Kwang Hyun Kim to a two-year, $8 million deal gives the Cardinals a left-hander in the rotation, pitching depth and flexibility. The 31-year-old spent 12 seasons playing for the SK Wyverns of the Korean Baseball Organization and is coming off a 17-6 season, posting a 2.51 ERA and 180 strikeouts over 190 1/3 innings in 31 games (30 starts). The Cardinals haven't had a consistent lefty in the rotation since Jaime García in 2016, but Kim also has the ability to move to the bullpen if Carlos Martínez does return to the rotation. Whether Martínez would be in the rotation stalled some talks with other free agent starters because they wanted a guaranteed rotation spot -- something the Cardinals might not have been able to do until January or early February. Although Kim said he's aiming to be a starter, he was also OK with appearing out of the bullpen.
Dec. 2: Cards tender contract to Gant
Ahead of Monday night's non-tender deadline, the Cardinals tendered contracts for 2020 to all players on their 40-man roster. This includes John Gant, who is entering his first year of arbitration and is the Cards' only arbitration-eligible player. Tendering Gant a contract means that the Cardinals have committed to going through the arbitration process with him, unless he and the club can agree on a deal before exchanging salaries in mid-January and scheduling a hearing. Gant, 27, played a vital role in the Cards' bullpen last season. The right-hander had a 2.22 ERA in the first half and was the high-leverage setup man for most of the year, shown in part by his 11-1 record. He had a 3.66 ERA and 60 strikeouts in 66 1/3 innings over 64 games, and although he struggled late in the year and was left off the postseason roster, the Cardinals believe he will still hold a vital role in next year's bullpen. Gant made $571,300 in 2019 and could likely double his salary through the arbitration process.
Nov. 25: Leone placed on unconditional release waivers
After being designated for assignment on Nov. 20, right-hander Dominic Leone was placed on unconditional release waivers. All 29 clubs have the opportunity to claim Leone and place him on their 40-man roster. If he is claimed, he has the option of rejecting that claim to instead explore the free-agent market. Leone had a 5.53 ERA in 40 2/3 innings in 2019, shuffling between the Cardinals and Triple-A Memphis. After making $1.26 million this year, he was arbitration-eligible and out of options.
Nov. 20: Cards add three prospects, DFA Leone
The Cardinals protected three prospects -- right-hander Jake Woodford, third baseman Elehuris Montero and right-hander Alvaro Seijas -- from the Rule 5 Draft by adding them to the 40-man roster. They designated Leone for assignment to make room for one of the prospects, and the Cards' roster was set at 40 players. Leone was a non-tender candidate, so this cleared the spot earlier than Dec. 2, the non-tender deadline. Montero (No. 4) and Woodford (No. 13) are ranked in the Cardinals' Top 30 prospects list, according to MLB Pipeline, and Seijas is a young starter with a lot of potential whom the Cards didn't want to leave available to other teams. The Rule 5 Draft is Dec. 12.
Nov. 14: Ozuna declines qualifying offer
As expected, Marcell Ozuna rejected the Cardinals' one-year, $17.8 million qualifying offer at the Nov. 14 deadline. Although Ozuna has expressed his preference to stay in St. Louis, and the Cards have been in talks to keep the 29-year-old left fielder, his rejection of the offer came in part because of expressed interest in a multiyear deal. If Ozuna doesn't return or the Cardinals don't use the outfield as a way to upgrade the offense this offseason, left field will be opened to the Cards' young prospects in Spring Training. Tyler O'Neill, Lane Thomas, Randy Arozarena and top prospect Dylan Carlson are among the candidates for that position. At the very least, if the Cardinals lose Ozuna, they will receive Draft-pick compensation.
Nov. 12: Wainwright signs one-year deal
For the first time in his career, Adam Wainwright was a free agent. But his preference all along was to stay with the Cardinals, and it didn't take long for that to happen. The Cards and Wainwright signed a one-year deal for 2020, as the veteran pitcher comes off a bounce-back year. Wainwright adds valuable experience to the Cardinals' 2020 rotation, and the signing leaves St. Louis with just one more rotation vacancy to fill this offseason. The Cards' hope is that Carlos Martínez can return to the rotation, but they also will explore trades and the free-agent market over the next few months.
Nov. 1: Mayers departs via waivers; Hudson outrighted
The Cardinals cleared two more roster spots by designating a pair of players for assignment. Mike Mayers, who posted a 6.63 ERA over 16 appearances in 2019, was claimed by the Angels. Catcher Joe Hudson went unclaimed and was outrighted to the Minors. He elected to become a free agent. The Cards also transferred three players -- right-hander Jordan Hicks, left-hander Brett Cecil and outfielder Lane Thomas -- off the 60-day injured list. The series of moves leaves St. Louis with three open spots on its 40-man roster.