Here are 4 things to watch in Cards camp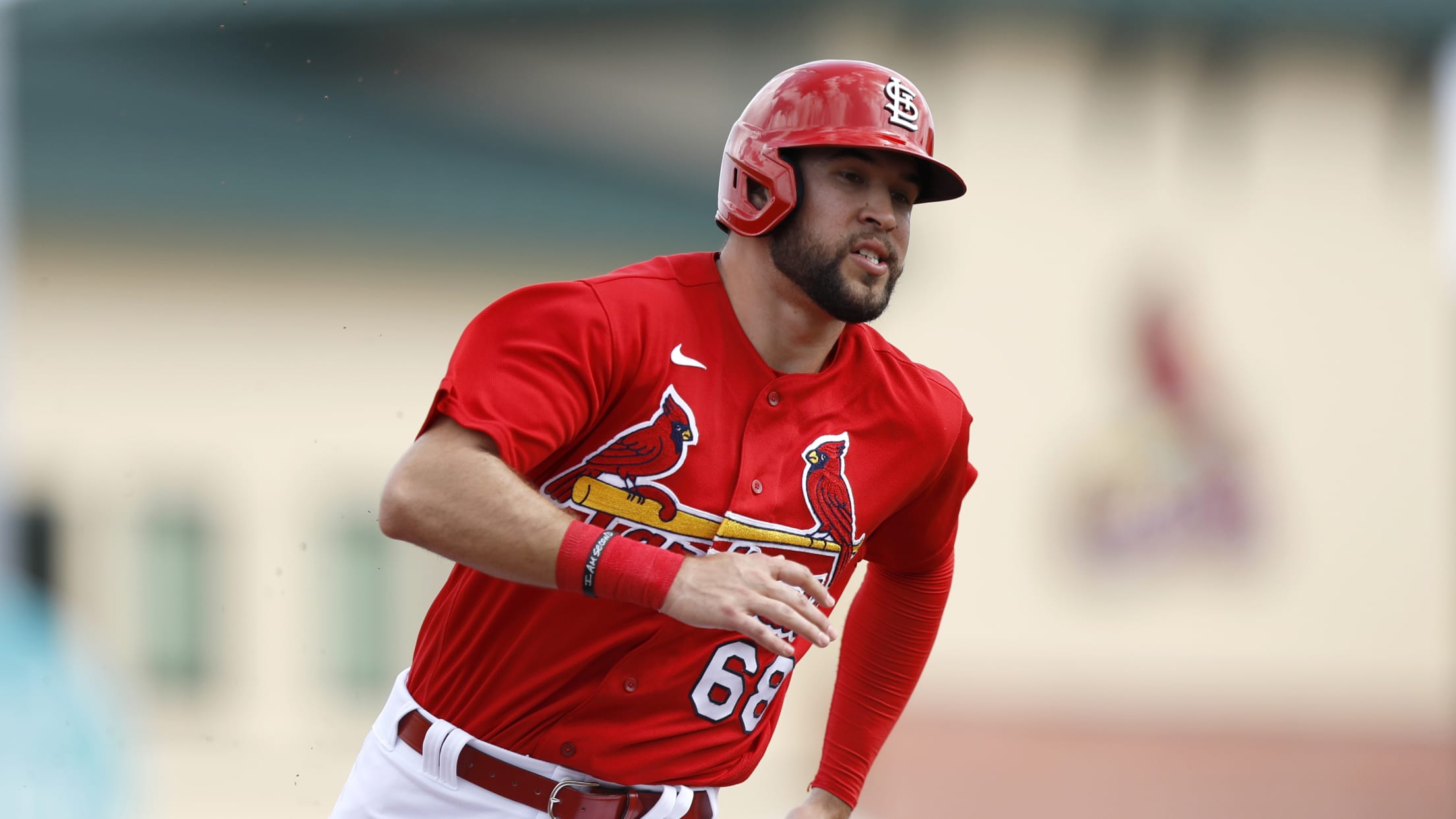 ST. LOUIS -- When the Cardinals last convened as a team in Jupiter, Fla., roster battles and decisions were on the forefront. That was 3 1/2 months ago, though, before the global coronavirus pandemic halted Spring Training and shut down the baseball world. The 2020 season, which is expected to
ST. LOUIS -- When the Cardinals last convened as a team in Jupiter, Fla., roster battles and decisions were on the forefront. That was 3 1/2 months ago, though, before the global coronavirus pandemic halted Spring Training and shut down the baseball world. The 2020 season, which is expected to begin in late July, will look different from anything we've ever seen, with the health and safety of everyone involved as the priority for teams.
The Cardinals will still face those roster battles and decisions in camp, though, so with players set to report on Wednesday, here's a fresh look at four major storylines.
• Cardinals FAQ: Details on the upcoming season
1. Who starts in left field?
The outfield competition was one of the biggest storylines in March, as the Cardinals sought an internal replacement for Marcell Ozuna in left field. They have a cluster of young outfielders who could fill the role, and the team intends to begin camp the way Spring Training ended -- with Tyler O'Neill and Lane Thomas leading that group. The team has affirmed its intent to give those young outfielders the first chance at the opening, chances they weren't given last season.
Justin Williams, Austin Dean and top prospect Dylan Carlson are also in this group. The 21-year-old, switch-hitting Carlson impressed during Spring Training, hitting .313 with a .905 OPS, but his playing time was thinned near the end of the exhibition slate in order to give O'Neill and Thomas more at-bats. He could impress again in camp, but it doesn't change the Cardinals' intention to let O'Neill and Thomas show what they have first, although the two will need to show production quickly and consistently in such a shortened season.
• Top prospect Carlson part of Cards' player pool
2. Is the offense ready to attack?
All winter, the big question was how the Cardinals would upgrade their offense. All spring, the focus was on internal improvement. The team was encouraged by such veteran players as Matt Carpenter bouncing back and young players, including O'Neill and Thomas, injecting some power into the lineup with the opportunities they received. That focus hasn't changed, and the designated hitter in the National League this year is a chance for the Cardinals to get more bats in the lineup. Decisions must be made swiftly with just three weeks of camp before a 60-game season. The desire for internal improvement hasn't changed -- consistency is still key -- but the need to see it will be accelerated, as will the need to have the improvement stick.
• Breaking down the Cardinals' DH options
"I think the one thing we do have is some patience, but when the 'go' button goes, it's more of a track-meet race than a marathon," president of baseball operations John Mozeliak said last week.
3. All arms on deck
Pitching depth will be at a premium this season, with starters unlikely to be at full capacity on Opening Day, and the Cardinals have a deep and balanced pitching staff. How they handle it will be one of the more intriguing stories, both in camp and at the beginning of the season. There's a presumptive rotation of Jack Flaherty, Dakota Hudson, a now healthy Miles Mikolas (who is recovered from a strained right flexor tendon), Adam Wainwright, Carlos Martínez and Kwang Hyun Kim, if needed.
• FAQ: Roster and transaction rules for 2020
The Cardinals also have rotation reserves in Daniel Ponce de Leon, Austin Gomber, John Gant, Génesis Cabrera and Alex Reyes -- all of whom could be in the bullpen, ready for any role. Reyes, for example, could enter a game for middle-inning relief and to give batters a different look. He could also serve as higher-leverage relief. How the Cardinals use their pitchers for various roles will be something to watch.
"It might also factor into how you think about managing the game," Mozeliak said. "You might have a quicker leash with someone right now because of the depth you have in the bullpen. I would think you want maybe seven, eight, having the ability to get you three or four innings at any time."
4. Staying healthy will be key
There is no understating the importance of the safety of players, coaches, staff and everyone at the ballpark. Some have declined to play due to health concerns, but so far the Cardinals have not had anyone express an intent to opt out. That could change, but for now the Cardinals have their full roster. For that to stick, though, it's going to take commitment from everyone involved to ensure safety at the ballpark and away from it, at home and on the road.
The Cardinals are confident in their plan to manage positive cases, as well as in their veteran and young leaders to set a standard for the team.
"You'd think a 50-person roster would cover you even in circumstances if you were to lose five or six players to illness," Mozeliak said. "Where it gets a little dicey is if you had half your team test [positive]. That would be very difficult to work through. You hope you have the depth to deal with it -- more importantly, you hope you don't get it."