Carlos Martinez cleared to throw; role uncertain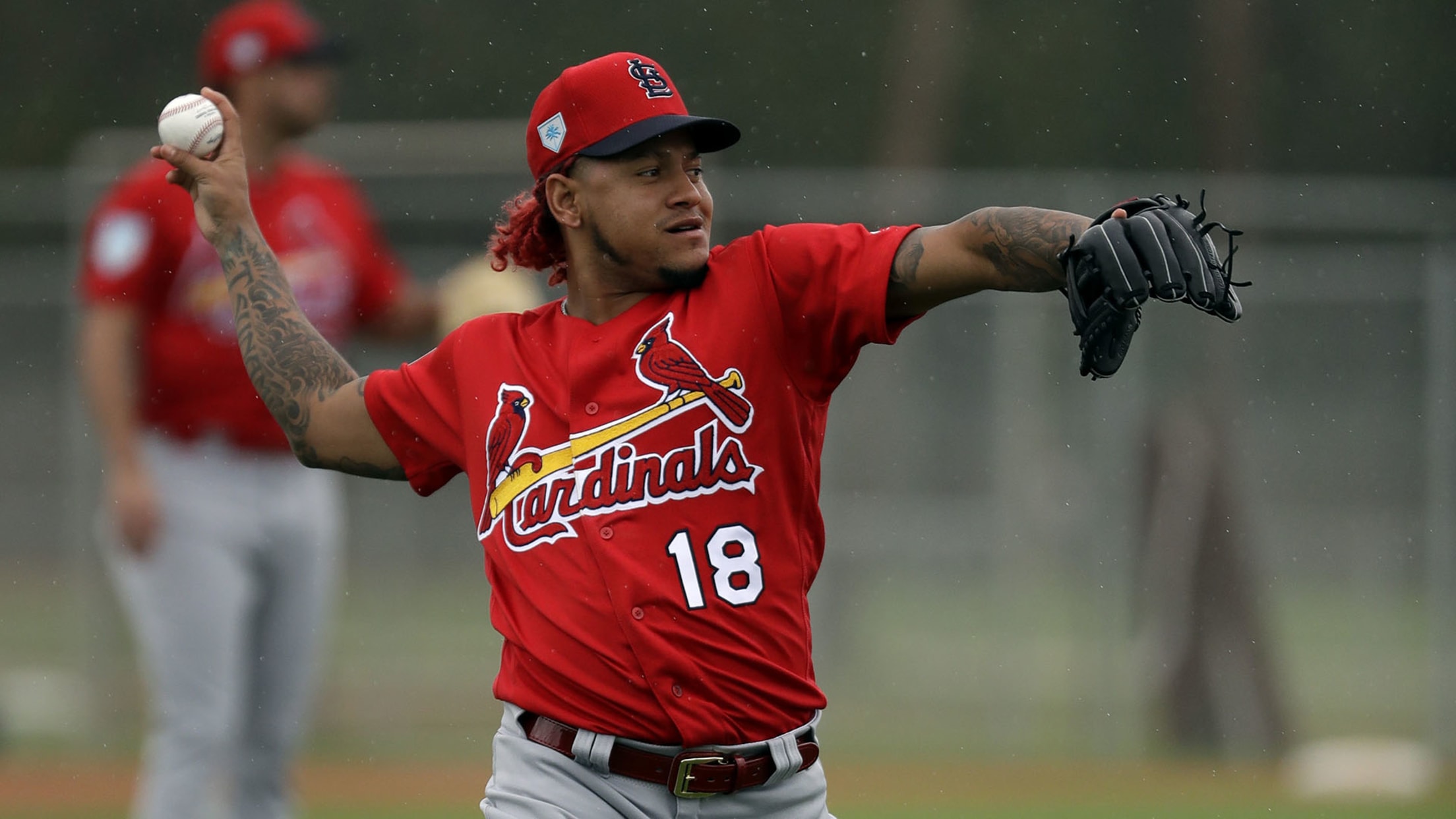 JUPITER, Fla. -- Carlos Martínez is scheduled to end a 25-day shutdown by playing catch on Thursday, but the list of questions surrounding when he might return and in what capacity will remain unanswered for a while longer. That's not to understate the importance of this next step, which is
JUPITER, Fla. -- Carlos Martínez is scheduled to end a 25-day shutdown by playing catch on Thursday, but the list of questions surrounding when he might return and in what capacity will remain unanswered for a while longer.
That's not to understate the importance of this next step, which is a significant one for Martinez. He hasn't thrown since alerting the Cardinals to discomfort around his right shoulder during the first week of camp. Baseline tests confirmed weakness then, and those same tests show improved strength now.
"That's the point I feel encouragement about," manager Mike Shildt said. "We can't take that next step until we've proven the step is worth taking and we're ready for it. Now he's ready for it."
Where this will lead Martinez now becomes the point of intrigue. The Cardinals will re-evaluate the right-hander in a week to see how he's progressing. They'll likely arrive at a crossroads near the end of the month, at which time the club will determine whether to define him as a starter or a reliever.
"We really have to see how the throwing program progresses before we can weigh in on the optimism or concern on when and what type of contribution you might get," president of baseball operations John Mozeliak said. "We will do what's best for Carlos. Period. If your question is 'What if you really need a starter or you really need a reliever?' Well, of course we can adjust that way. But in terms of the when or the timing, that's based on what he's doing."
Both paths offer possibilities and pitfalls.
Utilizing Martinez as a starter would maximize his innings and inject the rotation with frontline potential. His projection as a future ace of the staff is why the Cardinals committed $51 million to the right-hander two years ago. But building Martinez up for that role would require more time, and questions about his durability persist. That's especially true following a season in which Martinez was sidelined by injury three separate times.
"We don't want to have any setbacks like we've had with him in the past as far as being able to not go past four or five, six innings and not feel like he can maintain the capacity of what that looks like," Shildt said.
Martinez wouldn't have to carry the same workload if pitching out of the 'pen, but he would have to show sufficient resiliency with his arm. Pitching on consecutive days would be a necessity. However, if he can do that -- and do it well -- his presence would be a boon in a bullpen that could be stacked with other power arms like Jordan Hicks and Alex Reyes.
To a lesser degree, the Cardinals will also consider need when deciding how Martinez best fits.
"We can always be creative to change and need to be open minded to change the trajectory of our players and put our best group together in the short- and long term," Shildt said. "That's the delicate balance of what we do and how we earn our money, so to speak."
For now, the focus sticks with health. Martinez will throw on flat ground for several days before eventually making his way back to the mound. He will not appear in any Grapefruit League games and could stay in Florida when camp breaks if that's where the Cards determine he can best continue his progression.
Eventually, Martinez will head to a Minor League rehab assignment to face the hitters he won't get to see in spring.
"I'll be ready, whatever the role is," Martinez said through a translator on Wednesday. "I just want to be healthy. Whatever the role is, I'll be happy to do it."