Cards recall reliever Leone as 26th man
Reliever may stick in bullpen beyond Friday; Reyes candidate to start in place of Wainwright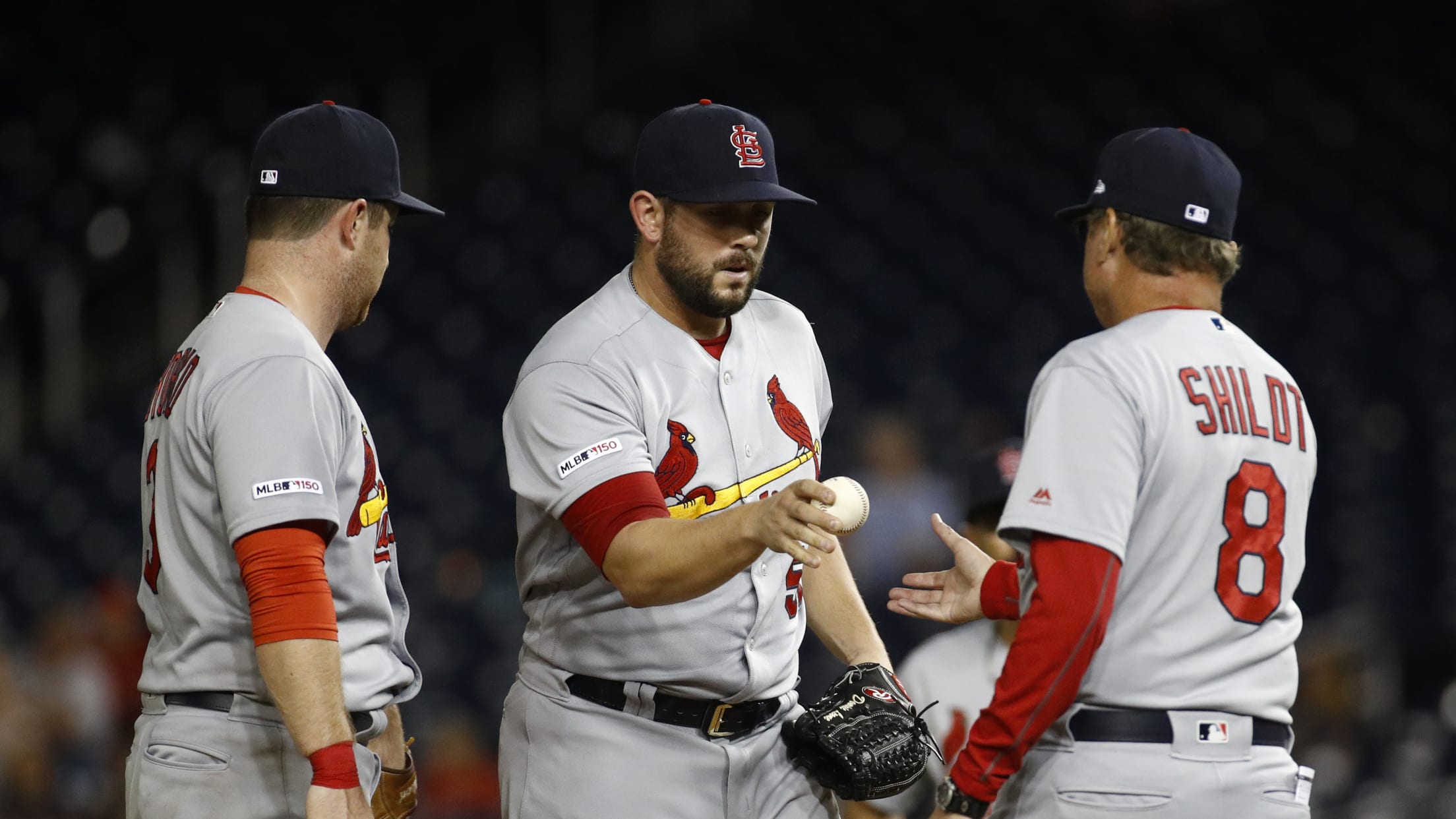 NEW YORK -- When Dominic Leone was sent down to Triple-A Memphis on May 17, he decided to use his time there to get back to basics. After allowing an 8.02 ERA in 20 appearances with St. Louis -- including two outings where he allowed six runs in two-thirds of
NEW YORK -- When Dominic Leone was sent down to Triple-A Memphis on May 17, he decided to use his time there to get back to basics. After allowing an 8.02 ERA in 20 appearances with St. Louis -- including two outings where he allowed six runs in two-thirds of an inning -- the right-hander watched video and reworked his mechanics to where he felt his timing was back.
On Thursday, Leone was called up as the Cardinals' 26th man for Friday's regularly scheduled game against the Mets. St. Louis was allowed an extra player because of Thursday's suspended game, which resumed on Friday. Leone was one of the few pitchers left on the Cardinals' 40-man roster who was not already with the club or on the injured list.
The Cardinals will have to send someone out to get back to a 25-man roster on Saturday, but that doesn't have to be the player called up to be the 26th man. Manager Mike Shildt said a decision will be made after Friday's regularly scheduled game.
"We love what he's been able to do here in the past, just getting back to the better version of Dom," Shildt said.
Leone had a 5.40 ERA in 10 appearances covering 13 1/3 innings in Memphis, but he improved in his most recent outings. In his past three appearances (four innings), he allowed just one hit and no runs.
Leone had the most trouble with leaving the ball up in the zone on all his pitches. He needed to get back into a rhythm on his delivery before he felt like himself again.
"I wasn't giving myself time to attack down," Leone said. "By getting my arm up quicker and slowing my lower half down, it allowed me to get on top and drive through the baseball, rather than get on that even plane and tunnel everything up the middle.
"This is a game where if your timing was off by even a millisecond, then you leave a pitch up one or two inches higher and it gets whacked. That's kind of the name of the game."
Reyes throws planned short start
Cardinals right-hander Alex Reyes threw three innings in Memphis on Thursday, making him available to start in Adam Wainwright's place on Wednesday at Busch Stadium. Without an off-day scheduled, Wainwright's second turn in the rotation will come before he can be activated off of the 10-day IL with a left hamstring strain.
Reyes is a candidate to get that second start. In the three innings on Thursday, the talented righty gave up four earned runs while striking out four and walking four.
"First inning was really good, sharp, everything in the zone," Shildt said. "All the secondary pitches working. Very effective, very efficient. Third inning, little less command. A double play didn't get turned and it extended the inning. He didn't do well from there."
Draft signees continue
Connor Thomas, a pitcher out of Georgia Tech taken in the fifth round of this year's MLB Draft, signed with the Cardinals for the full value of the 155th pick of the Draft, at $340,000, according to MLB.com's Jim Callis. The left-hander throws an upper-80s fastball but lives off his slider and has the ability to throw a lot of strikes, according to scouting reports.
Other signings from Friday include:
• RHP Logan Gragg, Oklahoma State University (Round 8)
• RHP Tyler Statler, Hononegah (Ill.) High School (Round 14)
• RHP Michael YaSenka, Eastern Illinois University (Round 17)
• RHP Jeremy Randolph, University of Alabama (Round 26)