Cards activate Fowler, Gallegos from IL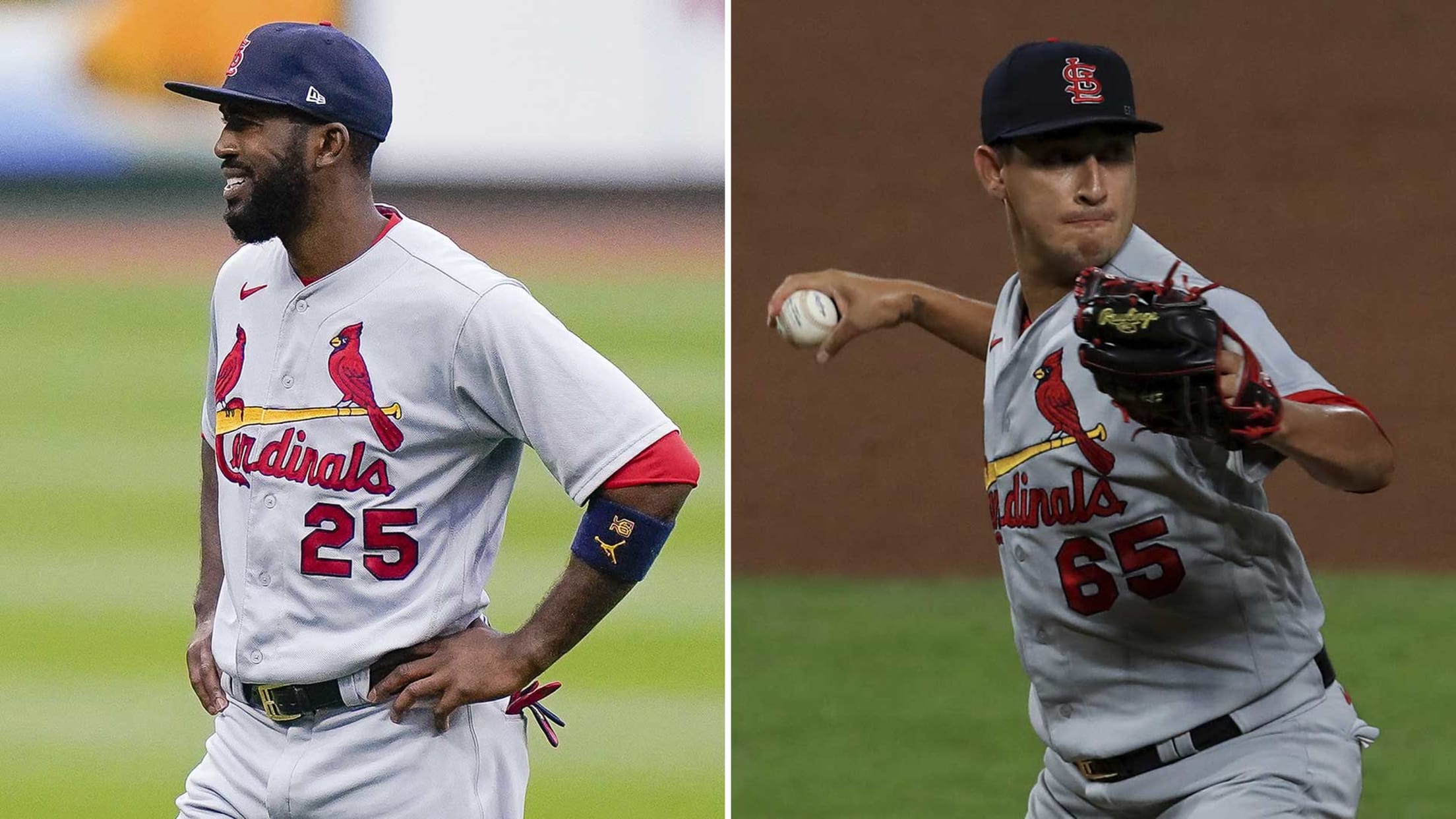 The Cardinals got two welcome reinforcements in their outfield and bullpen, respectively, upon arriving in Kansas City on Monday: Dexter Fowler and Giovanny Gallegos. The two were activated off the injured list ahead of the Cardinals' series opener against the Royals at Kauffman Stadium. In corresponding moves, outfielder Justin Williams
The Cardinals got two welcome reinforcements in their outfield and bullpen, respectively, upon arriving in Kansas City on Monday: Dexter Fowler and Giovanny Gallegos.
The two were activated off the injured list ahead of the Cardinals' series opener against the Royals at Kauffman Stadium. In corresponding moves, outfielder Justin Williams and right-hander Nabil Crismatt were optioned to the Cardinals' taxi squad. Because Fowler was coming off the undated IL, a 40-man move needed to be made for him, and the Cardinals designated right-hander Roel Ramírez for assignment.
Fowler has been working out at Busch Stadium for a little over a week now getting ready to return. It's been three weeks since he left the team in Cincinnati because of a stomach ailment that required an immunosuppressive medication. With his energy lowered, he and the Cardinals agreed it was best to take time off to recover. Fowler started on a high dosage of the medication, which could have made him more at risk for COVID-19, and has slowly lowered the dose over the past few weeks.
"I would say he's on the right side of where he needs to be on this," president of baseball operations John Mozeliak said. "To be where we are today, I do think it's much more manageable and almost through it. … We're playing a very unique schedule, too, one that doesn't allow you a whole lot of breathing room or time to reset your body. So unfortunately, during that period, it just made sense for him to go ahead and get on this medication, allow himself to reset, and he's done that."
Now the Cardinals are hoping he can pick up where he left off. The 34-year-old was hitting .279 with an .832 OPS in 23 games before he went on the IL. On Monday, he was hitting eighth and playing right field. Manager Mike Shildt said the team will evaluate his readiness to play daily, but he expects Fowler to be good to go for the final week of the regular season as the Cardinals make their playoff push.
"If it doesn't quite look right or feel right, we'll make adjustments, but I have the expectation that he looks to be an everyday fixture," said Shildt.
It's been a week and a half since Gallegos went on the 10-day injured list with a right groin strain. He's also been working out at Busch Stadium this week and had a strong bullpen session on Saturday to finalize his return. Shildt said the Cardinals were still figuring out where Gallegos will slot back into the bullpen, but he'll likely see late, high-leverage innings again. The last five Cardinals saves have been from five different relievers in Gallegos' absence.
"The good news is we have options, and probably want to see what it looks like a little bit," Shildt said. "Knowing that he's got the ability to do it at the end of the game, but we also have had other people that have stepped up and they would do that as well. We've been managing based on availability and best matchups. I think we would continue to look in that area. Good news about Gio is that you can match up with anybody because he's not overly splitty."
Other injury updates
• Dakota Hudson is scheduled to return to St. Louis on Tuesday and meet with Dr. George Paletta regarding the next steps for the right forearm strain that occurred on Thursday in Pittsburgh.
• Reliever Kodi Whitley threw a bullpen session on Saturday and recovered well the next day. Mozeliak said the right-hander could be activated "in the next day or so." Whitley would be the final player who tested positive for COVID-19 to return to the Cardinals after his recovery was slowed by elbow soreness. The rookie right-hander made the team out of Summer Camp and pitched a scoreless 2 2/3 innings across two appearances in the first week of the season.
• Outfielder Austin Dean (right elbow strain) is recovering well and working out at Busch Stadium, but Mozeliak acknowledged that neither time nor roster numbers are on Dean's side in returning before the season ends.
"As you can see, we're going to run up into a numbers crunch," Mozeliak said. "Getting it narrowed down to 28 players is going to be some difficult decisions."
Worth noting
• The Cardinals have a "secondary camp" running at Busch Stadium this week with around seven or eight players, plus Cardinals field coordinator Chris Swauger and Minor League Joey Hawkins as the coaches there. Because the alternate training site in Springfield, Mo., closed this past weekend, the Cardinals brought up the players who could be in their playoff pool -- which would run like the player pool this season, but with no more than 40 players total available.
• If the Cardinals need to play one or two of the makeup games against the Tigers next Monday, the day after the regular season ends, they would be playing in Detroit, Mozeliak confirmed. The teams would only play those games if necessary to determine the standings ahead of the Wild Card Series round.