Cards' bats silenced in opener with Cubs
Offense held to 4 singles in Hendricks' 81-pitch outing
CHICAGO -- After touring the rest of the National League Central in April, the Cardinals received their first in-person glimpse of their final division foe at Wrigley Field on Friday. What they saw shouldn't have caught anyone off-guard. In a division likely to be among the most competitive in baseball
CHICAGO -- After touring the rest of the National League Central in April, the Cardinals received their first in-person glimpse of their final division foe at Wrigley Field on Friday. What they saw shouldn't have caught anyone off-guard.
In a division likely to be among the most competitive in baseball this season, the Cubs project, once again, to be a formidable contender.
The first of 19 season meetings between the longtime rivals went to Chicago, which used an Anthony Rizzo home run off Jack Flaherty and an incredibly efficient outing from starter Kyle Hendricks to cruise to a 4-0 win. It marked the Cubs' 15th win since April 7. The only team in the Majors with more? The Cardinals, of course, who have won 17 of 24 during that span.
"The good news for baseball is the Cubs and Cardinals are good," Cardinals president of baseball operations John Mozeliak said. "That's good for the game."
It's been that way for five years now, ever since the Cubs emerged from a cumbersome rebuild to knock the Cardinals out of the postseason in 2015. Since then, St. Louis has found itself doing the chasing.
Which is why, while there are few statement series so early in a season, the Cardinals saw this weekend as being an opportunity to set a tone against a club they hope to leap in the standings this year. The Cubs countered with their own show of legitimacy while reeling off a fifth consecutive win.
"We play each other a thousand times a year," said Flaherty, deploying hyperbole to emphasize the familiarity between these rivals. "We play the whole Central a thousand times. Everybody in this division, they can play. There's no weak link in this division, that's for sure."
That often leads to a small margin for error, and on Friday, the outcome of the series opener boiled down largely to two developments:
Hendricks was unflappable
The crafty right-hander became the first Cubs pitcher to throw a shutout in 81 or fewer pitches since Jon Lieber with 78 in 2001. Along the way, the Cardinals mustered only four hits, all singles.
Their collective approach was clear early -- swing at strikes, even if at the expense of drawing out counts against Hendricks. That led to putting the first or second pitch in play 18 times and pushing Hendricks to a three-ball count just once. Facing a team that ranked ninth in the Majors with an average of 3.98 pitches per plate appearance entering the day, Hendricks threw 10 or fewer pitches in eight of his nine innings.
"[Catcher Willson Contreras] and I did a really good job of recognizing how aggressive they were early, even to start the game," Hendricks said. "So, once we made good pitches within the first two of the at-bat, they kind of kept being aggressive, and we just were able to take advantage of it."
That's not to say, though, that the Cardinals lacked hard contact. In fact, they had 10 of the 15 hardest-hit balls in Friday's game, including nine with an exit velocity of 100-plus mph. However, only two of those fell in for hits.
The Cubs' defense, which was routinely positioned perfectly, had a lot to do with that.
"The way the game is played today, defending your pitcher, defending what you know about hitter's tendencies, there are not a lot of secrets out there," manager Mike Shildt said after being shut out for the first time this season. "He executed his pitches. He pitched to his defense. Really masterful job. Tip your hat."
Flaherty's third-inning hiccup
It wasn't so much the pitch -- a 94-mph fastball on the inner part of the plate -- to Rizzo that Flaherty wanted back afterward. Instead, it was the sequence of them leading into that at-bat that lingered.
After opening the third with a strikeout, Flaherty worked ahead, 1-2, against leadoff hitter Daniel Descalso. His next pitch was over the plate, yet called a ball (see Statcast image below). Descalso later laid off a borderline full-count slider to draw a walk.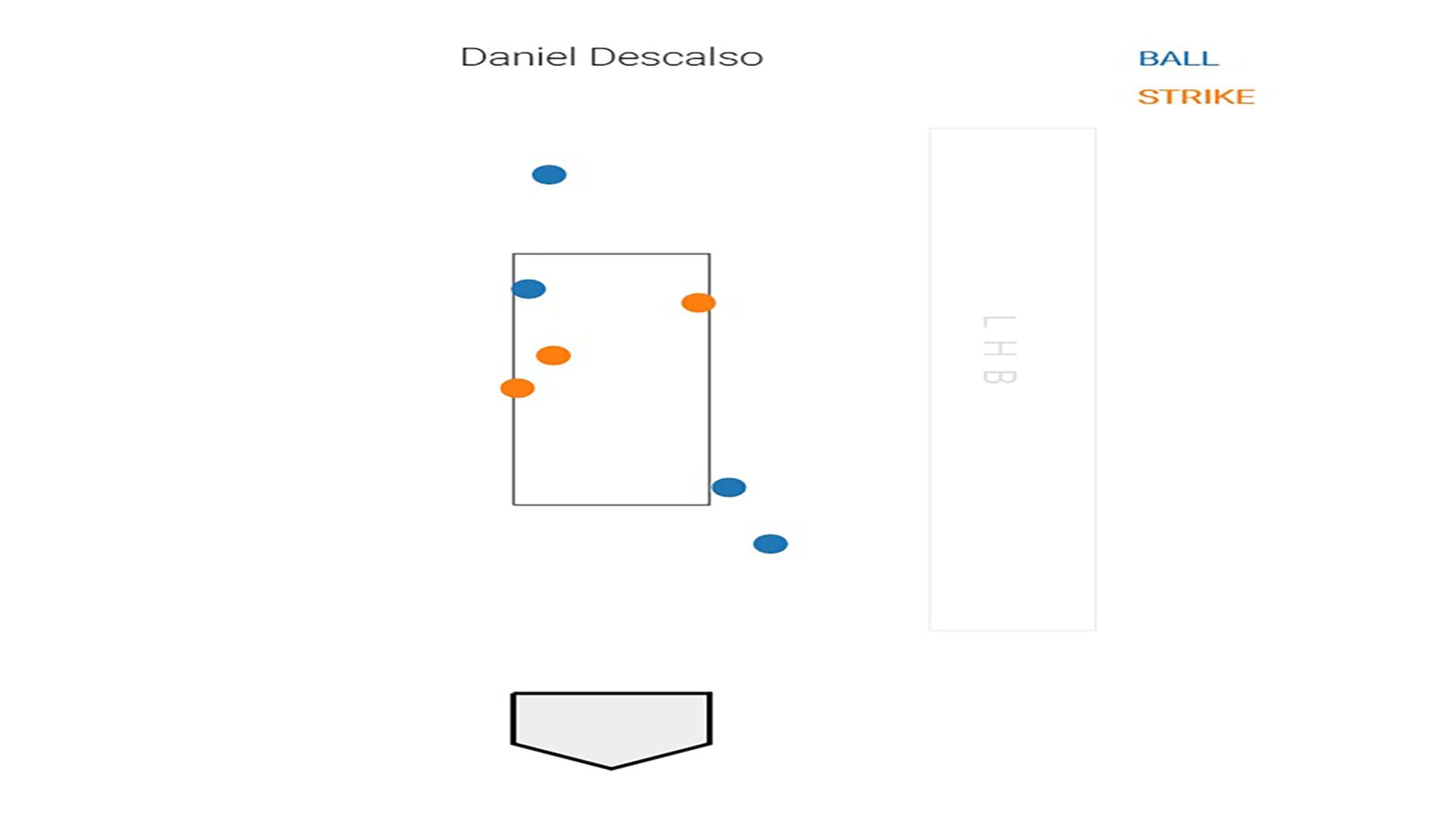 Flaherty then threw four consecutive balls to Kris Bryant.
"Look, there were some competitive at-bats," Shildt said. "You're talking about two higher walk guys, Descalso and Bryant, and they [took] some tough pitches. Talking to [catcher] Yadi [Molina] … [home plate umpire Alfonso Marquez's] zone was consistent all day, and you can't ask for much more than that. If it's a tight zone, it's a tight zone. You pitch to the zone."
Rizzo, up next, drilled a three-run homer to give Hendricks all the support he required.
"I feel like I don't want that Rizzo at-bat back [as far as] how I attacked it with my pitches," Flaherty said. "No, it's just a different at-bat with guys on. That is a completely different way of going about it."
Rizzo's swing snapped a run of 14 consecutive scoreless innings for Flaherty, who has now been tagged for eight home runs in seven starts. Rizzo tallied three of the four hits registered against Flaherty and has now reached base in nine straight plate appearances against the Cardinals.
Jenifer Langosch is a senior content manager at MLB.com. She previously covered the Pirates (2007-11) and Cardinals (2012-19). Follow her on Twitter.