Cards stumble after leaping ahead in 4-run 1st
Flaherty unable to hold lead following HRs from Ozuna, Bader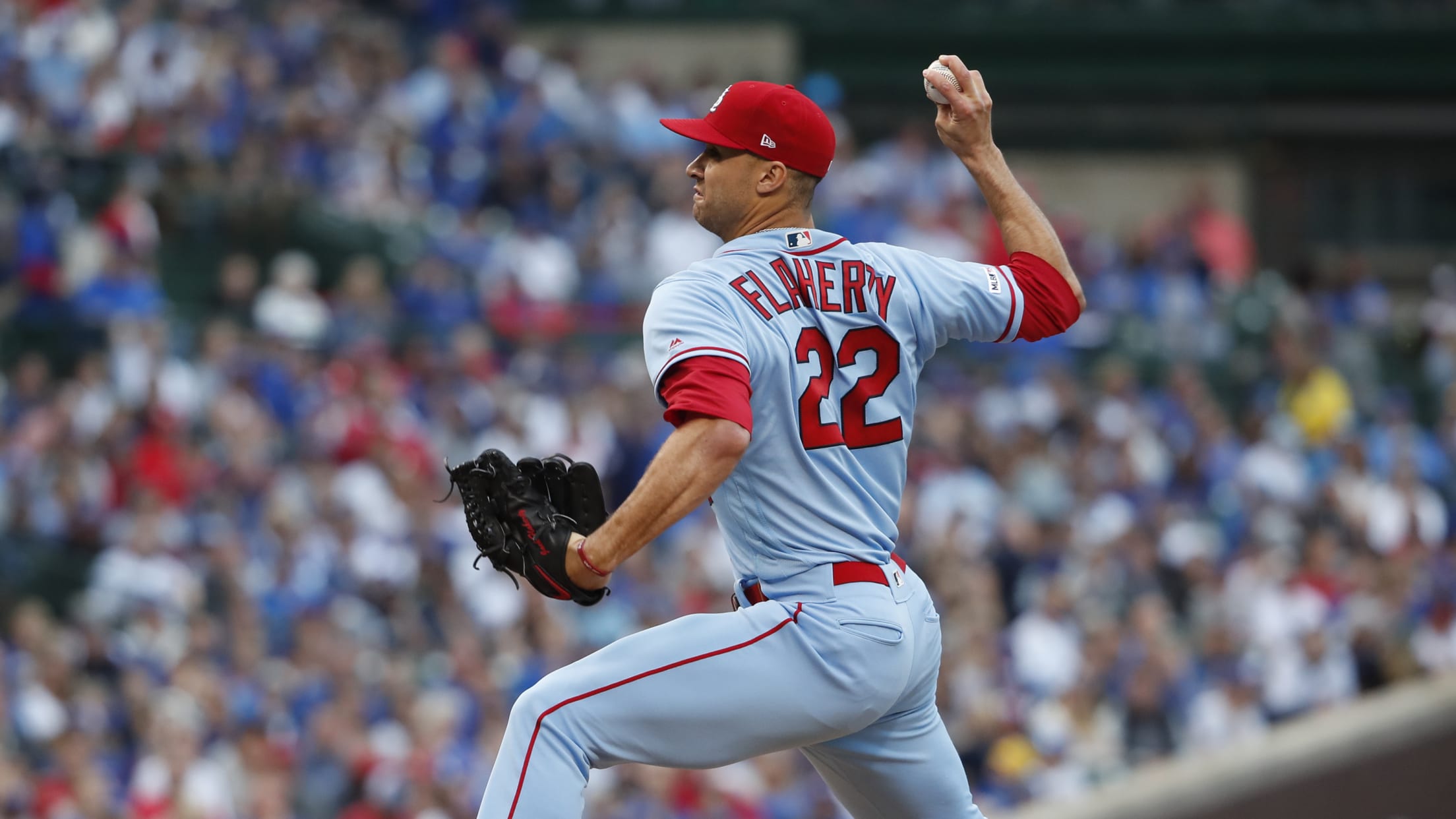 CHICAGO -- With hopes high after the Cardinals produced a four-run first inning against Jon Lester and the Cubs on Saturday night, Jack Flaherty took the mound ready to lead the team to its first win at Wrigley Field this season. Instead, he walked Kyle Schwarber to lead off the
CHICAGO -- With hopes high after the Cardinals produced a four-run first inning against Jon Lester and the Cubs on Saturday night, Jack Flaherty took the mound ready to lead the team to its first win at Wrigley Field this season.
Instead, he walked Kyle Schwarber to lead off the bottom of the first and gave up a double to Kris Bryant.
And the Cardinals saw their lead squandered inning after inning, eventually losing the second game of the weekend, 9-4, and the series. They're at risk on Sunday night of getting swept at Wrigley Field for the second time this season.
"Made pitches over the middle, walked three guys, walked the pitcher," Flaherty said. "Walked the first guy of the game after the team spots you four runs. Those are unacceptable things."
Flaherty threw 96 pitches and lasted just 3 2/3 innings, his shortest outing since April 16 at Milwaukee when he lasted 2 2/3. But even in that start, he struck batters out. On Saturday, Flaherty did not record a strikeout for the first time as a starter in his career. An ineffective slider was a large reason why.
Flaherty generated just one swinging strike on his slider, according to Statcast. This year, he's used his slider to get swinging strikes 45 percent of the time.
"He was off of [the plate], and when he was on the plate, it didn't have as much shape to it as he usually has," Cardinals manager Mike Shildt said. "Heart of a warrior, battling, giving everything he got, but couldn't get by on his fastball."
An example of that was Kyle Schwarber's at-bat in the fourth inning. Flaherty's pitch count was already up to 85 when Schwarber came to the plate, so it would have been his last batter anyway.
But the 11-pitch at-bat with Schwarber ended with a game-tying, 407-foot home run to right-center -- and ended Flaherty's night. He threw one slider to Schwarber -- who fouled it off -- on a 3-2 count, then threw four straight fastballs, the last of which was right down the middle.
"That's just what I felt what was the best way to get him out," Flaherty said. "Kept getting in there, kept getting in there, then one left over the middle. Poor execution on the last one."
Two of Flaherty's three walks came in the first inning, and Cardinals pitchers walked six total. Shildt said the walks were the most frustrating thing about the pitching Saturday.
"You get hits, you get hit, you don't have your stuff, that's going to happen," Shildt said. "But we need to be in the strike zone. We need to be on the plate more. Six walks, that's what [the Cubs do]. If you walk them, you're asking for trouble against any club, but this group doesn't expand a whole lot."
As the Cardinals' pitching stumbled throughout the game, Lester shook off his first inning to shut down the St. Louis offense.
Marcell Ozuna mashed a 3-0 pitch 437 feet to dead center for his MLB-leading sixth three-run homer this season.
Harrison Bader followed with a solo shot one out later.
But then the bats went cold -- again. The Cardinals didn't hit a ball out of the infield after Kolten Wong's single in the first inning, and they didn't record a hit after the second inning.
"Our ability to mentally focus and lock in to get it done, that's what it's going to take," Shildt said. "That's what it's going to take for playoff baseball, that's what it's going to take here, and everybody in this clubhouse knows it. We got to figure out a way to get it done is the bottom line. And we will."