Ozuna: 'No pain' in shoulder after first OF action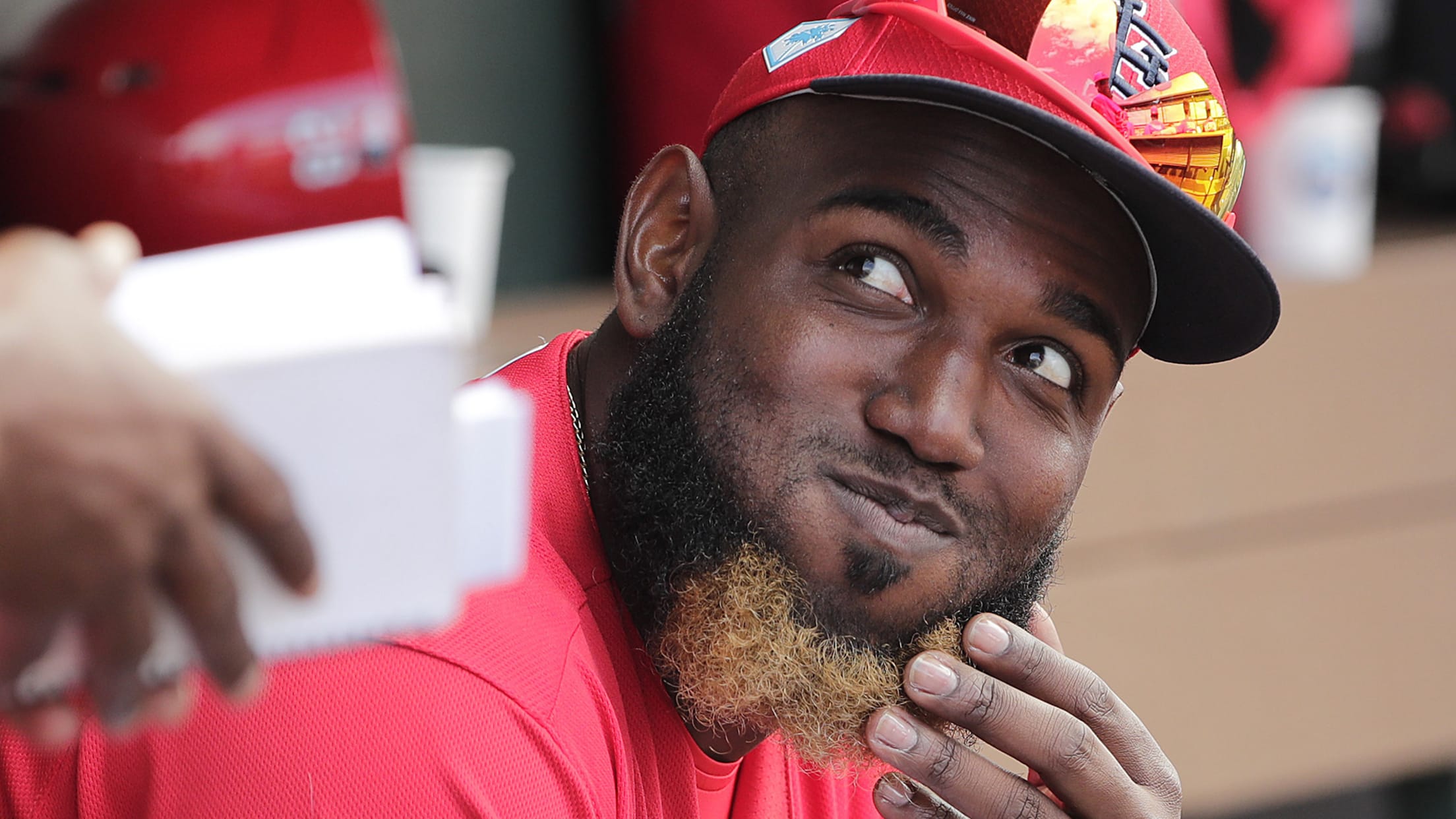 JUPITER, Fla. -- On a day when one corner outfielder, Dexter Fowler, delivered two hits and threw out a runner at home in St. Louis' 3-2 win over the Nationals, the other, Marcell Ozuna, took a significant step toward showing himself regular-season ready, as well. With two weeks remaining in
JUPITER, Fla. -- On a day when one corner outfielder, Dexter Fowler, delivered two hits and threw out a runner at home in St. Louis' 3-2 win over the Nationals, the other, Marcell Ozuna, took a significant step toward showing himself regular-season ready, as well.
With two weeks remaining in the team's exhibition schedule, Ozuna took his place in left field for the first time this spring. His opportunities were scarce over seven innings, though he did show some zip on a throw to second after fielding Trea Turner's first-inning double.
"Already that throw was more representative than a lot of the throws last year," Cardinals manager Mike Shildt said afterward.
"What I liked about that throw was that it was strong," added Ozuna. "No pain."
Ozuna noted that it has been at least three years since his right shoulder felt as strong as it does now. Ozuna dealt with decreasing arm strength with the Marlins from 2015-17 before watching that strength reach its lowest point in his first season with the Cardinals. Ozuna's average velocity on the top 10 percent of his throws last year was 78 mph, which, according to Statcast, ranked last among 109 qualifying outfielders.
Offseason surgery was performed to address the impingement that prevented Ozuna from letting loose. Now his task shifts to maintaining that strength.
Ozuna will play left field regularly for the next two weeks, and he said he plans to spend extra time in the batting cage to help sync up his timing. He's 1-for-20 after going hitless in three at-bats on Monday.
He is, however, encouraged by how Ozuna's uncompromised shoulder has his swing feeling freer and his bat path more level.
"Last year, I used just one arm," Ozuna said. "This year I feel like I can get there."
Martinez nearing next step
Though the Cardinals do not anticipate Carlos Martinez being ready to start the season on the active roster, he is on track to resume throwing in the next few days.
"Everything has been positive," Shildt said. "He's been diligent with his program."
Martinez revised his spring program after feeling weakness around his right shoulder after two early bullpen sessions. An MRI of his shoulder showed no structural damage, and Martinez received a platelet-rich-plasma injection to alleviate some inflammation.
Martinez won't be starting his throwing program from scratch, but he will resume with flat-ground catch before working his way back onto the mound.
Medical report
Jedd Gyorko (calf strain) participated in batting practice on Monday but isn't likely to return to game action until the weekend. Even though Gyorko has logged only seven spring plate appearances – and none since March 3 – Shildt said the club remains optimistic the utility infielder will have enough work to be ready to break camp on the Opening Day roster.
Francisco Pena (oblique strain) has resumed swinging and could be cleared for games by the end of the week. Once he returns, Pena will try to make a late push to beat out Matt Wieters for a spot as Yadier Molina's backup.
Roster moves
After Monday's game, the Cardinals whittled their spring roster to 49 by sending six players out to Minor League camp. Infielder Ramon Urias and outfielder Lane Thomas were optioned to Triple-A Memphis. Non-roster players Connor Jones, Jake Woodford, José Godóy and Brian O'Keefe were reassigned.
Dropping the DH
Though opposing starter Max Scherzer talked his way into the Nationals' lineup on Monday, the Cardinals will continue to employ a designated hitter through Wednesday.
By eliminating the designated hitter later this week, the Cardinals expect each of their projected starting pitchers to receive two games' worth of at-bats before the end of camp. Some of those at-bats will come on the backfields, as Shildt revealed that several members of the team's projected Opening Day rotation will make their final spring starts outside of Grapefruit League play.
The idea is for the pitchers to throw in a more controlled setting where they can push toward a pitch count of 100.
Worth noting
• Dakota Hudson, who threw four scoreless innings on Friday, has been announced as Wednesday's starter against the Marlins. Reliever Brett Cecil is also expected back on the mound then.
• Director of Player Development Gary LaRocque was honored with the organization's George Kissell Award, an annual honor given to someone who "exhibits excellence in player development." LaRocque, who is entering his 44th season in professional baseball, has been with the Cardinals since 2008.
Up next
The Cardinals will make their final visit to Disney's ESPN Wide World of Sports complex on Tuesday to face the Braves, who are relocating Spring Training to North Port, near Port Charlotte on the Gulf Coast, next year. Miles Mikolas will get another tune-up ahead of his Opening Day start in the 12:05 p.m. CT game. He'll be opposed by Atlanta's Bryse Wilson and followed out of the bullpen by Alex Reyes and John Gant.