Wacha (knee) hits IL; Drew Robinson recalled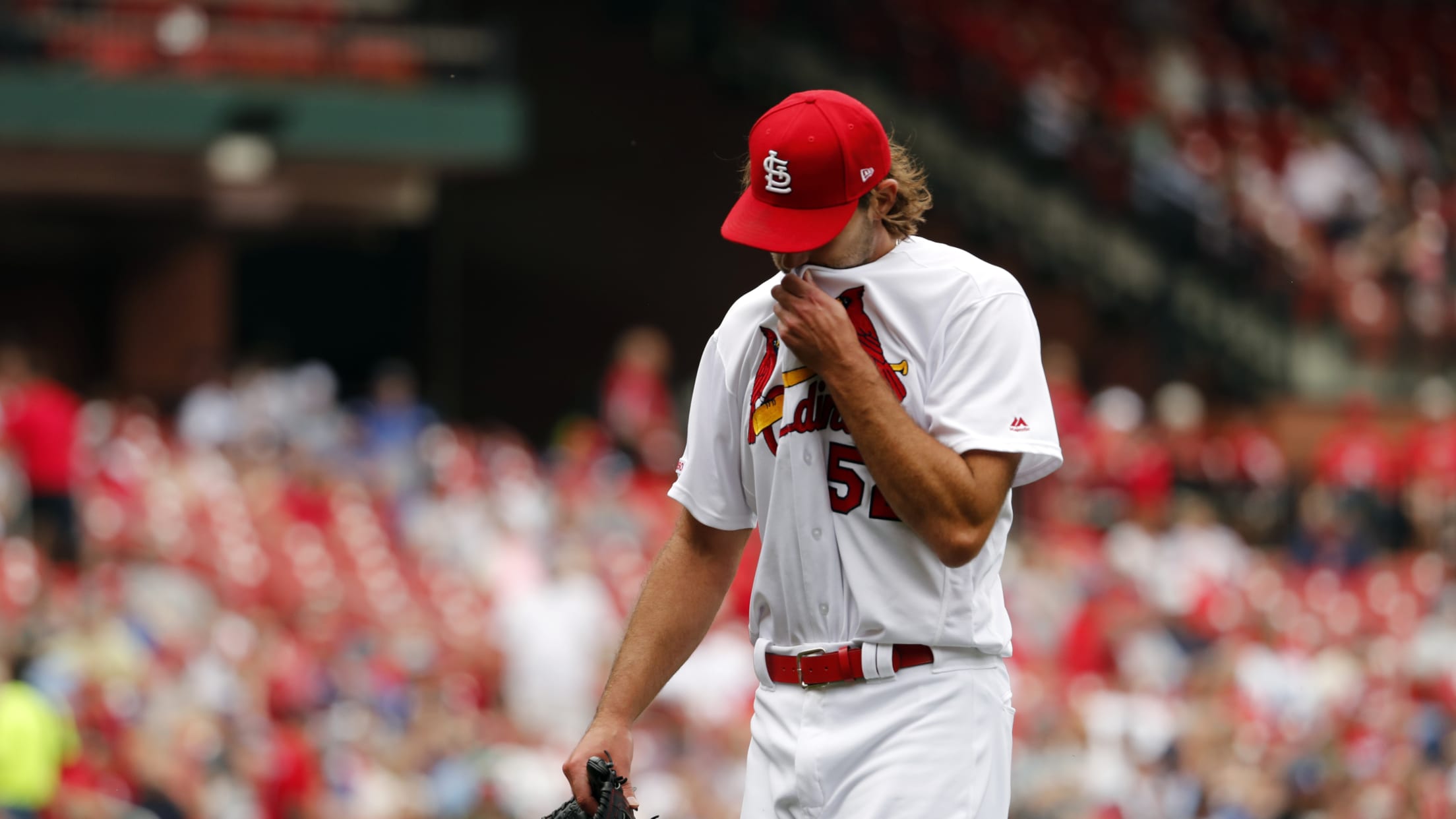 ST. LOUIS -- The Cardinals placed Michael Wacha on the 10-day injured list with left knee patellar tendinitis on Monday before their series opener against the division-rival Brewers at Busch Stadium. Wacha had been slated to start Tuesday's game against Milwaukee. Daniel Ponce de Leon will start the game in
ST. LOUIS -- The Cardinals placed Michael Wacha on the 10-day injured list with left knee patellar tendinitis on Monday before their series opener against the division-rival Brewers at Busch Stadium.
Wacha had been slated to start Tuesday's game against Milwaukee. Daniel Ponce de Leon will start the game in the right-hander's place.
"He had some flareup in his left knee, something he's had in the past occurred in a recovery workout from a start and just didn't feel like he was going to be able to go," Cardinals manager Mike Shildt said.
The 27-year-old Wacha has a 4.64 ERA through four starts this season, with a team-high 24 strikeouts in 21 1/3 innings. Two of Wacha's starts were against Milwaukee, and he was excellent in both. Wacha threw six innings of one-run ball with seven strikeouts against the Brewers on March 31, and he picked up his first win of the year against them in his previous outing, allowing two runs and striking out seven in six innings.
Shildt expects Wacha to miss just one start.
"That's the reason for the [IL] is to keep it from lingering," Shildt said. "We could have been really aggressive and he could have tried to take the ball and that could have added to something that would've been more lingering and time-consuming. I talked to him this morning and he feels really good with where he's at as far as the recovery of it and each day getting better. I think this is definitely something we'll put behind us once he takes his next start."
Wacha was unavailable for comment.
The Cardinals made a corresponding roster move Monday, but it wasn't for a pitcher. The team recalled infielder/outfielder Drew Robinson from Triple-A Memphis.
Robinson has played in four games for the Cardinals this season, all in center field. The 27-year-old is hitless in six at-bats.
The Cardinals are expected to make another roster move after Monday's game to make room for Ponce de Leon, who is 2-0 with a 3.24 ERA in three starts at Memphis.
"Every start I felt like I was improving, improving and finally, this last one, I felt my best," Ponce de Leon said. "The numbers didn't quite show it, but the way I felt was really good. All four pitches will come into play."
Ponce de Leon went 0-2 with a 2.73 ERA in 11 appearances (four starts) with the Cardinals last season.
Ponce de Leon, 27, came to Spring Training with hopes of making the Major League roster, but struggled, going 0-2 with an 8.80 ERA in five appearances.
"The way I pitched, I didn't deserve to be up here," Ponce de Leon said. "I got rocked. Towards the end, I would have three good innings and I would have one where I could not get out of. It's the truth. The coaches gave me a good shot. I got many starts up there and I'm very grateful for that."
Shildt said Ponce de Leon is throwing his curve more.
"He's got experience up here and he's done a nice job when he's been up here in a starting role and a relieving role," Shildt said. "His timing of being able to take the start also synched up and he's been very competitive and thrown the ball well down in Memphis."
Gomber earns PCL honors
Memphis starter Austin Gomber was named the Pacific Coast League Pitcher of the Week, the league announced Monday.
The left-hander threw a shutout Saturday in a 3-0 win over Round Rock. Gomber allowed three hits over seven innings, struck out six and walked one; 55 of his 87 pitches were strikes.
Gomber is 2-0 with a 3.22 ERA and 22 strikeouts in 22 1/3 innings. Opponents are hitting just .215 off of him.