This Giants hitter is crushing the ball
Veteran Belt having one of his best years at the plate
An offense with a lot more pop than anticipated is one big reason why the Giants are defying expectations and sit in playoff position with less than two weeks to play. And while Mike Yastrzemski has played like an MVP candidate, he's not the only bat behind the surge. There's
An offense with a lot more pop than anticipated is one big reason why the Giants are defying expectations and sit in playoff position with less than two weeks to play. And while Mike Yastrzemski has played like an MVP candidate, he's not the only bat behind the surge. There's also one of San Francisco's mainstays, Brandon Belt, who's having his best season.
Belt has been a solid player for the Giants throughout his career, frequently checking in as the early-season favorite to register the team's first individual 30-homer season since Barry Bonds in 2004. He's been an All-Star once, in 2016, but has also been limited by injuries, including right Achilles tendinitis that kept him out until the Giants' seventh game this season.
Since then, he's contributed heavily to an offense that has scored 5.0 runs per game, seventh-most in the Majors. Despite the late start, 2020 has been a whole new ballgame for Belt, and he's doing something he's never done to this extent before: crushing the ball.
What he's doing
Belt has a 46.3% hard-hit rate this season, his highest in any season of his career tracked by Statcast (since 2015). His prior highest was 42.1% in 2015. In related news, his 90.5 mph average exit velocity is also a career-best. Put that together with a tendency to keep the ball in the air -- 62.2% of his batted balls have been fly balls or line drives, above the Major League average of 49.2% -- and it's safe to say he's been making quality contact.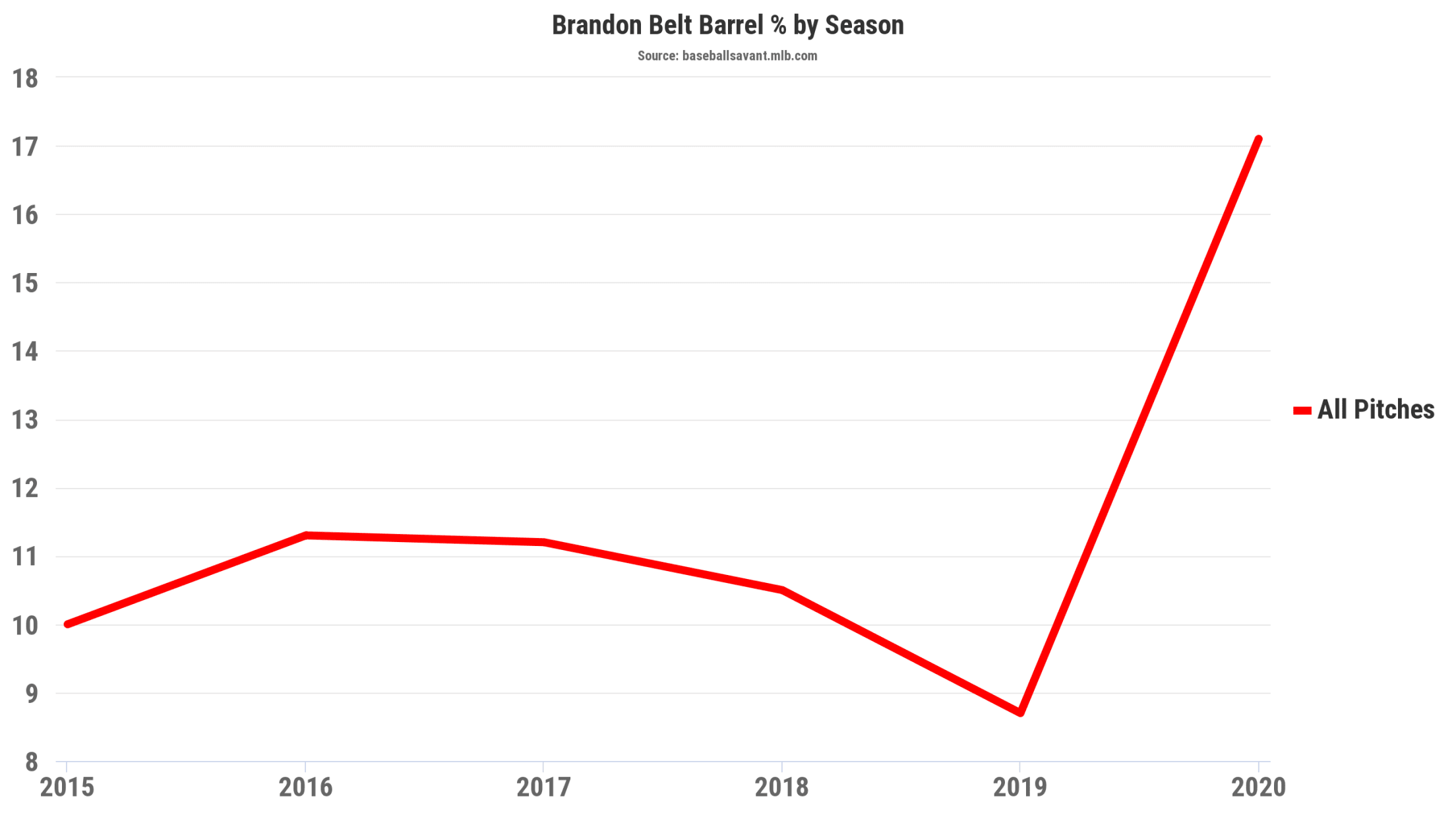 And indeed he has, with a 17.1% barrel rate, also the highest of his career. It's also tied for 10th in baseball, among players with at least 50 batted balls this season. In a shortened season, he's already almost a third of the way to the most barrels in any season of his career. His highest barrel rate was 11.3%, in 2016, so this is a pretty big jump.
Couple that hard-hit prowess with his reliable plate discipline -- a top-30 walk rate (minimum 130 plate appearances) and below-average whiff and chase rates -- and you've got a very solid contributor on a team that's trying to regain its even year magic.
Belt's expected slugging percentage of .616, which is based on that quality of contact, plus strikeouts, is in the top four percent of the league, tells us that his .584 actual mark right now isn't a mirage. He's been hitting the ball very well.
And he's never hit it at this level before. Each of Belt's eight highest 25-game spans of his career by slugging percentage have been in 2020. His .584 slugging percentage so far this season is his highest in the Giants' first 47 games of a season in his career.
Not only is Belt hitting the ball harder than ever before -- he's doing it on the heels of the worst season of his career by a number of metrics, including slugging percentage (.403). He's increased his hard-hit rate by 8.4 percentage points from 2019, the third-highest increase of any batter in the Majors (min 2.1 plate appearances per team game in each season). The only hitters with larger increases are Corey Seager (+9.6) and Jesse Winker (+9.2).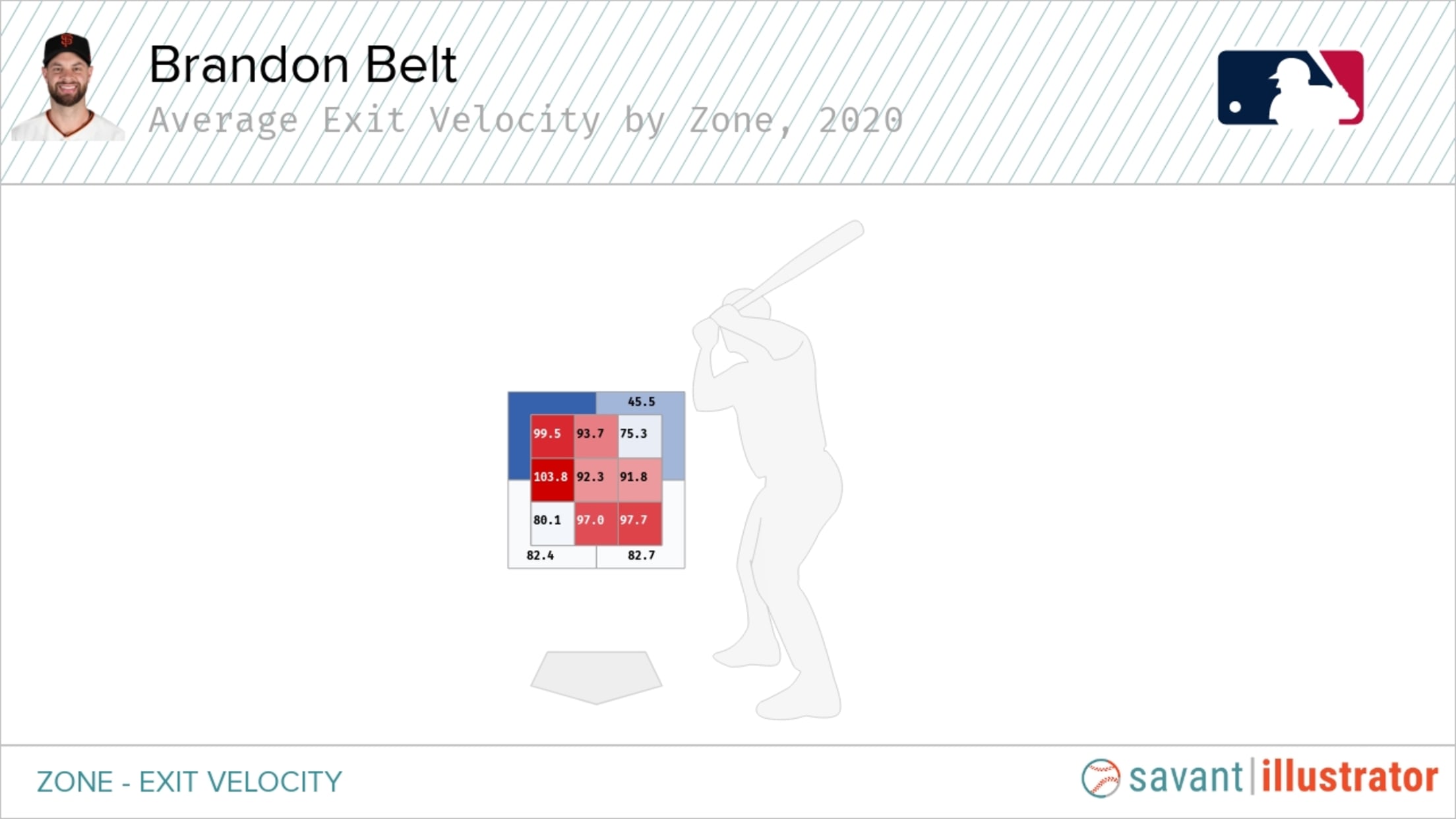 How he's doing it
Sometimes a breakout season comes with an obvious adjustment -- a clear change in approach or a player's swing. That's not the case for Belt, but there might, in fact, be a simple explanation. He's indicated that perhaps full health is part of the key here.
"It was really the [right] knee," he told reporters in late Aug. "The knee was a huge issue for me, and even after I had surgery on it in 2018, I didn't really have enough time to get it strengthened to where it needed to be before the 2019 season. It was pretty weak last year. I think my mental approach last year was very good, and just the physical part wasn't there. I spent all offseason strengthening my knee back up, and I feel like it is in a good spot. It [doesn't] feel perfect, but I feel like my legs are strong, and that's the important part."
It's not hard to imagine that healthier legs can lead to stronger swings, with a player being able to more solidly plant his feet in the box. Perhaps that's part of how Belt is generating more power.
Something else to consider: Belt hasn't faced lefties much, so his plate appearances against the side he hits well, righties, have been maximized. Just 24 of his 132 plate appearances, 18%, have come against lefties. Last year, 26% of his plate appearances were against lefties. Belt is hitting .340/.426/.638 against righties, compared to .105/.292/.316 vs. southpaws. There's no question that facing more righties than lefties gives him a better chance at a good plate appearance each time.
Now the question is if Belt can finish strong as the Giants continue to fight for a playoff spot. He's gone hitless in each of his last four games, but if he can get back to the way he's hit the ball for the majority of the season, it'll be huge for the Giants down the stretch.