Belt, Longoria back in action for Giants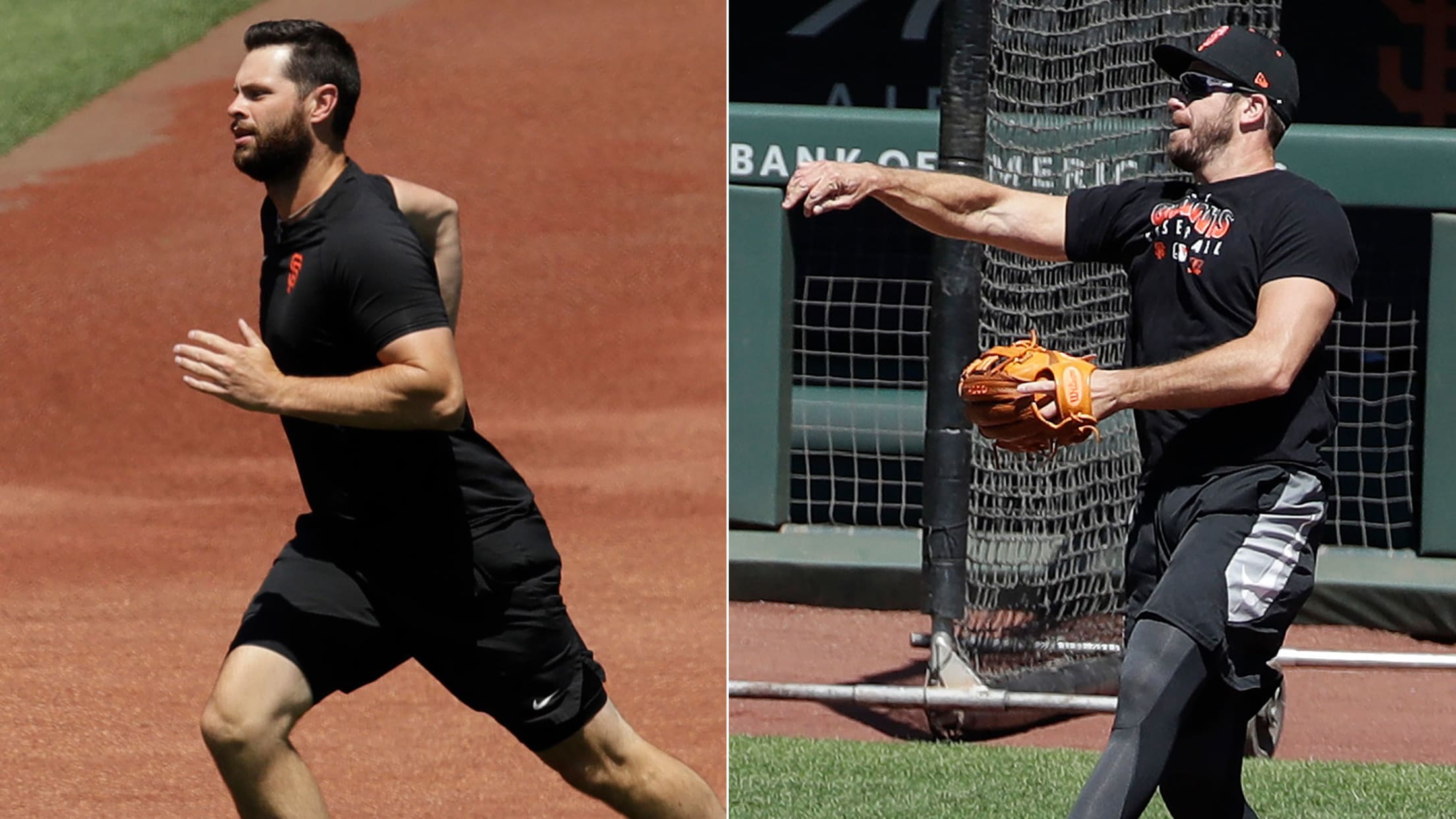 SAN FRANCISCO -- The Giants announced a flurry of roster moves Thursday ahead of their series finale against the Padres at Oracle Park. The Giants activated veteran corner infielders Brandon Belt and Evan Longoria off the 10-day injured list. They further bolstered their defense and added another left-handed bat by
SAN FRANCISCO -- The Giants announced a flurry of roster moves Thursday ahead of their series finale against the Padres at Oracle Park.
The Giants activated veteran corner infielders Brandon Belt and Evan Longoria off the 10-day injured list. They further bolstered their defense and added another left-handed bat by recalling outfielder Steven Duggar from the club's alternate training site in Sacramento.
All three were penciled into the starting lineup to face San Diego's Dinelson Lamet as the Giants look to improve their production against right-handed starters.
To clear spots on the 30-man active roster, the Giants optioned rookie outfielders Jaylin Davis and Joe McCarthy and designated Rule 5 Draft pick Dany Jimenez for assignment. Jose Siri and Kean Wong, who were designated for assignment last week, cleared waivers and were assigned outright to the Triple-A Sacramento roster.
Longoria, who was sidelined with a right oblique strain, said he is still dealing with some soreness, but he feels the worst is behind him. The third baseman wasn't able to face live pitching during his rehab process, but he did stand in on bullpen sessions to try to maintain his timing.
"It's always tough to be out and not have an opportunity to play, so I'm excited to be back," Longoria said. "I feel great. I'm as healthy as I'm going to get at this point. I don't feel like I rushed back. I feel like I've had enough time.
"As far as the team goes, I'm excited about the effort that's been put forth. Last night, obviously, a comeback win, a walk-off. There's been a lot of guys grinding through at-bats and putting together a lot of good stuff. I'm excited to come back to a team that I think is in a really good place right now and, hopefully, be able to contribute."
Davis (2-for-12 with six strikeouts) and McCarthy (0-for-10 with five strikeouts) both stumbled out of the gate for the Giants, but the decision to send down Davis was more surprising because the club was expected to give the 26-year-old slugger a long runway to establish himself in the Major Leagues this year.
Manager Gabe Kapler said the Giants want to give Davis an opportunity to continue to build his "volume" in his cage work in order to produce more consistent results at the plate.
"We have a tremendous amount of belief in Jaylin." Kapler said. "The most important message that I sent to him in last night's meeting was, 'We believe in you. We are with you. We are supporting you. We're not going to stop communicating with you.'
"He's a step away from Major Leagues at any given time, and we still believe he's going to make an important impact on this club."
Belt's right Achilles tendinitis helped McCarthy edge Duggar for a spot on the Opening Day roster, as McCarthy gave the Giants another left-handed option at first base. Now that Belt is healthy, San Francisco preferred to carry the speedy Duggar, who is one of the club's best defensive outfielders. Duggar is a natural center fielder, but he was in right field on Thursday, with Mike Yastrzemski remaining in the middle of the diamond for the Giants.
"Yaz has been playing a really good center field," Kapler said. "We saw Yaz play a good center field last year, as well. It's kind of nice to be able to leave him in that spot for now and also get great defense in right field with Duggar. This is partly about Yaz's comfort and trying to give him as much continuity as possible."
Jiménez, a 26-year-old right-hander who came over from the Blue Jays in December, made two relief appearances for the Giants, but he struggled with his command, issuing three walks in his season debut at Dodger Stadium last week. As a Rule 5 Draft pick, he must be offered back to Toronto.
By cutting Jiménez, the Giants created a vacancy on their 40-man roster, which could be an indication Joey Bart, a catcher ranked by MLB Pipeline as the organization's top prospect, is getting closer to reaching the Majors.
"I talked to Joey last night," Kapler said. "He's doing well. He's progressing nicely, Things are going smoothly on that front."
Maria Guardado covers the Giants for MLB.com. She previously covered the Angels from 2017-18. Follow her on Twitter.