Giants' IF bats poised for bounceback
Health is key for veteran group in field, at plate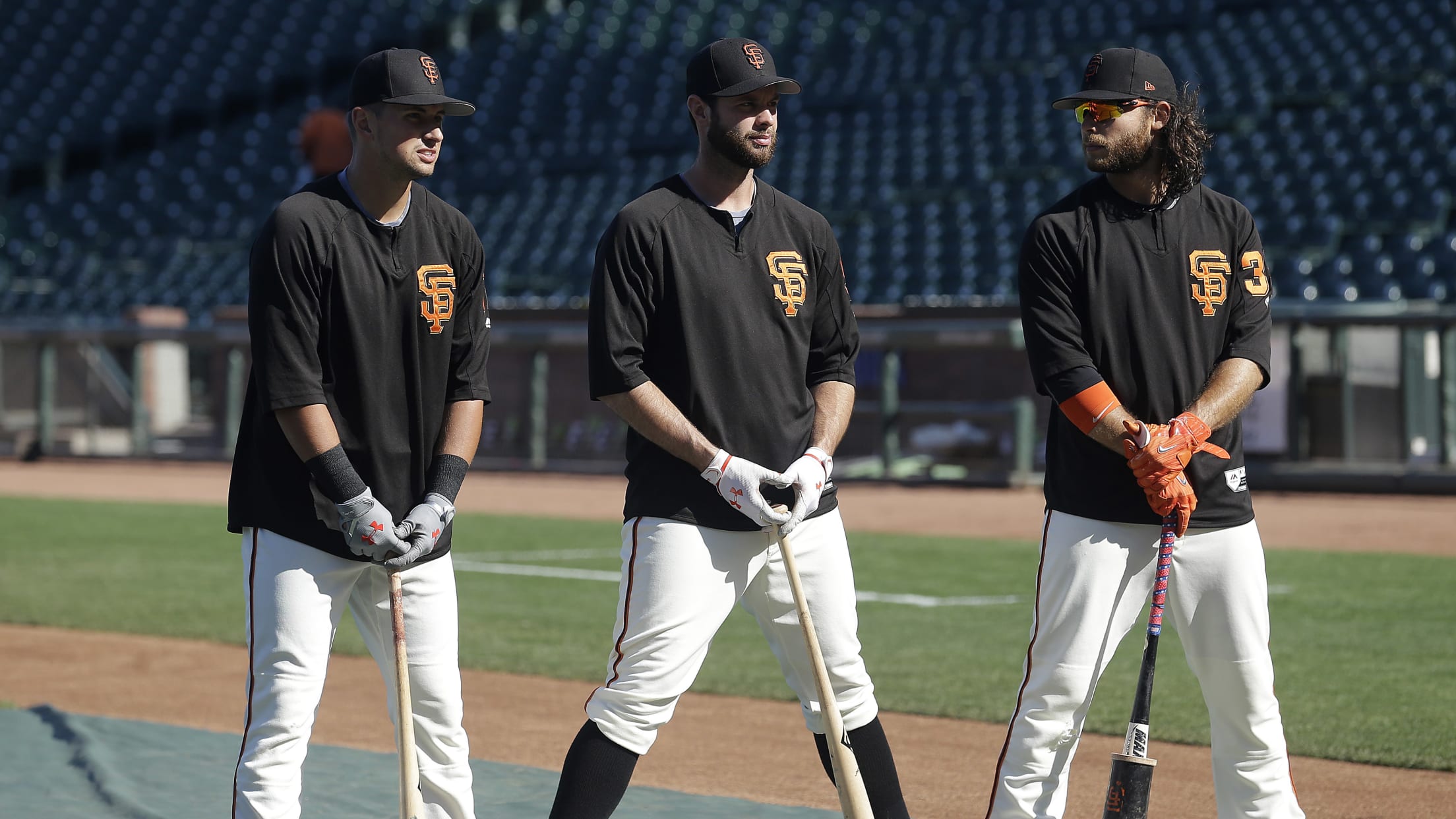 SCOTTSDALE, Ariz. -- The Giants' outfield remains unsettled with a week to go until Opening Day, but there's no question as to who will be manning the infield next Thursday on Opening Day in San Diego. Despite an offseason of trade rumors, the Giants' starting infield remains intact, and they'll
SCOTTSDALE, Ariz. -- The Giants' outfield remains unsettled with a week to go until Opening Day, but there's no question as to who will be manning the infield next Thursday on Opening Day in San Diego.
Despite an offseason of trade rumors, the Giants' starting infield remains intact, and they'll be counting on third baseman Evan Longoria, shortstop Brandon Crawford, second baseman Joe Panik and first baseman Brandon Belt to rebound from uneven seasons and carry the club's offense in 2019.
The group struggled to consistently produce last year while dealing with a rash of injuries, but they are now healthy and ready to help the Giants defy the low expectations that many gave them this offseason.
"We know our main issue is health," Belt said. "It's not talent. Maybe other people think we're too old or don't believe in us, but we do. We know what we've got here. We know we've got a great core and a great supporting cast, too. If we stay healthy, we're going to be able to do some damage, there's no doubt about it.
"If we're all on the field, I think we'll be one of the best, if not the best, infields in the big leagues. Mark it down if you want."
Belt, Panik and Longoria combined to spend 112 games on the injured list in 2018, while Crawford played through a nagging knee injury that caused his offensive numbers to nosedive in the second half of the year. Their improved health -- along with catcher Buster Posey's -- has been one of the major sources of optimism for the Giants this spring.
"If they stay healthy and they just have their normal years, we feel like we're going to have a really good infield," manager Bruce Bochy said. "It should be one of the better infields in baseball."
Belt is batting .472 (17-for-36) with four home runs and eight RBIs over 14 Cactus League games this year. He collected his ninth consecutive hit after launching a two-run home run off Cubs right-hander Kyle Hendricks in the first inning of the Giants' 5-5 tie at Sloan Park on Thursday, though he filed out in his next at-bat to halt his impressive streak.
Longoria is hitting .351 (13-for-37) and looks more comfortable as he prepares to enter his second season with the Giants. Panik, who had been considered a non-tender candidate after posting a career-low .639 OPS last year, has opened eyes after reporting to camp fitter. Panik is hitting .472 (17-for-36) over 13 games this spring.
"He's really just looks so much more athletic than what he was last year, and that was because of the hip issue," Bochy said of Panik. "But he's a different player right now. He looks like a young kid out there bouncing around."
The Giants' pitching staff should also benefit from elite infield defense this season. Longoria, Crawford and Panik are former Gold Glove Award winners, while Belt leads all Major League first basemen with 44 Defensive Runs Saved since 2014.
"It's pretty fun when you've got those guys behind you out there," left-hander Drew Pomeranz said. "You don't have to try to strike everybody out. Just let them put it in play. Let the guys work. I've been on some pretty good teams. It's about as solid as it gets in the infield. They make all the plays."
Maria Guardado covers the Giants for MLB.com. She previously covered the Angels from 2017-18. Follow her on Twitter.