Notes: Giants 'really excited' about Tromp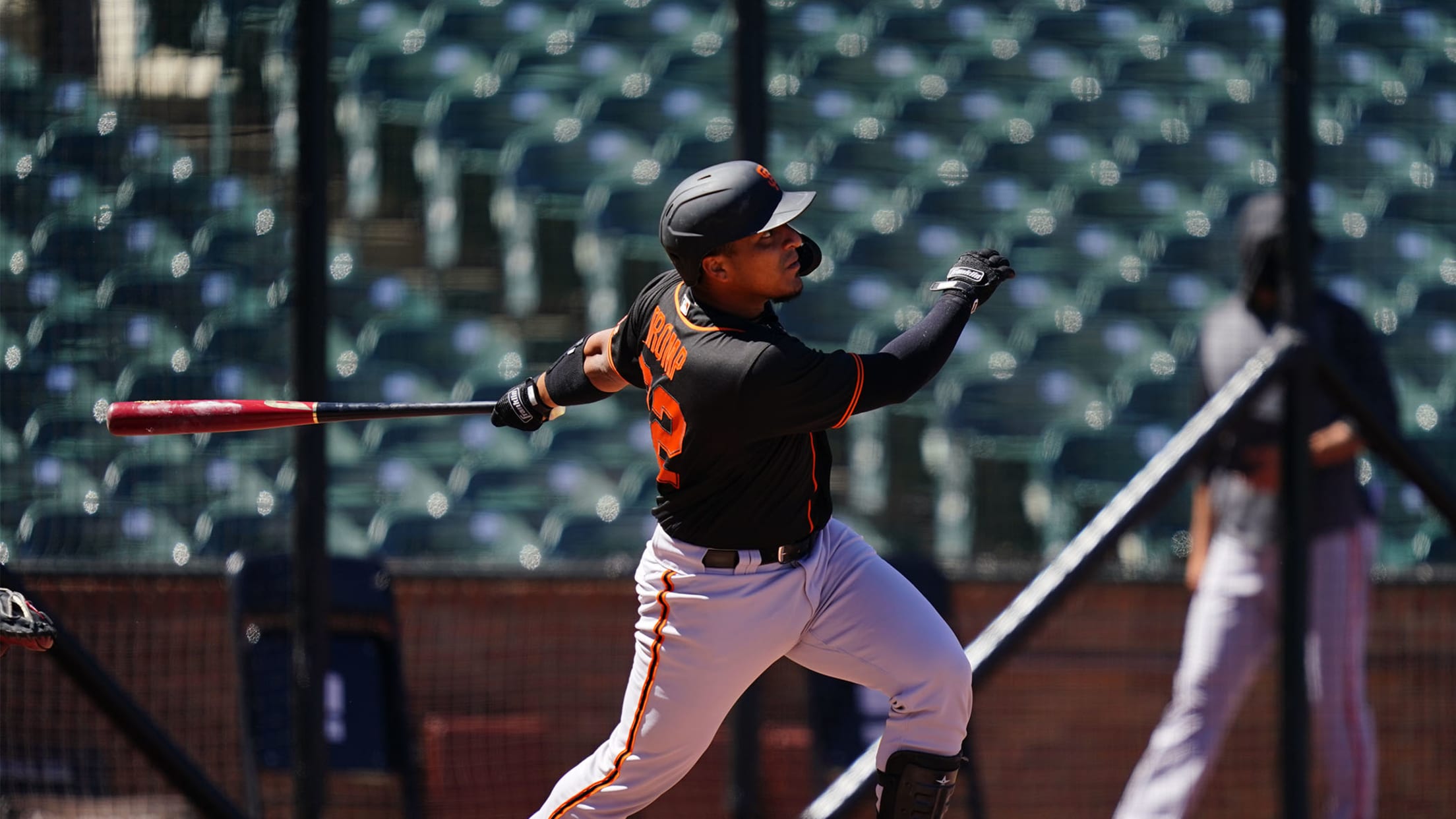 SAN FRANCISCO -- Tyler Heineman and Rob Brantly have been viewed as the Giants' leading catching options now that Buster Posey has elected not to play this year, but a third backstop has begun to force his way into the conversation this week: Chadwick Tromp. Tromp, 25, crushed two home
SAN FRANCISCO -- Tyler Heineman and Rob Brantly have been viewed as the Giants' leading catching options now that Buster Posey has elected not to play this year, but a third backstop has begun to force his way into the conversation this week: Chadwick Tromp.
Tromp, 25, crushed two home runs and collected three RBIs to power the Black squad to a 5-0 win in Sunday's six-inning intrasquad game at Oracle Park. The Aruba native opened the scoring with a solo shot off right-hander Jeff Samardzija in the second inning before adding a two-run homer off lefty Sam Selman in the sixth.
Orange squad (road team):
Yastrzemski RF
Dubón CF
Dickerson DH
Sandoval 1B
Flores 2B
Heineman C
Avelino SS
Brantly DH
Ramos LF
Toribio 3B

Samardzija SP

— Maria I. Guardado (@mi_guardado) July 12, 2020
"I think everybody is really excited about Chadwick Tromp and the advancements he's made with his swing," manager Gabe Kapler said. "A lot of positive conversation around camp with the impression that he's been making, not just at the plate, but also in the bullpen and taking charge down there."
Tromp, a former Reds prospect, joined the Giants on a Minor League deal this offseason, but he flew under the radar during Spring Training and wasn't among the 51 players who were included in the club's initial player pool. He was added to the group on July 4 and has quickly emerged as an offensive standout in camp, producing a double and triple in game action earlier this week.
"I think it's clear right now we have three catchers who are putting their best foot forward and giving themselves the best opportunity to be evaluated," Kapler said. "I think all three of those guys, Tromp, Heineman and Brantly, have different skill sets that they bring to the table."
Air ✋@trompicalstorm | @rwotus | #SFGiants pic.twitter.com/890ej83KUq

— SFGiants (@SFGiants) July 13, 2020
Tromp underwent shoulder surgery in 2018 and has not played in the Majors, but he has spent parts of seven seasons in the Minors, climbing as high as Triple-A. After returning from his shoulder injury last year, Tromp hit .286 with a .999 OPS and seven homers in 26 games with Triple-A Louisville.
Here are five other observations from Sunday's intrasquad game:
• Drew Smyly and Kevin Gausman delivered strong outings for the Black squad, combining to pitch 4 2/3 innings of one-hit ball. Alex Dickerson recorded the lone hit against the duo with a leadoff single off Gausman in the fifth.
"Drew Smyly came out firing, filling up the zone with all of his pitches, a curveball, a fastball with a lot of life and a cutter that has come a long way," Kapler said.
• Samardzija was tagged for two runs on five hits over 1 2/3 innings in his start for the Orange squad. In addition to the home run to Tromp, Samardzija yielded an RBI double to infielder Will Wilson, a 2019 first-round Draft pick who was acquired from the Angels as part of the Zack Cozart trade in December.
"Shark is just getting his arm in shape," Kapler said. "Nobody knows themselves better than Jeff Samardzija. While the line wasn't probably what he wanted it to be, what's much more important is that he got his pitches and his innings in. He's going to build on this outing to be stronger in the next outing."
• Marco Luciano, an 18-year-old shortstop who is ranked the Giants' No. 2 prospect by MLB Pipeline, continues to hold his own against advanced competition. He notched an infield single off Samardzija in the second inning and added a double to right field off Selman in the sixth. Luciano started at shortstop before shifting to third base for the final two innings of the game.
Here's 18-year-old shortstop Marco Luciano with an infield single off Jeff Samardzija: pic.twitter.com/Q4SCyUGD7j

— Maria I. Guardado (@mi_guardado) July 12, 2020
Mauricio Dubón, who witnessed Luciano's home run off Rico Garcia in live batting practice last week, said he's been impressed with what he's seen from the teenager.
• Ready to adapt, Dubón used time off well
"When I was 18 years old, I think I was still grinding in high school," Dubon, 25, said Sunday. "The Luciano kid hit a home run that was the loudest sound of the bat I've heard so far."
• No. 3 prospect Heliot Ramos made a tremendous defensive play while manning left field on Sunday. After snagging a fly ball off the bat of Austin Slater in the third, Ramos fired a strong throw to second baseman Wilmer Flores to double off Yolmer Sánchez, who had rounded third base after reaching on a double off lefty Tyler Anderson.
You'll want to see Heliot Ramos' arm on this double play. pic.twitter.com/CSyxQaIEbC

— John Shea (@JohnSheaHey) July 12, 2020
• Major League umpires Bill Miller and Doug Eddings were on hand to help officiate Sunday's game, adding another level of intensity to the competition. The Giants had previously relied on their catchers to call balls and strikes.
Maria Guardado covers the Giants for MLB.com. She previously covered the Angels from 2017-18. Follow her on Twitter.