Bochy says Rodriguez 'part of this rotation'
Young starter had a 2.81 ERA in 2018; Giants trim big league camp roster to 55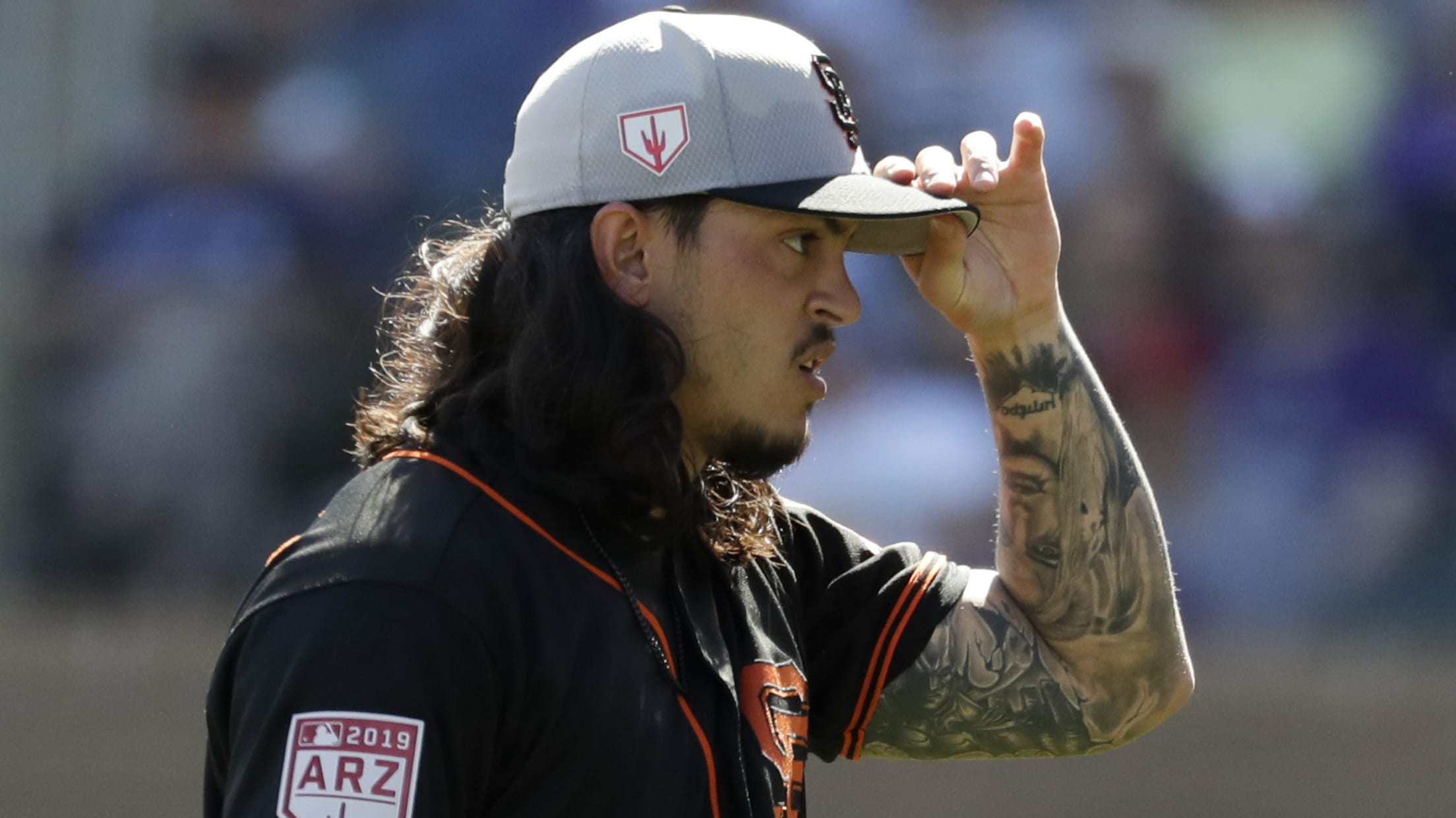 SCOTTSDALE, Ariz. -- At this point last year, Dereck Rodríguez wasn't even in big league camp anymore. After signing a Minor League deal with the Giants, Rodriguez arrived as a relative unknown and was among the club's first wave of cuts. This spring, Rodriguez's spot is secured, not just in
SCOTTSDALE, Ariz. -- At this point last year, Dereck Rodríguez wasn't even in big league camp anymore. After signing a Minor League deal with the Giants, Rodriguez arrived as a relative unknown and was among the club's first wave of cuts.
This spring, Rodriguez's spot is secured, not just in the Scottsdale Stadium clubhouse, but also in the Giants' rotation.
"Right now, he's part of this rotation," manager Bruce Bochy said following the Giants' 8-0 loss to the Cubs on Saturday. "That's where he stands. He's throwing the ball well."
Rodriguez, 26, emerged as the biggest surprise of the Giants' season after posting a 2.81 ERA over 118 1/3 innings last year, but there had been some question as to whether he would open the season in the rotation. President of baseball operations Farhan Zaidi had raised the possibility of Rodriguez or left-hander Andrew Suárez starting in the Minors as a way to manage their innings, but the Giants now seem to be willing to give Rodriguez a chance to replicate his success out of the rotation.
The Giants now appear to have five starters for five spots, with Rodriguez, Madison Bumgarner, Derek Holland, Drew Pomeranz and Jeff Samardzija projected to fill out the rotation, but Bochy said no decisions have been finalized. Chris Stratton, who is out of Minor League options, had also been in the running for a rotation spot, but the Giants could be looking at him more as a long reliever for now.
"We've got a little bit more time here, so we'll know where we're at when we get closer to the season," Bochy said. "You're going to need everybody. Some guys have the ability to help us out in the bullpen. We'll see where we're at when we get toward the end."
Rodriguez gave up three runs on four hits -- all singles -- over 3 2/3 innings in his third Cactus League start against the Cubs on Saturday, but he pitched better than his line showed. All the damage came in the second inning, when he yielded a pair of RBI singles and a sacrifice fly.
"There were little dribblers through the infield," said Rodriguez, who struck out five. "It's a different story if they were gappers or off the wall or something. In that aspect, I'm happy. I was happy with my command and everything. I felt good."
As he prepares to enter his first full season in the Majors, Rodriguez said he's ready to make the necessary adjustments to remain effective for the Giants.
"I think it's just throwing more offspeed," Rodriguez said, "and throwing my offspeed pitches behind in the count more and more consistently. That's pretty much what I've been doing so far. Just pounding the zone and trying to get outs quicker. Get them out of there and not necessarily have to nip the corners. ... That's what I'm trying to work this year."
Roster trims
The Giants reassigned right-handers Carlos Navas and Kieran Lovegrove to Minor League camp on Saturday. They now have 55 players remaining in big league camp.
Up next
The Giants are scheduled to play a pair of split-squad games on Sunday. Samardzija will face the Rangers at Scottsdale Stadium, while Suarez will head to Mesa to take on the A's. First pitch for both games is scheduled for 1:05 p.m. PT.
Maria Guardado covers the Giants for MLB.com. She previously covered the Angels from 2017-18. Follow her on Twitter.