Shark's shoulder passes biggest test yet
Right-hander strikes out four in three scoreless innings of second spring start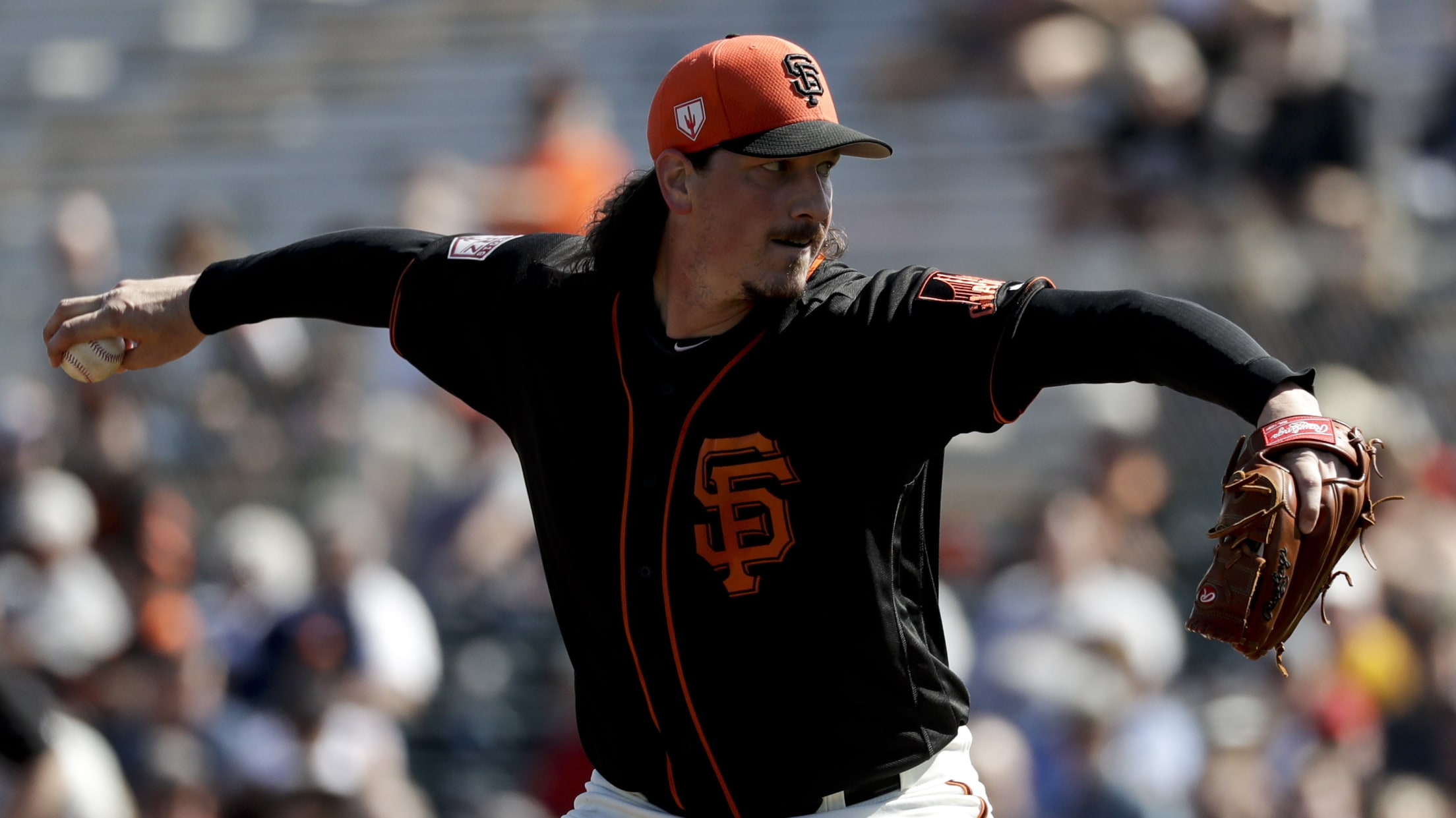 SCOTTSDALE, Ariz. -- After an offseason of rehabbing, Giants right-hander Jeff Samardzija has enjoyed a smooth start to the spring, clearing every hurdle he's faced while working his way back from the nagging shoulder injury that wrecked his 2018 campaign. The latest encouraging milestone came Monday, when the 34-year-old veteran
SCOTTSDALE, Ariz. -- After an offseason of rehabbing, Giants right-hander Jeff Samardzija has enjoyed a smooth start to the spring, clearing every hurdle he's faced while working his way back from the nagging shoulder injury that wrecked his 2018 campaign.
The latest encouraging milestone came Monday, when the 34-year-old veteran threw three scoreless innings in the Giants' 8-2 loss to the Dodgers at Scottsdale Stadium.
Facing a Dodgers lineup stacked with regulars, Samardzija yielded just one hit while walking two and striking out four in his second Cactus League outing. He consistently hit 94 mph and said he was pleased with the movement of his fastball and cutter.
"He looked good, didn't he?" manager Bruce Bochy said. "It's good to see him healthy and throwing the ball the way he is. They had their guys out there, and he did a nice job."
The Dodgers put runners on first and second with one out in the first inning after Joc Pederson drew a leadoff walk and Justin Turner reached on an infield single, but Samardzija extricated himself from the jam by striking out Cody Bellinger on three pitches and coaxing a groundout from A.J. Pollock.
Samardzija also struck out Chris Taylor and Jake Peter looking in the second and posted a 1-2-3 third with the help of Gerardo Parra, who made a sliding catch in right field to take a hit away from Turner.
"I'm excited to see our outfielders," Samardzija said. "Really, if you look at all our options, defense is pretty much a strength for most of them. Obviously, we've got a couple of bangers in there too, with big bats, but it seems like whoever we put out there is going to be able to cover some ground and give us a break as pitchers."
Samardzija said he's using Spring Training to develop an extended warmup routine that he hopes will help keep his arm healthy in 2019. Now that he's a little bit older, he has begun getting ready for his starts an hour and 20 minutes before the game, compared to 20 minutes in the past. Still, Samardzija said he's happy with the way his arm has been bouncing back after each marker this spring.
"It's been really good, so I attribute that to the offseason," Samardzija said. "We did this test a long time ago. In early December, we were long tossing and following up with flat grounds and then double days to see how we'd feel that third day. It's been an evaluation process for me all offseason, but every check has passed."
Maria Guardado covers the Giants for MLB.com. She previously covered the Angels from 2017-18. Follow her on Twitter.