Offseason checklist: Mariners' needs and moves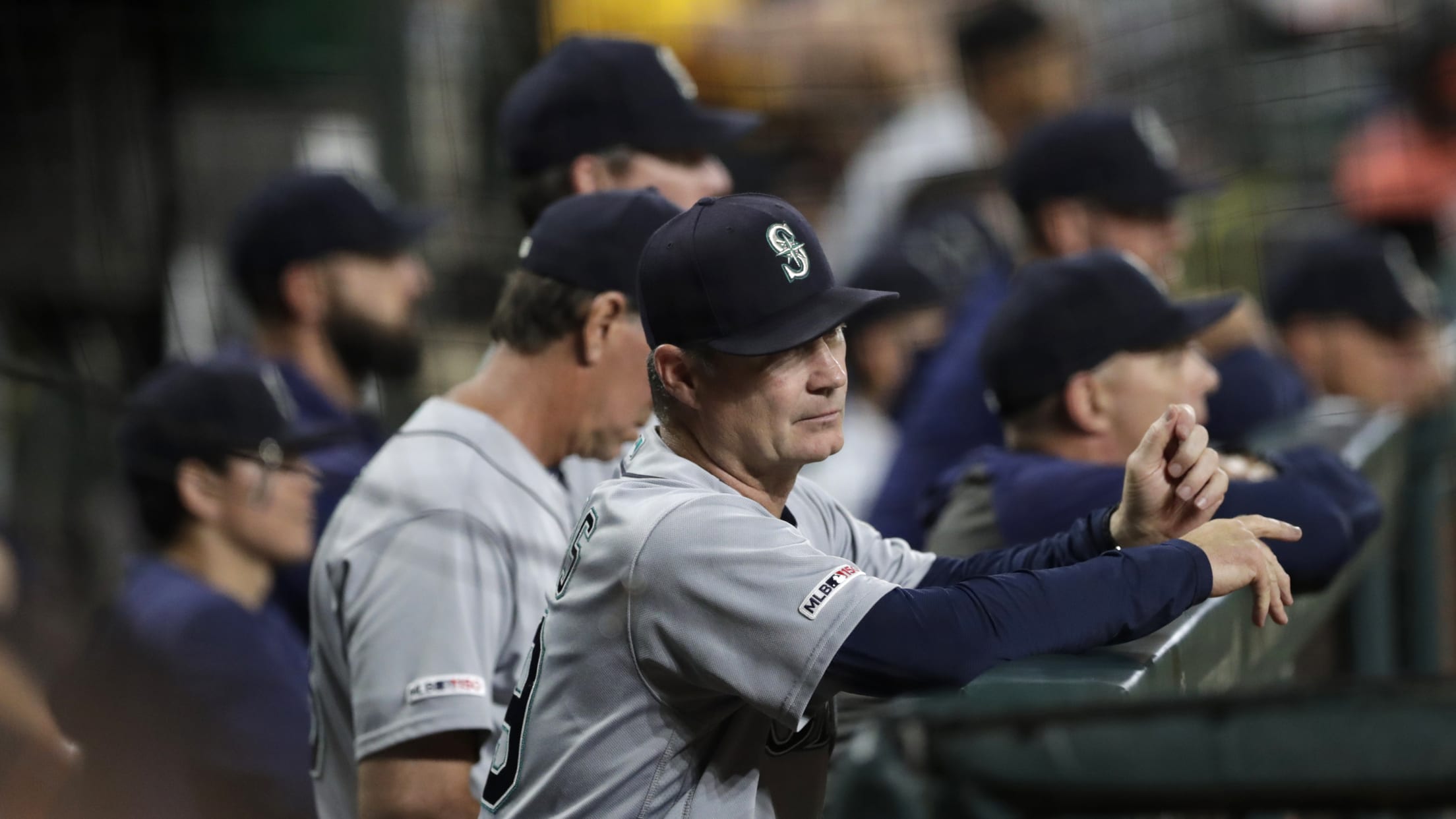 SEATTLE -- The Mariners are looking to begin pushing forward this season with more of their young prospects playing bigger roles, but general manager Jerry Dipoto always wants to add some more pieces and looks to upgrade his 40-man roster wherever possible. So what are the team's biggest needs entering
SEATTLE -- The Mariners are looking to begin pushing forward this season with more of their young prospects playing bigger roles, but general manager Jerry Dipoto always wants to add some more pieces and looks to upgrade his 40-man roster wherever possible.
So what are the team's biggest needs entering 2020, and what moves have they made to address them? MLB.com is keeping track here. As the offseason continues, be sure to check back for updates.
• Predictions for Mariners' Opening Day roster
BIGGEST NEEDS
Starting pitching
Marco Gonzales and Yusei Kikuchi are the only full-time 2019 starters returning. Promising prospects Justus Sheffield and Justin Dunn will be given every opportunity to earn spots in the spring, but Dipoto would like to add several more rotation candidates to the mix to provide necessary depth and prevent the youngsters from being rushed if they're not quite ready. He made one step in that direction by signing free agent Kendall Graveman just before Thanksgiving.
Bullpen
The Mariners conducted a year-long tryout for relievers last year and unearthed some interesting discoveries, but that process continues. Injuries to several of the promising arms -- including left knee surgery for right-hander Austin Adams and Tommy John surgery for righty Connor Sadzeck -- were definite setbacks, and bullpens are always the most volatile area on any team, so expect more churn here.
Continued youth movement
Dipoto greatly bolstered his farm system last offseason by trading high-profile veterans like Robinson Canó, Edwin Díaz, James Paxton, Jean Segura and Mike Zunino for prospects. He doesn't have many remaining veterans to deal, but he could still make a few moves aimed toward the future. He did so already by dealing Omar Narváez to the Brewers for right-handed prospect Adam Hill and a 2020 Draft pick just prior to the Winter Meetings.
MOVES MADE
Jan. 10: Versatile Haggerty added to utility mix
Switch-hitting utility man Sam Haggerty, who played in 11 games with the Mets last year, was claimed off waivers to add another versatile option to the 40-man roster. The 25-year-old has been primarily at second base in his Minor League career, but he can play any of the infield or outfield positions. He posted a .271/.376/.387 line with three home runs and 23 stolen bases in 86 Minor League games across three levels last year, with 68 of those games at Double-A Binghamton and 12 at Triple-A Syracuse. Haggerty went 0-for-4 with the Mets while being used as a pinch-hitter and pinch-runner as a September callup.
Dec. 12: Reliever added in Rule 5 Draft
The Mariners took a shot on hard-throwing Astros right-hander Yohan Ramirez in the Rule 5 Draft, and they will see if they can harness the 24-year-old's mid-90s fastball. Ramirez racked up 158 strikeouts in 106 innings last season with Class A Advanced Fayetteville and Double-A Corpus Christi while allowing opposing batters just a .169 batting average, but he also issued 74 walks. If Ramirez learns to command the strike zone, he could be an interesting piece in next year's bullpen.
Dec. 5: Narváez traded to bolster the farm
Thanks to the emergence of backup catchers Tom Murphy and Austin Nola, Dipoto's biggest trade chip figured to be Narváez, and indeed the club's offensive-minded catcher was shipped to the Brewers for Hill and a Competitive Balance Round B pick in the 2020 Draft, which figures to be about the 70th overall selection between Rounds 2 and 3. Hill, who was 7-9 with a 3.92 ERA in 26 games (23 starts) for Class A Wisconsin last season, adds more pitching depth to Seattle's rapidly improving farm system, and the Draft pick will further help in that regard.
Dec. 4: Edwards agrees to one-year deal
Former Cubs reliever Carl Edwards Jr. will look to revive his career after a tough 2019, as the 28-year-old agreed to a one-year, $950,000 contract on Nov. 27 that was finalized on Dec. 4, with a potential for $500,000 more in incentive bonuses. The slender right-hander was a key component in the Cubs' bullpen from '16-18, and he helped them win the World Series during his rookie season. But Edwards struggled last year, and he was traded to the Padres on July 31 before eventually being shut down in mid-August with right shoulder fatigue. If he can bounce back to his previous form, this could be an excellent deal for the Mariners. Edwards still has two years of arbitration eligibility remaining, so he could be under team control through '22.
Dec. 2: Mariners non-tender Santana, Beckham
The Mariners chose not to tender contracts to outfielder Domingo Santana and infielder Tim Beckham, making the two veterans free agents. Santana batted .253/.329/.441 with 21 homers and 69 RBIs in 121 games, but his defensive shortcomings were an issue and he didn't seem to fit in Seattle's plans going forward. Beckham signed a one-year deal with Seattle last year to provide a stopgap at shortstop until J.P. Crawford was ready, but Beckham received an 80-game MLB suspension in early August.
Nov. 27: Wisdom added for infield depth
Patrick Wisdom, a 28-year-old who hit 31 homers for the Rangers' Triple-A Nashville club last year, signed a one-year Major League deal that will provide him with a fresh start and give the Mariners some insurance at third base should anything happen to Kyle Seager. Wisdom also can play first base. He was a first-round Draft pick of the Cardinals in 2012, and he played 32 games for St. Louis in '18 before being traded to Texas, where he appeared in just nine games for the Rangers last season.
Nov. 26: Graveman signs one-year deal
Righty Graveman, who hasn't pitched in the Majors since undergoing Tommy John surgery 16 months ago, signed a one-year, $1.5 million deal with a $3.5 million club option or $500,000 buyout for 2021. If he's fully ready to return, the 28-year-old figures in the rotation mix immediately for a club that allowed Félix Hernández, Tommy Milone and Wade LeBlanc to enter free agency. Graveman was the Opening Day starter for the A's in 2017 and '18 before his elbow gave out, and then he spent last year rehabbing with the Cubs while pitching just two Minor League outings at the end of the season.
Nov. 25: White signed to long-term deal
First baseman Evan White, the Mariners' No. 4 prospect per MLB Pipeline, already figured as part of the club's future. But those plans were solidified when the 23-year-old signed a six-year, $24 million contract that also included three club option years for another potential $31 million that would keep him in Seattle through 2028. The move reaffirms the Mariners' commitment to their young core, with White likely to open the season as the starter at a position that has been a revolving door in recent years.
Nov. 25: Cortes acquired in trade with Yankees
Dipoto sent an undisclosed amount of international slot bonus money to the Yankees to acquire left-hander Nestor Cortes, who had been designated for assignment after going 5-1 with a 5.67 ERA in 33 games for New York. Cortes was a long reliever as a rookie for the Yankees, and he provides Seattle with a versatile arm who could be used in a starting role, either as a swingman or opener, or in long relief. He has Minor League options, which provides needed flexibility as well.
Nov. 1: Valdez claimed from Rangers
Dipoto made his first offseason addition with a waiver claim of 27-year-old right-handed reliever Phillips Valdez, who posted a 3.94 ERA in 16 innings over 11 outings with the Rangers in 2019 in his first time in the Majors. Valdez features a 92-mph fastball and a potent changeup that the Mariners will try to take advantage of as they look to build bullpen depth.
Oct. 31: LeBlanc's option declined; Felix also a free agent
Left-hander Wade LeBlanc became a free agent when the Mariners declined to pick up his $5 million club option for 2020, instead extending a $450,000 buyout. LeBlanc agreed to a potential four-year contract extension last year, but the $5 million annual base salaries only became guaranteed if he pitched 160 innings the previous season; the 35-year-old threw 121 1/3 innings last year. LeBlanc thus joined Hernández, Milone and Arodys Vizcaíno, who were already hitting the free-agent market after their contracts expired.
Oct. 29: Broxton, Bass, Wisler removed from roster
Outfielder Keon Broxton, a midseason addition in 2019, declined an outright assignment to Triple-A Tacoma and elected to become a free agent. Additionally, reliever Anthony Bass was claimed off waivers by the Blue Jays and fellow right-hander Matt Wisler was claimed by the Twins to open up two other 40-man spots. All three are arbitration eligible this offseason.
Oct. 28: Healy, Bradford, Sadzeck outrighted
Looking to clear up some 40-man roster space, the Mariners outrighted three players who ended 2019 on the injured list to Triple-A Tacoma. Ryon Healy, who is recovering from August hip surgery, has enough Major League service time to decline the outright, which he did to become a Major League free agent. Chasen Bradford and Sadzeck will also be able to opt out as six-year Minor League free agents if they choose, but both are rehabbing from Tommy John surgery and will remain under the Mariners' care unless they sign elsewhere.