Corbin hit hard in another 'frustrating' outing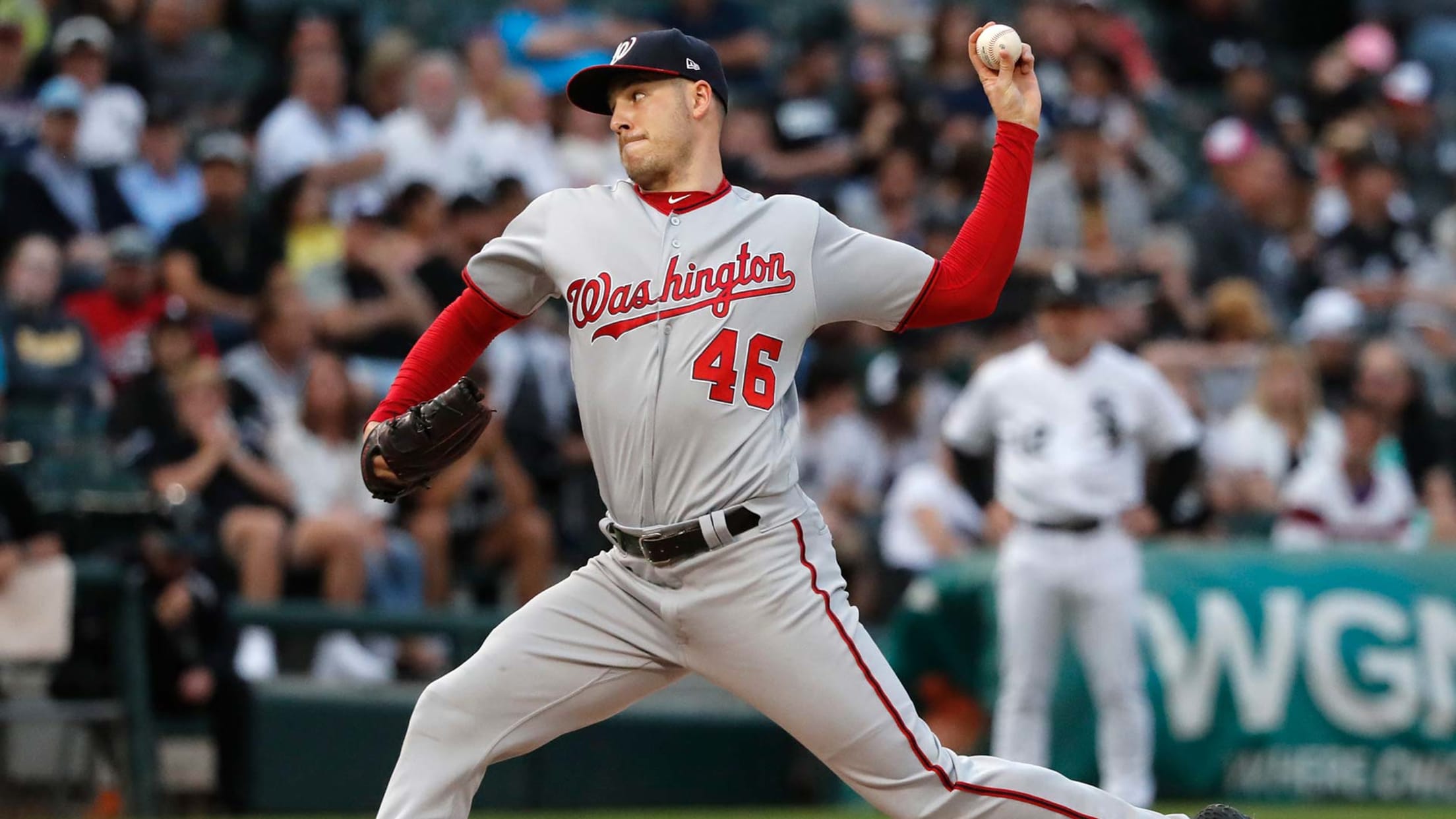 CHICAGO -- The Nationals have been one of the hottest teams in baseball recently, winning of 12 of their past 17 games. Three of their losses during that span, however, have come in games started by left-hander Patrick Corbin, who -- after a steady start to the season -- has
CHICAGO -- The Nationals have been one of the hottest teams in baseball recently, winning of 12 of their past 17 games. Three of their losses during that span, however, have come in games started by left-hander Patrick Corbin, who -- after a steady start to the season -- has fallen into a recent funk on the mound.
Corbin was tagged for seven runs on six hits in five innings in Tuesday's 7-5 loss to the White Sox, a concerning third consecutive poor start. He struggled to get his slider over the plate early in the game and got punished when he caught too much of the plate, serving up a first-inning grand slam to Welington Castillo and a towering 462-foot solo homer to Eloy Jimenez in the fourth inning.
In his three most recent outings, Corbin has given up 22 hits and 16 earned runs in 12 2/3 innings (11.37 ERA), while surrendering four home runs, striking out 13 and issuing seven walks. This downtrend comes following a 116-pitch shutout by Corbin on May 25, but despite a heavy workload at the start of the year, he insists he feels fine physically. Corbin's ERA after that complete game was 2.85 and increased to 4.11 at the conclusion of his outing Tuesday, and it has sent Corbin and the Nationals searching for answers.
"It's been frustrating these last three starts or so, trying to figure out what I'm doing wrong," Corbin said. "I feel like we're doing the right stuff in between."
One of the major issues for Corbin has been his two-seam fastball. He is throwing it much more frequently in recent outings, in part a product of facing right-handed heavy lineups, and it has been hit hard.
In his first 11 starts, he threw his two-seamer just 30.8 percent of the time and opposing hitters were hitting just .238 with a .337 slugging percentage against it, according to Statcast. In his three most recent starts, he has relied on it 45.3 percent of the time and opposing hitters are crushing it to the clip of a .483 average and a .793 slugging percentage.
"I'm not really locating inside very well," Corbin said. "I was missing with some four-seamers there, so I'm trying to mix it up with some two-seamers. But I think it's just not getting ahead as well as I have before. That's a pitch that guys have been hitting pretty well. I think falling behind, them sitting on that pitch. If I get ahead, mix it up, it'll help out a lot better."
Corbin can usually rely on his slider to get ahead of hitters, but that pitch has also been inconsistent lately.
"His slider's short right now," manager Dave Martinez said. "It's effective when it comes over looking like a strike. And now it's just been short a lot."
When this dip started on May 31, the Reds attacked the slider and hammered him for 11 total hits to knock him out in the third inning. In his last start this past weekend, the Padres stayed patient and drew five walks. Tuesday night was a mixture of both of those issues.
"We just have to go back to the drawing board and figure out what's going on, and we'll go from there," catcher Yan Gomes said. "He's done it for a long time and he knows what he can do. It's just one of those things, where we have to nip it in the bud before it gets too far ahead."