SS Minier, INF Triana highlight Reds' int'l haul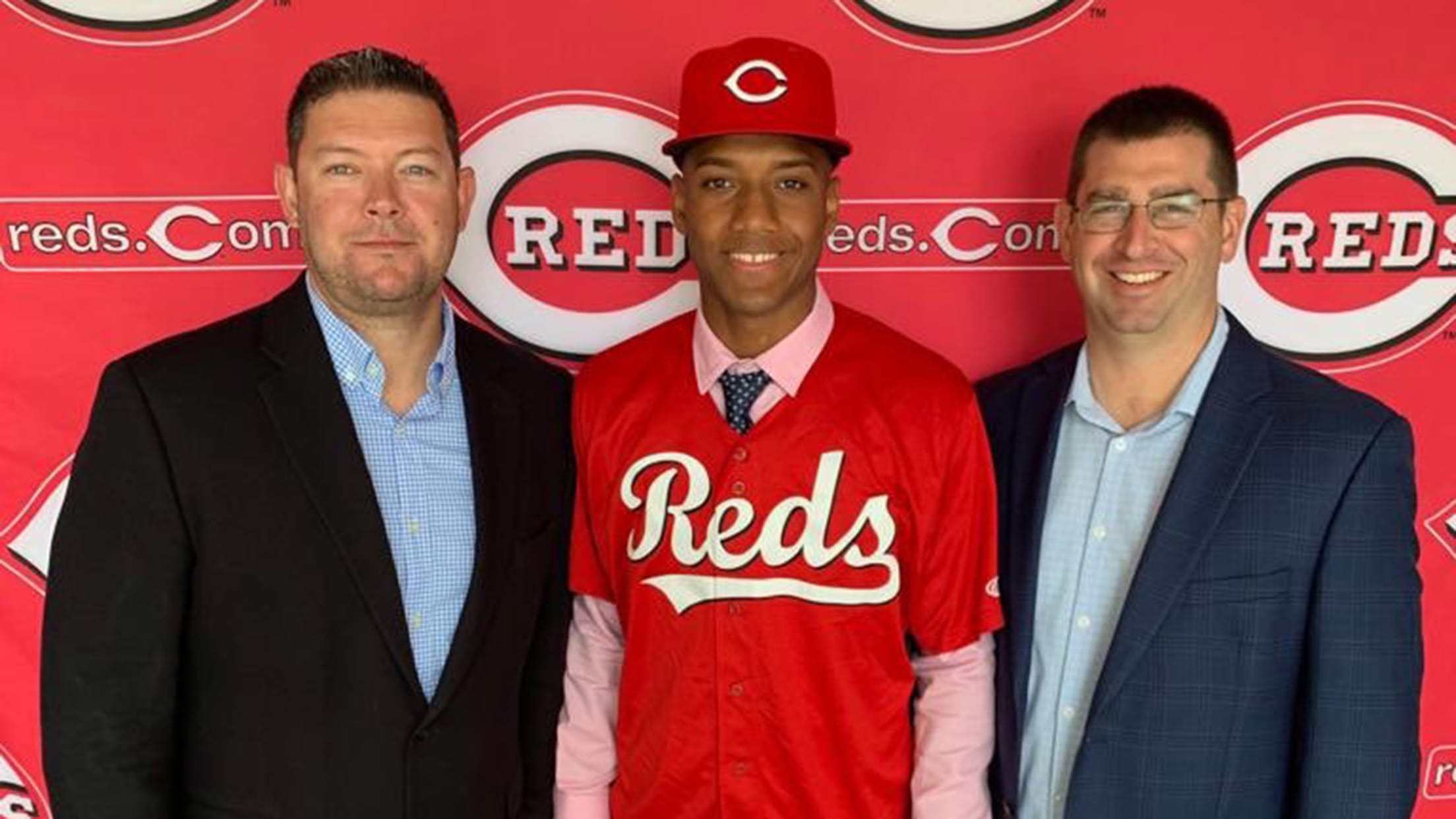 CINCINNATI -- A teenage infielder from the Dominican Republic headlines a large and diverse group of international signees for the Reds. The Reds and shortstop Braylin Minier have agreed to a deal worth $1.8 million. The Reds have also signed Cuban first/third baseman Michel Triana, 19, as well as prospects
CINCINNATI -- A teenage infielder from the Dominican Republic headlines a large and diverse group of international signees for the Reds.
The Reds and shortstop Braylin Minier have agreed to a deal worth $1.8 million. The Reds have also signed Cuban first/third baseman Michel Triana, 19, as well as prospects from Colombia, Curacao and Venezuela, including Deivid Alcantara, who received a $550,000 bonus and Andrew Salcedo, who received a $300,000 bonus. According to reports, Triana received a $1.3 million bonus. Overall, the Reds signed nine players and expect to sign several more.
"He's quick-twitch, athletic shortstop that we think has a real good chance at sticking at the position," Reds director of international scouting Trey Hendricks said of Minier. "He's got really good hands, footwork. We think he's certainly going to have enough arm to play the position. We really liked his bat from the left side. he's got really good barrel whip, he has surprising pop for his size and we think as he physically matures, there's going to be more power in there. We think he's going to hit and hit for power in the future."
Triana was a shortstop in Cuba despite being 6-foot-3 and 230 pounds. At the moment, Cincinnati views him as a corner infielder, but he's athletic enough to potentially move to other spots.
"I first saw Michel playing for the Cuban national team in Canada a couple of years ago, he was at the 18-and-under World Championships, then he surfaced in the Dominican Republic last winter," Hendricks said. "We did a lot of work on him. We really like his bat. We think he's going to hit for power but be more than just a power hitter. There's limited swing-and-miss with him. He's really got good bat-to-ball, pitch recognition and plate discipline. He controls the zone very well for a big guy, he handles left-handed pitchers well. We think he's going to be a complete hitter.
• Top 30 International Prospects
Triana has the potential to move through the system quickly if he continues to develop at the expected pace.
"We don't know where he ends up defensively," Hendricks said. "He's played some third base and some first base in the past. We're going to give him every opportunity to play third, but if he ends up at first, we think he's going to have the bat for that position as well.
According to the rules established by the Collective Bargaining Agreement, clubs that receive a Competitive Balance Pick in Round B of the Rule 4 Draft receive a pool of $6,481,200 for spending on international prospects, while clubs like the Reds that receive a Competitive Balance Pick in Round A of the Rule 4 Draft receive $5,939,800 for spending on international prospects.
The @reds have been busy on the first day of the international signing period. Meet Michel Triana, Braylin Minier and Deivid Alcantara. @MLBPipeline pic.twitter.com/yIdTyrlnls

— Jesse Sanchez (@JesseSanchezMLB) July 2, 2019
Teams are allowed to trade as much of their international pool money as they would like, but clubs can only acquire 60 percent of another team's initial pool amount. Additionally, signing bonuses of $10,000 or less do not count toward a club's bonus pool, and foreign professional players who are at least 25 years of age and have played in a foreign league for at least six seasons are also exempt.
Under the previous system, teams were penalized for exceeding their bonus pools with consequences that ranged from taxes on their spending to the maximum penalty, which was being prohibited from signing any prospect for more than $300,000 during the next two signing periods. That's no longer the case and there are no longer penalties. Teams can only spend their allotted bonus pools and the monies acquired via trade.